There was shock, there was grief. Some crossed themselves. Most stood in a stunned, quiet contemplation.
People lit candles, they laid crisp white lilies around a tree in and in a public square. Parents placed their dead child's favorite candy bars at a makeshift shrine as molten candle wax trickled and dried down the sidewalk.
But for Serbs, there was nothing familiar about this other than an echo of what they had seen play out elsewhere, mostly in the United States.
A 13-year-old student entered his school in the capital Belgrade at 8:40 a.m. Wednesday morning and began shooting.
Eight students -- all children -- and a security guard were among those killed. Six other students, as well as a teacher were injured and taken to a local hospital, police said. The suspect is in custody, and police said he has confessed to the crimes.
It was the first ever school shooting in the country.
And within hours, there were decisive moves to legislate to control gun ownership, and even how to prosecute those responsible for gun crimes when they are so young.
Serbian President Aleksandar Vučić took to the air to announce 10 major proposals.
Among them, the Serbian president proposed a two-year moratorium on firearms licenses and additional checks on those who already own them.
Furthermore, there are proposals that shooting ranges will be under increased scrutiny on how they operate and will be banned for minors and ex-convicts. There are 765,000 guns registered in the country, including 232,310 pistols and revolvers, according to Vučić.
While not all will pass, the response from the citizens of Serbia is overwhelming. The status quo is unacceptable. Things must change and quickly. Other countries have shown it's possible.
After the Parkland school shooting in Florida in 2018 that left 14 children and three adults dead, the bereaved parents reportedly received a letter from Dunblane, Scotland.
First published in Buzzfeed, the open letter was written by parents who'd experienced a similar massacre 22 years earlier in which 16 kindergarten children were killed. The letter also reportedly laid out a pathway for change for gun control.
"Laws were changed, handguns were banned and the level of gun violence in Britain is now one of the lowest in the world," parents of the 1996 Dunblane massacre wrote. "[T]here have been no more school shootings" in the United Kingdom.
Today, for schools in Britain, business as usual was unacceptable. I remember those days clearly. The mood was decisive.
"This doesn't happen here." Is a phrase you hear.
The same happened in Australia after the Port Arthur massacre when a 28-year-old gunman went on a rampage, killing 35 people and injuring dozens in 1996.
Today, schools in the country do not teach students what to do if there is an active shooter because it hasn't happened in 27 years.
In Belgrade Wednesday night, we heard the same phrase along similar lines.
"This doesn't happen here."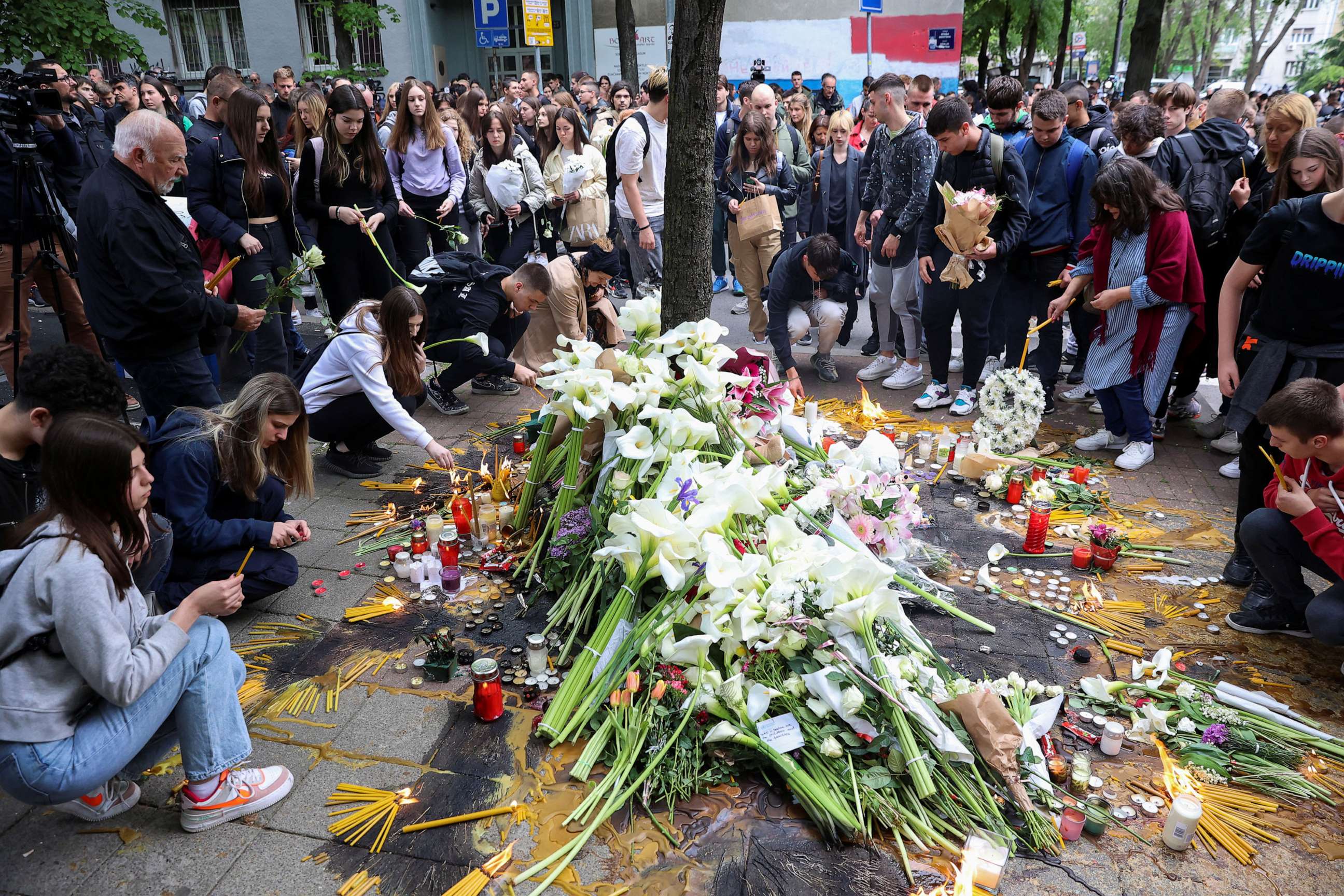 Fifteen-year-old Djorjes stood around a makeshift memorial in Flower Square in Belgrade Wednesday night with his friends. He was in the school when the shooting happened.
"First we thought it was firecrackers, and then we heard many more shots, then we know it's a pistol firing," Djorjes told ABC News.
Serbia is awash with guns; it has more per person than any other county except the United States, yet this has never happened before.
Djorjes, like so many here, is in disbelief.
From Britain to Australia and now Serbia, It is a phrase you hear after a terrible shooting like this one occurs.
Then there is decisive action.
Then it doesn't happen.
And when people say, "it doesn't happen here," there is a clear subtext.
It is common in other places.
In reality, only one country is ever mentioned, America.
What amazes Brits, Australians and now Serbs, is how a nation's children can be gunned down and there not be change to try to protect them better.