— -- Most people have no problem with sweetness in their meat dishes – see chicken mole or maple-glazed bacon. But flip the switch to meat in their sweet cocktails, and the hesitation begins.
Some bars across the country, though, are trying to push past the doubt and introduce savory cocktails to their menus.
Midnight Rambler in Dallas sells the "Pho-King Champ," made with wheat vodka, oloroso sherry, lime juice and beef broth infused with roasted ginger, anise green, black cardamom, Sriracha and hoisin. Pistola in Los Angeles serves a "soup cocktail" called "From the Kitchen with Love," which mixes lamb broth with scotch. Bryan Voltaggio, of "Top Chef" fame, created "Meat Ice," a beefsicle of meat, tomato water and seasonings that melts into scotch with ginger and cayenne. Brooklyn Star in New York City takes the Bloody Mary one step further with the addition of beef broth. And that's just to name a few.
"The response has been overwhelmingly positive. Our guests have responded to the fact that its unexpected – a shot that's savory, so it provides a complex alternative to the usual cloyingly sweet shots, and it's not as strong as a shot of straight liquor, so it won't slow you down," Midnight Rambler owner Chad Solomon told ABC News of the bar's beef broth vodka shot. "It's taken on a life of its own and become a conversation piece curio that groups like to experience together."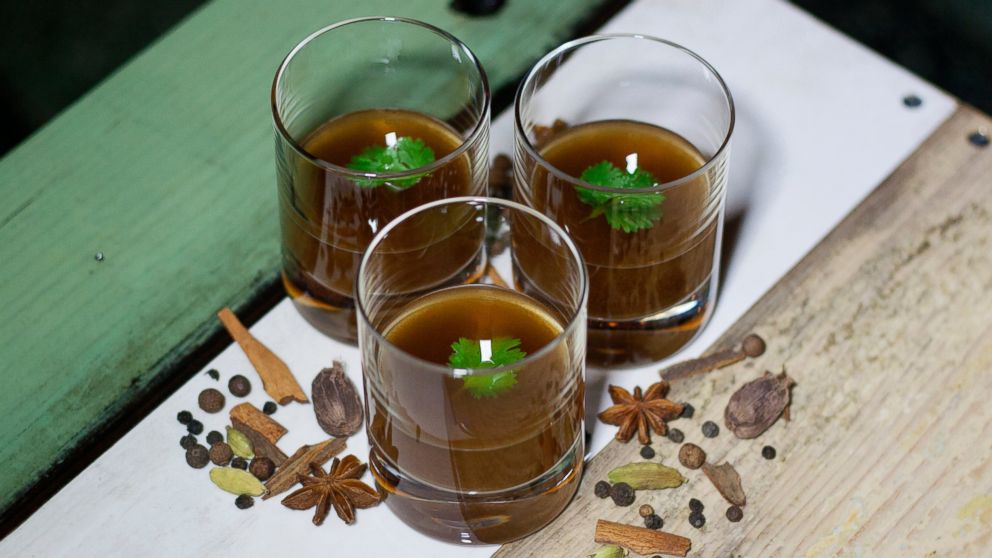 The history of meat in cocktails actually isn't so recent – the first instance is popularly credited to the bullshot, which inspired Midnight Rambler's take. Created in the 1950s, the bullshot is most easily likened to the Bloody Mary, but with beef broth in place of tomato juice. The drink never really caught on, though, and faded into the past much like shrimp aspic.
More recently, meat made its way back into cocktails with the rise of mixologist Jim Meehan's use of "fat-washing," or the technique of adding savory flavors into spirits with rendered fat, such as bacon. By mixing the two, the alcohol compounds pick up the flavors of the fat before the mixture is chilled and the fat is scraped off the top, leaving just the savory flavors behind.
"You're left with this alcohol that's absorbed all the great flavors and umami character off the fat, and you remove the fat. And now you've added a whole depth of flavor to the alcoholic beverage," Anthony Caporale, director of beverage studies at the Institute of Culinary Education and author of off-Broadway play "The Imbible: A Spirited History of Drinking" told ABC News.
While Meehan's bacon old fashioned became very popular in NYC, there's never been a better moment for actual meat in cocktails to shine than right now, when people are willing to pay $8 for a cup of bone broth, as popularized by Marco Canora in NYC, who recently opened Brodo, an entire restaurant off-shoot dedicated to solely selling broth. Even Fancy Feast is selling broth for cats.
Caporale recently experimented with all the ways umami, or savory flavors, could be incorporated into alcoholic beverages. The Institute of Culinary Education in NYC teamed up with IBM's supercomputer Watson to create an app that pairs unusual ingredients together based on similar molecular compounds. For example, olives and cherries share similar flavor compounds, making them a surprisingly ideal match. The school and Watson collaborated to create boundary-pushing recipes, compiled in the upcoming cookbook, "Cognitive Cooking with Chef Watson."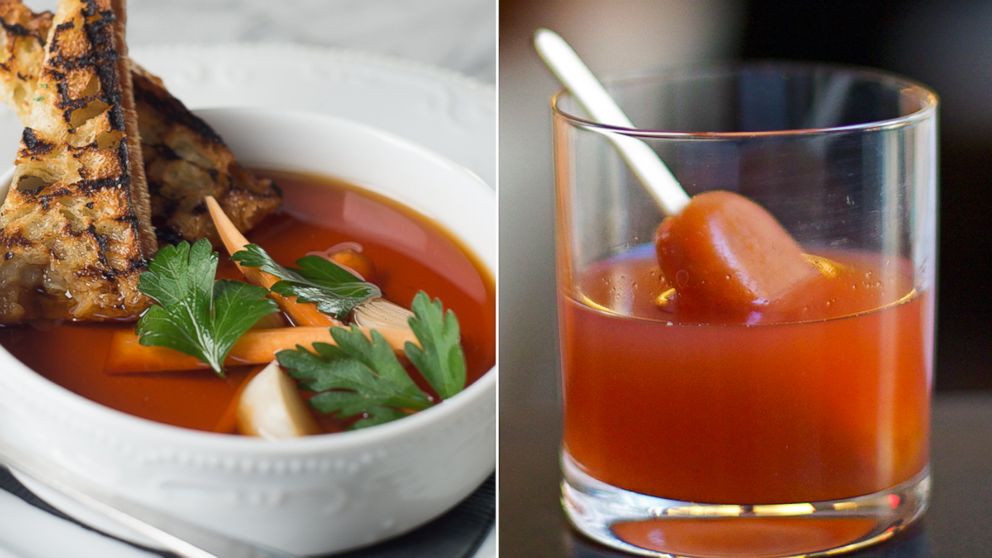 As the school's beverage director, Caporale was tapped to create the drink recipes, and he immediately recognized Watson's potential for making meat cocktails more user-friendly.
"You don't really see anything outside the plant world in beverage alcohol. Most people don't think of proteins in the liquid form, but one of the five primary flavor receptors on the tongue is umami, which is the taste of savory, as well as sweet, sour, bitter and salty, which we do all the time in the beverage space, but we rarely get to use the umami receptors," Caporale explained. "The tongue likes balance, so the more receptors you can get to fire at the same time, generally we like it. So that's where the artistry comes in – if you can get the balance right, we like it."
Caporale set out to get the balance right, turning to Watson to provide flavor profiles that were already comfortable to people, such as red wine and steak, which he paired for his "Hoof-N-Honey Ale Cocktail," a drink that combines veal stock and steak with Burgundy wine and IPA beer.
"Nothing goes better with steak than red wine. People have been having that their whole lives, so that's a natural combination," he said. "I did that with all the drinks. Step one was making sure the flavor combinations were familiar and comforting, although the ingredients were unique in their presentations."
Caporale also created chicken, shrimp and pancetta cocktails as a part of the project.
"I look at creating these drinks sort of like the auto show. You have these crazy concept cars that would never make it into the dealership, but it pushes the art and pushes the people at the forefront to see what you can do," he explained. "Although the car will never make it to the dealership, maybe the LED headlights will. So we do all these crazy things and then one aspect of it might come down to the mainstream."
Caporale doesn't see meat cocktails taking off, and if history repeats itself, that may be true. But they're certainly a novel way to enjoy a drink.
"The average person I don't think will want a drink on a Friday night at 9 o'clock with a strip of beef in it," he said. But this writer tried that drink, and it was a delightful twist on an otherwise played-out drink. To experiment for yourself, try Caporale's recipes below.
Anthony Caporale's Hoof-N-Honey Ale: Click here for the recipe.
Anthony Caporale's Corn in the Coop: Click here for the recipe.