— -- An 11-year-old South Carolina boy who was born deaf has made it to the Scripps National Spelling Bee.
Neil Maes of Belton, South Carolina, received cochlear implants when he was 1 and 5 years old and, through therapy, was able to learn spoken language.
Now, the fifth-grader is one of the top spellers in the nation, knowing words like weissnichtwo (an indefinite, unknown, or imaginary place) and pfeffernuss (a small hard highly spiced cookie).
"It seems like a bad situation: 'Your child can't hear.' But so much good has come out of it," mom Christy Maes told ABC News today. "We thought for him to win the regionals and come into the nationals, that would be a great platform to encourage and inspire hearing-impaired individuals. It makes a child feel so hopeful, saying, 'I could do this.' It's things like this that mean the most to me."
When Neil was born July 13, 2004, doctors informed Christy and Peter Maes that he was deaf, news that Christy said was a shock to the entire family.
"There's no other hearing-impaired member on either side of the family," she said. "Life goes on -- he's 11 now, but it's a genetic mutation. From my understanding, it's not uncommon."
Neil began therapy at 6 months old. He soon received cochlear implants and relied on his hearing to learn how to speak.
One day, when Neil was in third-grade, he came home and informed his mother that he had won his classroom spelling bee.
That same year, he won his school spelling bee, beating out every student in grades 3, 4 and 5.
"He was the first third-grade winner," Christy said. "We studied hard and then went to regionals. He had a goal and wanted to win. We tried to make it fun."
In fourth-grade, Neil never made it through his classroom spelling bee. This year, he made it to regionals and won. The final word he spelled was ecru, granting him a spot in the 2016 Scripps National Spelling Bee.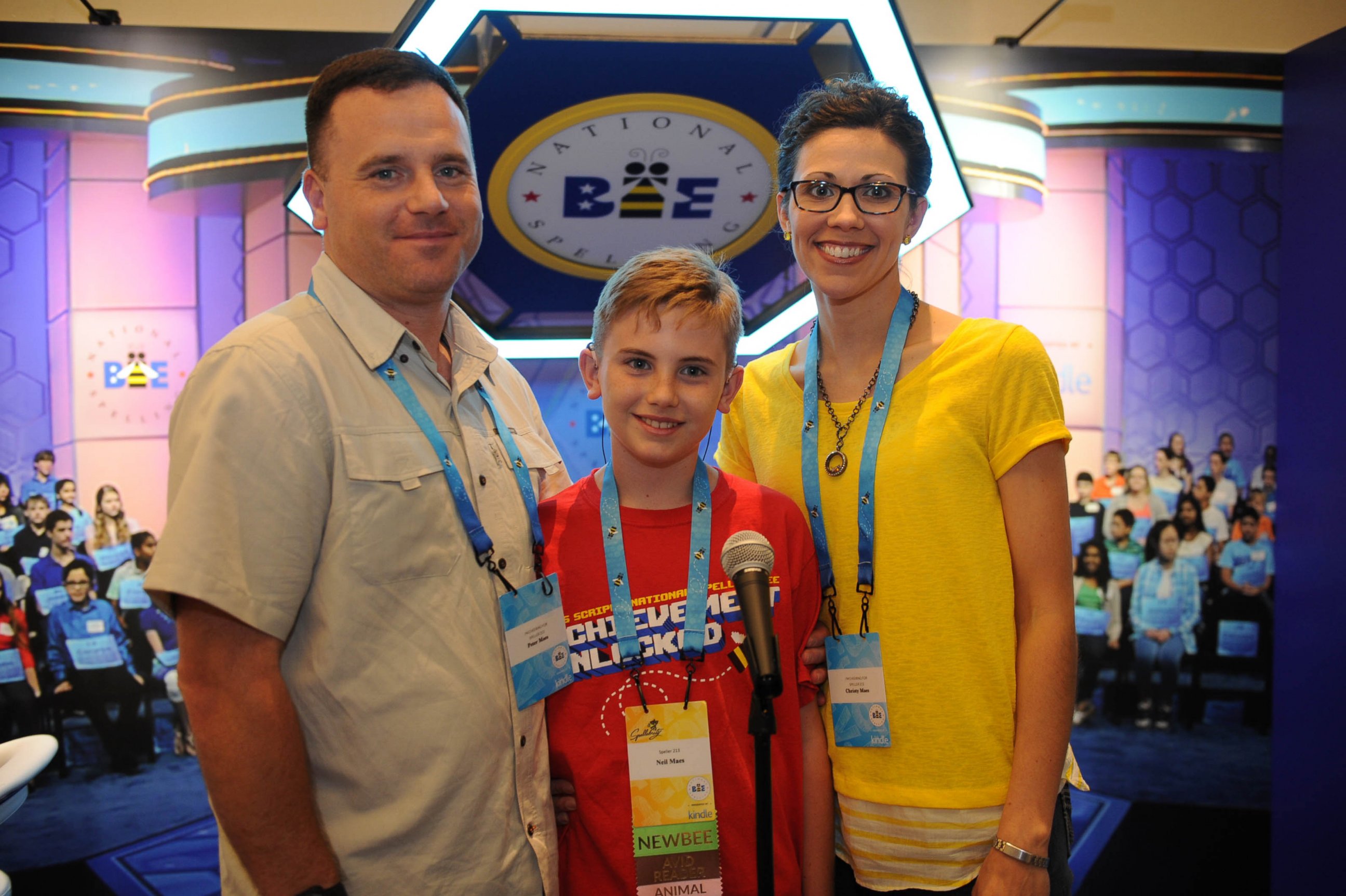 Neil is speller number 213 in group 2. He was competing today at the Gaylord National Hotel and Convention Center in National Harbor, Maryland, from 10 a.m. to 11:45 a.m., ET. There are 285 spellers in the entire competition.
"The Scripps National Spelling Bee celebrates our spellers and their incredible talents," a spokesman from the organization told ABC News today. "For those who overcome adversity and special challenges in their lives to reach the National Finals is a testament to their determination and grit. Each speller is unique and wonderful and the reason this competition is such a national treasure."
The winner of the spelling bee will receive a $40,000 cash prize and the Scripps National Spelling Bee engraved trophy, among other prizes.
Neil prepared for the event through fun spelling activities like sidewalk chalk and shaving cream on a cookie sheet, mom Christy said.
"One of his favorite words is abecedarius," Christy said. "He likes the German words, the fun ones to say. He loves spelling long dog breeds like Chihuahua. He's nervous, so I'm trying to play it cool, give him some space.
"He did want to come and watch the first group spell. These kids, you watch them spell and they miss some words and you want to hug them. Everybody's for each other. No one's competing against each other. It's a good vibe here."
She added: "Neil's just a good-hearted kid. He shows a lot of love to everyone around him. We love him just for who he is, not for any trophies that he wins."
Oh, and abecedarius is a poem in which the lines or stanzas begin with the letters of the alphabet in regular order.