Foodies, Chefs Cook Up Pot-Pairing Menus Ahead of 420
From falafel sandwiches to coffee blends, smokers can curate their munchies.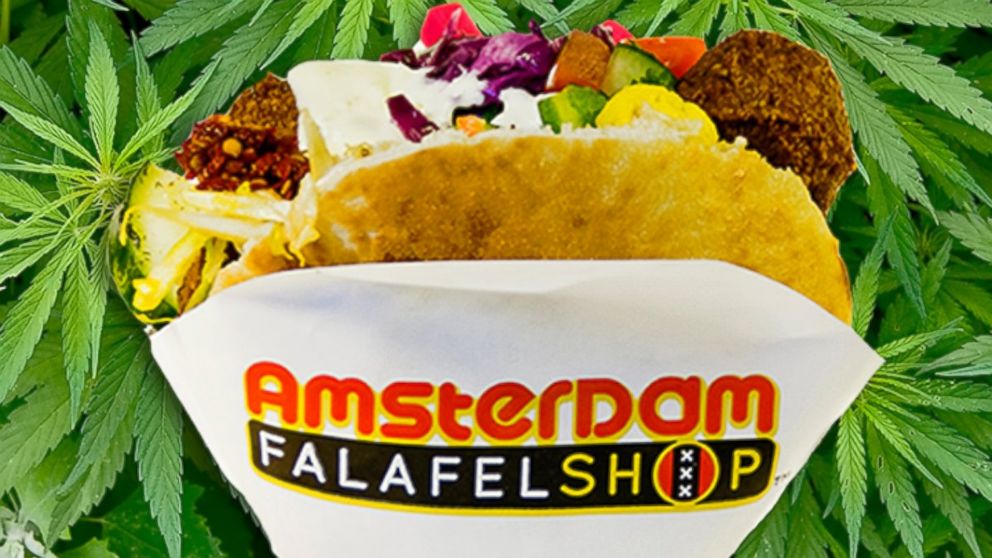 — -- Not all cannabis is created equal, and some can be enhanced by what foods and beverages you consume with it. Or so say experts on the subject.
In the run-up to 420, an annual cannabis celebration on April 20, various pot-pairing menus are cropping up in regions of the country where recreational use is legal, and making culinary associations between popular strains of indica and everything from sandwiches to espresso.
"We're still in that phase where most people are used to buying it from a guy on the corner, but they really don't know that much about it," said Brett Davis, events director of Green Labs in Denver, which is hosting "Cannabis & Coffee" pairing event this month as part of its schedule of 420 fetes.
"So we go into a lot of detail explaining the origin of each strain, its taste, flavor profile, the physical effects on the body," Davis said. "We want people to walk away feeling like they know a lot more and can enjoy the experience that much more."
For instance, an aromatic strain of cannabis such as Lavender, Davis said, pairs much better with a fruity coffee roast than earthier strains that tend to taste too woody or burnt. A dark-roasted bean pairs well with a Blueberry strain. The two-hour class, which will include two strain tastings and copious cups of java, will cost participants $40.
If a cuppa whets your appetite, there's plenty more where that came from.
"There are over 75 bring-your-own-cannabis events happening in Colorado this year, which feature culinary delights paired with your favorite top-shelf strains," Invest in Cannabis CEO Eddie Miller told ABC News. "Throughout the existence of fine dining, wine and alcohol pairings have been par for the course. With legal cannabis coming out of the shadows and into the mainstream, enthusiasts and professionals alike are joining the fray."
At the Washington, D.C., outposts of Amsterdam Falafel, the pot-pairing menu of sandwiches currently being sold is a much less formal dining experience, but no less tasty.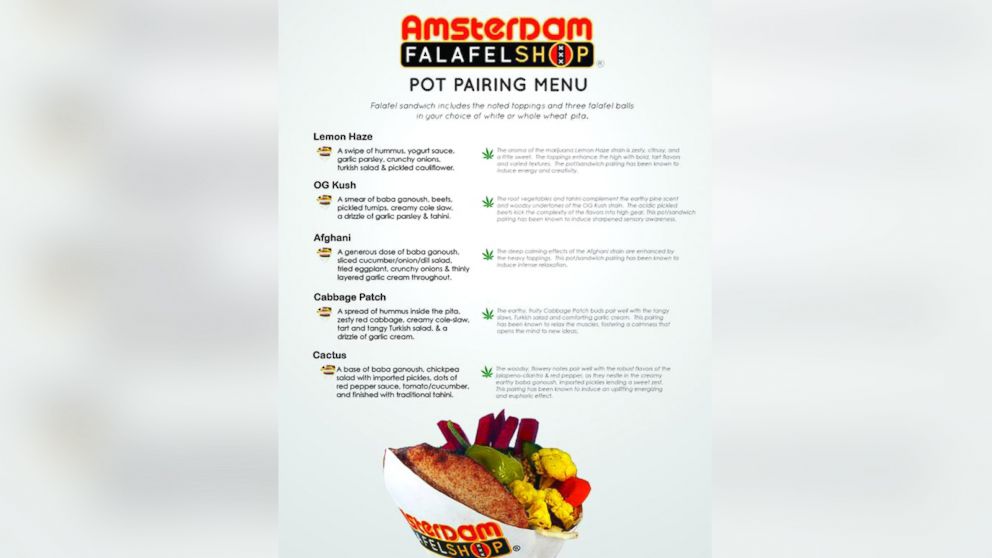 "We came up with a couple of recipes that were in reference to the flavors of popular strains," said Chris Young, a cashier and cook at the chain restaurant. "One example would be the Lemon Haze sandwich, which consists of a swipe of hummus, yogurt sauce, garlic parsley, crunchy onions, Turkish salad and pickled cauliflower. ... It's a hell of a combination."
The chain's menu goes on to explain, "The aroma of the marijuana Lemon Haze strain is zesty, citrusy, and a little sweet. The [sandwich] toppings enhance the high with bold, tart flavors and varied textures. The pot/sandwich pairing has been known to introduce energy and creativity."
So far, Young said, most diners have received the promotion warmly and, in some cases, taken menus home with them. Sandwiches will be sold for $4.20 on the day of the big event.
Meanwhile, in Anchorage, Alaska, a new members-only lounge called Pot Luck Events is capitalizing upon the recent legalization of recreational marijuana use in the state by hosting Anchorage's premiere 420 party as its official grand opening.
Event organizers did not immediately respond to ABC News' requests for comment, but the lounge's website and Facebook page advertise 30-day memberships for $20, while ticket prices for the event range from $50-$60. Enthusiasts can expect a combination of free samples paired with munchies such as sliders and nachos, as well as music and prizes.