A 12-year-old battling cancer was granted her wish of seeing the inspirational film, "A Dog's Purpose." Brooke Mulford also got a visit from the golden retriever who stars in the film.
Interested in
Be Inspired?
Add Be Inspired as an interest to stay up to date on the latest Be Inspired news, video, and analysis from ABC News.
Mulford has been battling cancer since she was diagnosed on January 5, 2009, which just so happened to be her mother's 40th birthday.
Amy Mulford, a single mother from Voorhees, New Jersey, initially knew something was wrong with her daughter when she began limping.
"I asked her why she was limping and she said, '[Our dog] Bailey jumped up on me and hurt my knee,'" Amy Mulford recalled to ABC News. "It made sense."
But after a three-hour road trip, Brooke Mulford couldn't straighten her legs and couldn't stand when getting out of the car, her mother added. So she was rushed to the emergency room where doctors diagnosed her with stage four neuroblastoma.
Despite six rounds of chemotherapy, surgery, two stem cell transplants, and radiation, Brooke Mulford's cancer spread to her spine, which doctors discovered December 5, 2012, her mother said.
And although her prognosis at times improved, in January it took a turn for the worse. "She had a massive spread throughout her whole body," Amy Mulford, 48, detailed.
Since having surgery on January 30 to remove a tumor that had grown in her brain, Brooke Mulford has been hospitalized at Children's Hospital of Philadelphia, Mulford said.
"She was admitted for the pain. It was just getting worse and worse," her mother said. "It's just about trying to get her comfortable. She's not been able to walk for three weeks now. She can't stand anymore."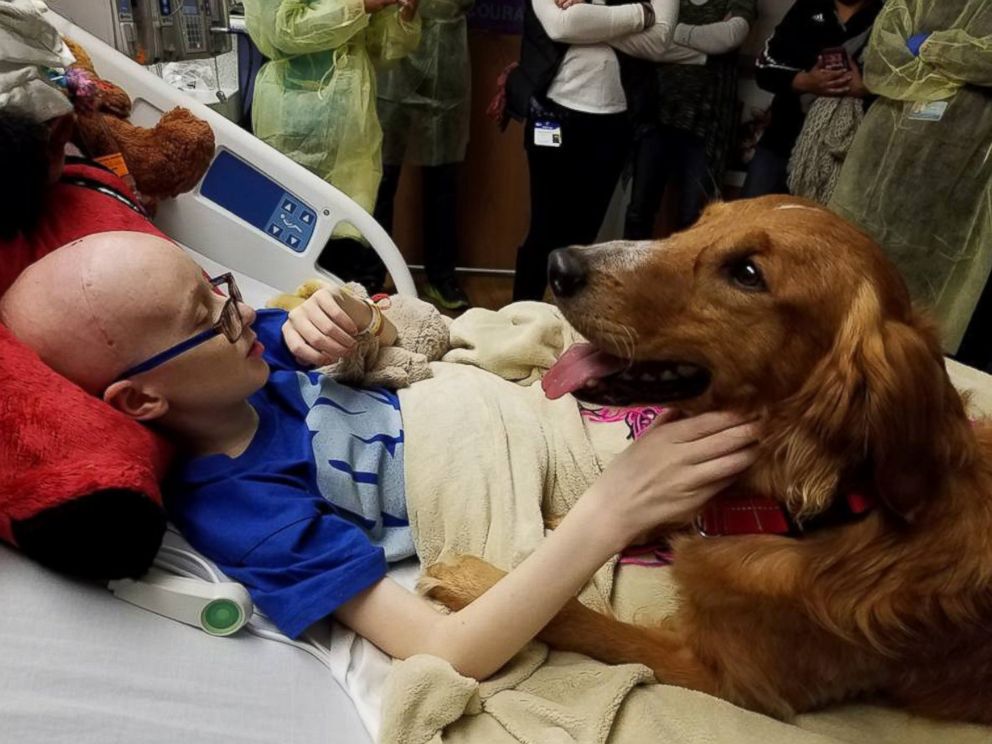 But Brooke Mulford recently got a break in her painful days after she was granted her wish of seeing "A Dog's Purpose," a film adaptation of W. Bruce Cameron's 2010 novel of a dog who finds his purpose by being reincarnated.
After her mother shared her wish on Facebook, many people contacted the film's production company, Amblin Entertainment. Still, one of her social media friends, Marcie Aron, was connected to Cathryn Michon, the screenwriter for the film and Cameron's wife.
The two not only sent a personalized copy of the novel and T-shirts promoting the film, but Michon visited Brooke Mulford in the hospital on March 11.
"Bruce and I admire Brooke for having such grace for all she has had to endure," she wrote Saturday on Facebook of why she visited the hospital. "She is brave and kind and the world is better for her being in it. That's why everyone was so inspired to grant her request."
But there's more. Brooke Mulford along with her family were able to screen the film complete with movie popcorn.
"She was just so excited," her mother told ABC News of her daughter's big day. "We watched the movie and it was so beautiful. She was just so moved by it, we all were."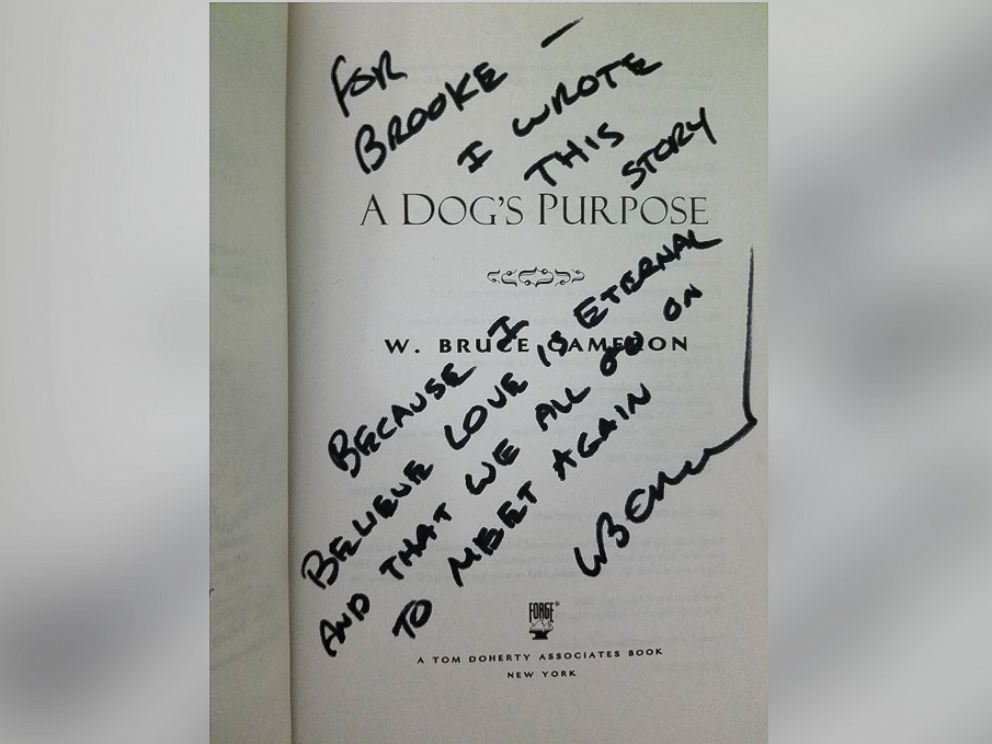 And Trip, the golden retriever who stars in the film, along with his handler Jennifer Henderson surprised Brooke Mulford.
"The fact that so many people came together to make this happen for her was just incredible to me," her mother said. "She's gone through so much in the last eight years, but really in the last couple months."
Amy Mulford noted that since her cancer spread, her daughter has suffered from nightmares and panic attacks.
"It's been really hard to see her that way. She's in so much pain," she continued, "and then we get to see this movie that she wanted to see so badly and then to get to meet the dog from the movie ... it was the best day we've had in so long.
"It's what my heart needed," Amy Mulford added.