— -- A couple in Trabuco Canyon, Calif., has adopted a kitten who recently lost one of her legs, as a pet for their 2-year-old daughter who is missing a left arm.
The three-legged kitten named Holly was adopted this past Wednesday by Matthew and Simone Tipton, who have two young children, including 2-year-old Scarlette Tipton, who was born with a rare cancer that ultimately led to her left arm being amputated last year when she was just 10 months old.
Simone Tipton told ABC News today she "immediately saw a special bond between" the three-month-old kitten and little Scarlette when they first drove over two hours to San Jacinto Valley Animal Campus to meet Holly just before Christmas Eve.
"When we were playing with the cat on the floor, Scarlette noticed it had staples on its side and a drainage tube sticking out, which she had to deal with as well, after her own amputation," Simone Tipton said. "She pointed at it, saying, 'Owie, the cat is hurting' and placed her own hand on her left side where her amputation was. She's only 2, but I think she really understood and it clicked with her that the cat was just like her."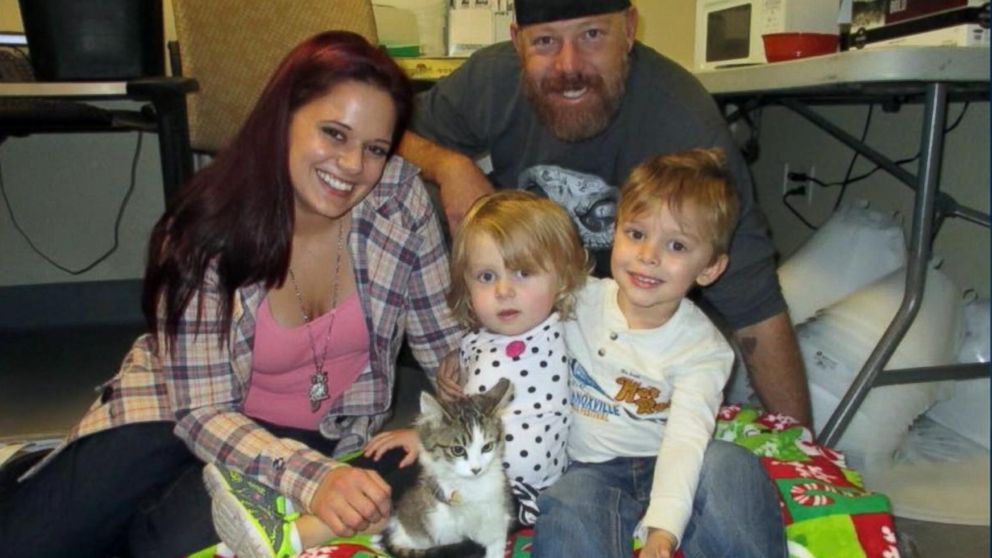 The Tiptons have been searching for a cat with an amputation for over six months because they "really wanted to get Scarlette an animal that she could relate to," Scarlette's mother said.
They learned about Holly by accident. Simone Tipton explained that her husband Matthew was watching the local news recently -- which he never does -- when Holly's story came on.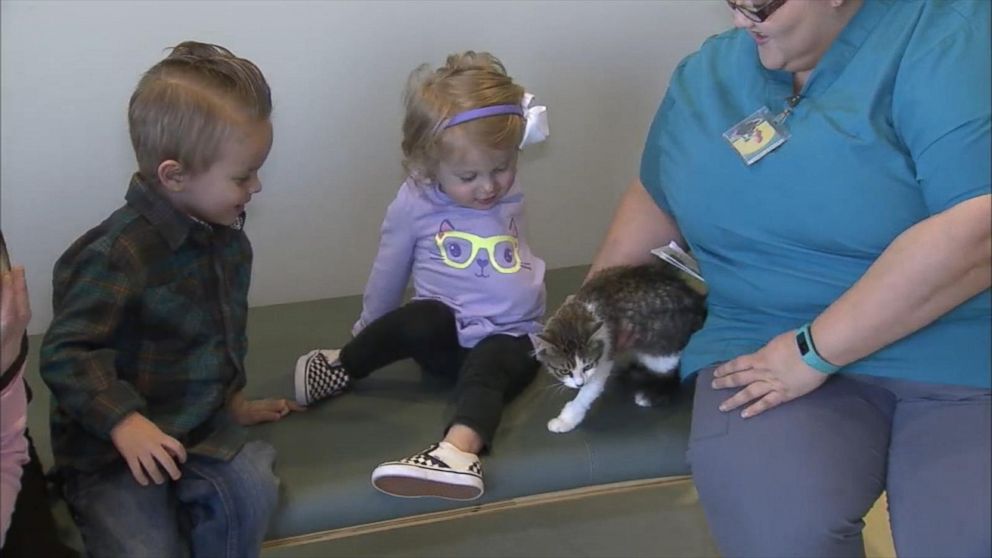 The poor kitten was found bleeding with her paw dangling by two women in Perris, Calif., on Dec. 17, according to a news release from San Jacinto Valley Animal Campus.
The women, Edith Rios and her daughter-in-law Kelley Gonzalez, wrapped the 3-month-old kitten in towels and rushed it to the shelter. Because of Rios' and Gonzalez's quick-thinking, veterinarians were able to save the kitten's life, but they had to amputate her right front leg.
Though Holly has been with Scarlette and the Tiptons for less than 24 hours, she's been feeling and acting right at home, Simone Tipton said.
"Though our daughter was told she likely wouldn't be able to crawl, stand or walk, but she figured all of that out herself with the help of a physical therapist and we saw that exact fighting spirit in the cat," she said. "We brought her home thinking she'd have trouble jumping on the couch and bed, but she's just jumping around the house like it's no big deal, climbing around and exploring."
The mother of two said they will rename the kitten "Doc" after Scarlette's favorite cartoon character "Doc McStuffins." She added that Scarlette and her brother are "absolutely in love" with the kitten and that their family is now complete.
the Tipton family said they will rename the kitten "Doc" after Scarlette's favorite cartoon character "Doc McStuffins."