For an industry built on the promise of "personal style," the fashion trade had begun to look surprisingly homogeneous. A decade ago, consumers craved "It" bags, collected identical logos, and could read tell-tale stitching on designer denim like tea leaves.
Even the savviest shoppers forgot the simple truth that your local eighth-grader has always known: Uniforms are not cool.
The good news is we've all since remembered.
Responding to a growing demand for exclusivity and the mass-market precedent set by sneaker companies like Nike, the luxury space is coming up close and getting very, very personal as designers begin to reclaim the craft that once defined them. Couture is back in style.
That upscale fashion houses would tailor garments to better suit special clients is nothing new. According to Roopal Patel, founder of Roopal Patel Consulting, landmark labels often invite 'tried-and-true fans' to private trunk shows to preview collections and place custom orders. "A client might say to the team, 'Oh, well, is it possible to extend the sleeves by a quarter inch or drop the hemline down two inches?'" Patel says. "These sorts of adjustments have been possible for a long time."
And yet while brands may once have granted these privileges to a select few, such modifications were not always made available to general audiences. But that was before Twitter.
As even the most rarefied labels cultivate Instagram followers and launch online operations, it is no longer in the best interest of a designer to close his or her atelier to the public. The savviest brands are welcoming the World Wide Web.
An early champion of web-optimized customization, Burberry announced Burberry Bespoke three years ago. The unprecedented initiative lets deep-pocketed clients build Burberry trench coats in the cut, fabric, and color of their choosing. Attractive accouterments include studded sleeves and mink-fur lining. But personalization has its price. A tricked-out trench can set you back almost $9,000.
Last year, Ferragamo debuted a dedicated platform that invites users to customize Vara and Varina shoes to celebrate the 35th anniversary of the iconic styles.
Prada followed suit in June and unveiled the Made-to-Order Décolleté Collection. The service gives women the opportunity to purchase pumps in one of three heel heights, five finishes and 27 colors. Both Ferragamo and Prada offer shoppers the option to add metallic monograms to shoe soles.
The result screams luxury. But its significance is subtler: The consumer now has her own logo and she's willing to pay for it.
"That's the key component of this trend," Patel says. "The luxury customer is demanding individual products that not everyone else has. She wants to walk into a room and know that something is only hers."
Serial entrepreneur Aslaug Magnusdottir is so convinced of that that she has built a business to make it happen. The Moda Operandi and Gilt Groupe alumna launched Tinker Tailor in May.
The site bills itself as "the world's first digital destination for the creation and customization of luxury fashion" and counts industry insiders like Waris Ahluwalia and Harper's Bazaar Fashion Editor Laura Brown as advisory board members.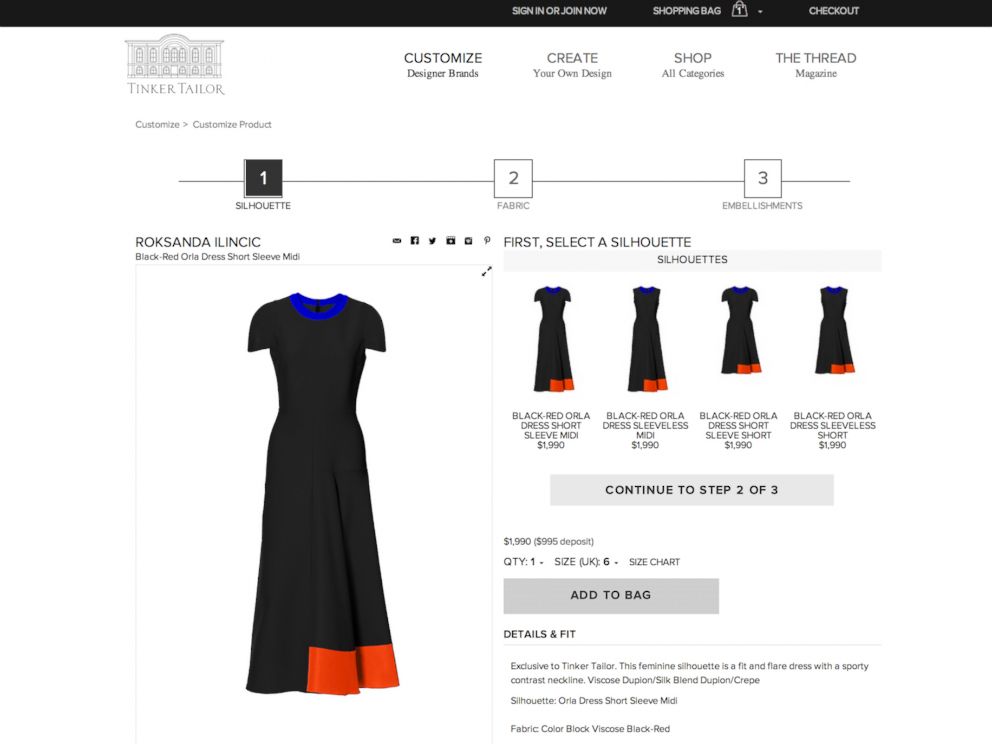 The start-up splits its focus: Shoppers can use it either to design custom-order ensembles in an array of fabrics and silhouettes or to alter existing designs from such storied labels as Giambattista Valli, Roksanda Ilincic, and Alberta Ferretti. According to Magnusdottir, the emphasis on choice ensures that resultant looks are 'relevant' to global customers from the Middle East to Midtown.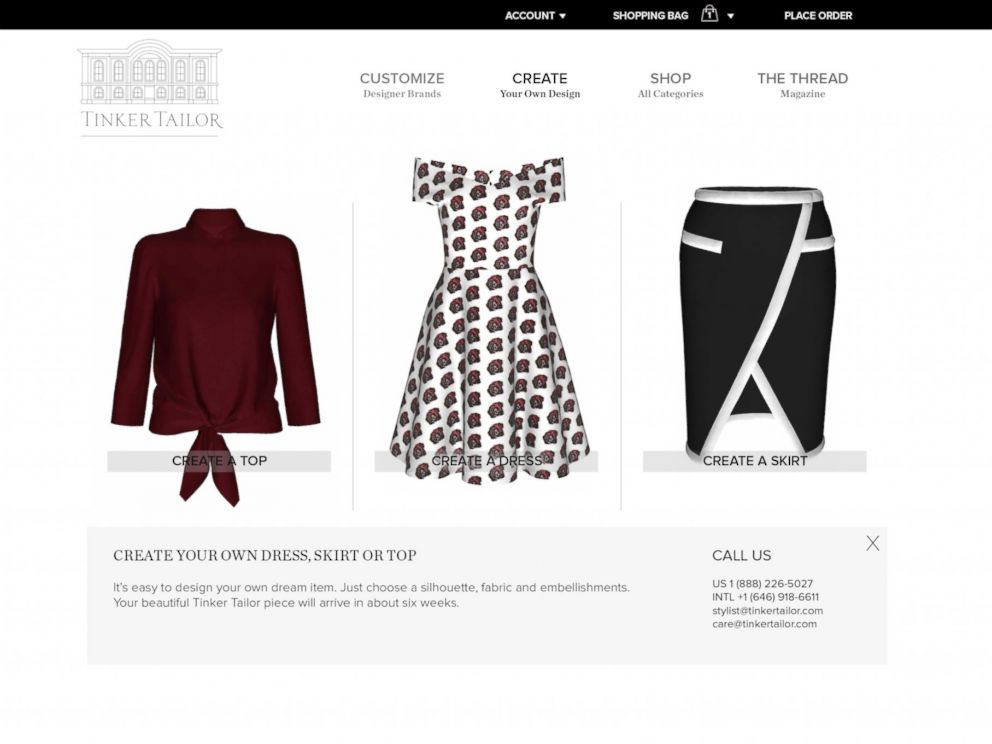 "Until now, a lot of designers have neglected the customer that can often afford their pieces, because she doesn't fit the body type that they necessarily want their ideal customer to be," notes trend forecaster and PatternPulp.com founder Shayna Kulik. "This kind of democratization just makes sense." Like Facebook pages and personal style blogs and selfies, the trend suggests a shift in the power dynamic between brands and individuals.
But the phenomenon does not only cater to outsize egos. It is as indicative of a desire for self-expression as it is reflective of an interest in exclusivity: "Last year, there were more sewing machines sold in America than many years before," says Magnusdottir. "People want to be part of the creative [process]."
Still, Magnusdottir is keen to distinguish between Design-It-Yourself and DIY. The makers responsible for initialed Prada pumps and customized clutches do not use glue guns. Tinker Tailor does not release YouTube tutorials. And as the brain—and hands—behind cultish accessories label Edie Parker, Brett Heyman would like you to know that she is not in the business of "like, embossing acrylic boxes." The bespoke bags that she has produced for the likes of Jessica Alba and Rita Ora are made to order. Each takes 8-10 weeks to fabricate and retails for upwards of $1,500.
"If people are going to spend a lot of money on an item they want it to be individual, long-lasting, and unique," said Heyman.
The investment does not only benefit the consumer. It serves brands as well: These products essentially advertise themselves. "It's kind of brilliant," Kulik said. "Who is not going to broadcast a one-of-a-kind piece to [her] entire [social] network?"
Magnusdottir cites that justification as just one reason that designers have been so receptive to Tinker Tailor.
"It was already very much a trend that the designers were becoming more and more aware of," she says. "They were getting more and more requests from people for something that was personalized for them. This was what their customers want."
Kulik and Patel predict that enthusiasm for highly individualized items is unlikely to fade—especially as technological innovation makes them available to the masses. After all, "you" are not going out of style anytime soon.