— -- From "An Affair to Remember" to "Sleepless in Seattle," New York City's Empire State Building is an icon for romance in film. Today, real-life couples exchanged vows at the top of the world-famous -- and romantic -- New York landmark.
Fourteen couples wed in individual ceremonies at the Empire State Building's 86th floor observatory as a part of the Empire State Building's Valentine's Day weddings contest.
Jean-Yves Ghazi, director of the observatory for the Empire State Building, called the historic structure the "most romantic place on earth," adding that hundreds of applications were submitted for the contest.
"It's an open application," he told ABC News. "It's based on originality, what the meaning actually has for them to be married on top of the Empire State Building."
"This is the only day of the year when we actually wed couples ... it's so gratifying to be able to host these events," Ghazi said. "It's about making this happen, this dream a reality for 14 couples."
"This is our 23rd year of celebrating this special day," Ghazi said. "Love is in the air, literally!"
Meet some the couples who were chosen for this year's Valentine's Day weddings:
Krista Owens and Danielle Reno of Wantagh, New York, and Levittown, New York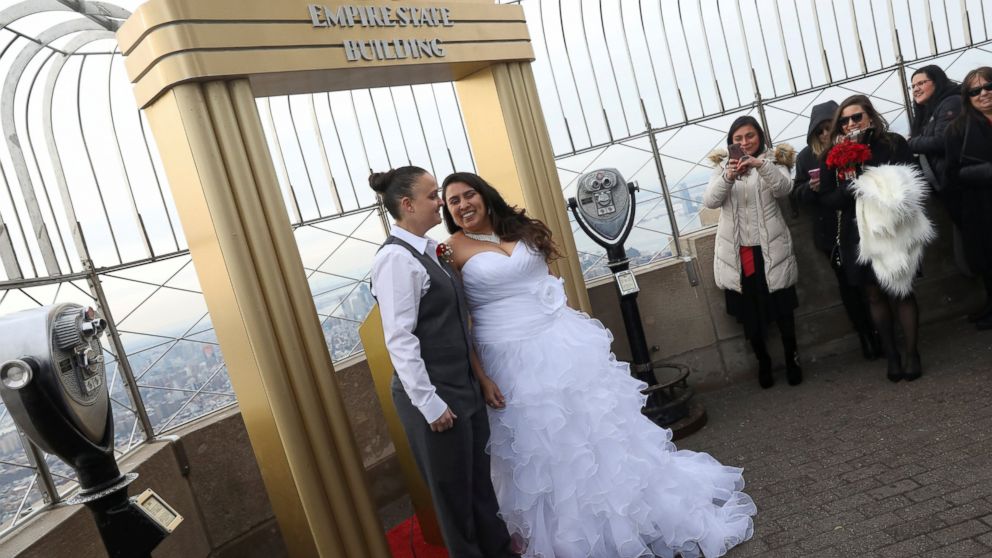 Krista Owens, a New York Police Department officer, and her new wife, Danielle Reno, donned matching "just married" sneakers at today's wedding.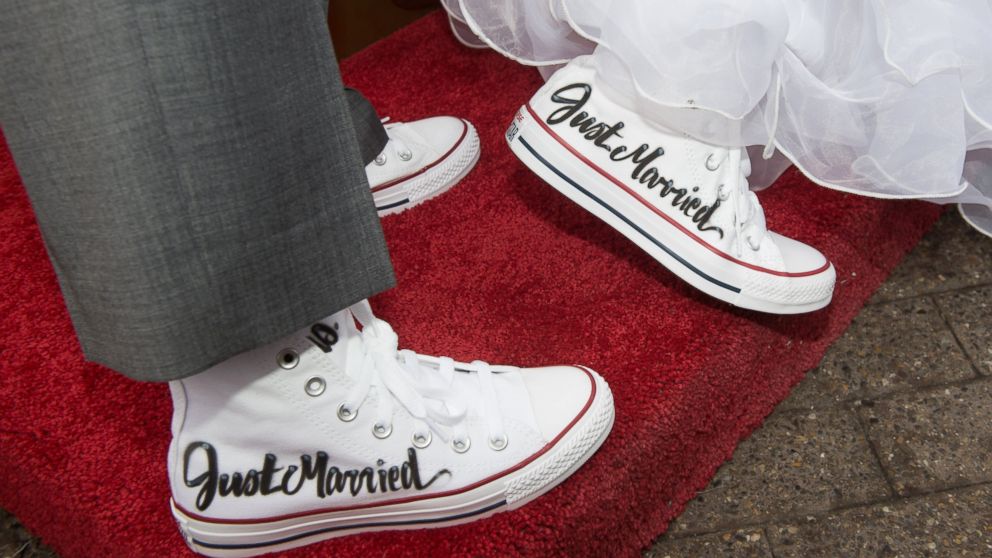 Owens and Reno met through mutual friends and live on Long Island.
After they found out they won the wedding contest, they were "really exited" but also "really stressed," as they had just a few weeks to get ready for the ceremony, the couple told ABC News. They plan to have a larger celebration in June.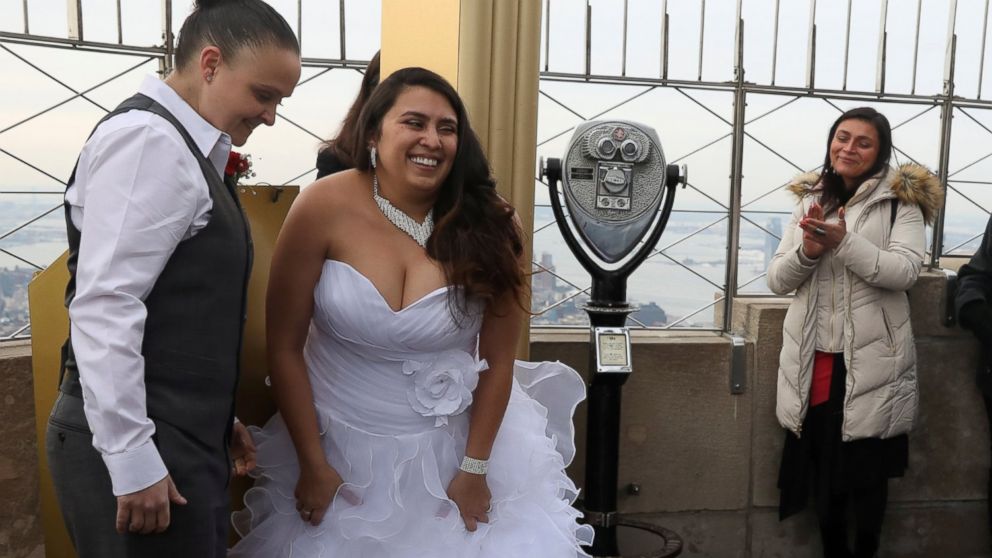 Here you can get a 360-degree look at Owens' and Reno's wedding as they exchanged vows.
"I, Danielle, take you, Krista, to be my wife, my partner in life and my one true love. I will cherish our union. I will trust and respect you, laugh and cry with you, loving you faithfully, through good times and bad. I will help you to make your dreams come true, even the small ones, and to love you more than I love myself. I give you my hand, my heart, and my love from this day forward."
On the ABC News app? Click HERE to watch this 360 video.
Andrea Hurtado and Andrew Reed of Cutler Bay, Florida
Andrew Reed met Andrea Hurtado shortly after he enlisted in the Army. Even though Reed spent five years stationed in Kentucky and served two deployments in Afghanistan, he kept his long-distance relationship with Hurtado alive through phone calls and Skype.
They now live together in Florida and their family traveled from Florida for today's ceremony.
Hurtado's grandmother told ABC News she was in disbelief when her granddaughter told her about the Empire State Building wedding.
"They got engaged here in New York. It was beautiful -- sunset, Brooklyn Bridge," she said.
Hurtado's grandmother called it a "very unique, beautiful wedding."
"Some memory she's gonna have," she said. "She's gonna have a lot to tell her children."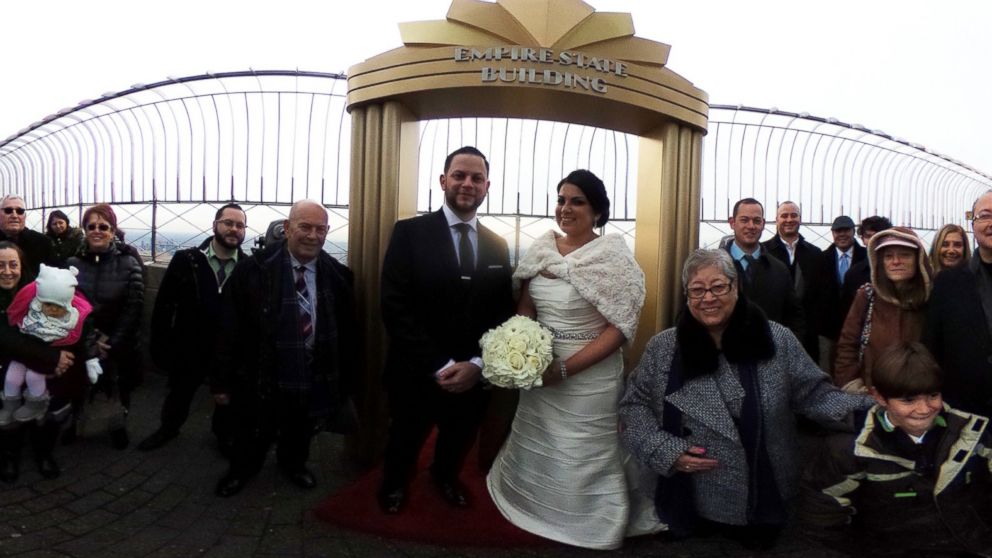 As Hurtado and Reed wed in front of the New York City skyline, officiant Kelly Lemons said, "When the two of you met through mutual friends eight years ago in Miami, the timing was not ideal for togetherness -- Andrew had just enlisted in the Army. In the months that followed your chemistry grew, and after Andrew deployed, Andrea would write frequently, the old fashioned way -- with letters. Mail days became the days Andrew most looked forward to. And after four months of training he expected to see his parents, but was pleasantly surprised to see Andrea, as well. Something very special was happening."
"Long distance is tough enough," the officiant continued, "but you two have lasted through five years of it, including two deployments to Afghanistan. We all would acknowledge Andrew's strength in his service, but Andrea, too, deserves credit for her strength of heart in trusting your love. There is nothing you can't get through together."
After the wedding, Hurtado told ABC News she was "so grateful."
"This has been an unbelievable experience," she said. "We couldn't have wanted it any other way."
Her new husband called the wedding "very fitting" since they got engaged in New York. "We're very lucky and very happy," Reed told ABC News.
Laura and David DeMusz of Middletown, Delaware
For high school sweethearts Laura and David DeMusz, Valentine's Day is a vital part of their story.
The duo fell in love when they were 15 years old. During a Valentine's Day dance, David DeMusz asked Laura to marry him while "My Forever Valentine" was playing.
They wed on Valentine's Day in 1998 and are now renewing their vows on their 19th wedding anniversary.
Yanqiu Wang and Huan Yang of China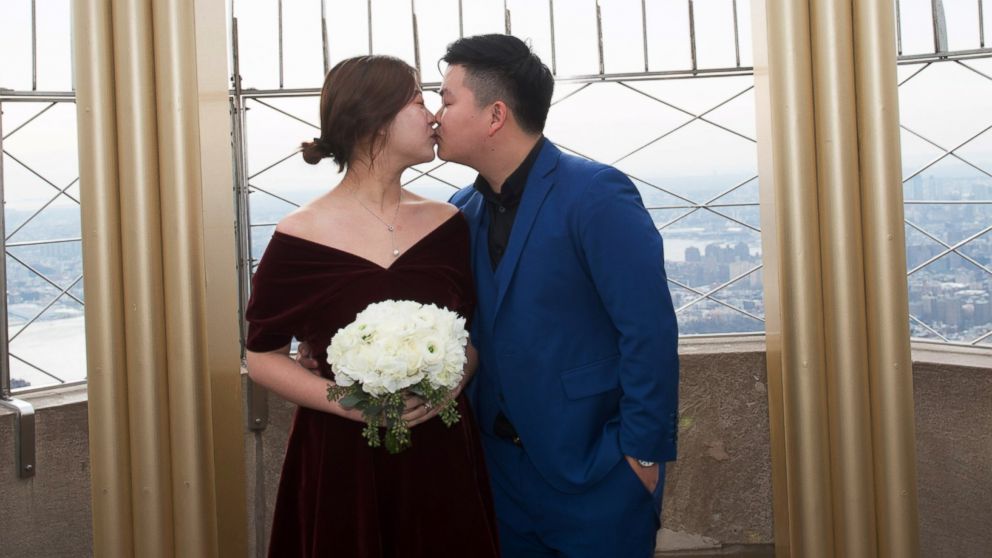 Landmarks have marked important relationship milestones for Yanqiu Wang and Huan Yang.
The two met at the Canton Tower in Guangzhou, China, and then fell in love.
At the Macau Tower in Macau, China, Huan proposed.
Their tradition continued today at the Empire State Building.
Catherine Malat and Eric LeStrange of Milford, Connecticut and Shelton, Connecticut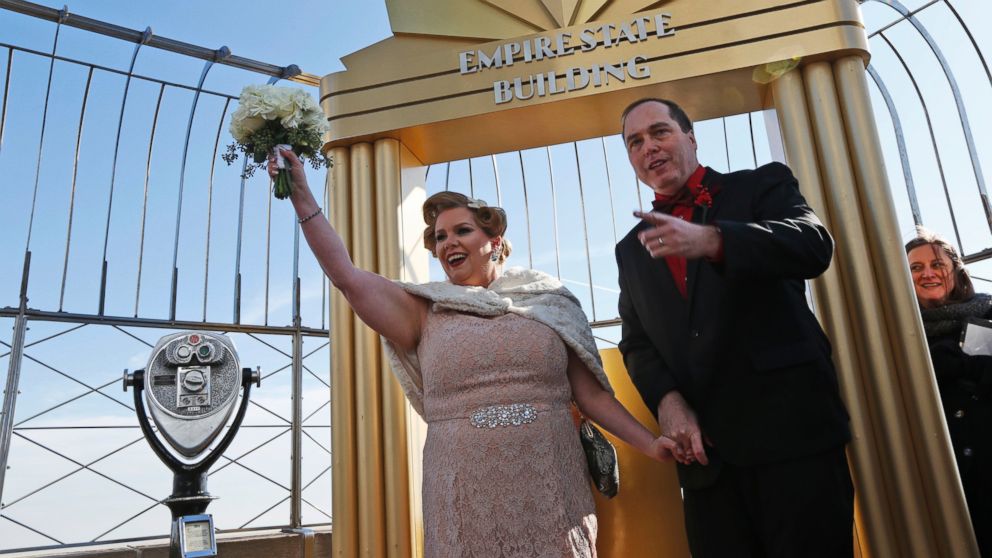 Catherine Malat and Eric LeStrange knew each other in the 80's, but then they lost touch and they married other people.
After Malat's divorce, she contacted LeStrange through Facebook.
A few months later, a relationship blossomed.
Cynthia Eska and Joseph Moccia of Berkeley Heights, New Jersey
Joseph Moccia was serving in the United States Marine Corps when his relationship began with Cynthia Eska three years ago.
When Mocci was on military leave, one of the couple's favorite dates was going to the top of the Empire State Building.
Jennifer Cuatt and Christopher Langmack of North Salem, New York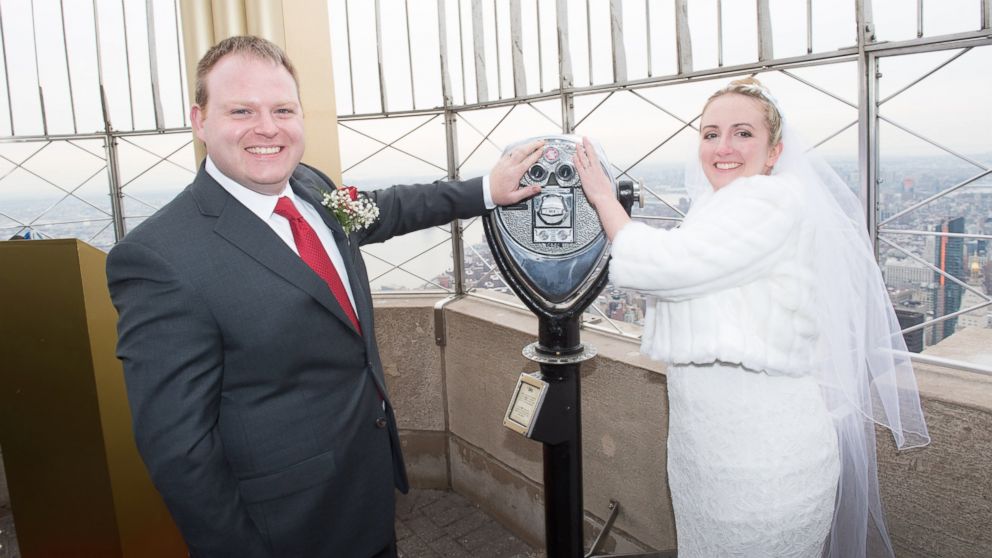 For Jennifer Cuatt, the Empire State Building is a meaningful part of her family history. After her great-grandfather emigrated from Slovakia to the United States, he worked as a plaster worker and helped build the Empire State Building.
Jennifer and Patrick Davenport of Port Orange, Florida
The Empire State Building holds a special significance in the Davenports' relationship. The Florida couple got engaged at the Empire State Building, and two years later, they had their wedding there. Today, Jennifer and Patrick Davenport returned to renew their vows.
ABC News' Jeff Costello, Lindsey Jacobson and Adam Rivera contributed to this report.
The couples' background information was provided by Empire State Realty Trust.