Pot-Bellied Pig and 2 Dogs Found Abandoned Together Are Now 'Inseparable' Friends, Shelter Says
The three "do everything together" at the shelter.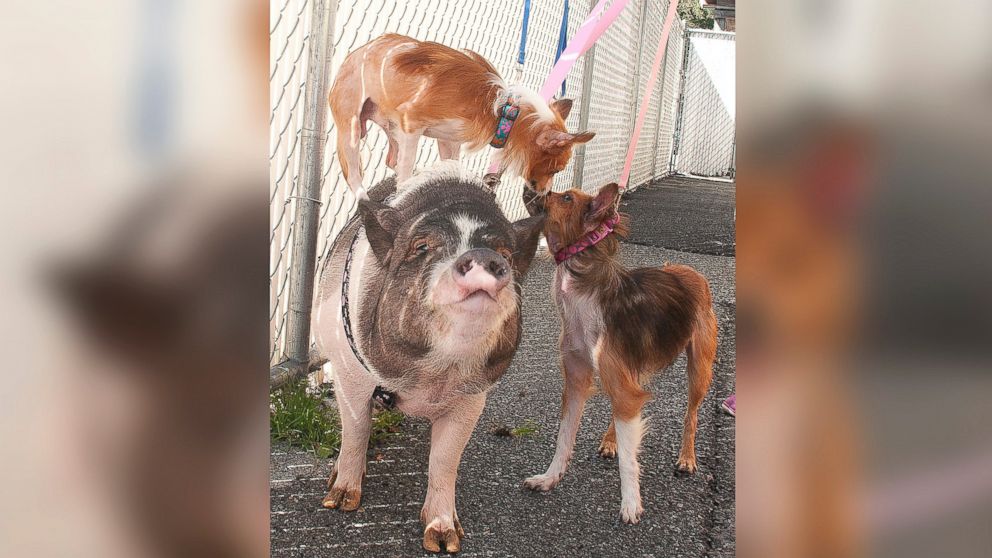 — -- Meet Pattie Pig and her canine best friends Pickles and Paprika.
The pot-bellied pig and two Pomeranian-mix pups have formed an unlikely, "inseparable" trio at a Pennsylvania animal shelter, where they "do everything together," according to Sarah McKillip, the shelter manager of the Animal Rescue League of Berks County in Birdsboro, Pennsylvania.
"They hang out together all the time, sleep together, play with each other and even go for walks with each other," MiKillip told ABC News today. "Sometimes Pickles, the smaller one, will ride Pattie's back, and she'll walk around with him on top. It's hysterical!"
The shelter manager joked that the only thing the trio, nicknamed "Triple P," doesn't do together is eat because Pattie tries to eat Pickles' and Paprika's food.
The pig and pups are "family," McKillip added, noting that Pattie often acts "like a big sister" and that Pickles and Paprika often try to copy her and follow where she goes and copy what she does.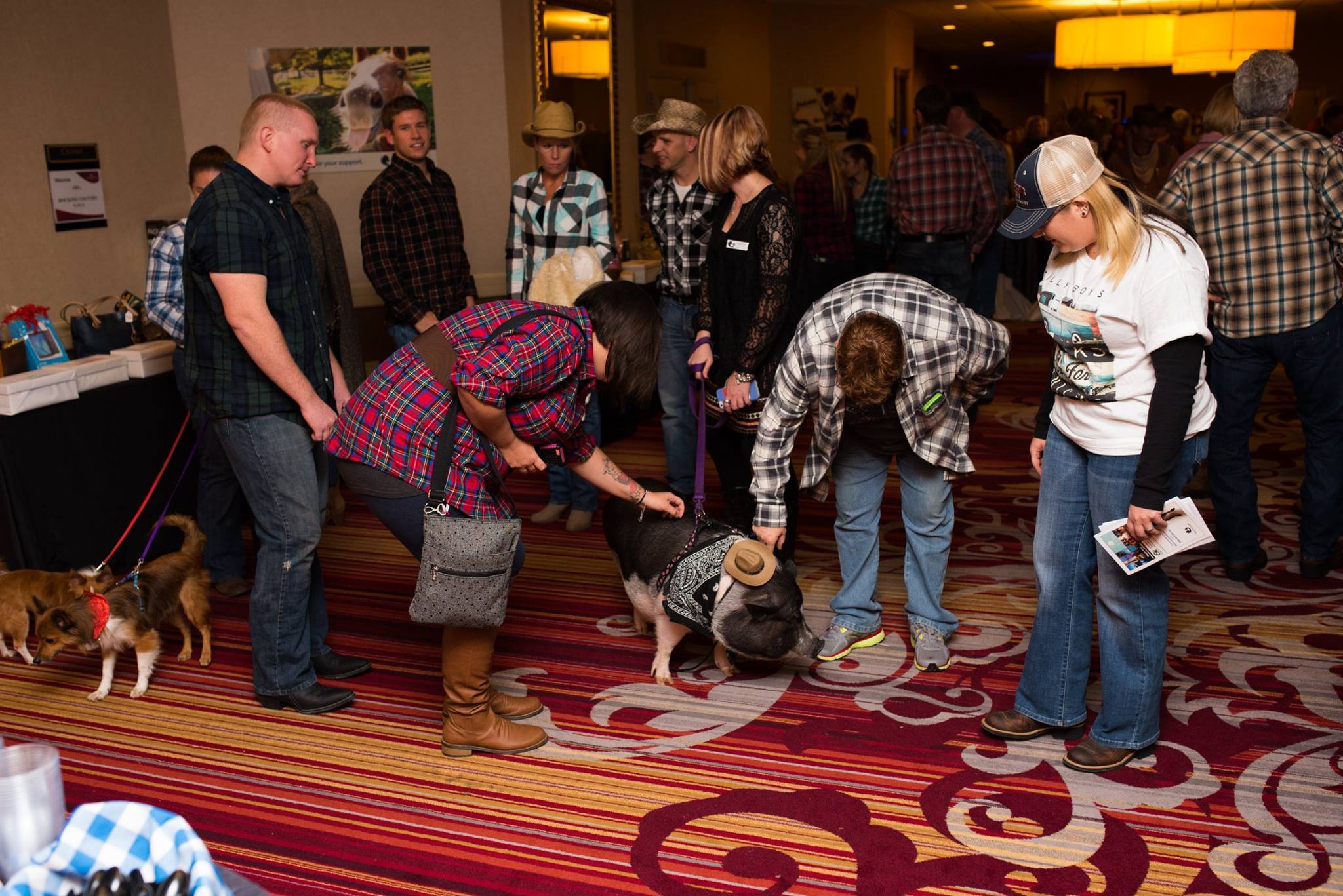 "Pattie's very intelligent and she's very attached to them, so we don't want to split them up," she said, adding that the three often conspire together. "When we first got them, we once moved everyone outside to clean the kennels, but Pattie found a way to open the door into the kennel and let the two dogs in. We had to chase the three of them through the kennel. It was hilarious."
Pattie, Pickles and Paprika came to the shelter in September, when they were found abandoned together along with a turtle.
"From the second we saw them, we knew they were bonded, though the turtle wasn't," McKillip said. "Pickles was standing on Pattie's back and Paprika was right up next to them. When we took them out, the turtle came out from the back. We put them into a kennel, they curled up together."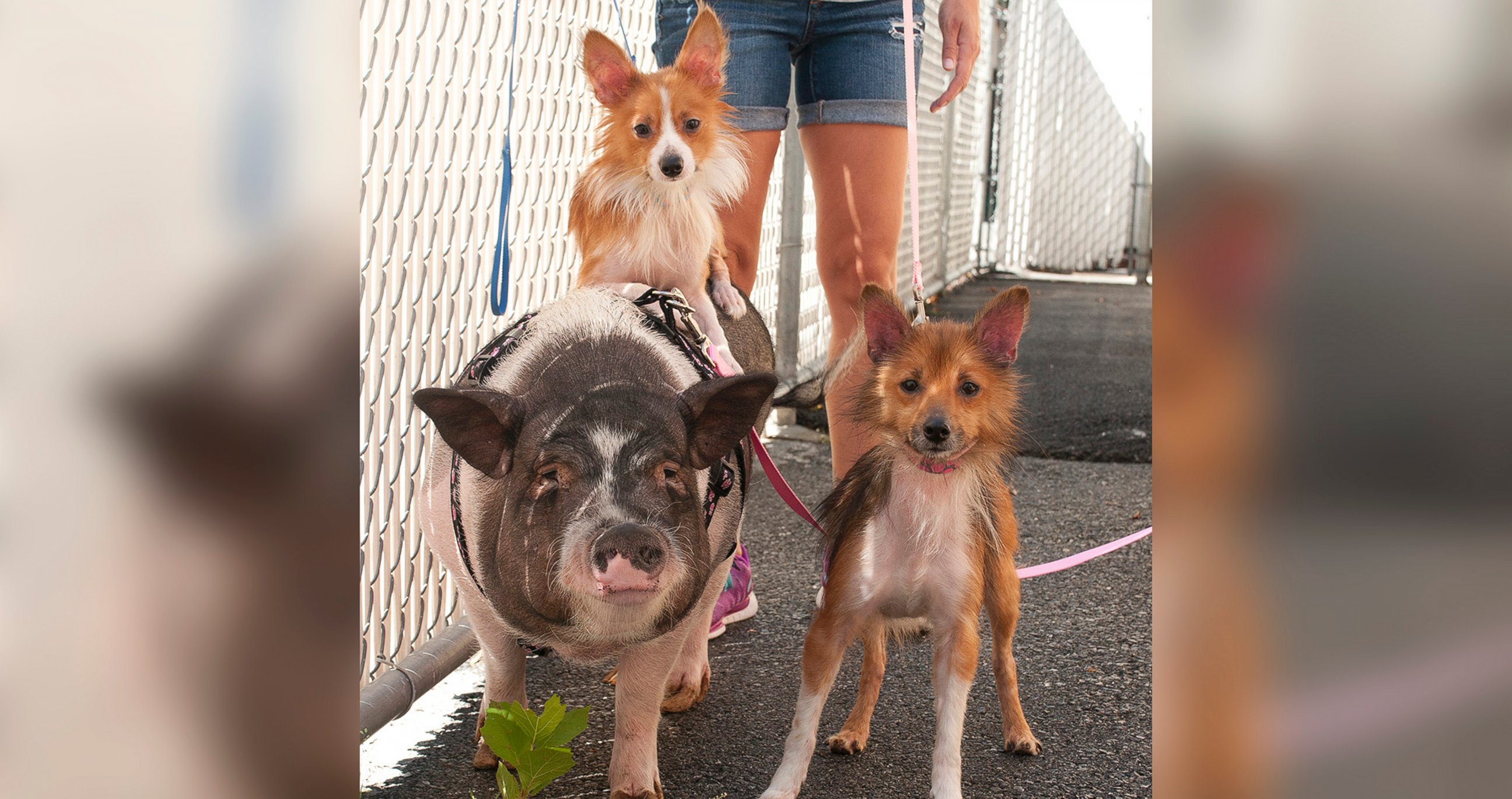 The turtle, however, wasn't bonded with the other animals and is currently "liking life in a new aquarium," in the home of one of the shelter employees, McKillip said.
Triple P is currently looking for a permanent home, McKillip said.
"We've received lots of inquiries and a few viable candidates both locally and out-of-state that we're looking into," she said. "The only thing is that we prefer people with pig experience or really willing to learn and research about taking care of pigs. We also want to make sure the potential adopter's township doesn't have any laws against owning pigs."
But most importantly, McKillip said that "the three of them absolutely have to be adopted together" beacause "they're family."