Apr. 4, 2014 -- As the online food writer for ABC News-"Good Morning America" and a culinary school graduate, I suppose it's safe to say I'm a "foodie" (no matter how much I might dislike the word). I'm also an active New York City dater, so when I started hearing more and more about dating sites that cater to people with a big interest level in food and restaurants, I became curious.
But it seemed inadequate just to tell readers the sites existed, so, despite not being online dating's biggest fan, I signed up for three foodie sites to survey the scene. Anything for the readers.
Spoiler alert: I'm still single, after many messages and three dates. But I came away with observations about each service that can help better inform if you'd like to try them, too. Read on to hear my experiences with HowAboutWe, HiDine and SamePlate.
HowAboutWe
Serious Eats recently announced its partnership with HowAboutWe, where members suggest date ideas as a way to connect. Serious Eats positioned the partnership as a way to get the site's single readers to "offline" with dates like "tacos and a spin around the Bronx zoo" or "a crawl of the essential dumplings of Flushing," both of which sound like pretty great activities to me. I knew that Eater, Daily Meal and New York magazine also had similar partnerships to connect their like-minded readers, so I figured I'd check them all out to see how they differed.
Turns out they don't. If you go to the landing pages for each service, they are literally identical.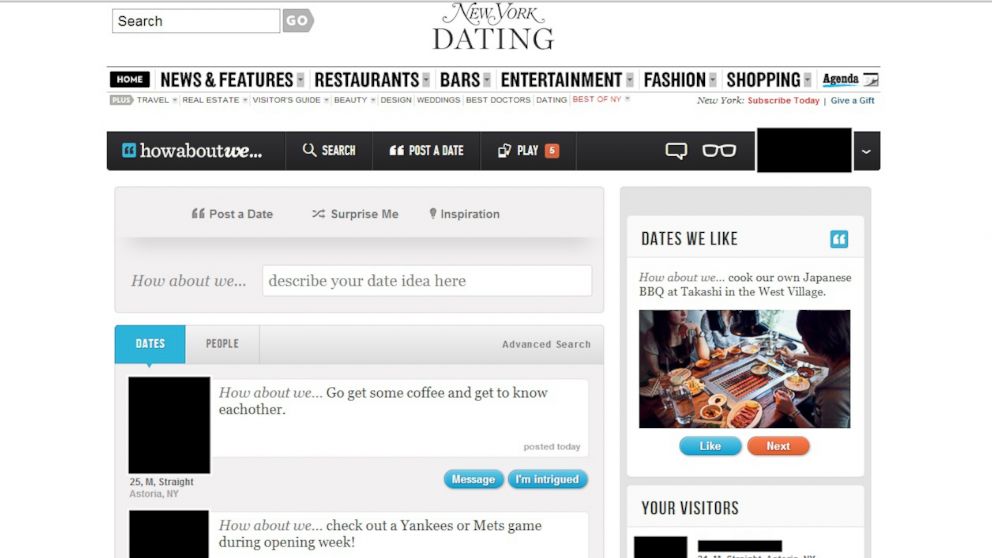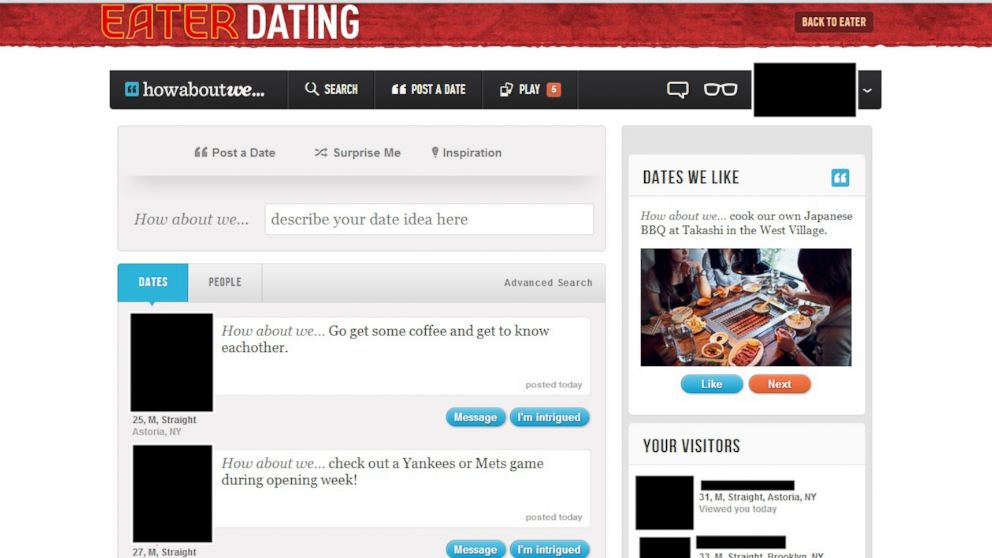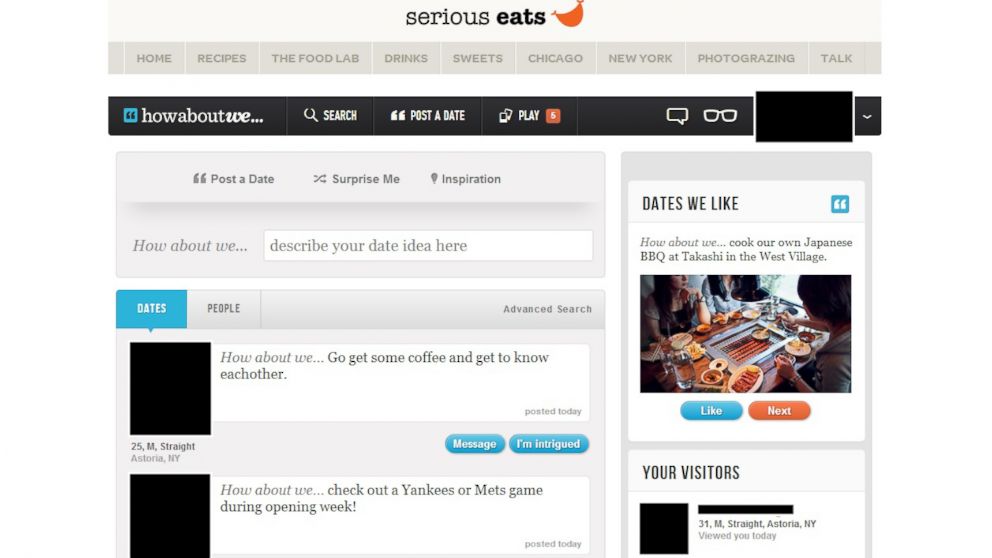 Brian Schechter, HowAboutWe's co-founder and co-CEO, sees no problem in this. "We're not building different websites for any of them. That's the idea," Schechter said. "They're cobranded partnerships where we are powering the dating experiences for those different publishers. If you're an Eater person you're not like, 'Oh, no, I want to go out with someone different from a Serious Eats person."
Michael Silberman, the general manager of digital media for NY mag who brokered the deal between HowAboutWe and the magazine, agrees with Schechter.
"It would be silly for us to limit you just to the folks who have signed up for NY mag since one of the general features of dating sites is obviously the more people that are in the network, than the better chance you have of finding somebody you're interested in meeting," he explained. "If we just restricted it to the NY mag originated members, then that would obviously restrict the pool. That's by design."
HowAboutWe, founded in 2010, definitely has the volume with more than 2.5 million users (though the company would not tell me how many of those were active or a part of their "Couples" program, which sets up dates for people to "stay in love," as they like to say).
It's a valid point, but rather than see other readers of Serious Eats, Eater, etc., which is the reason I signed up and went to that branded landing page, I see everyone in my area on HowAboutWe. And not even only the ones who are particularly interested in food. No, some of the date suggestions on the home pages were prank calling Oprah, seeing a Mets or Yankees game or going dancing. I signed up for Flushing dumpling dates. Not dancing. (Which, for the record, I do also like. I'd actually also be down to prank call Oprah, but that's not what I was looking for coming from a food blog.)
Apparently, I'm alone, though. According to Schechter, the company has "worked with Eater for three years, and we've never had anyone say, 'Hey, I want to go out with someone who only likes food.'"
That makes sense; it would be a little weird to go out with someone whose sole interest was food. But as someone who is extremely interested in food, it is an excellent starting point.
HowAboutWe users like me who may have felt like there was a bit of a bait-and-switch after signing up from a food blog can narrow searches to people who suggest food and drink date ideas. But if you want to message someone, you have to sign up for at least an $8 monthly membership. Not expensive by any means, but definitely different than the other two sites I tried.
Although Eater and Serious Eats did not return my request for comment, I have to assume they knew what they were getting into as a part of this partnership where they share profits off anyone their site sends to HowAboutWe as a paying member.
(And, if you're wondering what my date suggestion is, here goes nothing: How about we … head to happy hour at Corkbuzz, where the buzzy wine bar offers free blind tastings and lessons on Mondays and Fridays.)
HiDine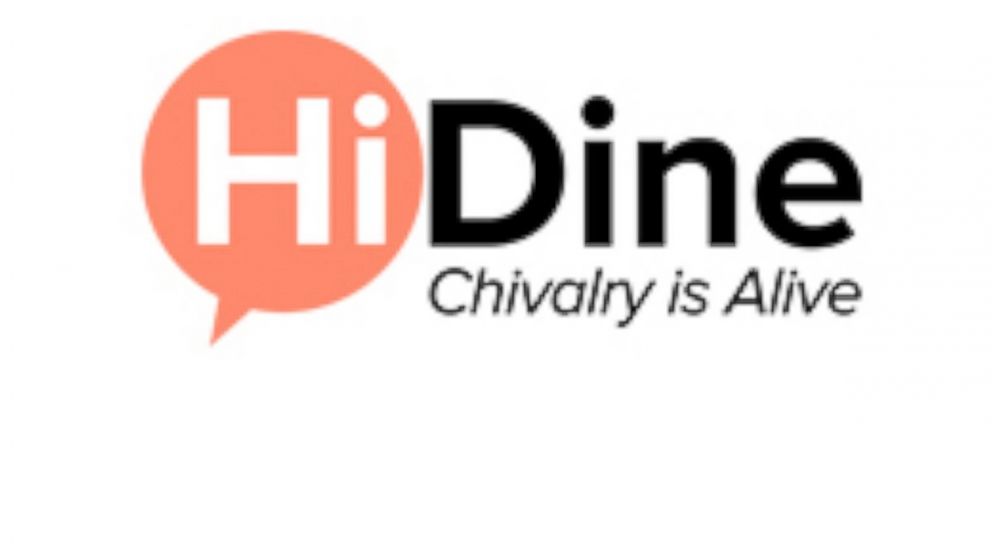 HiDine hit the dating scene to some controversy when it launched in November. The concept lends itself to catchy, dramatic headlines: ABC News went with "HiDine.com Matches Women by Their Food Preferences, Men With the Bill."
Yes, the premise of the site is that only men can ask women out on a date, and in doing so they commit to picking up the tab.
"The traditional dating site aspect is the guy who is supposed to pay for the first date, and that's just showing he's respectful toward women and that's how he normally dates people," founder Kyle McGinnis said. "Showing that in the early stage of dating can say a lot about you. It's appreciated."
While media may disagree -- many blogs eviscerated the concept, calling it sexist and more -- I'm on Team HiDine. McGinnis is right. I do appreciate when a guy pays for the first date. I always offer and think it's important to pay for future outings, but something about the guy's picking up the first tab is very appreciated and says a lot about his ideals.
Since being on all of these sites, I have received way more messages and date requests on HiDine than the others. This might have to do with their approval process, something the other sites don't have.
"We approve members that show they are more serious about the concept, and about dating. Nice/fun taglines and interesting descriptions (many of which tend to mention food) could be enough to approve someone," McGinnis explained. "The criteria for approval aren't strict, but we ultimately want a fun group that is a notch about the average dating site."
With a ratio of two girls to every guy out if its roughly 3,000 members, HiDine might be onto something.
If I had to criticize, I'd pick out two negatives. One, the messaging system is pretty clunky, although the calendar function does let you more easily pick a mutual night to meet.
More importantly, though, it can be frustrating to not be able to message a guy. All women can do to signal their interest in a profile is "wink" at them. So I have to save my sassy approaches for another time.
Then again, at the risk of sounding a little like a diva, in real life, I prefer that guys approach me anyway. So the site basically replicates what I want to happen offline, and it's been successful for me so far.
SamePlate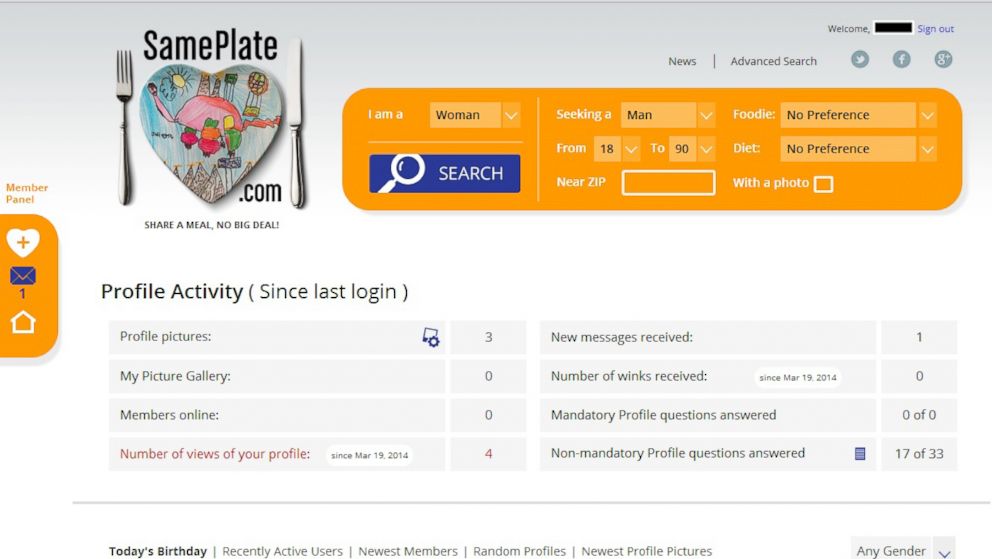 While SamePlate has the best of intentions, it simply doesn't have enough members yet to be successful. Maybe I'm too picky, but when I searched my ideal parameters (a male aged 25-32 in NYC with a picture), I got one result, and he was gay. When I opened up the age limits to 18-42, seven guys came up, and when I took away the picture necessity, 19 options appeared. Call me superficial, but I want to at least see a picture of the guy before I meet up with him if it's not through a friend set-up.
SamePlate was founded in 2012 by TV producer-writer Jeff Nimoy, 47, after he wanted to find a partner to eat Paleo with him but found a lack of choices. Nimoy created the site not only for Paleo, but also for any food lover.
Users can use the free site to cross-reference search to find a gluten-free pizza lover or any other mix of diet and food combinations. This would be a cool feature, if the site had more members.
"We're about six to one, females. So we need some men. In terms of overall numbers, it's in the thousands," Nimoy revealed. "New York and Los Angeles have a nice concentration. But I have one lonely person in Alaska waiting for someone to share a mooseburger with."
Six to one, girls to guys? No wonder I didn't have much success, not that that seems much different than the Manhattan dating scene, which I'll probably head back to after this article is over."Foodie" online dating was interesting, but still not strong enough of a pull to stay on fulltime.