For 71-year-old Norm Sartorius of Parkersburg, West Virginia, a simple eating utensil represents everything human.
"It's an instrument, a tool of nurturing that is universal, or very close to universal, in the human experience," Sartorius told ABC News.
Sartorius is a studio woodworker who only carves sculptural wooden spoons. He says he is one of three "abstract spoon artists" in the U.S. and has nine products in Smithsonian museums in Washington, DC.
His spoons are not intended to be used for eating, but more for appreciating. Their prices can range from $250 to $3,500 each - with one spoon even selling for $7,000. He says he makes about 50 spoons on average every year.
"How do you explain what you're attracted to? What you're drawn to?" he said when questioned why his focus is so narrow. "It's something that has worked for me and that I have no difficulty being excited about my whole career."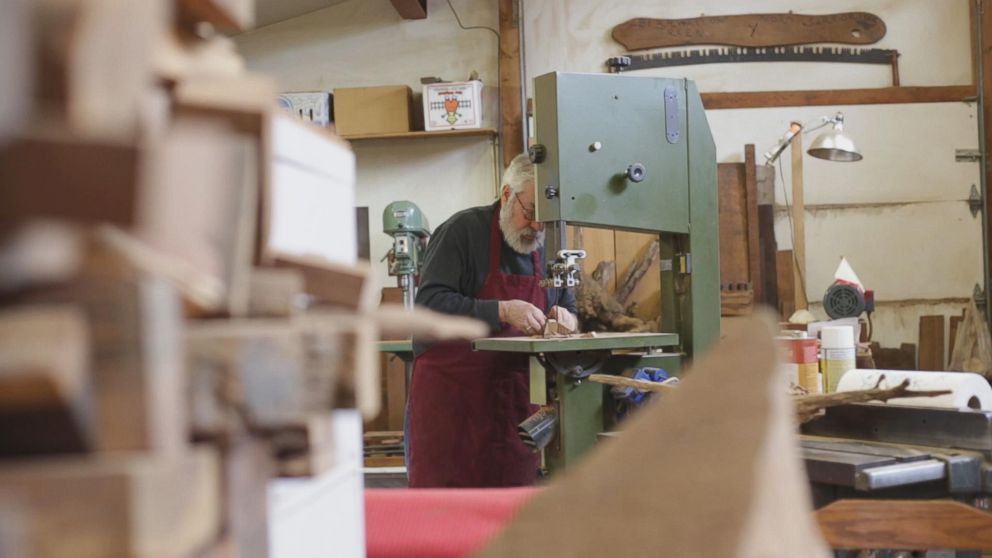 Sartorius hasn't always been an artist. After working for five years as a psychiatric social worker in Baltimore in the 1970's, he decided to leave the field behind to become a craftsman apprentice. "I wanted to do something with my hands," he told ABC News. "And out of that, grew an affection for making spoons."
He said he made functional spoons for years before starting to feel like he was competing with big manufacturers like Kmart. "I have nothing against Kmart!" he laughed. "It's the stamped-out, manufactured, extremely plain, straight-forward wooden spoon that I have a problem with."
Thus began his journey to West Virginia and into abstract art.
"I bought 25 acres of land for $1,400 in McDowell County," Sartorius reminisced. "I think West Virginia drew a lot of artists and working craftspeople because of cheap land."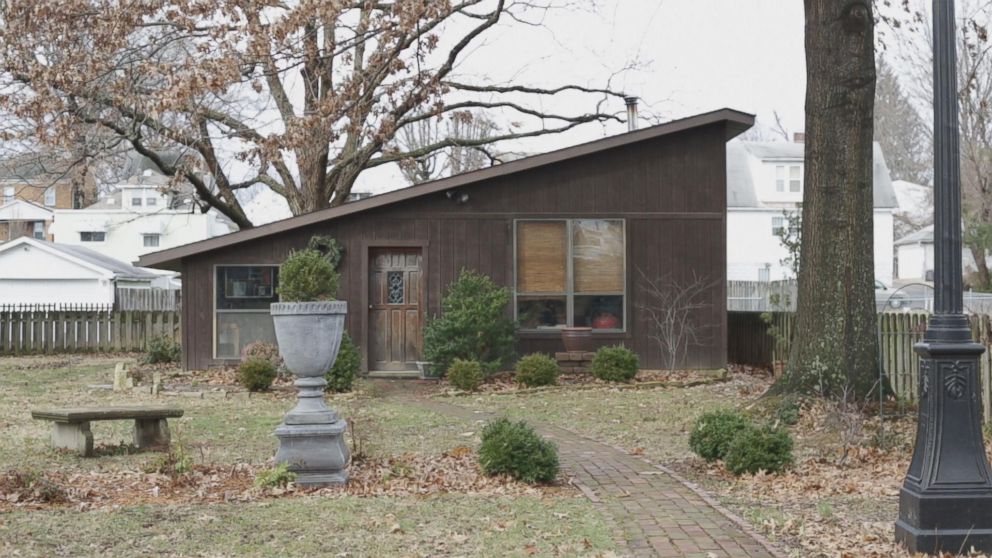 After five years on the side of a mountain in McDowell County and two years in Kentucky, he moved to Parkersburg, West Virginia in 1982. He got married to his wife the following year and his new father-in-law offered to help build a shop for him in his backyard.
"It's kind of my sanctuary because hardly anyone comes in here," he said while sitting on his swivel shop chair. "That privacy and quiet, nobody is directing me or suggesting I work harder or faster or slower or take a break. Blank time is significant to my creativity."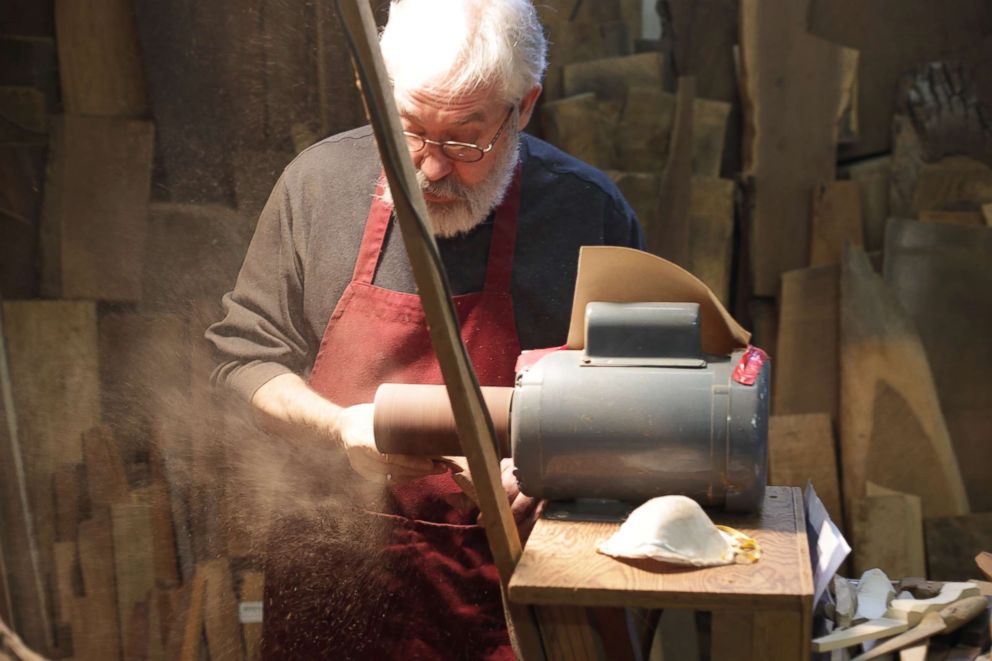 His creative process is to find the perfect piece of wood first and go from there. Some wood is fragile in areas, stronger in others. Once he finds its strengths and weaknesses, he naturally carves it to resemble a spoon, getting inspired by it's shape and his current mindset along the way.
"Wooden spoons have no less potential than any other craft object to be an expressive craft item," Sartorius said. "And I try to make each spoon different and expressive of both the wood and myself."
His work ranges from the fun and flirty spoons like "Dancer," where the utensil is described as "having attitude," to "America 2008," where the spoon is naturally divided in half, hanging on by threads, much like what he felt like what the elections resembled that year.
"I love living around objects that have character and personality, and that includes wooden spoons," he said.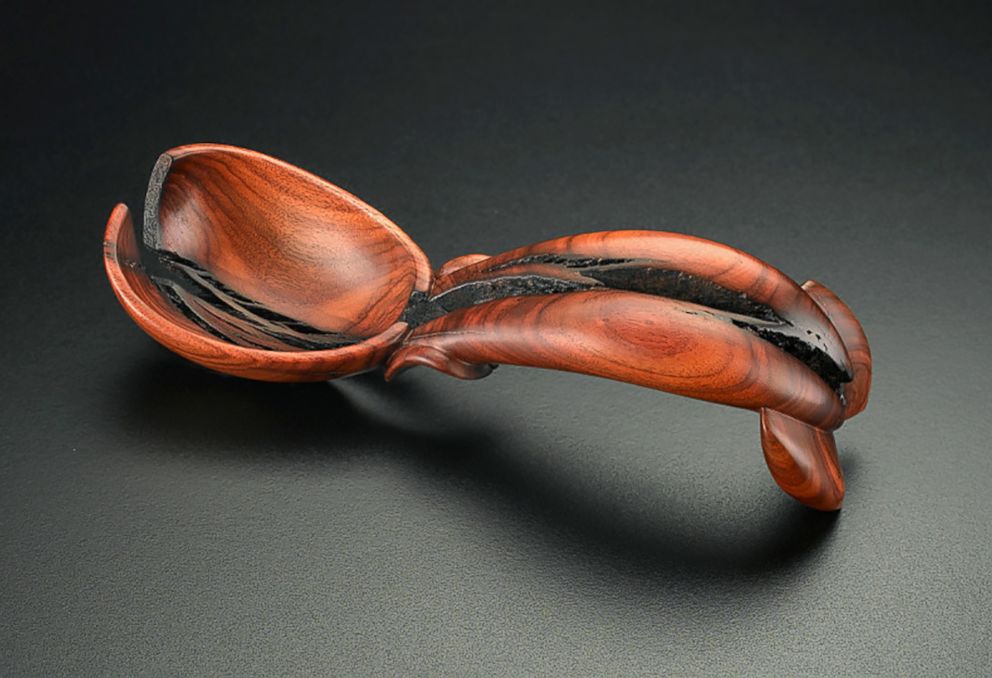 Sartorius' spoons are sold mostly at craft fairs around the country or bought by loyal, longtime collectors.
"Norm is the only artist I know who has zeroed in on the physical and cultural potential of the spoon, and taken it to such an artistic end," said Nora Atkinson, the Lloyd Herman Curator of Craft at the Renwick Gallery of the Smithsonian American Art Museum.
"That elegance and thoughtfulness … provides a beautiful lesson for a modern age in which we are so fixated with getting ahead we often spend little time contemplating the things around us," she told ABC News.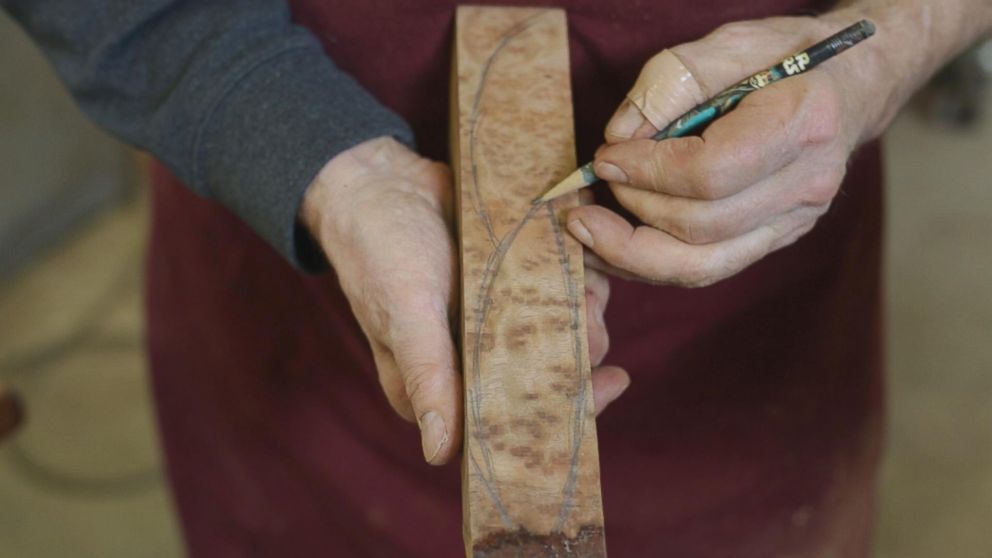 Out of the more than 1,500 spoons Sartorius has carved in his career, he says one stands out in his mind as his most personal, special piece.
It's called "Ditch Digger," and the wood used in the tiny sculpture is from the big walnut tree from his grandfather's front lawn - where his father grew up. Two years ago, after both men had passed away, Sartorius carved a little human figure grasping a giant spoon out of the wood.
"[It] references something my dad said over and over again: 'I don't care what you become, even if you become a ditch digger, if you're the best ditch digger, you'll have a good life," said Sartorius.
"This was my sculpture for my father, like saying: 'Dad, I did what you said, and it turned out really well.'"