July 22, 2014— -- After the last piece of cake has been eaten and the last remnants of a tan have faded away from the honeymoon, one wedding element is often left hanging in limbo or, at least, in the back of a closet--the bride's dress.
For those who don't plan to preserve their garment, options for "What to do with it?" can range from resale to recycling. But a Texas nonprofit now offers a dress donation alternative with a higher purpose: "angel gowns," beautiful white burial clothing for stillborn children.
New Pennsylvania Law Allows Birth Certificates for Stillborns
Silence After a Stillbirth is Deafening and Painful, Say Parents
NICU Helping Hands, in Fort Worth, Texas, is an organization offering support to families with premature newborns and stillborns. Their Angel Gowns program, founded by Lisa Stubbs in 2013, collects donated bridal gowns from across the country to be transformed by volunteer seamstresses into tiny precious designs.
"I watched so many families who had lost a baby sorting through donated clothing at the hospital, some of which was appropriate for final burial and pictures, some of it not," said Stubbs. "But what really bothered me was watching them dig through those bins. It just seemed so disrespectful. So I thought we should provide something to families that is respectful, and that would fit their child."
Stubbs' mother and mother-in-law became the first two volunteer seamstresses for NICU Helping Hands, turning a wedding dress into multiple dressing gowns in several sizes.
"Each wedding gown, depending upon the size and the style, will make between 12 and 20 angel gowns," a spokeswoman for NICU Helping Hands told ABC News.
As of March, more than 12,000 angel gowns could be created after the donation of roughly 3,000 wedding dresses from across the nation.
"And the gowns are still coming in," said the spokeswoman. "Thankfully we have a pretty big warehouse space in Fort Worth. Local volunteers can come by to pick up gowns and start sewing, and that's also where volunteer seamstresses around the country get shipped dresses from."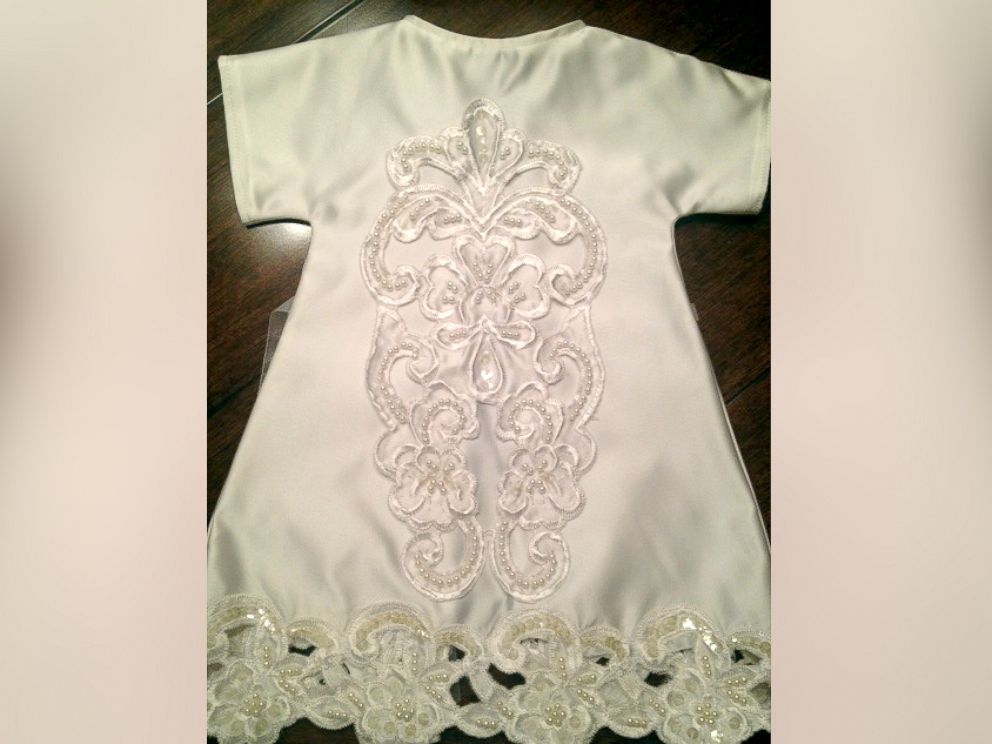 The need is great. According to the Centers for Disease Control and Prevention, approximately 11 percent of babies are born preterm each year, putting them at higher risk for infant mortality. And the most recent CDC figures indicate that more than 24,000 infant deaths occurred in 2010.
"People don't like to talk about this. There's nothing normal about a child dying," said Stubbs. "But what's also heartwarming about this program is what it has done in bringing a voice to families who have lost a baby across generations. Many of them lost them in the NICU, many in stillbirths, many were early miscarriages, and it's given so many of them an opportunity to express their grief."
It has also given brides a way to imbue an ephemeral investment with new value.
"After I got married in 2010, I knew I wanted to donate my wedding gown to a worthwhile cause," said Aimee Dars Ellis. "It's taken me almost four years to find a meaningful charity. Right now, I am cleaning my gown and getting ready to send it toNICU Helping Hands."