— -- First it was hot yoga. Then it was aqua yoga. Next came cat yoga, or practicing poses with your favorite feline, and now the hottest yoga trend this winter is snowga or snow yoga. It's not only inspired a popular Instagram hashtag with over 20,000 snaps of yoga lovers playing in the snow, but now those who don't mind the chill can also take a snowga class.
Brittany Holtz, founder of Studio B Power Yoga in Annville, Pa., said when the fluffy stuff hits the ground this season she plans to lead a 45-minute outdoor snowga class.
Hotlz, 27, who typically teaches in an indoor yoga studio heated to 85 degrees, said she initially had the idea for a snowga class last winter and about 8-12 students showed up.
"It was a little shocking," she recalled. "But once I really thought about it, not so much. A big theme in all of our classes is play time. If you can't play in yoga, where can you play as an adult? It's a really fun opportunity to just play in the snow as an adult...and it's acceptable."
Hotlz added that snowga is great for those who want to increase their balance, focus, concentration and muscle toning. That's because most snowga classes typically focus on holding standing or balancing poses such as the tree pose, eagle pose, dancers pose or warrior pose.
Snowga participants are encouraged to bundle up with typically winter wear: Coats, hats, gloves, socks and boots. "The great thing about the snow and the layers, is if you fall, there's a lot of cushion there, so it adds to that fun element," Holtz added.
But you don't need a class to get in on the snowga trend. Many yoga communities are encouraging their students to simply go out in the snow, hold a pose, snap a pic and upload that photo to social media, using the hashtag, #snowga.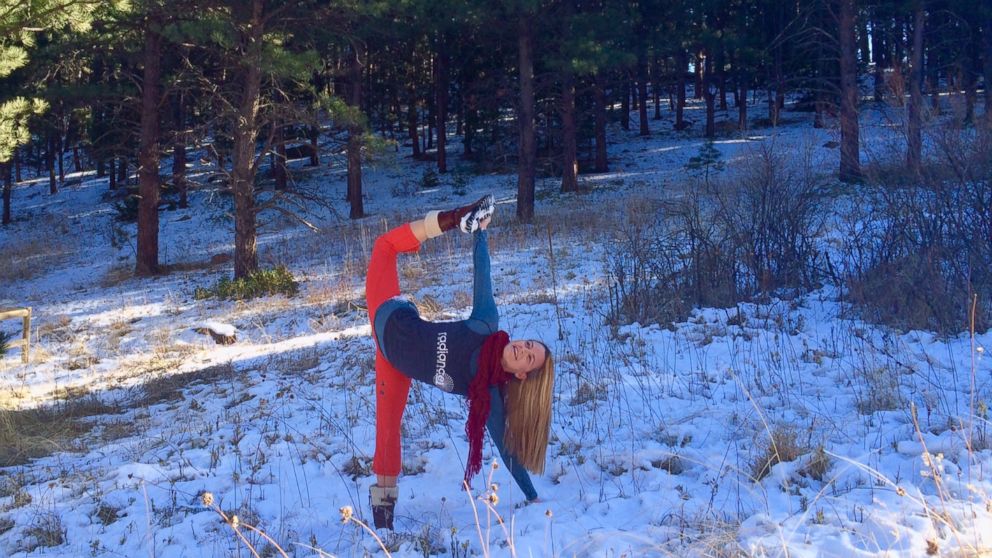 That's what Marsha Austin Rodwin, owner of Radiance Power Yoga in Boulder, Co., asked her students of all ages to do Wednesday when she launched a snowga photo contest.
"We have snow on the ground here in Colorado and over the last couple of weeks we've gone through our first big cold spell. And we're about community, so we want to continue to inspire people to have fun and have fun in the outdoors, even in winter," Austin, 42, explained. "We thought it'd be a great idea to encourage our community to get in on the lovely winter weather and take pictures of themselves in their favorite yoga pose."
She continued,"Yoga is more than a workout. It really is a lifestyle. So if people are having fun with their yoga even if they're not in the class or in the studio, it's a way to inspire people to continue to make it a part of their life."
But before you run out into the snow, there are some precautions to keep in mind.
Ensure you have a proper warm up inside for about 10 minutes before trekking outside.Austin added. "In the cold your muscles may not be as warm and limber, so you want to be careful. Maybe you stretch before you take your pose, just like you would with any physical activity."
Also, she warned don't go outside of your comfort zone. "Choose a pose that's within your ability and one that you can hold for 10 seconds or longer," she said.
Along with ensuring you're properly layered to avoid potential frostbite, be sure to keep in mind where you stand in the snow. Avoid ice or ice that could give way to an unsteady surface. Lastly, if your toes, hands or other body parts should start to feel numb, head back inside. The elderly and pregnant women should also avoid snowga, unless they've consulted with their physician.