— -- One Arkansas woman's homegrown effort to help her community is both small and mighty.
Jessica McClard, of Fayetteville, Arkansas, had always been intrigued by the recent trend of Little Free Libraries, which she'd notice popping up quite frequently in her neighborhood. But then she thought about how she could expand the idea into something more. That's how The Little Free Pantry was born.
She built what she believes to be is the first Little Free Pantry, stocked with canned goods, toiletries and paper goods. Her idea has taken off with huge success.
"I check on it about once every day because it's at the church," McClard told ABC News of the small structure located in front of the Good Shepherd Lutheran Church in Fayetteville. "I know it turns over in about 30 minutes. That suggests to me that are more people on the demand side than the supply side."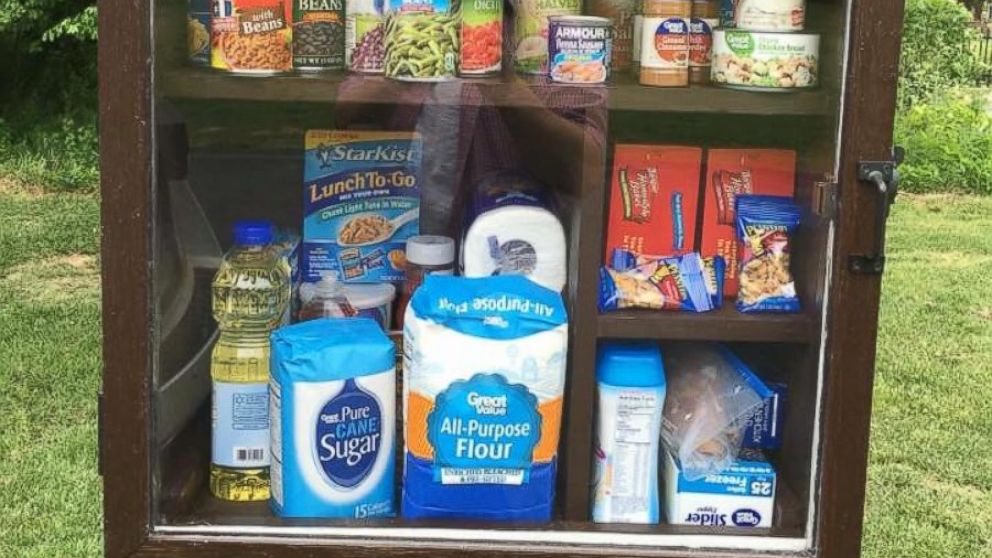 The items that fly off the shelves the fastest are simple goods that can make a world of difference to someone in need.
"Personal hygiene items for sure," she explained. "Deodorant, toothpaste, toothbrushes, diapers, feminine hygiene products, paper goods are great too, paper towels and toilet paper. I get asked about high temperatures and whether food could really spoil, but the turnover rate is so high it's never been a problem."
The Little Free Pantry isn't just used for the normal, everyday items. She's noticed people stocking it with school supplies for children, and even was delighted to find it decorated for Memorial Day.
"I went up to it on Memorial Day to put things in it and it had flags on it," McClard recalled. "I feel like there's some community ownership over it, and that's exciting."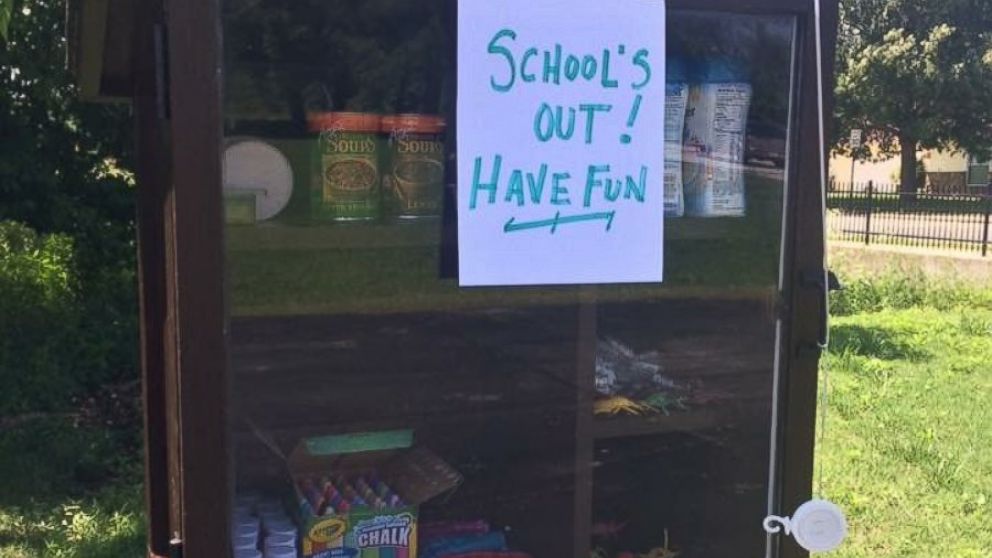 The entire idea was inspired when McClard really began wondering "why the little libraries had gone viral."
"I think people respond to it because it's about community and neighborhood," she added. "It just really seemed to me to have to do with a hyper-local action on behalf of the immediate neighborhood, which would raise the quality of life for one's neighbors. But it was a bigger issue this was addressing."
More than anything, McClard hopes that her Little Free Pantry "helps someone who may be in a tight spot and to let them know they're not alone."
"I think the question that it raises is the really interesting thing about this project," she said. "It forces you to confront the question, 'What is needed in your life? What is my need?' It's been clear to me that for me, the need to give and to do something is significant. I'm hearing that from other people too. There are people who want to help and do something and they just don't know what to do."
It's not uncommon for McClard to find handwritten thank you notes left inside the free pantry from those who've benefited.
"We do know people are traveling from miles away to visit it," she said.
However, "I feel like even if it were to not work beginning today, I'm so glad I did it," she added. "It's just been tremendously enriching for me and an extremely hope-giving experience. There's so many good people that really do care."