7-year-old basketball star shocked by Harlem Globetrotters surprise
"You can see the thrill and excitement in her eyes," her dad told "GMA."
— -- Little Samaya Clark-Gabriel of Brooklyn can dribble a basketball - or two - like nobody's business.
The 7-year-old is such a talented baller that she's already met the Harlem Globetrotters and was invited to their game Sunday at the Barclays Center. But she got an even bigger surprise today when one of the team's most famous dribblers took that invitation one step further.
"I have some good news for Samaya," Herbert "Flight Time" Lang said on "Good Morning America" after shocking her with his appearance. "Samaya, along with attending the game this coming Sunday at the Barclays Center in Brooklyn, you're also going to have the chance to go out to center court with myself and my teammates to have a chance to entertain all the fans at the game with your ball handling skills."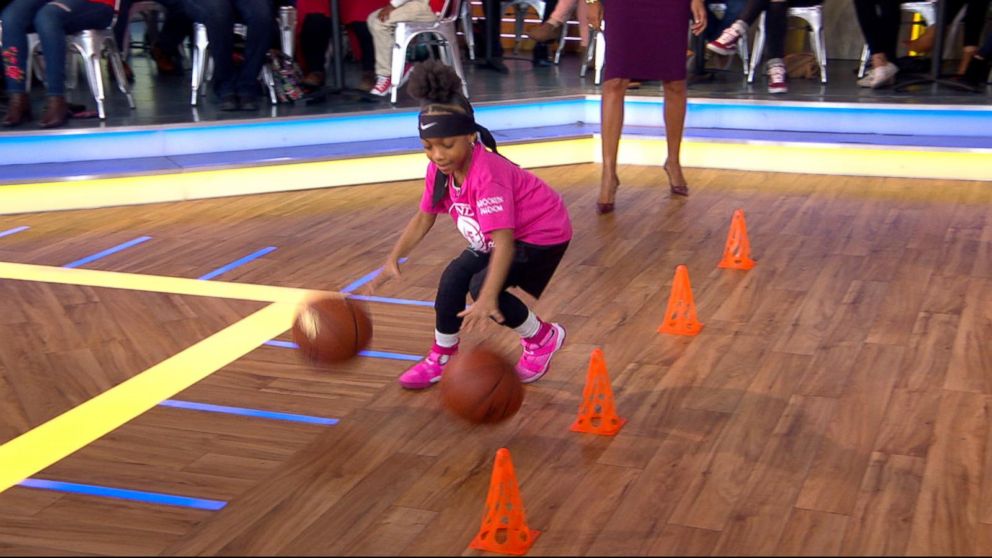 Samaya was so stunned by his offer that she was slack-jawed. But there was still more in store for her.
"And if you do a great job, which I'm sure that you will, we'll also give you the chance to do it again on April 14 at the new Nassau Coliseum," he added. "We're looking forward to having you there."
"Flight Time" even handed her another Globetrotters jersey to add to her collection.
"She was so excited," Samaya's dad, Wayne Gabriel, said after the surprise. "When the wall opened and he walked out you can see the thrill and excitement in her eyes. She's just enjoying every moment."
The pint-sized basketball queen showed off her skills on "GMA," dribbling two balls back and forth in between cones, all while sporting her hot pink basketball sneakers.
Samaya, who has only been playing basketball for one year, said her favorite part about the sport is "that you can have fun."
She said she learned to dribble by "practicing and watching YouTube."
Gabriel confirmed that his daughter's talents came purely from watching videos, and was just as shocked as the rest of world at her quick ability to pick up the sport.
"We were watching the New York Knicks game," he recalled. "She looked over at me and said she wanted to play basketball. So the next day we went to the mall [and] picked up a ball. That same day we went outside and she just started dribbling. I looked at her said, 'Where did you learn this from?' She said, 'YouTube.'"
The 2nd grader also plays soccer and gymnastics, but her dad said they're taking a break from soccer for the moment because he doesn't want her "to get burnt out."