David Gray was born in Manchester, U.K., in 1968 and it is there that he remembers hearing music for the first time as a small boy. Sitting on a leather sofa, mixed in with the smell of cigarette and cigar smoke, he remembers the sound of records his parents would play. "Cat Stevens, lots of Cat Stevens," he says, "Like 'Tea for the Tillerman.' And then 'Atlantic Crossing' by Rod Stewart. 'Sgt Pepper's Lonely Hearts Club Band.' Those sorts of records have sort of made an indelible mark on me."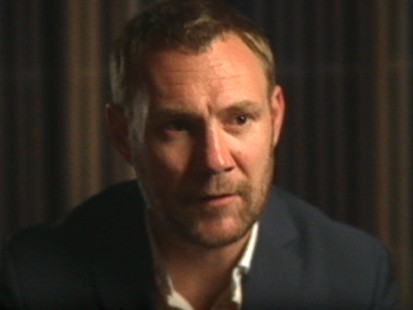 Gray recently sat down with "Nightline" in a recording studio at Mercer Street/Downtown Music in the Soho section of Manhattan. Downtown Music released Gray's eighth studio album, "
Draw the Line
," on Sept. 22.
At age of 9, Gray moved with his family to Wales. He began to broaden his musical palette by listening to punk, reggae and ska. One of his all-time favorites from childhood is the British band Madness. "They were my first sort of obsession," says Gray. "I was the ultimate fan. Soon as a single came out I'd buy it. I wanted them to go to No. 1."
Gray began performing music himself in the mid-eighties, teaming up with some of his classmates from school to form a cover band. The teens played everything from Led Zeppelin to the Cure, The Who and Jimi Hendrix. While many articles have reported that Gray's first band was a "punk band," he denies they deserved such a title, saying, "In our crude musicianship it was probably akin to punk but I don't think it was sort of that thought-out as that."
But this partnership was Gray's first glimpse at the camaraderie and satisfaction that comes from being in a band. "It's the most fun in the world," he says, "making a loud noise and just upsetting people in general. It's your own little tribe."
Soon, while on a road trip with his father, David Gray's life changed forever. "I discovered Bob Dylan for the first time," he says. "Which sort of stopped me in my tracks." There was one tape in his father's car that they played over and over. On one side was Bob Dylan's Greatest Hits, Pavarotti was on the other side. "Bob won out," says Gray. "He's had the greater effect although I do eat a lot of pasta and it could have been to do with old Pavarotti."
'You Sort of Don't Need Anything Else
It was the lyrics in Dylan's songs that Gray found so profound. "The fact that there was so much space for the words," he explains, "and the idea of the song and his imagery is so vivid, so you sort of don't need anything else. And I love that."
In fact, Gray says Dylan is a poet, a title which many have given to Gray himself. He remembers writing long poems in school, which ultimately led to writing poetic lyrics for his albums. And it isn't just poetic song-writers who have influenced his writing. "Writers like Cormac McCarthy," he explains, "And poets like Pablo Neruda the Chilean poet that I really really connected with in a massive way. They inspired my lyrical take on things."
Gray also appreciates "musical" poets, and lists Leonard Cohen, Nick Cave, Joanna Newsom, Van Morrison and John Martyn as some of his favorites. Martyn, who died earlier this year, was a quiet pioneer, according to Gray. He remembers hearing him for the first time around a campfire on the beach was he was 19 year old. The song "I Couldn't Love You More" remains one of his favorites. "He almost used his voice as a saxophone in a very jazz kind of way," says Gray.
When Gray began recording and releasing albums, he did not always have the success and notoriety he enjoys today. His first couple albums became relatively popular in the folk-music world, but they failed to be commercial hits. It was the 1998 release of "White Ladder" that changed everything.
The album sold 6 million copies worldwide, and remains the top-selling album ever in Ireland. Gray remembers turning on the radio after another whirlwind trip soon after the sudden success of the album's release. The number one single from that album, "Babylon," came on and blasted through the speakers. "There was something magic going on," Gray remembers. "It was all starting to go my way."
One of Gray's most dedicated and supportive fans throughout his life and career was his father. So his death in 2001 profoundly shook Gray, leaving him quite wounded. Not only did the event change how Gray wrote and performed his own work, it changed the way he listened to music. "Your perspective changes on things you hear things in music," Gray explains. "The ghosts in the music come slightly more present to you when you are that opened up and sort of sensitive to it."
His father was a big Frank Sinatra fan, and so one specific song that changed for Gray was Sinatra's "Quiet Nights of Quiet Stars," which was recorded with legendary Brazilian composer and songwriter Antonio Carlos Jobim. "He sounds much more human and less of a showman, you can hear a vulnerability to him," Gray notices. "Sinatra the man exposes himself in the singing. His voice sort of cracks a little bit, it's not so perfect."
After using his flat as a recording studio for past albums, "Draw the Line" was recorded in a studio that used to belong to Dave Stewart of the Eurythmics. When Annie Lennox came to record the duet "Full Steam" for the new album, she noticed something familiar when she arrived at the studio she knew from years past. "She couldn't believe I hadn't changed the carpet," he says. "She gave me a hard time about that." He laughed it off and said, "C'mon Annie let's get the singing going for Christ's sake, enough about the carpet."