When you are standing next to LeBron James, it's impossible not to notice how huge he is. Sometimes, he almost seems like he belongs to another species.
"I'm kind of rare. I'm like a Tyrannosaurus Rex," he joked. "One day I forgot how to miss, and I made like a thousand shots in a row. I had to reprogram myself so that people would realize I am human still."
OK, so he's not exactly modest. But why should he be? At 25, James is a global superstar, cover boy, million-dollar salesman, gold medalist and soon-to-be leading man.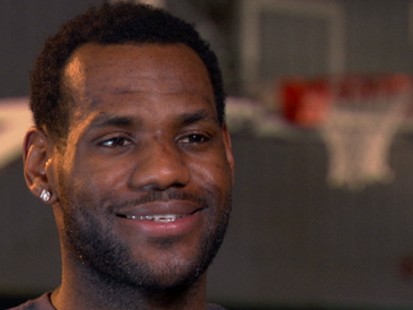 There's also his basketball career. The Cleveland Cavaliers' forward was named the NBA's most valuable player Sunday for the second year in a row.
At 6 foot, 8 inches and 250 pounds, he's larger than life. Before he had even graduated from high school, Sports Illustrated magazine dubbed James the "Chosen 1" -- a moniker he had tattooed across his back.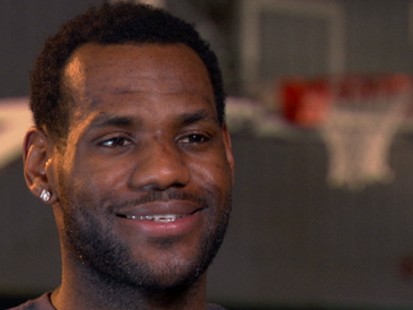 Now, he goes by the nickname "King James," but so far, he's a king without a crown. Seven years after James was drafted No. 1 overall by the Cavs, he's hoping this will be the season he leads his team to an NBA championship.
"Every day I go out on the court I try to be the best player on that court, absolutely," James said. "But the ultimate team concept is the NBA championship. ... I'm definitely approaching this year like it's my year."
Before Cavs games, the Jumbotron plays a video that shows a giant James looming over Cleveland -- and that's not far from the truth. He is a giant and this native son is a continuing source of pride for the economically depressed city.
Raised in neighboring Akron by his mother Gloria, who was 16 when she had him, James learned early how to be the man of the house.
"Being part of a single-parent household helped me grow up faster than I had to, or if I wanted to, but being able to protect my mother ... being that, you know, that man of the house at an early age definitely helped me grow up," he said.
LeBron James: A Family Man
His mother is often spotted courtside, riling up the crowd, but largely out of sight are the two young sons James has with high school sweetheart Savannah Brinson, 2-year-old Bryce Maximus and LeBron Jr., who is 5.
"Most of the time, my sons don't even watch the game," he said. "They don't care about what LeBron their dad is doing on the court. They back there [in the family lounge] drinking juice boxes and spilling chips on their lap. I don't even see them throughout the game."
But James said his 5-year-old loves the sport and has gotten used to seeing his dad on TV.
"He definitely knows he sees me on TV a lot. He knows that I play basketball at a high level. Kids love to dunk, you know he always like, 'Oh, I seen you dunk today daddy, that was awesome,' and he will try to do the same thing on his hoop back at home. And he knows a lot of players too. He always says, 'There go Kobe.'"
When asked if he could handle it if his son ever called Los Angeles Lakers guard Kobe Bryant his favorite player, James said: "I don't think I could be mad at that. Now, if it was someone that didn't earn their stripes in this league -- I'm not going to name names, but there's a lot of guys that may be down here -- that would kind of hurt me. But Kobe Bryant, I can't say nothing about him. Multiple NBA champions, scoring champion, MVP. ... He's not bad."
James' celebrity status in the basketball world has afforded him the chance to make a difference. He founded the LeBron James Family Foundation in 2004.
"Use what you do on the court as a gift to do better off the court. Using my muscle where I got it," he said. "To be able to see a kid and bring a big ol' smile to their face, that's an ultimate for me because I know where I come from."
James has surrounded himself with people who come from the same place. Several years ago, he fired his agent and replaced him with a team of close friends, who handle the multi-million dollar business of being LeBron.
The Business of Being LeBron
"I come from a good culture of basketball and a good culture of family," James said. "So I kind of brought that same instillment, that same blueprint to the professional level. It has nothing to do with age, has nothing to do with money or whatever may be going on, that instillment, that time of camaraderie can happen on the court, off the court, in a ballroom, boardroom, anywhere, and it helps a lot."
James' former high school teammate Maverick Carter is now the CEO of LRMR, the sports marketing firm that handles LeBron Inc. James is carefully cultivating a global brand, signing endorsement deals with heavyweights like McDonald's, Vitamin Water and Nike.
It's business -- not just basketball -- that has opened new worlds to James. He's learning Mandarin so he can communicate with his fans during his regular trips to China, where professional basketball is booming in popularity.
He's taken advantage of his celebrity status to reach out to billionaire businessman Warren Buffet for financial advice. James said the "Oracle of Omaha" called him right back, and they've since become close friends, with fellow Midwesterner Buffett taking in a Cavs game courtside.
"Uncle Warren, I call him. We've been knowing each other for about three years now and counting," James said. "We actually walked the streets of Omaha together, and it was like, 'Honk, honk, heeeey, it's Warren!' And I was like, what about me? And the big guy next to him. Who is that?"
Star's Shoe Obsession
Of course, marketing juggernaut Nike has made sure everyone knows who James is. He has released six signature shoe styles and "Nightline" caught up with him at a photo shoot for his seventh namesake shoe. The design is so secret, they took away our cell phones to make sure no pictures of the shoe leaked out.
And according to James, the shoes make the man.
"We play good if we look good, so when we go out on the court we've got to look good from head to toe, from the headband to the wristbands, the shoes, the socks," he said. "I can say our team is really stylish."
"Every single game, since I was a rookie, I've had a brand new pair of shoes," he said. "I don't actually know the calculation. ... You got 82 regular season games and usually I play about 100 games a year, so that's about 800 or 700 pairs of new shoes that I've worn in my career, every single pair."
The question now is where those shoes will make history. After this season, James becomes a free agent, which means he could leave Cleveland, a prospect that has teams -- and fans -- everywhere, salivating. There's practically a cottage industry devoted to reading James' tea leaves in hopes of divining whether he's leaving and where he would go. But if he's made any decisions, he's not letting on.
"This is a great city, these fans are unbelievable. They've seen me grow from a young man at age 18 to a grown man now at 25, so they've given me a lot," James said. "Right now, being in the position I am today, I'm solely geared on winning an NBA championship for this city. When the future comes and when I have to make the decision, I will."
But James stills needs the crown to live up to his title.
"We get a chance to speak again and the finals are over, I want to be able to say to you that I told you so," he said. "I told you this was our year."