In a time of battered pensions, rampant unemployment and continuing foreclosures, one industry seems to ride the crest of the recession wave: weddings.
Even in these tough financial times, the dream of the big wedding hasn't gone away. The dress, the cake, the flowers, the band, the photographer: Americans spent $74 billion just to say "I Do" last year.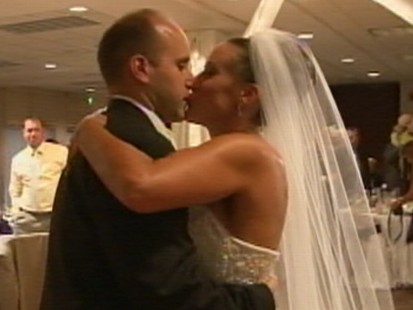 "I had always dreamed as a little girl of my wedding day," Kristen Patrick said. "I kind of grew up during the Princess Diana era and saw her wedding on TV and the elaborateness of her wedding and the dress and the train. I just always dreamed of this fairy tale elaborate wedding."
Patrick lives in Poughkeepsie, N.Y., with her husband, Alex Mazzatto, a lawyer, and the two gave themselves a budget of $75,000 for their big day, which took them two years to save. As a music teacher who worked part-time as a fitness instructor to help save up the money, Patrick understands how people could judge the wedding's enormous price tag.
"'You could have bought a house with that, you could have done so many other things' [people said], but this is how we chose to spend our money, and we're going to enjoy every bit of the day," Patrick said.
Paying for the Big Wedding Day
Even with what seems like such a large purse, Patrick and Mazzatto had to stretch dollars to meet their dream-wedding expectations. Breaking down the numbers, that $75,000 savings quickly materialized into a $2,500 dress that would have made Princess Diana proud (the train alone cost $500), elaborate flower arrangements, photographers, videographers and much more.
Flowers cost the couple a steep $4,500 -- with Patrick's gorgeous wedding bouquet holding four dozen roses -- and all had to be paid for in cash up front.
"That's the theme of this wedding. Big dress, big flowers," Mazzatto joked.
That's on top of $20,000 spent on jewelry, $1,100 on stationery, $1,500 for the videographer (not including the boudoir photography, which was an additional $500) and $75 for French manicures and pedicures for the bride, her mom and sister -- a steal.
Weddings Fuel New Industries
Not to mention the cost of the reception, usually the most expensive part of the wedding. Patrick and Mazzatto spent $20,000 on the hall, open bar, dinner for 125 people and their cake.
"Go big or go home," Patrick said.
Mazzatto chimed in, "I wouldn't have it any other way."
"The single biggest expense is absolutely the food on the table," said Carley Roney, editor-in-chief of TheKnot.com, a multi-platform wedding conglomerate. "The reception itself is 50 percent of the wedding. That is the food, the drink and people."
According to Roney, weddings themselves are expensive enough, but they also fuel money toward other industries. Americans spend $36 billion on the wedding day, but then "there's $7 billion in honeymoon travel, there's $12 billion in jewelry purchases, there's $12 billion in gifts."
This has led to an explosion of competition among florists, spas, DJs and other small businesses, because weddings seem to resist the recession; people are willing to spend the money for them.
Even big clothing and retail giants such as J.Crew, Target and Ann Taylor try to cash into wedding fever by offering bridal dress lines and wedding-themed gifts.
Weddings have even spawned new industries: wedding-themed blockbuster movies such as "Wedding Crashers" and "Bride Wars," reality TV shows like WEtv's "Bridezillas" and TLC's "Say Yes to the Dress," bridal magazines and wedding websites, to name a few.
Roney believes that in the end, this all works out in the bride's favor: "More choice, more talent out there kind of competing with one another to provide an incredible service at a reasonable price."
The Cost of Getting to 'I Do'
So how do people afford these elaborate weddings without going bankrupt in these troubled times? Roney explained that judging from her website's survey results, people are reaching out more to friends and family members for financial help.
"[Couples are] staying engaged for longer so they have more time to save up the money," Roney said. "They're also asking more people to pitch in, so the bride's parents and the groom's parents and the couple are all pitching in together."
A Huge Bash, a Small Ceremony or Destination Wedding, Couples Still Want to Mark the Event
But not every couple is willing to shell out tens of thousands of dollars for their big day, and many have found ways to slash huge wedding costs. Instead of a grand affair, some couples invite an intimate group of friends and family to a small ceremony or plan a destination wedding.
"What they're not willing to do though, is give up the event in its entirety," Roney stated. "We don't find a lot of people just running to city hall and just having lunch with their family for their wedding. They want to have an event."