House Republican members of the conservative Freedom Caucus introduced articles of impeachment against Deputy Attorney General Rod Rosenstein on Wednesday -- the latest salvo in an ongoing back-and-forth between some in the GOP over the Justice Department's handling of the Russia probe.
The 11 lawmakers accuse the Department of Justice of "intentionally withholding embarrassing documents and information," and allege the agency hid investigative information from Congress, abused the Federal Intelligence Surveillance Act and failed to comply with subpoenas, according to a statement.
The Department of Justice has declined to comment.
A House GOP aide told ABC News Wednesday night that the articles of impeachment were not filed as a "privileged resolution," meaning they cannot force a vote on it on the House floor. However, the aide said, "that could change."
House Speaker Paul Ryan has not signed on to the measure nor has he publicly commented on the effort. It's unclear if there will be a vote on the articles and lawmakers are due to leave soon for a multi-day recess.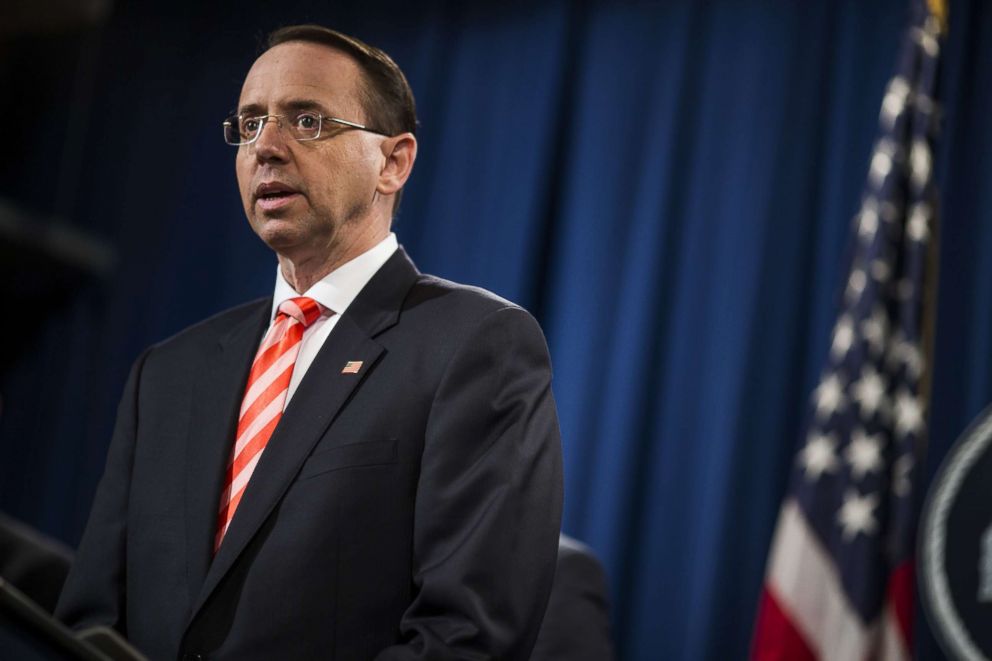 In response to the measure, Democrats Jerrold Nadler, D-N.Y., Elijah Cummings, D-Md., and Adam Schiff, D-Calif., issued a statement calling it a "direct attack" on Robert Mueller's investigation.
"This resolution to impeach Deputy Attorney General Rosenstein is a direct attack on the Special Counsel's investigation -- full stop. It is a panicked and dangerous attempt to undermine an ongoing criminal investigation in an effort to protect President Trump as the walls are closing in around him and his associates," the statement read, in part.
Ahead of a meeting with Republican House members earlier Wednesday, a DOJ official insisted that they have largely complied with the subpoenas, and are working on finding accommodations for the information and documents that still need to be turned over.
One official told ABC News the DOJ's efforts to accommodate congressional requests have been historical and perhaps unprecedented.
Last month, Rosenstein and Rep. Jim Jordan, R-Ohio, had a particularly heated exchange as the lawmaker and others grilled the deputy attorney general during a hearing about the FBI and Justice Department's handling of the Hillary Clinton email and Trump-Russia investigations.
"I am not keeping any information from Congress," Rosenstein said, pointing his finger at Jordan. "I certainly hope your colleagues aren't under that impression, that is not accurate sir."
Minutes later, House Republicans voted to sanction the Department of Justice over GOP document requests.
House Rules Committee ultimately approved a nonbinding resolution demanding "full" Justice Department compliance with subpoenas issued for documents and information related to the Clinton email and Trump-Russia investigation.
In Wednesday's press statement announcing the articles of impeachment, Jordan once again criticized Rosenstein.
"The DOJ is keeping information from Congress. Enough is enough. It's time to hold Mr. Rosenstein accountable for blocking Congress's constitutional oversight role."
Democrats have accused Republicans of trying to discredit the Justice Department, and, by extension, the special counsel's probe into Russian interference in the 2016 U.S. election. Part of that effort, Democrats have said, includes what they see as Republicans making unreasonable document demands tied to the ongoing Russia investigation.
"This is part of a sustained, coordinated effort to undermine the investigation of Robert Mueller and the work of the FBI and the Department of Justice, to attack the credibility of the investigators," Rep. David Cicilline, D-R.I., a member of the Judiciary Committee, told ABC News last month.