The nation's unemployment rate in September rose to 9.8 percent, its highest level since June 1983, as 263,000 jobs were cut from payrolls, the Labor Department announced Friday.
The 263,000 jobs lost during the month were far more than most economists had expected. The consensus forecast was that around 175,000 jobs had been shed in September.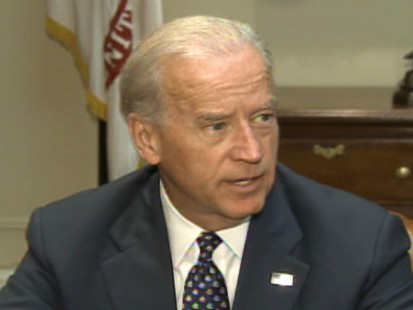 "One job lost is one job too many," said Vice President Biden this morning, flanked by chair of the Council of Economic Advisors Christina Romer; OMB Director Peter Orszag; Director of the National Economic Council Larry Summers; and Executive Director of the Middle Class Task Force Jared Bernstein.
The vice president tried to project optimism that the Obama Administration's policies are having a positive effect on the economy.
"As bad as things are they would be far worse without the recovery plan," and other economic measures put in place this year, Biden said.
Biden used the word "bad" four times. "Today's bad news does not change my confidence in the fact that we are going to recovery," he said.
Noting that the jobs lost in the third quarter of this year was an improvement from the first quarter, Biden said that was not enough.
"We don't think that less bad is good. Less bad is not our measure of success," he said.
Unemployment Rate Rises in September
The numbers released today are, indeed, bad. Since the start of the recession, 7.2 million people have lost their jobs, more than the populations of Los Angeles, Chicago, and Baltimore combined. That number of people could fill Tampa Bay's Raymond James Stadium, where the 2009 Super Bowl was played, 116 times. A total of 15.1 million people are now unemployed, with six times as many people seeking work as there are available jobs.
Critics have wasted no time in using the numbers as evidence that the administration's stimulus is not working.
"Clearly, the policies of 'Obamanomics' have failed," Rep. Jeb Hensarling, R-Texas, said in a statement. "You can't have a jobless recovery. No jobs, no recovery."
Analysts viewed today's numbers as a sign that the country's economic recovery will not be a smooth upward swing in the shape of a "V."
"[The] combination of weak average hourly earnings -- up 2.5 percent year-over-year -- and job losses suggest household income gains [will be] limited and therefore consumer spending will underperform the typical recovery pace," said John Silvia, chief economist for Wells Fargo. "Recovery yes -- boom no, no V-shaped recovery."
On Thursday evening, Treasury Secretary Tim Geithner noted that unemployment remains "appallingly high."
"We're only just beginning to see the signs of recovery," he said in a question-and-answer session at the Newseum in Washington, D.C.
However, the administration's critics have also started to use the jobs numbers as ammunition to jab at President Obama's 24-hour trip to Copenhagen to speak on behalf of Chicago's bid for the 2016 Olympics.
"While the president is in Copenhagen," House Minority Leader John Boehner said Thursday, "the American people are going to wake up and find out that hundreds of thousands more Americans have lost their jobs."
President Obama is set to make remarks on the new unemployment numbers upon his return to Washington Friday afternoon.
Another problem confronting the country is that many Americans have now been out of work for an extended period of time. Some 5.4 million people, more than one of every three currently unemployed, have now been unemployed for over six months, the Labor Department said.
The effects of extended unemployment can in turn have a devastating effect on the nation's economic recovery. When people lose their jobs, they cut back on spending. Since consumer spending accounts for 70 percent of economic growth, a downturn in consumer spending can prove very harmful.
Job losses can also worsen the housing crisis. The first wave of home foreclosures was widely chalked up to the subprime mortgage meltdown as borrowers with less-than-stellar credit received loans they could not repay. Now, as job losses mount, a second wave of foreclosures has been blamed on a growing number of people out of work.
ABC News' Dan Arnall and Zunaira Zaki contributed to this report.