Stacey Abrams, the Democratic candidate in Georgia's still-uncalled governor's race, is hoping a count of all provisional ballots can help her close the gap with Republican Brian Kemp and force a runoff.
Abrams filed a lawsuit on Sunday asking for all provisional ballots be counted, citing instances in which voters she said voters would have cast their ballots for her, but were turned away. Provisional ballots are considered a fail-safe for voters who arrive at the polls and may not have all the necessary documentation at that time, but whose ballots can be verified in the days after the election.
The lawsuit, filed against Georgia's new Secretary of State Robyn A. Crittenden, seeks to address a Georgia law which puts a three-day time limit on how long provisional ballots can be verified and counted. But the midterm elections in Georgia saw a "historic number" of provisional ballots, according to the lawsuit, making it more difficult to verify and count them all in time.
"Under Georgia law, it appears that any voters whose provisional ballots have not been resolved by November 9, 2018, will be disenfranchised, simply because the counties in which they respectively reside could not address their ballots in time. There is no reason it needs to be this way," the lawsuit reads.
The lawsuit comes on the heels of a race in which her opponent, then-Georgia Secretary of State Brian Kemp, was alleged to have engaged in voter suppression, beginning with reports that millions of voters were unknowingly purged from registration systems under his tenure, many of them African-American.
Since Election Day, Abrams' campaign has vowed to staunchly moderate the incoming vote tallies and make sure every vote is counted. Kemp has maintained that his lead is insurmountable, despite uncounted ballots, and declared himself the winner. ABC News has yet to project the race.
In response to Abrams' lawsuit, his campaign said she had moved from "desperation to delusion."
"On Saturday, military, overseas, and provisional ballots were reported throughout Georgia," Ryan Mahoney, communications director for Kemp, said Monday.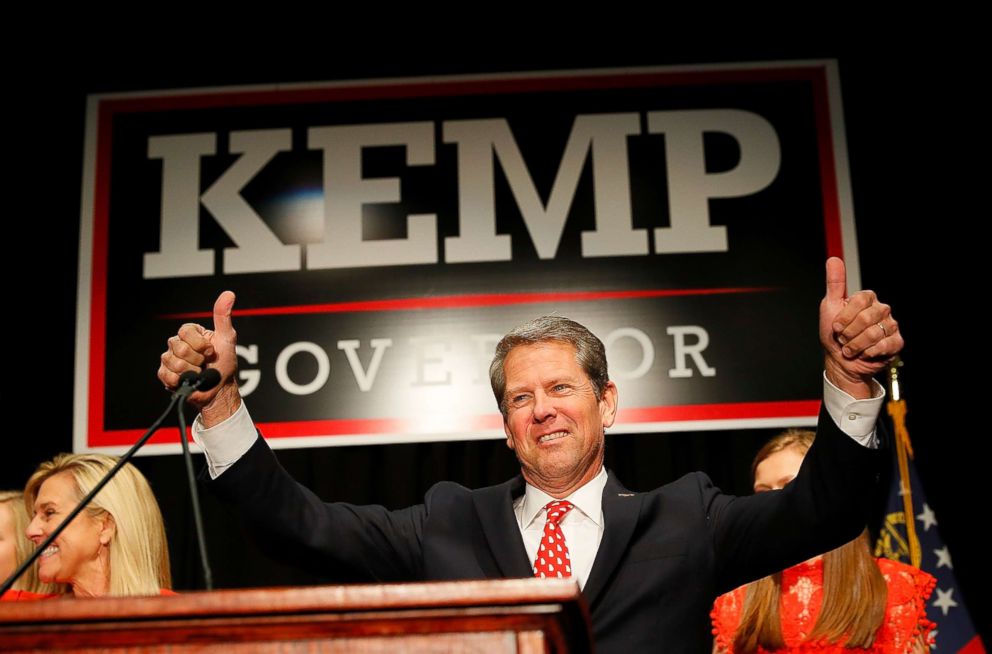 In Georgia, the winner needs 50 percent of the vote or a runoff is automatically triggered. Kemp says there aren't enough ballots left uncounted to close his lead, which stands at about 60,000 votes. As of Monday morning, Abrams had 48.78 percent of the vote compared to Kemp's 50.52 percent.
Counties in Georgia are continuing to count and certify their ballots, including late-arriving absentee ballots in some parts of the state. On Friday, a judge ordered Dougherty County to accept all ballots received before the end of the day. Fulton County, the state's most populated, said its results will be certified Tuesday.
ABC News' John Verhovek contributed to this report.