Highlights from Pruitt's marathon day on Capitol Hill
Scott Pruitt faced questions from House members for six hours on Thursday.
Environmental Protection Agency chief Scott Pruitt insisted he has "nothing to hide" and shifted blame for some of the agency's spending decisions to staffers during six hours of grilling on Capitol Hill Thursday.
Asked how the White House viewed Pruitt's performance, one administration official told ABC News that he still "has no support in the building except from the president."
Some Republicans defended Pruitt, saying that Democratic critics were trying to shoot the messenger and that he was a victim of "Washington politics" while Pruitt himself said some of the accusations of ethical misconduct were just untrue.
Pruitt faced an array of questions about his decisions to roll back environmental policies since taking over the agency, whether he granted controversial raises to two of his aides and the cost of his security detail and travel.
Pruitt had addressed some of the allegations and ongoing investigations in a Fox News interview that aired earlier this month but Thursday was the first time he was questioned about reports that he retaliated against EPA employees that expressed concerns about his spending at the agency as well as claims from an EPA whistleblower, described in a letter from Democrats, that his security detail exaggerated threats against him to justify increased spending and first-class seating on flights.
Pruitt appeared before a House Energy and Commerce subcommittee Thursday morning and then before a House Appropriations subcommittee in the afternoon.
Here are some highlights from the two hearings.
Pruitt defends natural gas pitch on pricey Morocco visit
A member of the House Appropriations subcommittee raised questions about one of Pruitt's trips abroad, a recent visit to Morocco during which Pruitt promoted U.S. natural gas exports – typically within the Energy Department's purview.
"I can't for the life of me imagine why an EPA administrator would be over there promoting energy sales," Rep. Chellie Pingree, D-Maine, said.
Pruitt defended the trip as a preliminary meeting for the U.S.-Morocco Free Trade Agreement where "there was a lot of reference to LNG" – shorthand for liquefied natural gas – "only because the ambassador asked me to share that with individuals while I was in country."
It wasn't immediately clear which ambassador Pruitt was referring to.
ABC News has previously reported that Pruitt recorded only one meeting on the first day of the costly trip to the Saharan country.
An initial agenda for the trip reviewed by ABC News included four redacted pages.
Pruitt, congresswoman spar over alleged death threats, security costs
The afternoon hearing began much in the same way as the Energy and Commerce subcommittee's morning hearing ended, with Democratic ranking member Rep. Betty McCollum, D-Minn., holding Pruitt's feet to the fire about security and travel expenditures.
As Pruitt read aloud threats made against him – referring to a document he says was provided to him by the EPA's inspector general – in an effort to justify higher security costs – McCollum pushed back, telling Pruitt that "we all receive death threats on our Facebook page."
McCollum revealed that the committee reached out to the EPA's inspector general ahead of the hearing and said the inspector general, Arthur Elkins, "disputed" some of Pruitt's claims.
Pruitt insisted the document was from the inspector general, and McCollum asked that the document be submitted for the hearing's official record.
When ABC News reached out to the inspector general's office, a spokesperson confirmed Rep. McCollum's assertion that Elkins disputed Pruitt's claim.
"The memo that [Pruitt] read from was not from Inspector General Elkins," a spokesperson for the inspector general said, adding, "It was an internal memo from Assistant IG for Investigations Patrick Sullivan. It was leaked without authorization. It will be released in the near future as part of an OIG FOIA response."
Democrats pound Pruitt, Republicans on ethics issues as first hearing comes to a close
After nearly four hours of questioning, the House Energy and Commerce subcommittee hearing ended the way it began, with exasperated Democratic lawmakers peppering Pruitt with questions about reports of unethical behavior and lavish spending – and criticizing Republicans on the panel for refraining from doing so.
Asked whether he has any remorse for what Rep. Anna Eshoo, D-Calif., called "excessive spending," Pruitt said he's already made changes, citing his decision to fly in coach after reports emerged that Pruitt flew in first class.
"This is not a dodge question day… I don't really find you forthcoming," Eshoo added.
Vermont Democrat Peter Welch again questioned Pruitt about the purchase of a $43,000 soundproof phone booth, pointing to the two secure spaces already within the EPA to communicate sensitive information.
Pruitt reiterated that his staff coordinated the purchase of the secure phone booth, adding that the two other secure spaces are "not that close to my office."
With regard to his chain of command and delegating the phone booth purchase to staff, Pruitt conceded that "in this instance, the process failed."
In the waning moments of the hearing, Rep. Kathy Castor, D-Fla., expressed disappointment in her Republican colleagues for letting Pruitt "off the hook" by avoiding questions about his conduct.
"It's embarrassing that most of the Republicans refuse to take this committee's oversight responsibility seriously," Castor said.
Pruitt: Career EPA officials coordinated $43,000 phone booth without my knowledge
Pruitt shifted blame onto "career EPA officials" for erecting a private phone booth in the administrator's office that cost more than $43,000.
"I did not have access to secure communications, I gave directions to my staff to address that," Pruitt said, adding that staffers had "made expenditures that I did not approve."
The EPA spent more than $43,000 to install a "secure phone booth" in Pruitt's office last year, according to agency documents obtained by American Oversight, a watchdog group founded by former Obama administration officials.
Pruitt confirmed that the phone booth was not certified as a SCIF – a facility used for secure communications to discuss classified information. The EPA already two SCIFs elsewhere in its headquarters, according to the GAO report.
Earlier this month, the Government Accountability Office found that the EPA violated federal law by failing to notify Congress before spending more than $5,000 on the phone booth.
In a letter to the GAO, the EPA also argued that spending on the booth did not need to comply with the appropriations law because it was not an "aesthetic improvement," but an expense to facilitate agency business. A decision by EPA's general counsel disagreed with that finding, saying that it was a functional improvement and not just aesthetic.
Pruitt said the EPA is investigating that matter internally.
Pruitt seeks to clarify big raises for aides
Pruitt told the committee that he gave a top aide permission to give at least two EPA employees big raises, deviating from how he characterized authorization for these raises in the past.
A report from the EPA's internal watchdog found that it was Pruitt's chief of staff, Ryan Jackson, who signed off on raises for 30-year-old senior legal counsel Sarah Greenwalt and 26-year-old scheduling director Millian Hupp under a little-known provision of the Safe Drinking Water Act.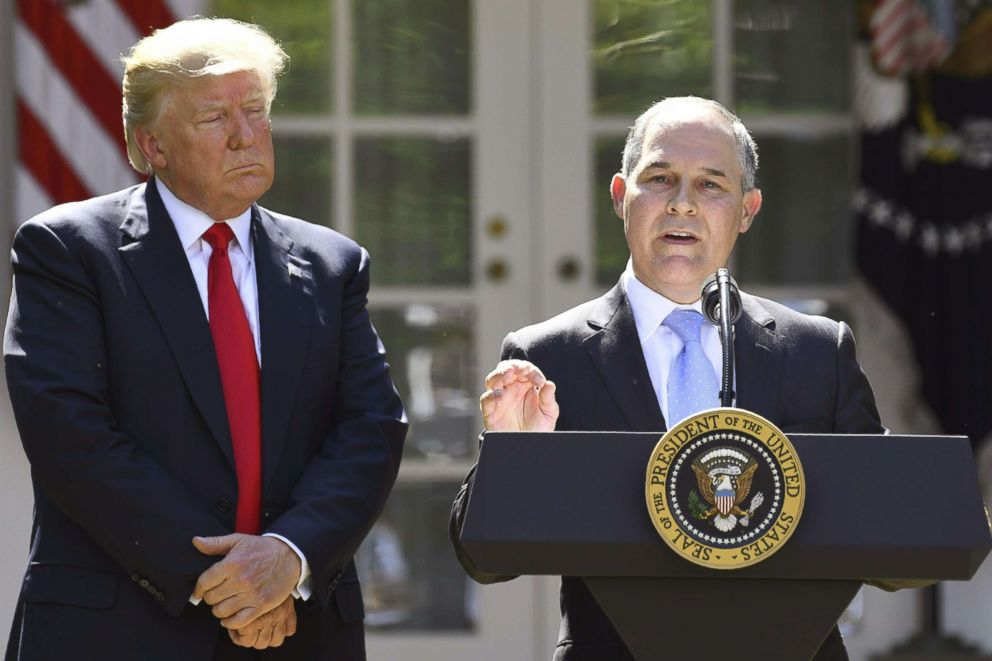 Thursday, Pruitt confirmed that he delegated that authority to Jackson.
In an interview that aired on Fox News earlier this month, Pruitt said he didn't know anything about the raises and that he has taken action to reverse the decision.
ABC News previously reported that two sources confirmed Pruitt pushed for the raises of two staffers but has not confirmed the amounts paid to these employees.
Protesters interrupt hearing
A small number of protesters wielding signs in the hearing room gallery disrupted the hearing.
Environmental subcommittee chairman Rep. John Shimkus stopped a line of hearing to address the protesters, warning them to remain quiet or get kicked out.
EPA administrator Scott Pruitt tells "This Week" the president will sign a new executive order aimed at eliminating the Clean Power Plan.
Protesters quieted when Capitol Police officers approached the gallery.
Members' support of Pruitt falls along party lines
The Energy and Commerce Committee's ranking member, Rep. Frank Pallone, D.N.J., called Pruitt's conduct in office "an embarrassment" when referring to reports that Pruitt has acted in retaliation against EPA officials who disagreed with his agenda or questioned the legitimacy of threats against the administrator.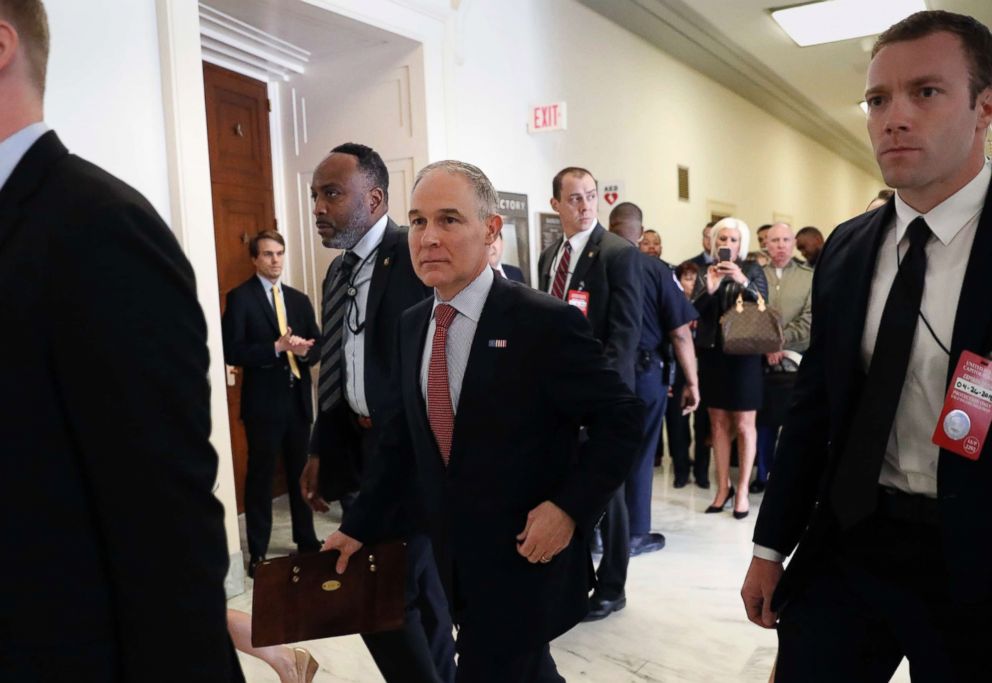 In response to Rep. Pallone's line of questioning, Pruitt said he did not recall taking retaliatory action against aides.
But the committee's vice chairman, Rep. Joe Barton. R-Texas, defended Pruitt, saying that he's a victim of "Washington politics," and Rep. David McKinley, R-W.Va., scolded his Democratic colleagues for "grandstanding" and engaging in "McCarthyism" by attacking Pruitt over news reports.
In the second hearing of the day a Republican from West Virginia, Rep. Evan Jenkins, said that the EPA's decisions under Pruitt and President Donald Trump have brought his state "back to life."
"When you don't like the message, you shoot the messenger," Jenkins said.
Administrator Pruitt in his opening statement: "I have nothing to hide"
Administrator Pruitt addressed the slew of media reports directed at his conduct as agency chief in opening remarks to the committee.
"I recognize there have been very troubling media reports over the last few weeks," Pruitt said, deviating from the prepared remarks released by the Committee on Wednesday. "I promise you that I, more than anyone, want to address the questions surrounding these reports."
Pruitt called the media reports an attack on the administration and an effort to derail the agency's agenda.
"A lie doesn't become truth just because it's on the front page of the newspaper," Pruitt said.
ABC News' Katherine Faulders contributed to this report.