Biden announces vaccination plan, economic rescue package in evening address
His plan includes sending the $2,000 relief payments he's proposed.
President-elect Joe Biden announced his vaccination and economic rescue legislative package, an ambitious $1.9 trillion proposal focused on stimulus amid the continued COVID-19 pandemic that has gripped the country for nearly a year.
"My fellow Americans, the decisions we make in the next few weeks and months are going to determine whether we thrive in a way that benefits all Americans, or that we stay stuck in a place where those at the top do great while economic growth for most everyone else is just a spectator sport, and where American prospects dim, not brighten," Biden said in his remarks Thursday night announcing the policy.
In a call with reporters ahead of the president-elect's remarks, senior Biden transition officials previewed the details of what will be one of his first major legislative pushes upon taking office to try to get a handle on the health crisis -- an effort that would one of the largest and most expensive economic stimulus packages in U.S. history if passed.
"We're at a very precarious moment for our economy. We're still down 10 million jobs from where we were when this pandemic hit, and we saw in December that the economy lost jobs for the first time since the spring," one official said, underscoring the need for immediate economic action.
Biden's plan would dedicate more than $1 trillion of the $1.9 trillion price tag for direct stimulus, officials said, while $400 billion would go toward COVID-related projects, including the nationwide vaccination program, and $440 billion toward relief for communities and businesses.
The plan includes direct payments of up to $1,400 to families in need, that when combined with the recent $600 stimulus payment would deliver on Biden's pledge to pass $2,000 of direct payments, along with a $400 weekly unemployment insurance benefit through September and a child tax credit.
As part of the $400 billion in funding for COVID-related projects, Biden's plan would allocate $170 billion to reopening the majority of K-8 schools within the first 100 days of his administration, including $50 billion to increasing testing procedures at schools.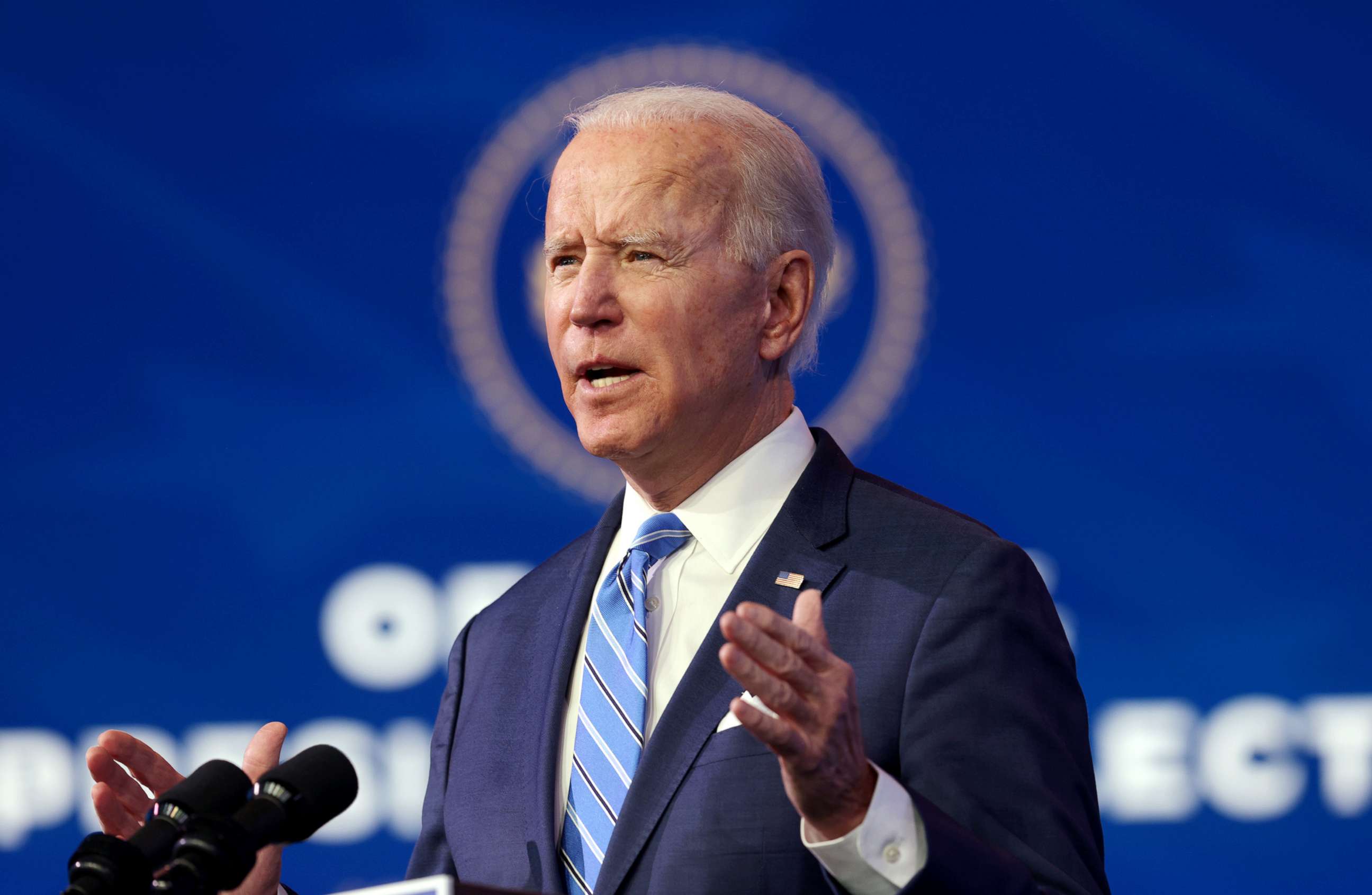 Biden also plans to devote $20 billion to create a national vaccination program and stand up community vaccination centers across the country to address lagging numbers of vaccinations currently being administered.
Advisers stressed they are still confident they will deliver on Biden's promise to have 100 million shots of the COVID vaccine in the arms of Americans in his first 100 days in office, despite current delays.
"We have had sort of uneven cooperation, if you will, from the Trump administration. And I think it's clear that what we're inheriting from the Trump administration is much worse than we could have imagined. There's no existing infrastructure for vaccinations," one official said.
"This is a whole-of-government effort and we'll start by making sure that we get 100 million shots done in the first 100 days," the official added.
Biden's policy also includes calls for larger economic proposals that the president-elect previously threw his support behind during his campaign, including increasing the minimum wage to $15, a policy likely to face pushback from some Republicans.
"People tell me that's going to be hard to pass. Florida just passed it, as divided as that state is, they just passed it. The rest of the country is ready to move as well. There should be a national minimum wage of $15 an hour," Biden said.
Advisers said Biden hopes Congress will move quickly on the proposal to address the continued public health crisis and that Republicans will work with him to pass ambitious legislation.
Congressional Democratic leaders commended Biden's emergency relief proposal.
"It shows that Democrats will finally have a partner at the White House that understands the need to take swift action to address the needs of struggling communities," House Speaker Nancy Pelosi and Senate Minority Leader Chuck Schumer said in a statement.
"We will get right to work to turn President-elect Biden's vision into legislation that will pass both chambers and be signed into law," the statement continued.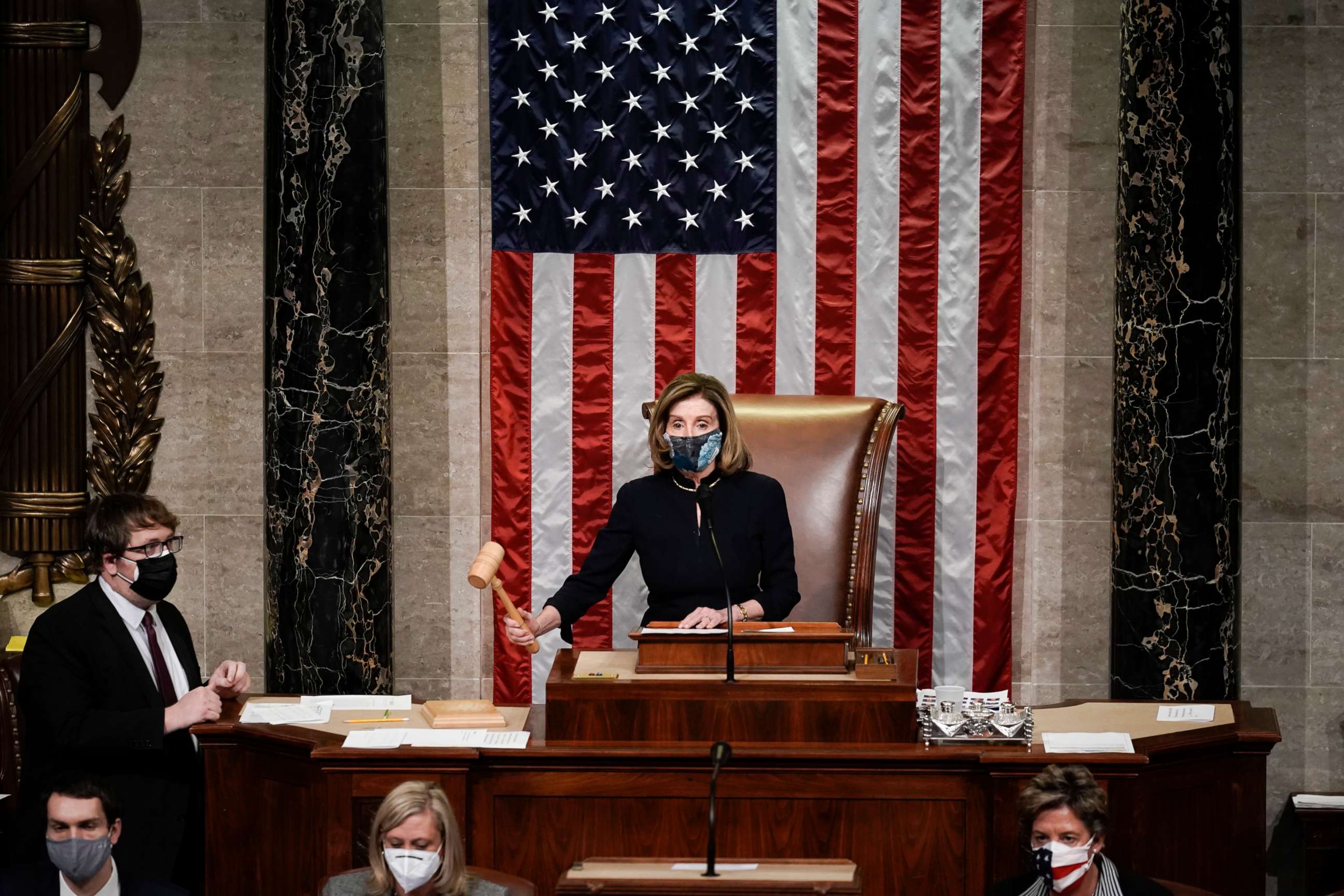 But following the historic second impeachment of President Donald Trump, Biden's team will face the added challenge of a Senate Impeachment trial delaying progress -- a challenge they did not address on the call.
Biden has said he would like to see the Senate move forward with a "bifurcated" day to address both the trial and his agenda as well as approving key Cabinet nominees, particularly for national security posts.
The transition did not include a timeline for the legislation in the call or outline any spending offsets for the nearly $2 trillion package.
"I know what I just described does not come cheaply. But failure to do so will cost us dearly. The consensus among leading economists is we simply cannot afford not to do what I'm proposing. Independent, respected institutions from around the world, from the federal reserve to the international monetary fund have underscored the urgency, even Wall Street firms have reinforced the logic," said Biden, defending the hefty price tag.
In addition to the "rescue" policy Biden will outline, he also plans to introduce a second policy to help the country recover by focusing on job creation, combating climate change and racial inequality -- issues his campaign's 'Build Back Better' policy sought to address.
Biden said the policy would be introduced next month, during his first joint session of Congress.
Biden acknowledged that the pandemic will take time to recover from, but sought to reassure the country in his remarks, as he prepares to take the oath of office next week.
"Come Wednesday, we begin a new chapter. The vice president-elect and I will do our best to meet all the expectations you have for the country and the expectations we have for it. I'm confident. I am truly confident. Together -- together we can get this done and come out better off than when we went into this crisis," Biden concluded.
ABC News' Mariam Khan contributed to this report.
This report was featured in the Friday, Jan. 15, 2020, episode of "Start Here," ABC News' daily news podcast.
"Start Here" offers a straightforward look at the day's top stories in 20 minutes. Listen for free every weekday on Apple Podcasts, Google Podcasts, Spotify, the ABC News app or wherever you get your podcasts.