Wrapping up his first NATO summit since taking office, President Joe Biden said it was an "incredibly productive day" with American allies, which included individual meetings with roughly a dozen other leaders on the margins of the gathering. But the focus continues to be on his next major summit, when he comes face to face with Russian President Vladimir Putin in Geneva on Wednesday.
Biden said there was a consensus among his fellow heads of state at NATO, saying they were "glad" he was meeting with Putin early in his presidency.
"Every world leader here that's a member of NATO that spoke today -- and most of them mentioned it -- thanked me for meeting with Putin now," Biden said in a press conference on Monday from the NATO headquarters in Brussels. "Every single one that spoke, and I think there were probably about 10 or 12 that spoke to it, saying they were happy that I did that, that I was going to do that."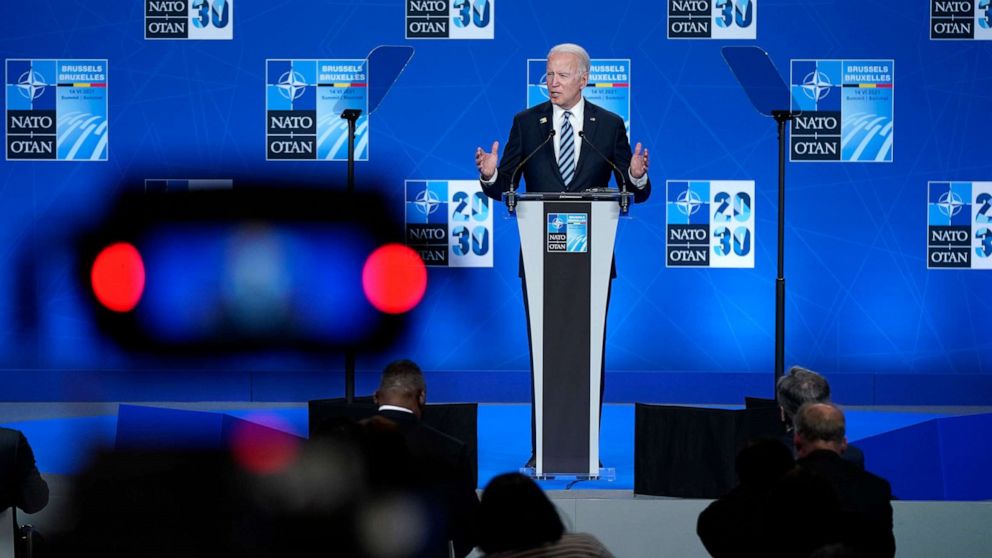 The president has previously described Putin as a "killer," who has no soul and is a "KGB thug." Asked by ABC News Chief White House Correspondent Cecilia Vega Monday about what he has learned from his previous meeting with him in 2016 and what his mindset is like walking into a summit with Putin, Biden said he is "bright" and "tough."
"I have found that he is a, as they say, when you used to play ball, a worthy adversary," Biden said.
Biden was also asked how he could trust Putin coming out of their summit and the president said it wasn't so much about trusting him, but rather "agreeing."
"I'm hoping that -- that President Putin concludes that there is some interest, in terms of his own interest, in changing the perception that the world has of him," he said.
Earlier in the day, Biden referenced his upcoming sit down with Putin during his meeting with Baltic leaders at NATO, discussing "the threat that Russia poses," according to a senior administration official and also brought up the recent "air piracy" that occurred when a Ryanair flight bound for Lithuania was forced to divert and land in Belarus.
"The four leaders committed to further strengthening our political, military, and economic partnerships, including working together through NATO to address challenges posed by Russia and China," the White House said in a written statement following their meeting.
Similar to this press conference, Biden will also go before the press corps alone following his summit with Putin in Geneva on Wednesday. He defended that choice by saying he doesn't want the attention to be on physical details, but rather the substance of their discussions from their own points of view.
"I don't want to get into being diverted by, did they shake hands? How far did they -- who talked the most and the rest," Biden said in England on Sunday. "He can say what he said the meeting was about and I will say what I think the meeting was about. That's how I'm going to handle it."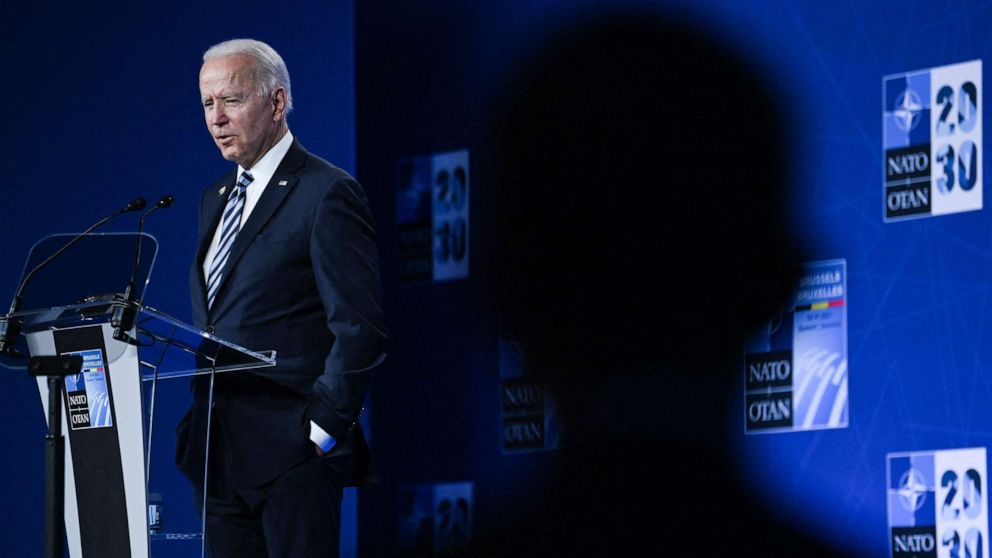 Biden's press conference Monday came after a one-on-one meeting with Turkish President Recep Tayyip Erdogan Monday afternoon, amid strained relations between the two countries.
"We had a positive and productive meeting," Biden said, adding that they reviewed a range of issues.
"Our two countries have big agendas. Our teams are going to continue our discussions, and I'm confident we'll make real progress with Turkey and the United States," he added.
In April, Biden became the first sitting U.S. president to formally recognize the Ottoman Empire's killing and deportation of Armenians over a century ago as genocide, breaking from his predecessors and risking inflaming tensions with Turkey, a key NATO ally, who warned against it.
The U.S. also angered Turkey over the decision to cancel its participation in the F-35 fighter jets program last year after they accepted a Russian-made air defense system.
The president also continued to voice strong support for NATO's Article 5 -- which states an attack on one member nation is an attack on all. He said it is "rock solid and unshakeable" after earlier saying that it was "a sacred obligation."
NATO's official communique was released after the summit and now reflects that "a cyberattack would lead to the invocation of Article 5" on a case-by-case basis, showing the increased threat nations are facing in the cyber realm.
"I constantly remind Americans that when America was attacked for the first time on its shores since what happened back at the end of World War II, NATO stepped up," the president said in a meeting with NATO Secretary General Jens Stoltenberg earlier Monday, referencing the 9/11 terror attacks. Leaving the NATO headquarters Monday night, Biden visited the Sept. 11 memorial, a twisted piece of the World Trade Center.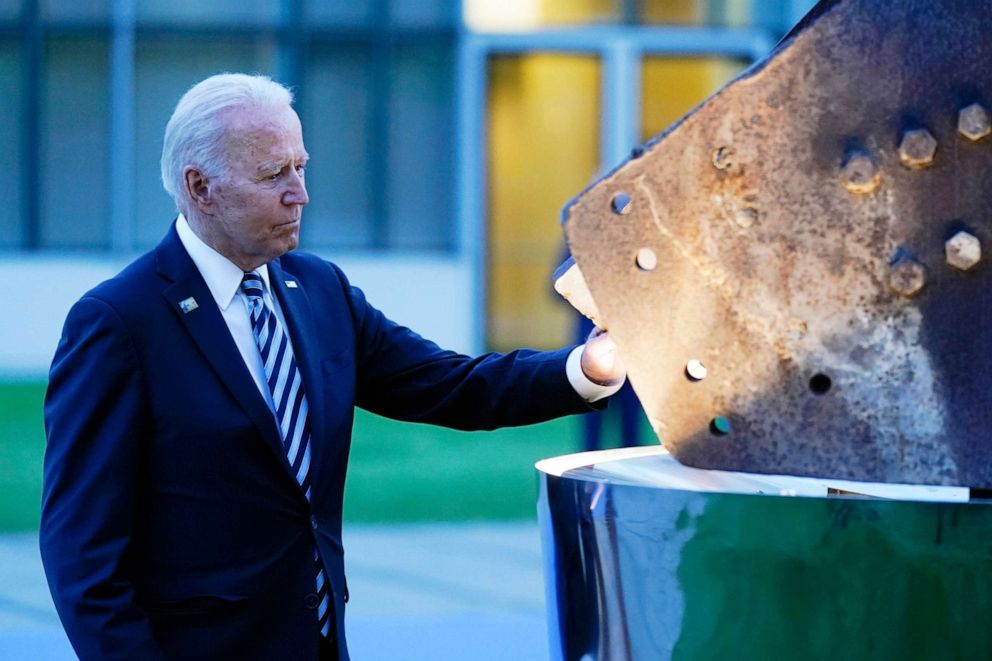 "I just want all of Europe to know that the United States is there," he said earlier Monday. "The United States is there."
Biden's endorsement of NATO stands in stark contrast to his predecessor, former President Donald Trump, who called the alliance "obsolete," which he later backtracked, and once declined to endorse Article 5, which has been a key tenet of the alliance since it was created in 1949.
Another major area of discussion was the winding down of troops in Afghanistan. While Biden's decision to withdraw all U.S. troops out of the country by Sept. 11 is known to have frustrated some European allies, the president touted what he claimed was "strong consensus in the room."
"Our troops are coming home, but we agreed that our diplomatic, economic and humanitarian commitment to the Afghan people and our support for the Afghan national defense and security forces will endure," Biden said.
Gen. Kenneth F. McKenzie Jr., the top U.S. general in the Middle East, said Monday that the U.S. is about halfway through its military drawdown in Afghanistan and is on schedule to meet Biden's deadline.