Surrounded by his fellow Democrats for the first Rose Garden event of his presidency, President Joe Biden celebrated signing his American Rescue Plan into law, thanking members of his party for delivering his first legislative win and providing much-needed help for Americans still suffering from the COVID-19 pandemic.
"What you shepherded through the Congress not only meets the moment, it does even more," Biden said. "It's historical, and they call it transformational."
Biden touted bipartisan support the law has among the American public. A Pew Research poll found that 70% of U.S. adults say they favor the legislation and 41% of Republicans or people who lean Republican say they are in favor of the package.
"It had a strong support of governors and mayors across the country in both parties, red states and blues. Over 430 mayors contacted me, many of them Republicans, supporting the bill," Biden said.
No Republicans in the Senate or House voted in favor of the $1.9 trillion legislation and none were invited to Friday's event.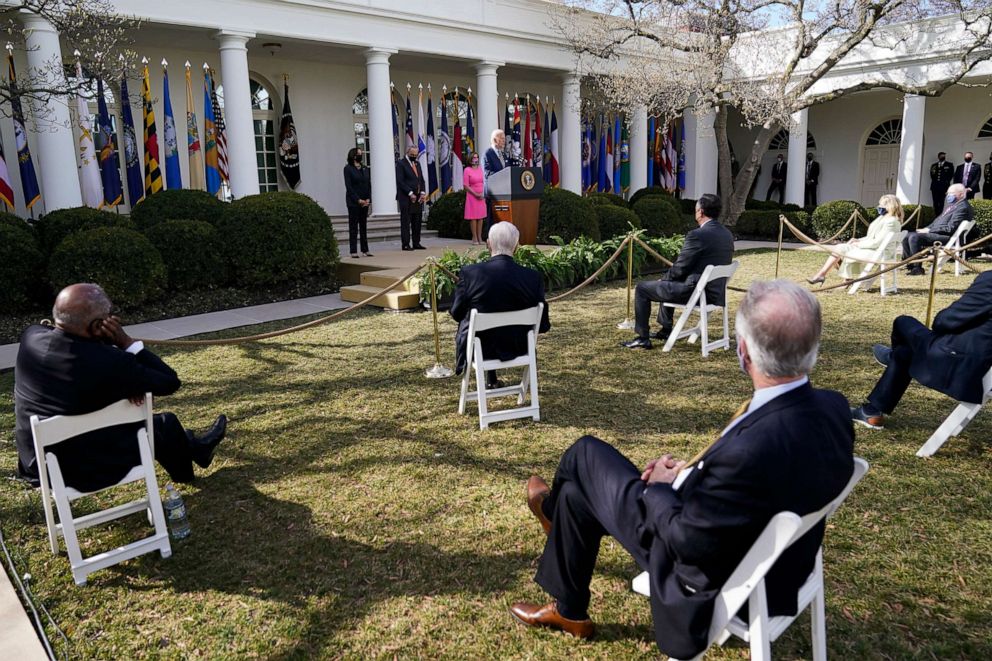 Having served 36 years in the Senate and eight years as vice president, Biden said he understands "how hard it is to pass major consequential legislation," recognizing the struggle of how hard it was to get the plan to his desk.
To get there, concessions were made and Biden did not get everything he proposed. The $15 minimum-wage mandate was removed, eligibility of who received relief payments was narrowed and enhanced weekly unemployment benefits were reduced from $400 to $300.
The president did plug relief Americans will start to see immediately, including the $1,400 payments many could get as soon as this weekend if they're set up with direct deposit through the IRS.
"Think of the millions of people going to sleep at night, staring at the ceiling, thinking, 'My God. What am I gonna do tomorrow? I've lost my health care, I don't have a job. Unemployment runs out. I'm behind on my mortgage. What are we going to do?' Well, guess what? They're gonna be getting that quite -- that check soon."
During his prime-time address on Thursday night, Biden announced that he is directing all states, tribes and territories to make every American adult eligible for a coronavirus vaccine by May 1. He also said the country could see a glimpse of normalcy by the Fourth of July and be able to gather in small groups.
But Friday he cautioned that variants can cause setbacks if mitigation efforts are not followed and Centers for Disease Control and Prevention guidelines are ignored.
"This is not over. Conditions can change. We're not finished yet," he said.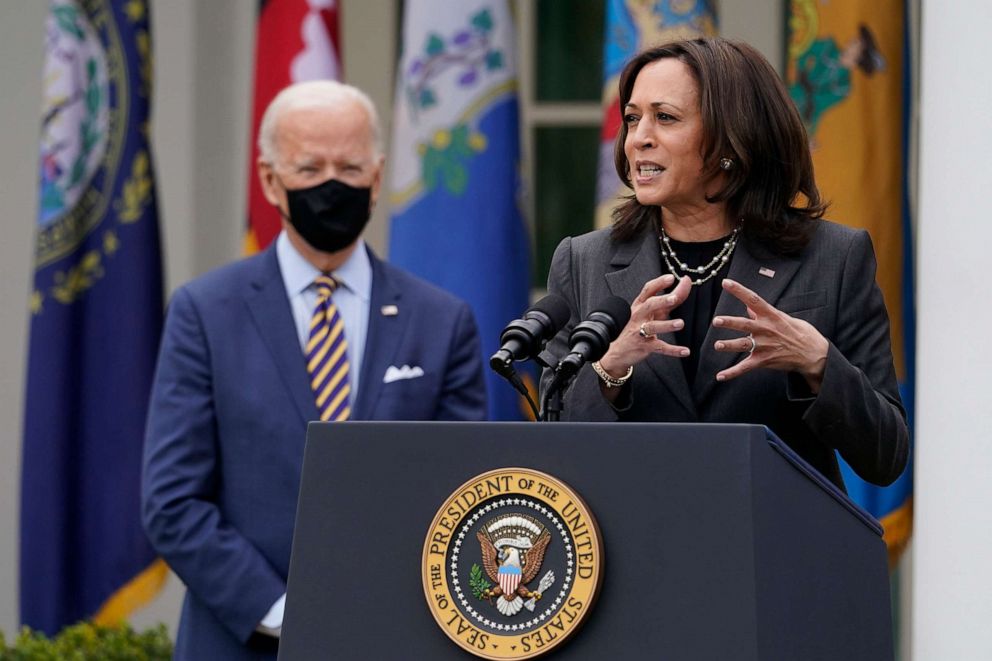 The president was flanked by Vice President Kamala Harris, House Speaker Nancy Pelosi and Senate Majority Leader Chuck Schumer. Democrats from both chambers of Congress were seated socially distanced in the Rose Garden.
Harris praised Biden for his leadership and for making the plan his top priority as he began his presidency, saying it all happened because of his "vision."
"You had faith that Congress would pass this plan simply because it is the best thing for the American people, and you put in the work to make it happen to get relief directly to the American people," she said.
The president also reflected back on his experience spearheading the implementation of the American Recovery Act in 2009 when he was in Harris' position, which helped rebound the U.S. economy out of the Great Recession. He said, "The devil is in the details of implementing this legislation" and that "fastidious oversight" will be required to avoid waste or fraud.
"We have to get this right," he said. "Details matter, because we have to continue to build confidence in the American people that their government can function for them and deliver."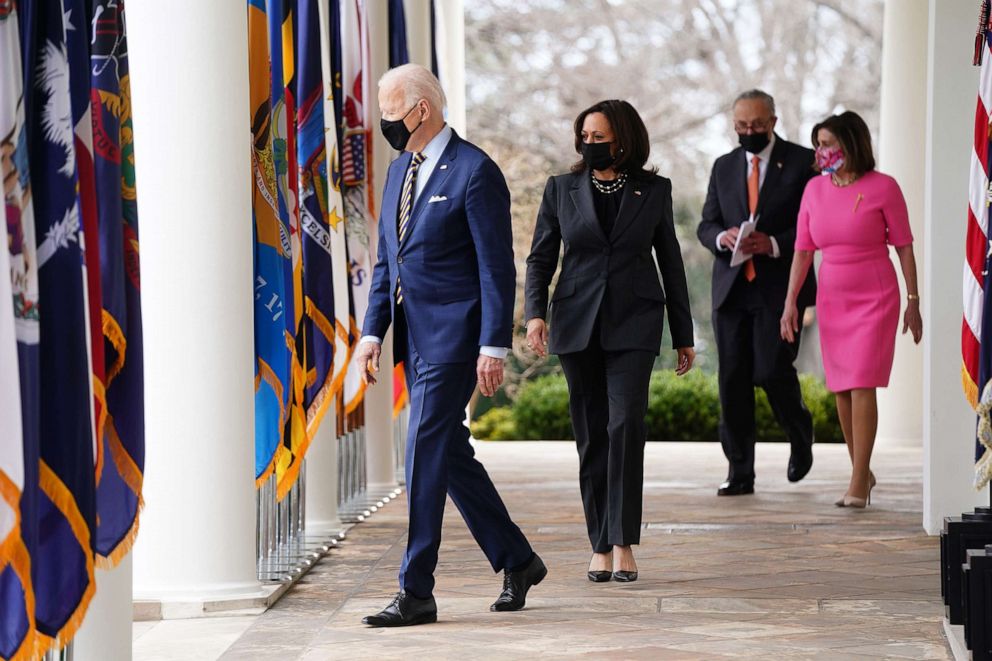 Now that the relief plan is the law of the land, first lady Jill Biden, Harris, second gentleman Doug Emhoff and Biden will all blitz the U.S. to tout the plan to Americans and help educate them on what exactly is included.
"We're gonna be traveling the country to speak directly to the American people about how this law is going to make a real difference in their lives and how help is here for them. Almost every single aspect would be significant ... every one of those pieces standing alone would be viewed as a significant accomplishment," Biden said.
Stops on their "Help is Here Tour" have already been announced in Georgia, Pennsylvania, New Jersey, Nevada, Colorado and New Mexico.
Biden wrapped the event Friday on a hopeful note, urging Washington to work together to rebuild American's trust in government and making a pledge to the American people.
"So, there's a lot of work left for all of us to do. But I know we'll do it," he said. "To every American watching: Help is here, and we will not stop working for you. Together with you, we are showing it's possible to get big, important things done. That's what America does. It tackles hard problems."
ABC News' Molly Nagle contributed to this report