Biden and Republicans seem set for debt ceiling fight, reviving fraught political battles of years past
One aide said "both sides" will message on the fight and "both will get blamed."
Another spending fight looms between the White House and Congress, reviving similar stalemates in 2011 and 2013 under President Barack Obama.
Then, as now, Congress was divided -- a Republican House and a Democratic Senate -- and the White House had a Democratic president.
Then, as now, ascendant House Republicans sought to use must-pass spending and debt legislation to negotiate priorities they said their voters wanted, such as major spending cuts and, in 2013, an effort to stop the Affordable Care Act.
The U.S. does not take in enough money in taxes or other revenue to pay for its expenses, so it must borrow to cover the rest -- and on Thursday, the U.S. hit its current debt limit of approximately $31.4 trillion. The Treasury Department has begun what Secretary Janet Yellen called "extraordinary measures" to keep the federal government funded and give Congress more time to act.
Last week, Yellen wrote to House Speaker Kevin McCarthy that she didn't expect the department's "cash and extraordinary measures will be exhausted before early June."
That timeline sets the stage for a fierce political fight, with Republicans portraying Democrats as out-of-control spenders -- racking up debts upon debts upon debts -- and Democrats responding that the GOP, which holds the House, is unable to responsibly govern by paying the country's bills for the military, Social Security and much more.
All the while, the Treasury says, the country is pushed closer to the brink of major economic consequences if it runs out of "extraordinary measures" and can't borrow money.
"This has become a political football because it's so easy to pass back and forth and get points for hitting the other side," said one House Democratic aide, granted anonymity to speak candidly. "There's less incentive to actually solve problems when there's a chance to have a news cycle hitting the other side on it."
A "football" is what the White House says they don't want, citing how Congress has usually addressed the debt limit in a bipartisan fashion, under presidents of both parties and even when Republicans controlled the House and Senate.
"Congress is going to need to raise the debt limit without -- without -- conditions and it's just that simple," White House press secretary Karine Jean-Pierre said earlier this month.
And while Jean-Pierre has since said there are ongoing conversations between the White House and members of both parties, "Attempts to exploit the debt ceiling as leverage will not work," she told reporters this month. "There will be no hostage taking."
McCarthy, R-Calif., has insisted that he would not support any debt limit increase without reducing spending back to fiscal year 2022 levels. He has pointed to the most recent election results.
"Republicans were elected with a mandate from the American people in the midterm elections. We campaigned on the fact that we were going to be serious about spending cuts. The Senate has to recognize we're not going to budge until we see meaningful reform with respect to spending," he said on Fox News over the weekend, referencing negotiations with the Senate.
Rep. Don Bacon, R-Neb., echoed that in an appearance on ABC's "This Week."
"The Republicans were largely elected to get control of reckless funding. That's the mission that their voters have given them. So, when President [Joe] Biden says he's going to refuse to negotiate with Republicans on any concessions, I don't think that's right," Bacon said.
"I want our side to negotiate with the Democrats in good faith," he said, "but President Biden has to also negotiate."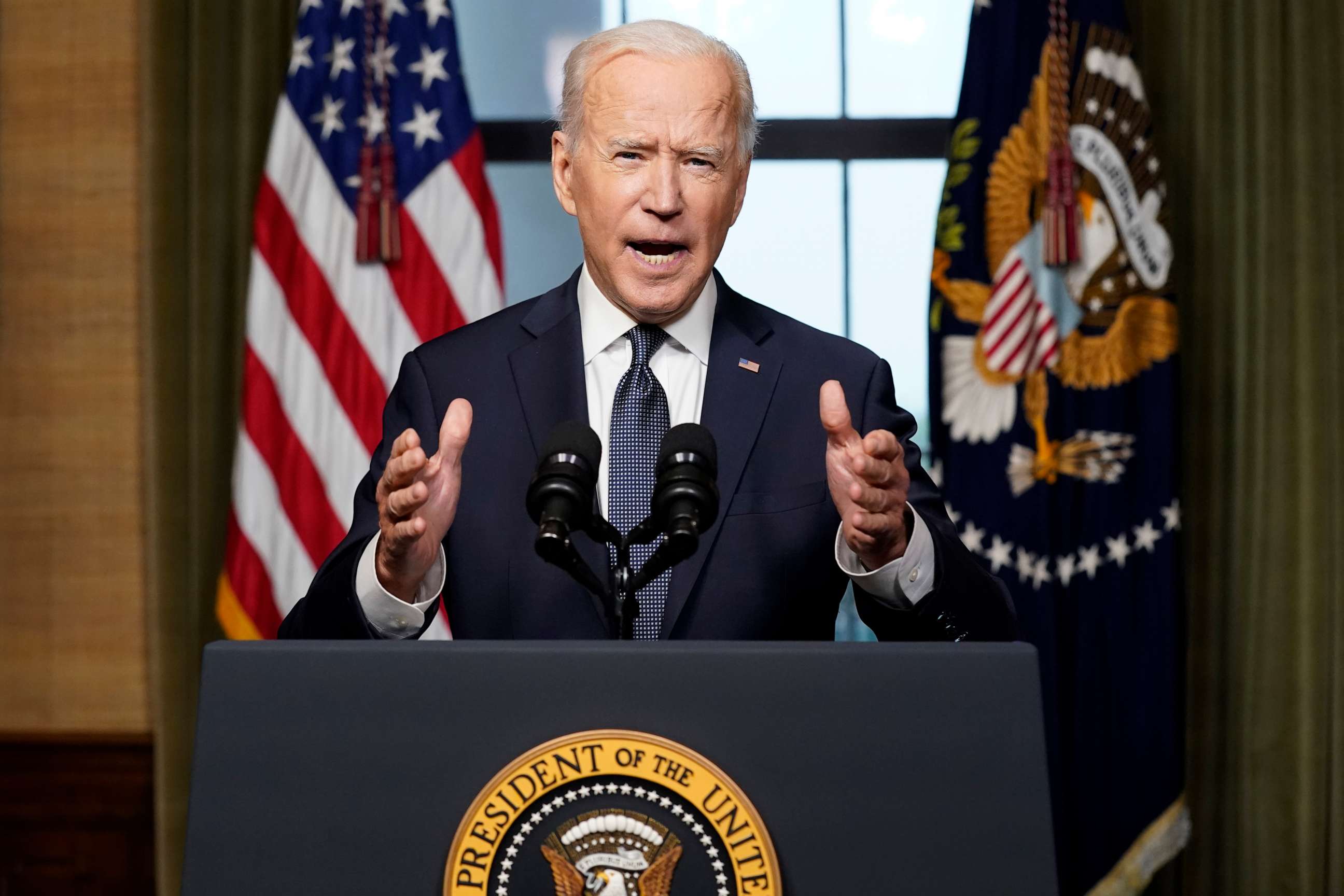 Lawmakers and congressional aides who spoke with ABC News say they bristle over the pall over the prospect of negotiations but admit that they see political advantages for each party.
"I think members, especially the Republican side, are very pressured right now to be able to rationalize not just to themselves but to their constituents what $31.4 trillion means to the country in debt. And if they just blindly go forward with the same old, same old, they're not doing their job," former Rep. Mike Bishop, R-Mich., told ABC News. "That's exactly what their constituents will tell them. So, for every opportunity you have to address the issue of spending, you really, as a member, gotta take advantage of it."
Former Rep. David Jolly, R-Fla., who has since left the party, predicted that "House Republicans will play hardball." Jolly added that concessions by McCarthy would be an "early broken promise" to the more conservative members whom he persuaded to vote him in as speaker.
President Biden, too, could see political upside in holding his line, some in his party say.
"Biden won't need to negotiate as long as the public continues to understand that MAGA Republicans in the House are to blame for the looming crisis. They have done a good job so far. It will help him in the reelect to run in 2024 against a Republican House that's out of control," said one Senate Democratic aide.
Looking back at past spending, debt ceiling fights
The modern era of spending and debt limit fights traces back to the 2010 midterms, when Republicans retook the House in what was the largest gain for a party in the chamber since 1938. Conservatives demanded the Obama administration tackle deficit reduction in order to raise the borrowing limit.
In the summer of 2011, after months of fractious wrangling, Obama told reporters that "crisis" had been averted -- the U.S. government's debt limit would be raised, ensuring it could continue to borrow money to pay its bills, in exchange for major spending cuts sought by Republicans.
"It ensures also that we will not face this same kind of crisis again in six months or eight months or 12 months," Obama said then. "And it will begin to lift the cloud of debt and the cloud of uncertainty that hangs over our economy."
Even so, the fiscal fight had tiptoed close to the cliff of the Treasury exhausting its resources, leading Standard & Poor's to downgrade the credit rating of the United States government for the first time ever.
Two years later, Obama was again celebrating a breakthrough with Congress over the government's spending and debt limit.
This time -- in the wake of Obama's 2012 reelection and Democrats picking up seats in the House and Senate -- a standoff with the House GOP majority ended in the conservative lawmakers conceding on almost all of their demands, with both parties in the Senate hammering out a deal.
"We've got to get out of the habit of governing by crisis," Obama said at the time.
A 2013 ABC News poll showed that 54% of Americans agreed with Obama's handling of the issue and only 40% agreed with Republicans' handling.
However, that disapproval didn't appear to bring with it any broader voter reaction, with the GOP seeing gains in the 2014 midterms.
Since then, the debt limit has either been paused or increased eight times, according to the Bipartisan Policy Center, with Congress largely choosing to simply extend the debt limit rather than hold a vote on raising it.
"It should be done in a bipartisan way. It always has been," Senate Majority Leader Chuck Schumer said on CNN last week, seeking to play down the possibility of another bruising battle.
"I think Republicans learned their lesson," he said then. "They suffered, we won the election after that [in 2012], and they will hopefully come and work with us."
With the debt ceiling looming again as a priority and a problem, some other lawmakers are getting frustrated.
"I've blamed both sides for a long time," one House Republican said. "It's an inherent problem that we must get serious about."
The House Democratic aide took this view: "I think both sides will run aggressive messaging on this and, in the end, both will get blamed. Voters tend to channel anger at who is 'in charge.' In this instance, that includes a bipartisan group of leaders because of the current divide."