A bipartisan group of lawmakers introduced resolutions to Congress on Thursday expressing their support for renaming the NATO headquarters in Brussels after the late Senator John McCain.
Senators Ben Cardin (D-Maryland) and Marco Rubio (R-Florida) introduced the resolution to the Senate, while Representatives Mike Gallagher (R-Wisconsin) and Jimmy Panetta (D-California) introduced it to the House of Representatives.
The resolution quoted McCain's own praise of the NATO alliance, including an opening statement he gave as chairman of the Senate Armed Services Committee last year.
"The price our NATO allies paid in blood-fighting alongside us should never be diminished," the senator said on March 23. "And we must never forget that America is safer and more secure because it has allies that are willing to step up and share the burden of collective security."
A Vietnam veteran, 35-year Congressman, and two-time presidential candidate, McCain passed away on Aug. 25 following a battle with brain cancer.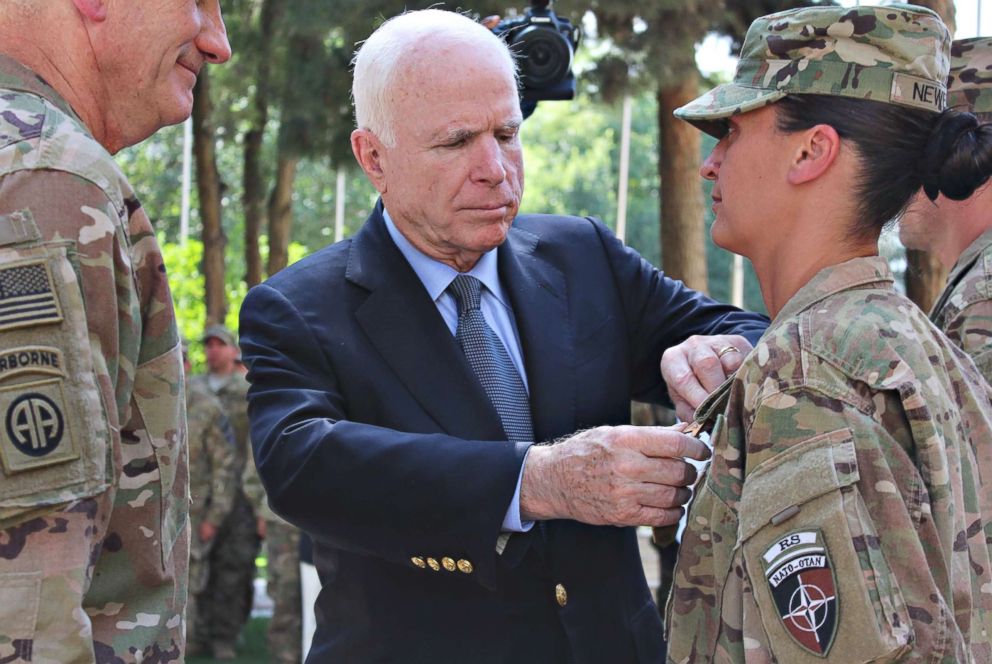 In the aftermath of his death, a UK member of parliament and chair of the foreign affairs committee called for the alliance's headquarters to adopt McCain's name — a request that was quickly endorsed by three former NATO secretaries general.
"As three former secretary-generals of Nato, we believe that the transatlantic alliance is the cornerstone of a stable, peaceful and free world. Few things symbolize this alliance, and the enduring benefits of American global leadership, more vividly than the life and work of John McCain," wrote Anders Fogh Rasmussen (2009-2014), Lord Robertson of Port Ellen (1999-2004), and Javier Solana (1995-1999) in a letter to The Times of London.
"Despite his being a US Senator, across Europe we all felt that John McCain III was one of our own," they continued. "Whether advancing the cause of freedom across the former Soviet states of eastern Europe or defending the multilateral international order at a time of skepticism, his work was a beacon for all of us who believe that transatlantic unity is the only means of ensuring peace. We urge NATO to repay this lifetime of service to its mission by naming its new Brussels headquarters after Senator McCain."
Last week, a NATO spokesperson confirmed that the current Secretary General Jens Stoltenberg had received the request and was considering it.
Stoltenberg tweeted after McCain's death that the late senator would be "remembered both in Europe and North America for his courage and character, and as a strong supporter of NATO."
The new NATO headquarters opened in Brussels earlier this year.
Joining the group of bipartisan U.S. lawmakers introducing resolutions on Thursday were Senators Jeff Flake (R-Arizona), Jeanne Shaheen (D-New Hampshire), Todd Young (R-Indiana), Jeff Merkley (D-Oregon), John Kennedy (R-Louisiana), Kirsten Gillibrand (D-New York), Susan Collins (R-Maine), Ed Markey (D-Massachusetts), Ron Johnson (R-Wisconsin), Chris Van Hollen (D-Maryland), Chris Coons (D-Delaware), Cory Booker (D-New Jersey), and Representatives Don Bacon (R-Nebraska), Seth Moulton (D-Massachusetts), Elise Stefanik (R-New York), Joe Courtney (D-Connecticut), Austin Scott (R-Georgia), Stephanie Murphy (D-Florida), Adam Kinzinger (R-Illinois), and Kyrsten Sinema (D-Arizona).