WASHINGTON -- Hillary Clinton is looking to scripture to change her tune with the press.
During remarks this morning at the Foundry United Methodist Church in Washington, D.C., where Bill, Hillary and Chelsea Clinton were celebrating the church's 200th anniversary, the Democratic presidential candidate said she got some blunt campaign advice from her former pastor.
"I got some advice from Dr. Wogaman just earlier this morning, which I promise I will put into effect," Clinton, a lifelong Methodist, remarked from the pulpit, referring to former pastor J. Philip Wogaman. "Basically he said, if you're going to read and listen to Romans 12 you got to be nicer to the press."
Clinton, who is often criticized for her tense relationship with the media, added: "So, to my friends in the press, I will certainly take that to heart."
Later in service, the church's current pastor, Ginger Gaines-Cirelli, offered a gloss of the Bible verse.
"You heard Romans 12," she said. "Be nice."
The Foundry United Methodist Church is where the Clintons worshipped during President Clinton's two terms in the White House. Both Hillary and Chelsea Clinton were guest speakers at its bicentennial celebration today.
The former president made an unexpected appearance at the service as well -- his third public appearance with his wife since she announced her candidacy for president. He did not speak, however, and was introduced by the church's pastor as "Hillary's husband" and "Chelsea's Dad" -- a remark that drew some laughter and applause from the churchgoers.
During her speech, Hillary Clinton, who described herself today as a "Methodist both by birth and by choice," thanked the church for being a place where the Clintons "could worship, study, contemplate, be of service, get some good pastoral advice and step outside all the commotion of life in the White House in Washington."
"That was very, very precious to us," she said. "Here we were not the first family. We were just our family. And we relished and cherished that time."
Chelsea Clinton offered similar gratitude during her own remarks —- thanking the church for the "nurturing and supportive" community it provided her when she first moved to Washington as a pre-teen, and for instilling values in her that she said she hopes to pass along to her daughter, Charlotte.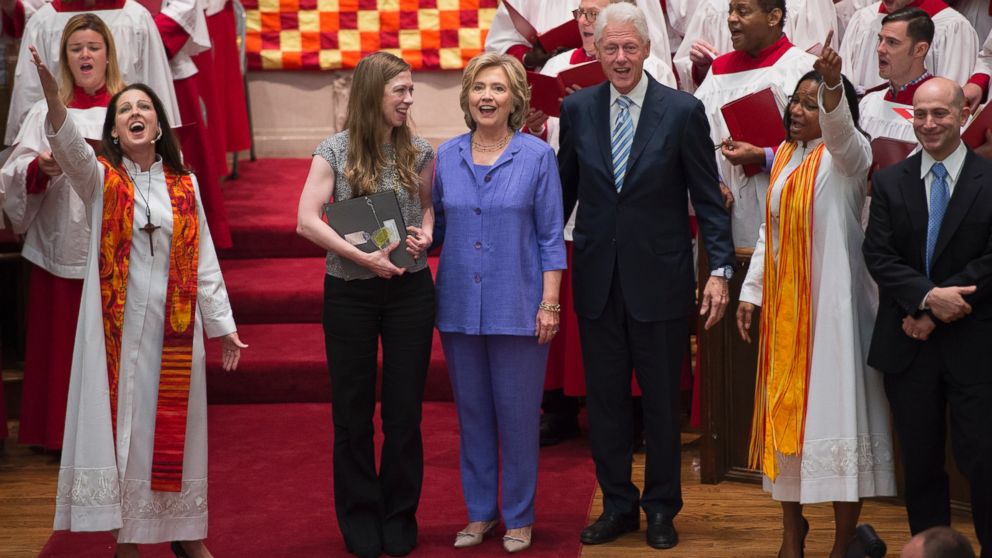 "I could not think of a greater gift than I would like to give my own daughter, who is turning 1 in a couple of weeks, that same rootedness in her faith and in her traditions," she said.
Chelsea, whose husband Marc is Jewish, then discussed how her daughter is being raised in an inter-faith home.
"It is a different challenge, but also equally a bless opportunity in our family, because my husband is Jewish. So, as much as I raced down here this afternoon, I'm actually rushing back this afternoon because it's Rosh Hashanah, the Jewish New Year," she said. "So, we're thinking about faith a lot in our house right now.
"We hope that our daughter will find her own faith, and all we can do is support her in that," Chelsea continued. "And that she always feels the imperative to connect her faith to her work, and recognizes that she never can feel alone. There are always communities that you can find unexpectedly even when you're ... trepidatious, nervous and certainly awkward 12-year-olds."
This was only Chelsea's second public appearance with Hillary Clinton since the start of her mother's campaign -- of all days, on Grandparents Day.
"Of course it doesn't get any better than the fact that today is also Grandparents Day," the Democratic presidential candidate said with a smile. "So, this is just a winner all the way around."