— -- Lawmakers spent their Saturday on Capitol Hill after a dramatic showdown led to a federal government shutdown on the one-year anniversary of President Donald Trump's inauguration.
The government shutdown will continue into a second day after senators went home without a deal on Saturday night. Senate Majority Leader Mitch McConnell said there would be a vote at 1 a.m. on Monday unless they reach an agreement sooner.
The shutdown is the first time in recent history when government operations shut down while Republicans control both the White House and Congress, despite the president and others placing the blame on Democrats.
Trump's director of the Office of Management and Budget, Mick Mulvaney, issued a memo to the leaders of federal agencies and executive departments Saturday, telling them to prepare for the possibility of the shutdown continuing into the start of the work week on Monday. There is no "clear indication that the Congress will act in time" to fund the government by Sunday night, the memo said.
No agreement on short-term solution
Late Saturday night, Senate Majority Leader Mitch McConnell vowed that a three-week short term measure to fund the government will have its day on the floor, even after Democrats today rebuffed his efforts to advance the bill.
"Earlier today, I asked for consent to move up a vote on this bipartisan solution and end this craziness today," McConnell said. "The Democrats objected. That won't work forever. If they continue to object, we cannot proceed to a cloture vote until 1 a.m. on Monday."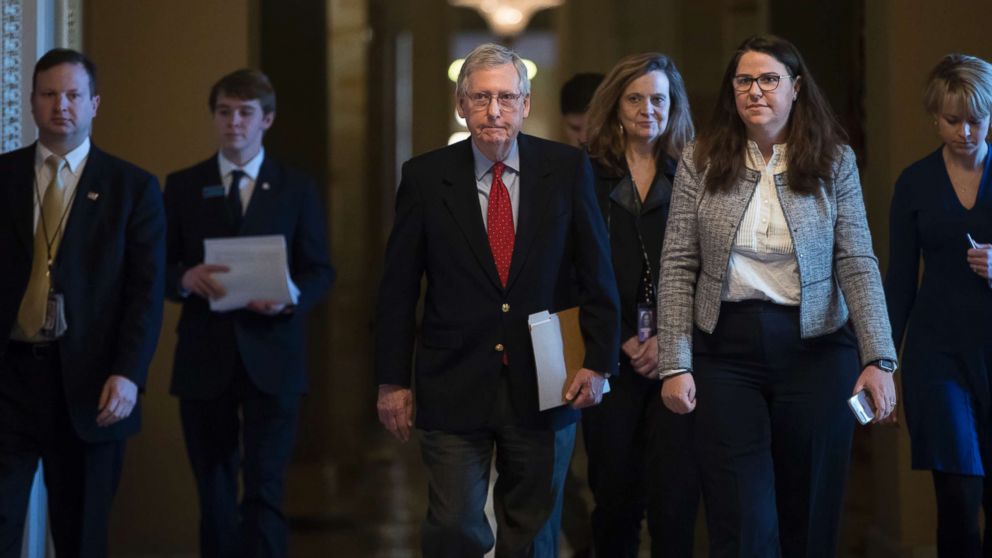 The cloture vote will end debate on the Feb. 8 short term funding measure and it will need 60 votes in the Senate to pass. Unless there is progress in the next day, the government will not reopen because Democrats will not be willing to go along with Republicans if their immigration demands are not met.
Immigration a key issue
A top Democratic aide told ABC News pointed to the lack of a comprehensive fix for the Deferred Action for Childhood Arrivals (DACA) policy as a sticking point.
Democrats continued to blast away at the White House, saying "this shutdown is almost entirely the making of the president."
"Negotiating with President Trump is like negotiating with jello. That's why this compromise will be called a Trump Shutdown," the Senate's top Democrat Chuck Schumer said Saturday afternoon.
This evening, some senators involved in a bipartisan bill to shield DACA recipients were seen shuffling between McConnell's and Schumer's offices, suggesting that talks are still ongoing.
Earlier in the day, Trump attacked Democrats for prioritizing immigration policy.
"Democrats are far more concerned with Illegal Immigrants than they are with our great Military or Safety at our dangerous Southern Border. They could have easily made a deal but decided to play Shutdown politics instead. #WeNeedMoreRepublicansIn18 in order to power through mess," Trump tweeted.
A subsequent tweet read, "This is the One Year Anniversary of my Presidency and the Democrats wanted to give me a nice present. #DemocratShutdown."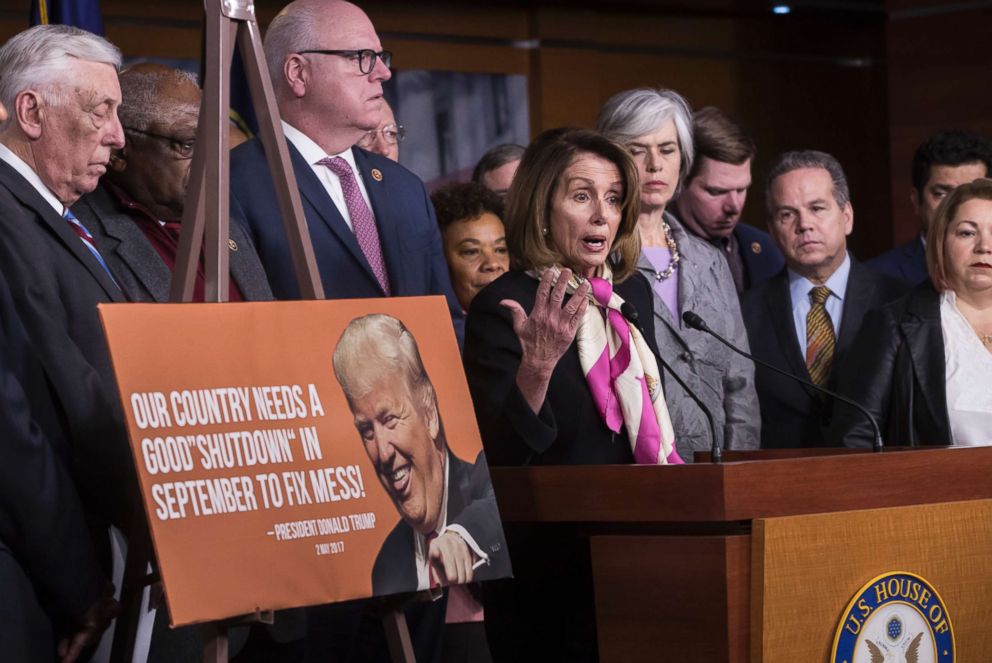 Senate Minority Leader Chuck Schumer, D-N.Y., said he thought negotiators were nearing a deal Friday when he met with Trump. Schumer said he "reluctantly" agreed to fund a border wall in exchange for protections for immigrants who came illegally to the U.S. as children and who risk losing protections from deportation without DACA.
"The only way out of this is for the president to take yes for an answer," Schumer said from the Senate floor Saturday. He accused Republicans of proposing inconsequential remedies that "kicked the can down the road."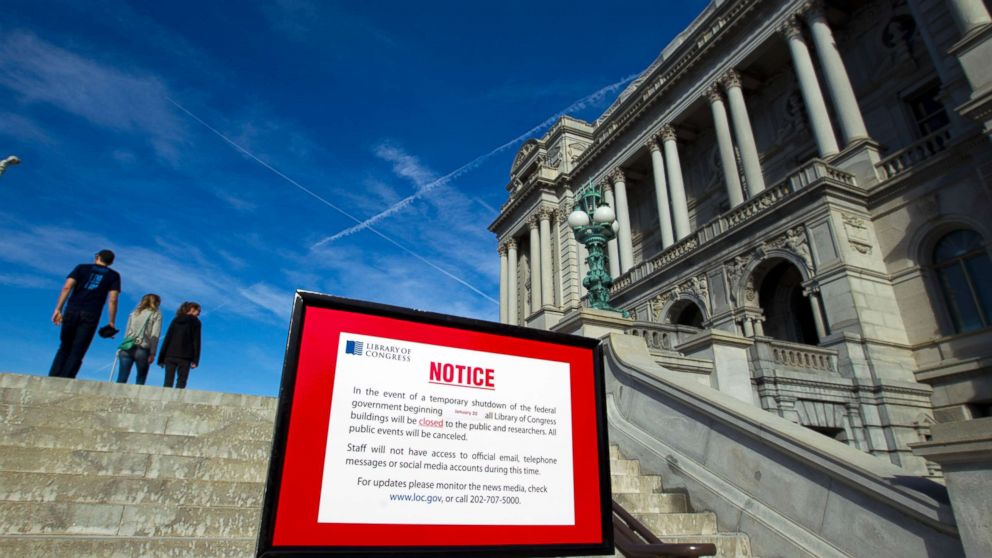 Democrats are accusing Republicans of ignoring the topic of immigration as well as other issues such as public health and veterans in proposed resolutions. Conservatives though portray the stalemate as a case of Democratic obstruction.
Blame game
At the Capitol on Saturday, Republican leaders including House Majority Leader Kevin McCarthy, R-Calif., focused their ire back on top officials across the aisle, particularly Schumer.
McCarthy said he believed there was bipartisan agreement to eventually negotiate on four key immigration issues, including protections for persons formally covered under DACA. He said the shutdown was a result of Democrats being "irresponsible."
The White House said Saturday that Trump has been on the phone with McConnell and Speaker of the House Paul Ryan, R-Wis. but that the president "will not negotiate on immigration reform until Democrats stop playing games and reopen the government." On Saturday callers to the White House public comment line were met with an away message blaming Democrats for "holding funding hostage."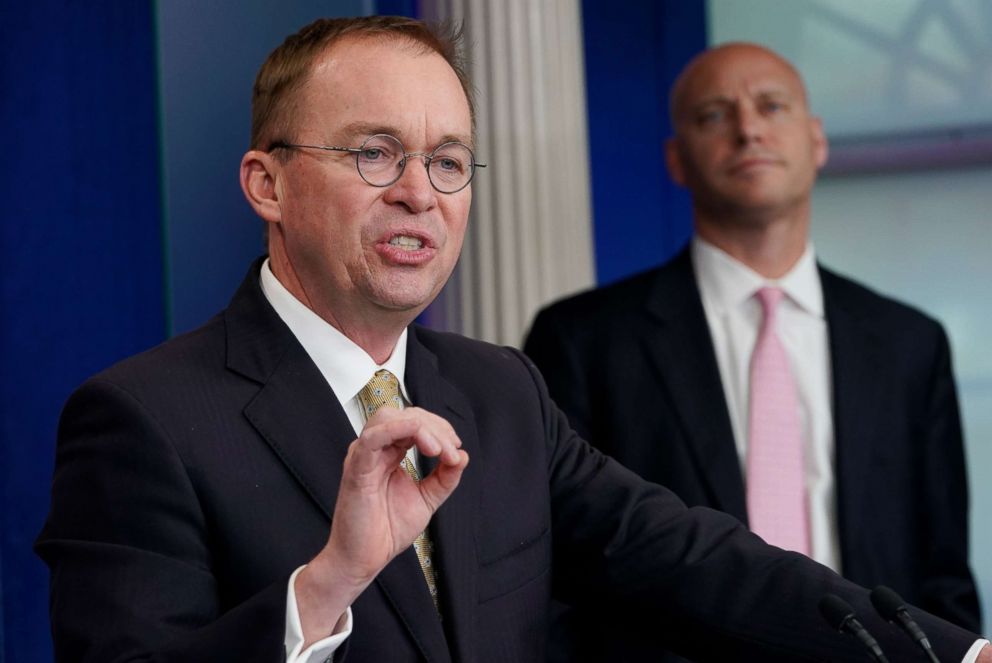 Meanwhile, thousands of activists — many of them galvanized by Trump's election to office a year ago — gathered in cities across the nation for the second annual Women's March, which this year organizers are calling "#PowerToThePolls."
The shutdown also comes exactly one year after Trump said in his inauguration speech: "We will no longer accept politicians who are all talk and no action, constantly complaining but never doing anything about it. The time for empty talk is over. Now arrives the hour of action."
ABC News' Mary Bruce, Mariam Khan, John Parkinson and Jordyn Phelps contributed to this report.