Immigrant 'Dreamers' share their worries as DACA remains in legal limbo on 11th anniversary
The program for young migrants is in legal limbo, awaiting a judge's ruling.
The Deferred Action for Childhood Arrivals program, known as DACA, hit a milestone on Thursday, 11 years after it first began.
As the White House touts how DACA has helped support young immigrants who they say have become valuable members of society, some of those same DACA recipients are speaking out as their fate remains in limbo, given the years of legal challenges and controversy around the program.
In written and taped statements first shared with ABC News, President Joe Biden and Vice President Kamala Harris marked the DACA anniversary by praising the contributions of the young immigrants, sometimes referred to as "Dreamers," who were shielded from deportation.
Biden and Harris also again called on Congress to provide those people with long-term protections through immigration reform -- something Congress has been unable to agree on for years, despite bipartisan interest in the issue.
Under DACA, young people without legal authorization to be in the U.S. were able to work in the country without imminent threat of removal.
"Dreamers are Americans. Many have spent the majority of their lives in the United States. They are our doctors, our teachers, and our small business owners. Dreamers strengthen our economy, enrich our workplaces, and during the COVID-19 pandemic, many served their communities on the frontlines," Biden said in his statement.
On Thursday night, Biden plans to host a film screening for DACA recipients, lawmakers, civil rights leaders and others and will give remarks "celebrating the contributions and culture of the Latino community" while "once again call[ing] on Congress to send him a bill that creates a pathway to citizenship for Dreamers," a White House official said.
DACA began in 2012, during the Obama administration, and has since covered more than 800,000 immigrants. According to U.S. Citizenship and Immigration Services, there are nearly 600,000 current DACA holders.
In her video released on Thursday, Harris said "the story of Dreamers is the story of America."
"The DACA program has made it possible for hundreds of thousands of Dreamers to live, work and thrive in America. For the benefit of America. So, today, on the 11th anniversary of DACA. President Biden and I again declare: We will not rest until Congress provides all Dreamers permanent protections, including a pathway to citizenship," Harris said in the video, which also features several DACA recipients.
Requirements for obtaining DACA include having entered the country before age 16 and having lived in the U.S. prior to 2007. Passing a background screening, fingerprint and other education and identity requirements is also necessary. Applicants must re-register for the program every two years.
Since its inception, DACA has faced a barrage of challenges and current recipients are bracing for an imminent federal court ruling out of Texas that could upend their lives.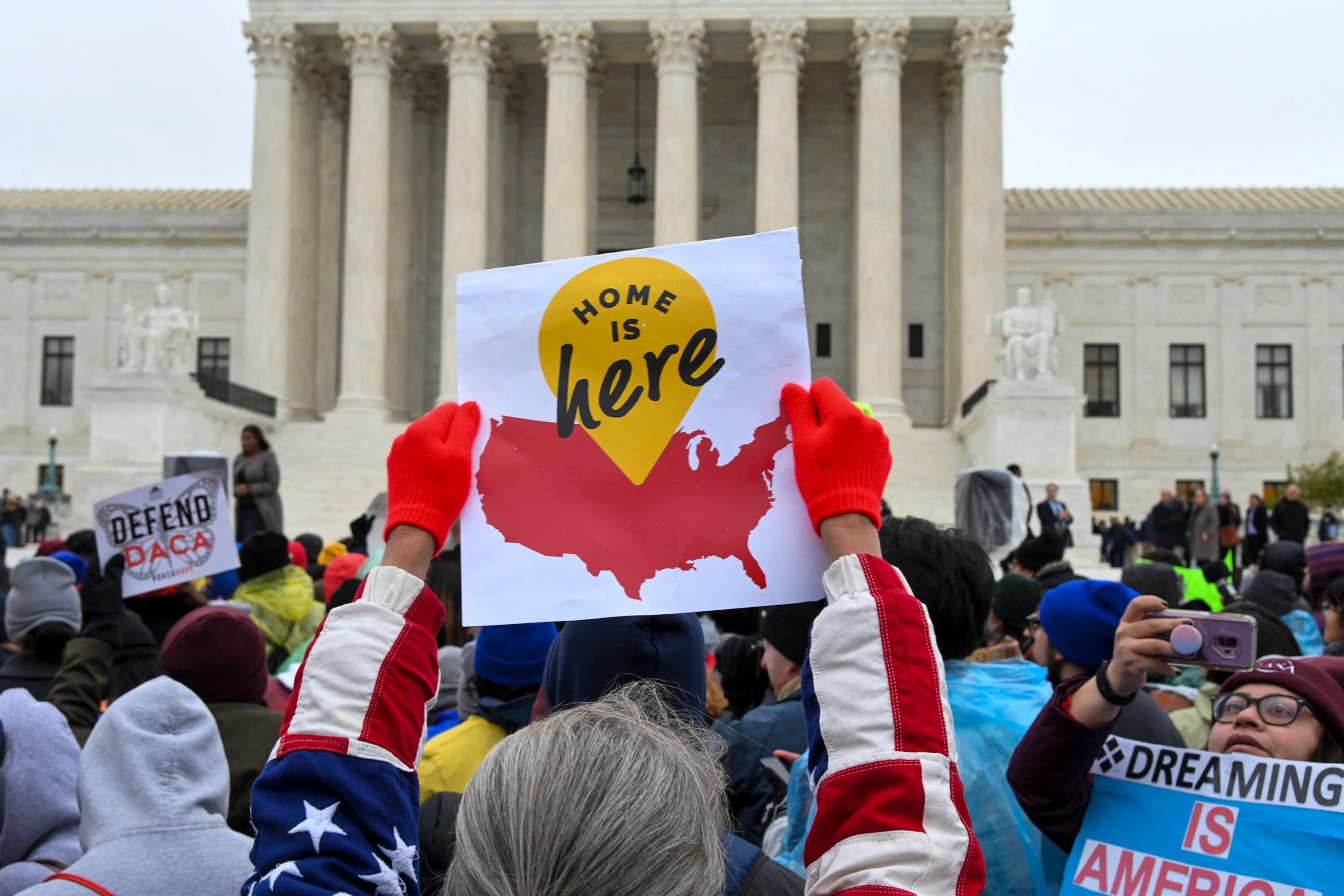 U.S. District Judge Andrew Hanen, who previously ruled that DACA is unlawful, is expected to once again rule on the legality of the program after the Biden administration took steps to codify it into administrative law in order to better protect it from lawsuits.
A coalition of mostly Republican-led states have challenged the program, arguing in part that it imposes economic harm and that DACA being initiated by a president exceeded the White House's power.
"Our lawsuit is about the rule of law, not the wisdom of any particular immigration policy ... Left intact, DACA sets a dangerous precedent by giving the executive branch sweeping authority to ignore the laws enacted by Congress and change our nation's immigration laws to suit a president's own policy preferences," the Texas attorney general has said.
Hanen sided with the states in 2021, citing "the hardship that the continued operation of DACA has inflicted on them."
However, Hanen allowed current recipients to continue their status while the appeals process plays out but barred new applicants from joining.
Aurora Chavez, 24, was brought to the U.S. when she was 10 months old and was in the process of applying for DACA when Hanen issued his 2021 ruling. She told ABC News that without the ability to legally work without a fear of deportation, she has been unable to provide for her siblings, one of whom has leukemia.
"I am physically able to do many things, and I can't even do it because I feel held back from many opportunities," she said.
At a hearing in early June, lawyers representing DACA recipients argued that the states challenging the program were not accounting for the economic contributions that hundreds of thousands of "Dreamers" have made after being able to enter the workforce, become homeowners and integrate into society. The attorneys also argued the program is lawful because of executive discretion.
Attorneys for MALDEF, one of the co-litigators in the case representing DACA recipients, told reporters in late May that they expect Hanen's ruling to be appealed and that the case may end up before the Supreme Court.
As federal authorities continue a crackdown on unauthorized immigration to deter many asylum-seekers at the southern border, the population of immigration detention centers has more than doubled since Biden took office. The number of people in immigration detention recently hit about 30,000, marking a 40% increase since the end of pandemic-era measures used to justify fast-track border protocols to remove migrants.
The state of immigration detention underscores the stakes for those who could face deportation if DACA ends.
ABC News spoke with two of the defendant-intervenors in the DACA case who say the anniversary is a bittersweet celebration: a chance to reflect on their accomplishments while facing the possibility that the program will go away.
Jung Woo Kim, co-director of the National Korean American Service & Education Consortium, arrived in the U.S. from Korea when he was 15 years old. He said he chose to get involved in the case because of his sense of obligation to himself and to other recipients whose livelihoods are now at risk.
"If someone tries to take away what you have, what are you going to do? You're going to do your best to defend it," he said.
Jung Woo, now 38, said the fear of losing his DACA status has prevented him from starting a family. His mother also suffers from a disability and his ability to financially provide for her is on the line if DACA ends, he said.
Karina Ruiz, also 38, is the executive director of the Arizona Dream Act Coalition. She said she's fighting for the program that has allowed her "to take a breath in the middle of a storm."
As a young grandmother, she said her fight is not only about her but the generations that follow.
"It shouldn't matter where you were born," she said. "That's something we can't control."