For years, Rep. Dana Rohrabacher has cut a unique figure in Washington's foreign policy world – a staunch Reaganite who has taken an unexpected ideological turn in advocating closer ties with Russia, even boasting about a drunken arm-wrestling contest with Russian President Vladimir Putin in the early 1990s.
Now, the Orange County Republican once dubbed "Putin's favorite congressman" by Politico is one of the scores of House Republicans scrambling to defend his seat in the midterm elections against a Democrat – Harley Rouda, a former Republican attorney and businessman – in a district Hillary Clinton carried by 1.7 points in 2016.
It's unclear how those attacks and Rohrabacher's record will ultimately factor into the election results.
Rohrabacher and fellow Republican, Devin Nunes, the House Intelligence Committee chairman, have weathered attacks from Democrats and Republican primary opponents focused on Russia and the investigations into 2016 election interference.
Kyle Kondik, an analyst at the University of Virginia's Center for Politics and managing editor of Sabato's Crystal Ball, said almost any issue in the campaign could prove "decisive" if the race is decided by a few percentage points.
"That said, a lot of experts on both sides of the House fight seem to believe Rohrabacher is still holding up OK," he said in an email. "Part of the reason is that his district is probably a little more Republican than similar districts in Southern California with imperiled GOP incumbents."
Rohrabacher's campaign did not make him available for an interview, but in a recent appearance on Showtime's "The Circus," the congressman said he believes he's in a close race because of how long he's been in office.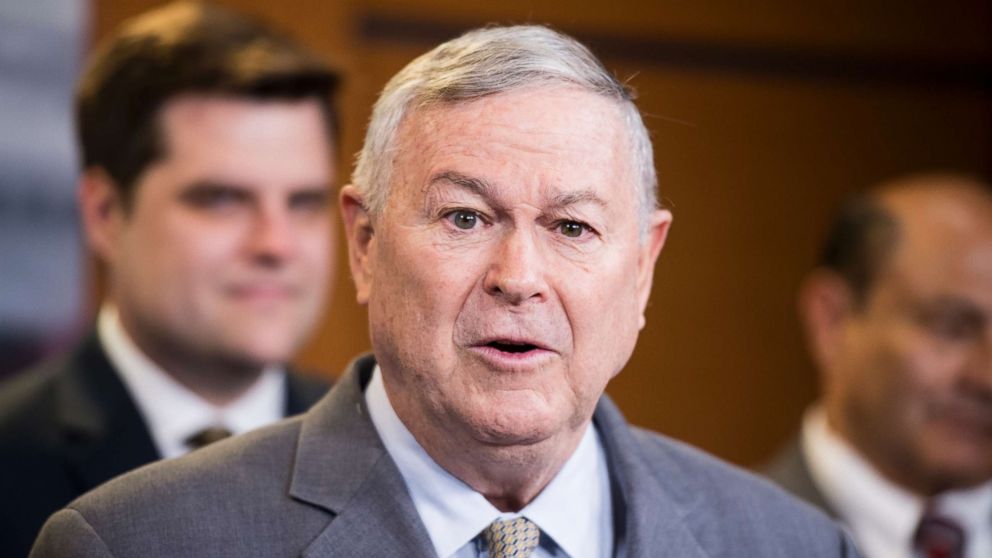 "It's a tighter race, obviously, when someone says '30 years is enough.' That's a good slogan but 30 years also means that you have seniority, you know what to do, you know how to get things done to better Orange County."
Fight for his political life
Local and national political analysts watching the race say Rohrabacher could still retain his seat on the strength of his conservative and libertarian-leaning record, even as other vulnerable House Republicans come up short on election night.
"He's been around for almost 30 years in Congress," Zev Yaroslavsky, a former Los Angeles County supervisor and director of the Los Angeles Initiative at the UCLA Luskin School of Public Affairs, who has known Rohrabacher for decades, told ABC News. "Don't underestimate him because he will fight."
After winning re-election two years ago by double digits, Rohrabacher emerged as one of two victors in a jungle primary last June, barely topping 30 percent of the vote in a race with more than a dozen candidates.
Once a speechwriter for President Ronald Reagan, he was an ardent Cold Warrior when he was elected to Congress in 1988. But Rohrabacher's position evolved as the Cold War wound down. He became increasingly convinced that the United States and Russia could work together to take on shared challenges, such as terrorism in the Middle East – a view shared by President Donald Trump.
Rohrabacher has used his position as chairman of the House Foreign Affairs subcommittee with jurisdiction over Russia policy to advocate for closer relations and push back against economic sanctions.
"Everything I do is aimed at what's good for the United States," he told ABC News in an interview last year, rejecting being labeled as pro-Russia.
To Russia, his voice in Congress is seen as so important that FBI agents once warned him that he was considered a target for recruitment by intelligence operatives, according to The New York Times. The senior committee post has also put him in contact with many of the key figures that have emerged in the congressional and federal investigations in Russian election meddling.
A spokesman for Rohrabacher dismissed the encounters, saying it is "literally his job to meet with Russians and other foreign officials" and that the congressman "has met with far more anti-Russian Ukrainians that he has Russians."
Rohrabacher and the Russia investigation
In April of 2016, he met in Moscow with Natalia Veselnitskaya – the Russian lawyer who met with Donald Trump Jr. and other campaign officials in Trump Tower that June for a meeting advertised as an opportunity to discuss potential dirt on Hillary Clinton.
Veselnitskaya told a Crimean news service the meeting was about sanctions, and Rohrabacher's office told Foreign Policy that she was one of many people he met on a congressional trip to Russia.
That summer, he met with WikiLeaks founder Julian Assange at the Ecuadorian Embassy in London, months before the site released hacked Democratic emails received from Russian hackers.
Trump campaign aide Rick Gates pleaded guilty earlier this year to lying to federal agents about the topics of conversation in a 2013 meeting with a lobbyist and a congressman - later confirmed by ABC News to be Rohrabacher.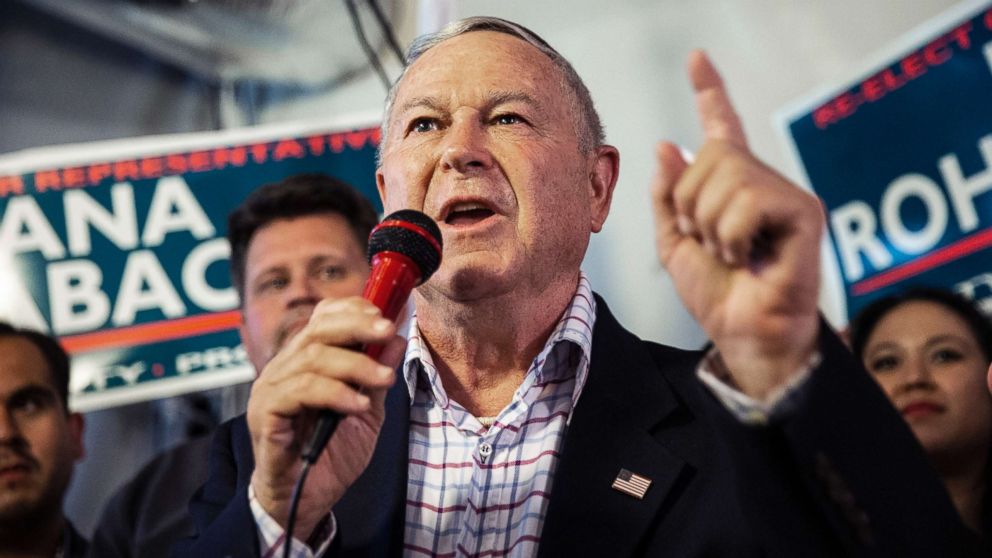 As ABC News has previously reported, the congressman also met several times with Maria Butina, who was later charged with acting as a Russian agent by the U.S. government. His office has dismissed those encounters as routine, given his subcommittee chairmanship.
Rohrabacher was one of two sitting lawmakers -- along with former Democratic National Committee Chair Rep. Debbie Wasserman Schultz -- to have been interviewed by the House and Senate Intelligence Committees as part of the panels' Russia investigations.
The committee left Rohrabacher's transcript, along with Wasserman Schultz's and a handful of others, off the list of more than 50 they plan to declassify and release. Democrats have said they would release the transcript if they take the House, and with it, control of the committee.
Rohrabacher told CNN he was an "open book" with investigators and was questioned about trips to Russia and meetings he had there.
The California Republican's advocacy for Russia has put other Republicans in an uncomfortable position – most notably when the Washington Post obtained a recording of House Majority Leader Kevin McCarthy privately joking with other top Republicans in 2016 that Putin "pays" Rohrabacher and Trump. (McCarthy later told reporters the comment was a bad joke.)
Last year, Republican leaders started scrutinizing his official travel privileges as the chairman of the House Foreign Affairs Committee Subcommittee on Europe, Eurasia, and Emerging Threats.
Subsequently, Rohrabacher paid his way own way to Europe and a meeting with Wikileaks founder Julian Assange in the Ecuadorian Embassy in London in August of 2017.
Rohrabacher tried to deliver a message from Assange to Trump – an effort to broker a deal for Assange to turn over what he described as evidence that Russia didn't hack the Democratic National Committee and pass materials to Wikileaks that the site later published – but said he was blocked from doing so by White House chief of staff John Kelly, he told ABC News at the time.
Dems take aim at Rohrabacher
All the overlap with the Russia investigation has provided plenty of grist for Rohrabacher's political opponents.
Scott Baugh, a former member of California State Assembly who was considered Rohrabacher's main GOP challenger, swiped at Rohrabacher's focus on Russia ahead of the primary.
"I think his preoccupation with Russia and marijuana [law reform] to the exclusion of issues the district cares about is a strong indication it's time to retire," he told Capitol Weekly, a nonprofit news outlet.
Rouda, Rohrabacher's general election opponent, released an ad earlier this year urging voters to "show Trump and Rohrabacher it's time for a leader who represents us, not Russia." The candidates also sparred over Rohrabacher's relationship with Russia in a recent debate.
"It's one of many issues," Rouda said in an interview with ABC News when asked to explain why the congressman's record on Russia is important in the race. "There are so many issues that show Rohrabacher in an extremist position."
He compared Rohrabacher's views on Russia to some of his comments on other subjects, such as when he told a realtor's conference in May that it is acceptable not to sell homes to gays and lesbians, and skepticism of climate change.
On Wednesday, Rouda's campaign also sent out a statement drawing attention to spending from Atlas PAC on Rohrabacher's behalf. The group has links to George O'Neil, a member of the Rockefeller clan and conservative donor, who was in touch with alleged Russian agent Maria Butina as she sought to network in Washington, according to court papers.
The two were in contact over email, planning "friendship and dialogue dinners" between Russians and Americans.
O'Neill's interactions with Butina, according to the government's filings, largely focused on email correspondence in which he, Butina and Erickson contemplated and planned "friendship and dialogue dinners" between Russians and Americans, one of which he hosted before the 2017 National Prayer Breakfast at upscale Washington restaurant Bistro Bis.
O'Neill wrote about the dinner on a conservative website, saying it involved "former and current and Russian officials with a number of prominent U.S. Republicans and conservatives."
After ABC News published a story on the congressman, Rep. Rohrbacher said he did not remember speaking with Butina at the Bistro Bis dinner.
"Her job was arranging chairs at a dinner, a gopher, and I sat at the opposite end of the table," Rohrabacher said.
Rohrabacher defends record
In the interview with "The Circus," Rohrabacher repeated his disbelief that hackers backed by the Kremlin hacked the Democratic National Committee and the Hillary Clinton campaign, citing evidence he says he was shown by Assange.
"I know they didn't hack the DNC," he said. "I went to the guy who received the DNC emails, Julian Assange, and talked to him personally, and he assured me that it wasn't and that he had proof."
That claim has put him at odds with the intelligence community and Mueller, after the Justice Department announced indictments against 12 Russian intelligence officers for the hacking last June, ahead of Trump's meeting with Russian President Vladimir Putin.
Rohrabacher said he believes his constituents see through the criticism of his record on Russia.
"My constituents are smart enough to know [bull] when they hear it," he told "The Circus." "I am advocating for cooperating with Russia where we can and when it's mutually beneficial."