DeSantis pushes back as anti-abortion group, GOP rivals criticize his skepticism of national ban
The governor has advocated for a "bottom-up" approach to the issue.
Florida Gov. Ron DeSantis took heat this week from a major anti-abortion group and two primary rivals for his skepticism about the viability of a federal abortion ban, which is a politically sensitive issue being embraced by some other Republican candidates this cycle.
Susan B. Anthony Pro-Life America on Monday chastised DeSantis for what the group called the "unacceptable" position he has voiced in recent weeks about a possible national ban on abortion.
DeSantis, who in Florida signed one of the most stringent abortion measures in the country, banning the procedure after six weeks, has indicated he would avoid trying to pass a similar law federally and instead focus on state-level restrictions, pointing to the legislative hurdles such a national ban would face.
"Look -- the Congress is probably not the place you want to put your hopes and dreams if you're supporting pro-life, and so I think we're going to really have a strong bottom-up approach," he told Fox News host Howard Kurtz last month.
"We're going to be working with states and localities to be able to advance the cause of life," DeSantis said then.
And in an interview with Megyn Kelly last week for her digital show, he said he would "help local communities and states advance the cause of life."
"I really believe right now in our society, it's really a bottom-up movement," he said.
The comments to Kelly set off the Susan B. Anthony group, which argued that DeSantis was showing "a lack of will" to "enact national protections for unborn children."
"There are many pressing legislative issues for which Congress does not have the votes at the moment, but that is not a reason for a strong leader to back away from the fight," the group's president, Marjorie Dannenfelser, said.
DeSantis defended his record when asked by reporters in New Hampshire on Tuesday about the group's criticism.
"Different groups, you know, are going to have different agendas, but I can tell you this: Nobody running has actually delivered pro-life protections. I have done that. I've stood up. I said that I would stand for life, and we have done that, and we have delivered, and we are proud of that," he said.
In a statement, his press secretary called Susan B. Anthony a "D.C. interest group" engaged in "D.C. political games."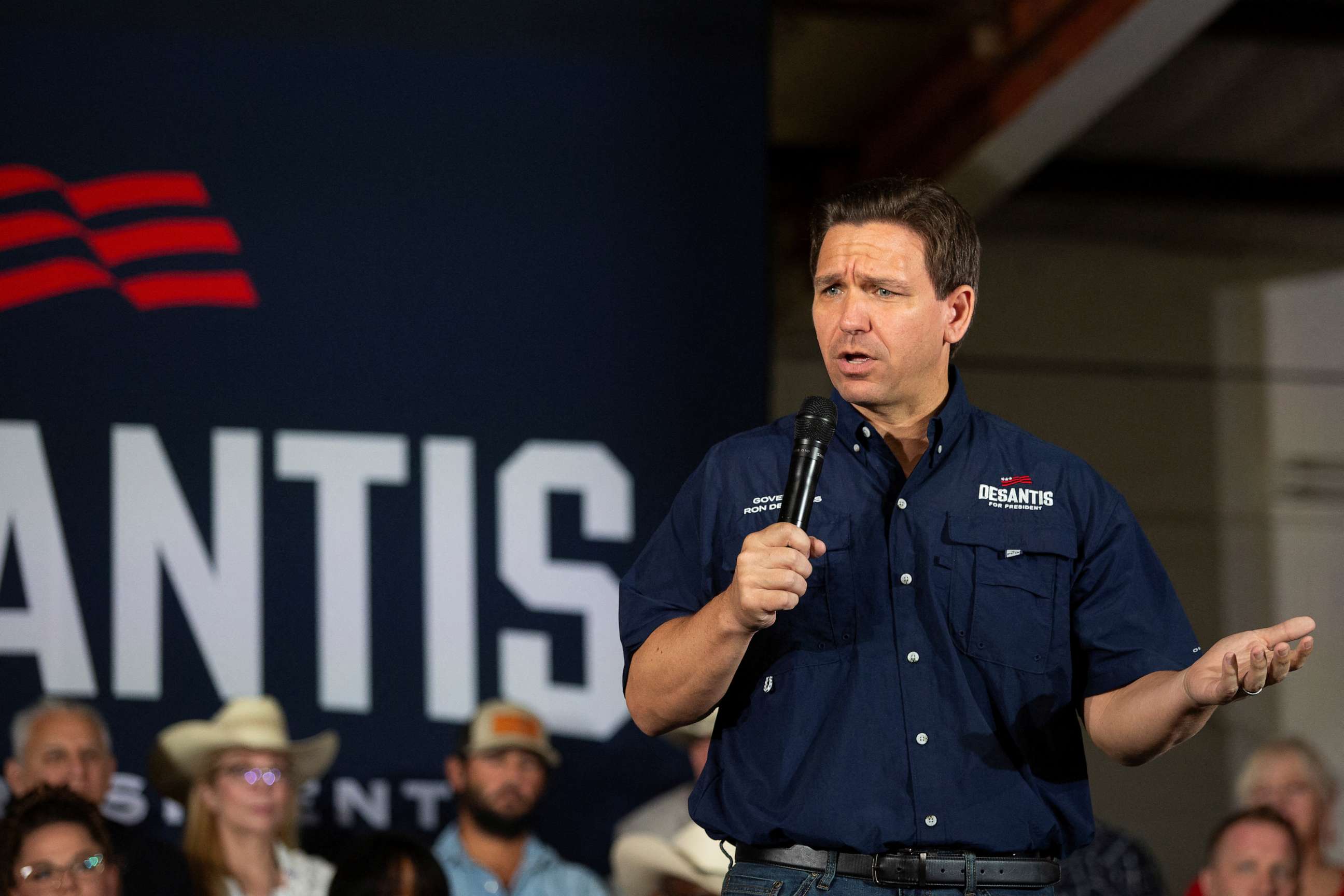 Former Vice President Mike Pence and South Carolina Senator Tim Scott, two of DeSantis' opponents for the 2024 Republican nomination, issued their own statements appearing to criticize DeSantis' abortion stance.
"When I am president, #ProLife Americans will have a champion in the White House!" Pence wrote in a tweet on Monday night.
"I will always champion protections for the unborn in states across the Country and in our Nation's Capital!"
Pence has called for a national abortion ban starting at 15 weeks of pregnancy, as a "minimum nationwide standard."
On Twitter, Scott wrote, "Republicans should not be retreating on life. We need a national 15-week limit to stop blue states from pushing abortion on demand," before defending the Susan B. Anthony group.
"Without life, nothing else matters. It's not a special interest. It's the only interest," Scott wrote, praising the Susan B. Anthony group.
Since the Supreme Court decision striking down Roe v. Wade last summer, which eliminated a constitutional right to abortion, Republicans have had to navigate an electorate -- outside of the GOP base -- who generally believe abortion should be available.
According to 2022 exit polls, the issue was the second most important for midterm voters and was the most important in swing states like Michigan and Pennsylvania. For voters where it was their No. 1 concern, they overwhelmingly favored Democrats, according to the exit polls.
In a New York Times/Siena College poll of registered voters released this week, more than a third of Republicans believed abortion should be "mostly" or "always" legal.
More than a quarter said they would "strongly oppose" a 15-week federal ban.
When a South Carolina voter asked DeSantis at a town hall in June if he supported national restrictions, the governor quickly diverted to criticizing President Biden for his own abortion stance.
Then, when asked the same question by Tucker Carlson in July, DeSantis, speaking to a conservative audience of Iowa evangelicals at an event hosted by Carlson, said, "Of course I want to sign pro-life legislation."
Former President Donald Trump has also danced around the issue, telling The Messenger in May that DeSantis' six-week Florida law was "too harsh" but declining to say what kind of limits he would support.
"There of course remains a vital role for the federal government in protecting unborn life," he said in a speech in June.