Dianne Feinstein is back and voting in the Senate, but the drama surrounding her return has barely begun.
Without diminishing the sad circumstances of a legendary lawmaker in decline, the plot points can nonetheless read like a politico's mashup of "House of Cards" and "Veep," with a score written by fans of "The West Wing" -- or "Succession."
At 89 years old and fresh off a bout recovering from shingles that resulted in serious complications, including brain inflammation, Feinstein, D-Calif., returned to the Capitol last week appearing weak and disoriented.
When asked about the reception from colleagues after her return, Feinstein seemed to claim to reporters that she hadn't been away at all, even though she missed more than 90 floor votes and left the Judiciary Committee unable to advance some contested nominees since February.
By her side since she's been back has been a new figure with a familiar family connection: Nancy Corinne Prowda, the eldest daughter of former House Speaker Nancy Pelosi. Pelosi's support for her longtime friend quieted calls for Feinstein to resign in recent weeks, and now her daughter is helping Feinstein do her job with minimal disruption or embarrassment.
Pelosi's support, while no doubt stemming from genuine affection for her fellow San Francisco political icon, is also wrapped up in the emerging race to succeed Feinstein in the Senate in next year's elections. If her seat were to become vacant before then, it would be filled by Gov. Gavin Newsom, who has vowed to appoint a Black woman to the job, while Pelosi has endorsed a white man, Rep. Adam Schiff.
That's a lot to hoist on the shoulders of a frail almost-nonagenarian whose mental challenges, particularly regarding her memory, have long been an open secret in Washington. (Feinstein, for her part, has previously pushed back on any such characterization.) There remain indications that she might have to miss further work, with her office committing to a "lighter schedule" for the senator and confirming on Thursday, in light of reporting in The New York Times, that her recent health issues were far more serious than acknowledged publicly.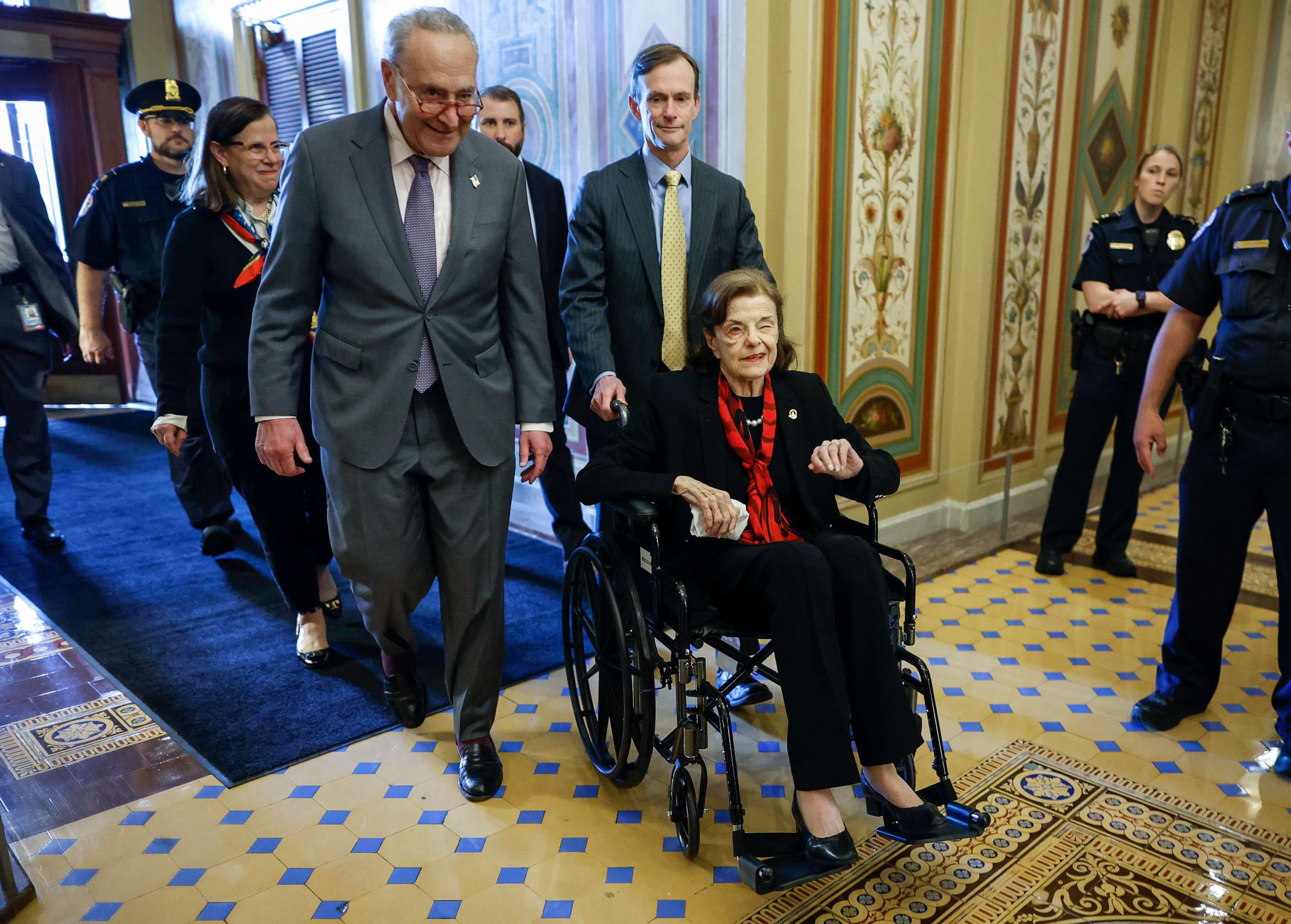 A senator missing votes due to illness is neither unusual nor, necessarily, cause for political alarm, particularly when that senator represents a state as deeply blue as California. But any one absence essentially erases Democrats' voting edge in the current 51-49 Senate and leaves the critical Judiciary Committee -- charged with sending potential judges to the Senate floor -- entirely deadlocked.
What's more, Democrats are staring down a Senate map in 2024 that, Feinstein's safe seat aside, looks brutal for their prospects of retaining control. And, of course, their party is being led by an 80-year-old president whose own reelection prospects are clouded by questions around his age and acuity, as shown in a recent ABC News/Washington Post poll.
Activists inside the Democratic Party have for years been deriding the Senate as dysfunctional, clamoring for rules changes to overcome what they call Republican obstructionism. Now, many of those same voices are in the awkward position of pushing a towering figure in state and national politics to step down with a year and a half left in her term.
Feinstein's latest illness kept her from the Senate starting in February, though calls for her resignation didn't reach a critical mass until last month when California Rep. Ro Khanna became the first sitting Democratic member of Congress to call for his home-state senator to leave office, saying it was clear that she could "no longer fulfill her duties."
"We need to put the country ahead of personal loyalty," Khanna said at the time.
Pelosi has defended her with a subtle reminder that infirm senators are nothing new -- and have mostly been men who have been allowed to close out their careers on their own terms.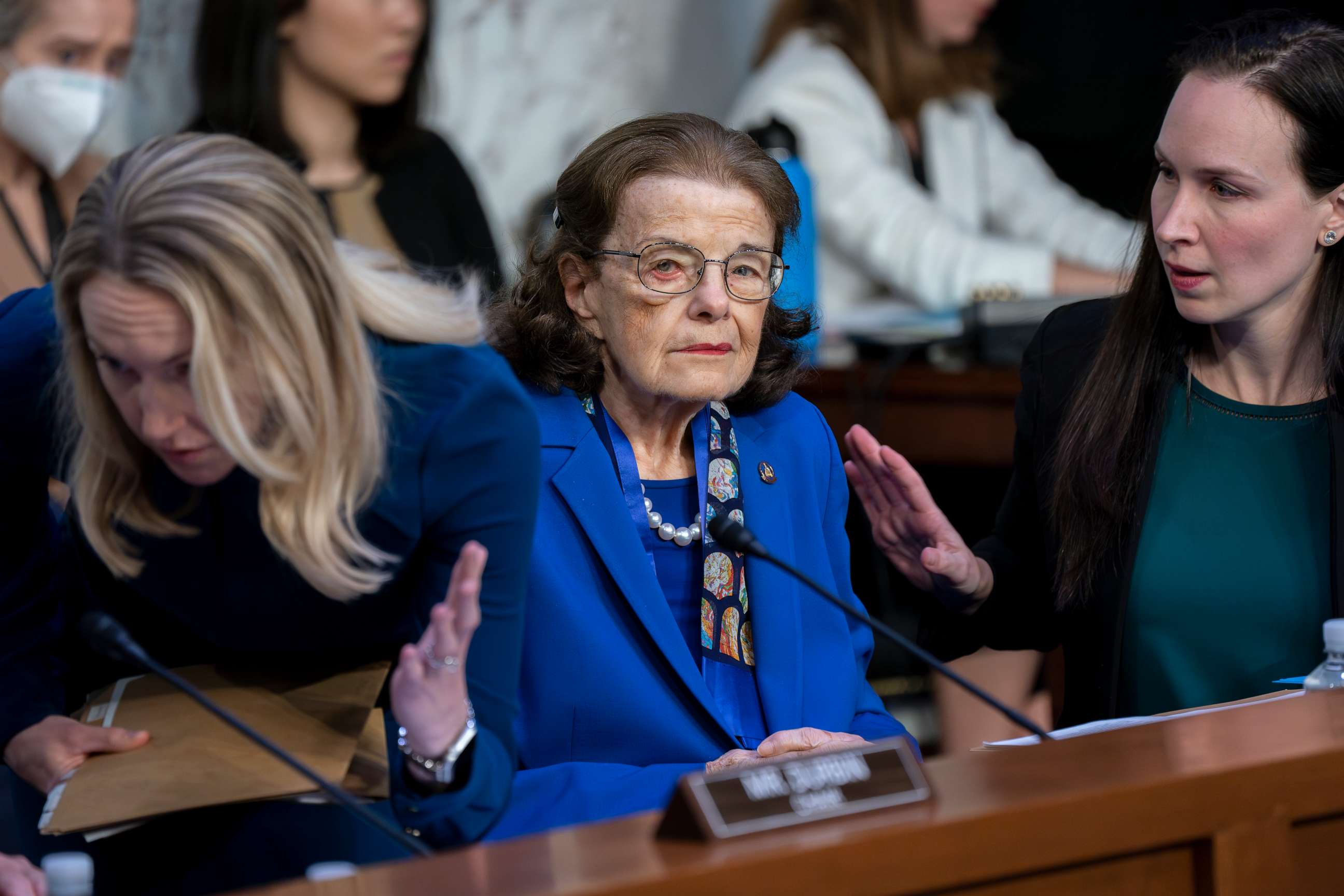 "I've never seen them go after a man who was sick in the Senate in that way," Pelosi has said.
Left unsaid by her was the fact that she is backing Schiff in the rare open race to succeed Feinstein after Feinstein retires in January 2025. Khanna is backing Rep. Barbara Lee, who -- perhaps not coincidentally -- is a Black woman and is therefore at least a potential pick to fill a vacancy were Feinstein to resign before 2025.
Anyone selected by Newsom would have to run for the full six-year term on his or her own, but they would get an incumbency advantage in the March 5 all-party primary. Newsom pledged to choose a Black woman if another vacancy arose on his watch, after having chosen Sen. Alex Padilla -- a longtime friend who is Latino -- to succeed now-Vice President Kamala Harris, whose exit left the Senate with exactly zero Black women.
Newsom himself says he considers Feinstein one of his oldest personal friends and he has urged her to stay in office as long as she sees fit. But he has acknowledged the fraught nature of potentially choosing yet another replacement senator.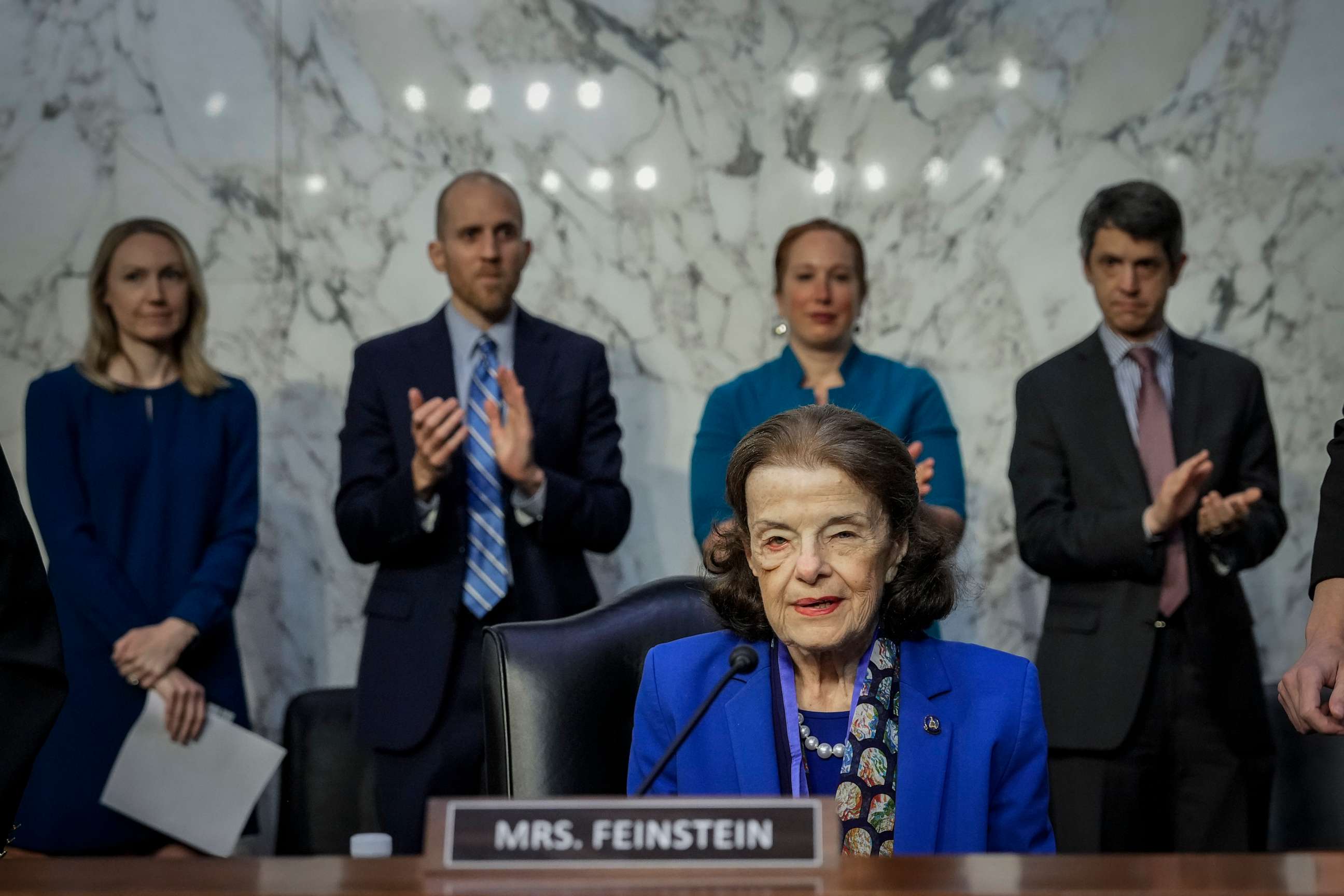 "There's a lot of politics and a lot of folks polluting the political process," Newsom told Elex Michaelson, a Los Angeles reporter, earlier this month. "For those who say, 'Enough of Newsom making these picks, I haven't…' I get it -- I'm with you. I understand. It's just the nature of what it is."
That comment was read by some as a hint that Newsom might choose a caretaker senator who would vow not to compete for a full term next year. It could all shape the political future of Newsom, who -- at age 55 -- is seen a potential presidential contender if Biden steps aside, or in 2028.
The positioning comes in a complex political environment, with questions of ambition, political representation and urgencies of legislative progress colliding. Feinstein might appreciate the layers of intrigue, even though they might not match the wild and tragic circumstances that left her as mayor of San Francisco in 1978: the assassination of Mayor George Moscone and Supervisor Harvey Milk.
In the meantime, for now at least, Feinstein is doing the most basic part of her job: casting as many votes as she can. Yet that's happening with the knowledge among friends and supporters that an unmatched legacy could be tarnished by how a career comes to an end -- and the unsavory conversations that surround it.
Editor's note: This story has been updated to show that a quote attributed to Dianne Feinstein was instead from Gavin Newsom.