Melania Trump praised LeBron James after President Trump took a shot at him on Twitter -- but the first lady is not "taking sides" in the escalating war of words between the basketball legend and her husband, a senior White House official said.
Through a spokeswoman Saturday, Melania Trump said James was "working to do good things on behalf of our next generation."
"Just as she always has, the First Lady encourages everyone to have an open dialogue about issues facing children today," the first laday's communications director, Stephanie Grisham, said in the statement. "As you know, Mrs. Trump has traveled the country and world talking to children about their well-being, healthy living, and the importance of responsible online behavior with her Be Best initiative.
"Her platform centers around visiting organizations, hospitals and schools, and she would be open to visiting the I Promise School in Akron," the statement continued, referring to the school James opened last week for so-called at-risk elementary children.
The statement came a day after President Trump took a swipe at James, saying it was hard to make "LeBron look smart."
The president also got a final dig in at James, saying "I like Mike," a reference to all-time great Chicago Bulls guard Michael Jordan.
The tweet came in response to an interview James conducted with CNN host Don Lemon, a frequent punching bag for the president. James spoke to Lemon from the public, non-charter school he opened for at-risk kids in Akron, called the I Promise school. Every student receives free tuition, as well as free food, uniform and even a free bike.
But the senior White House official, who spoke on the condition of anonymity, said the first lady's remarks shouldn't be interpreted as her picking James over her husband.
"That wasn't her taking sides -- that was her office stick to what she is focused on, which is using Be Best for what it's intended -- to help children," the official said.
The tit-for-tat between President Trump and one of the greatest basketball players of all time drew in other players, too, most of them to defend James.
CNN took to Twitter to Saturday morning, referencing Melania Trump and suggesting that she decided the first couple's TV viewing Friday night.
Jordan, meanwhile, responded to the president's tweet through a spokesperson.
"I support LJ," he said. "He's doing an amazing job for his community."
Lemon, too, responded via Twitter, using the first lady's iniative against her husband.
"Who's the real dummy?" he tweeted. "A man who puts kids in classrooms or one who puts kids in cages. #BeBest."
Lemon's interview with James only made direct mention of Trump at the end of the hour-long interview. Lemon asked James if he had any aspirations of running for office. He responded, "I don't think so," until Lemon brought up Trump as a possible opponent.
"If someone tried to recruit a LeBron to run for president, they said, 'Listen, they've got no one, if you don't run, Trump's going to win,' would you run?" Lemon asked.
"Well, in that case, I may," James said.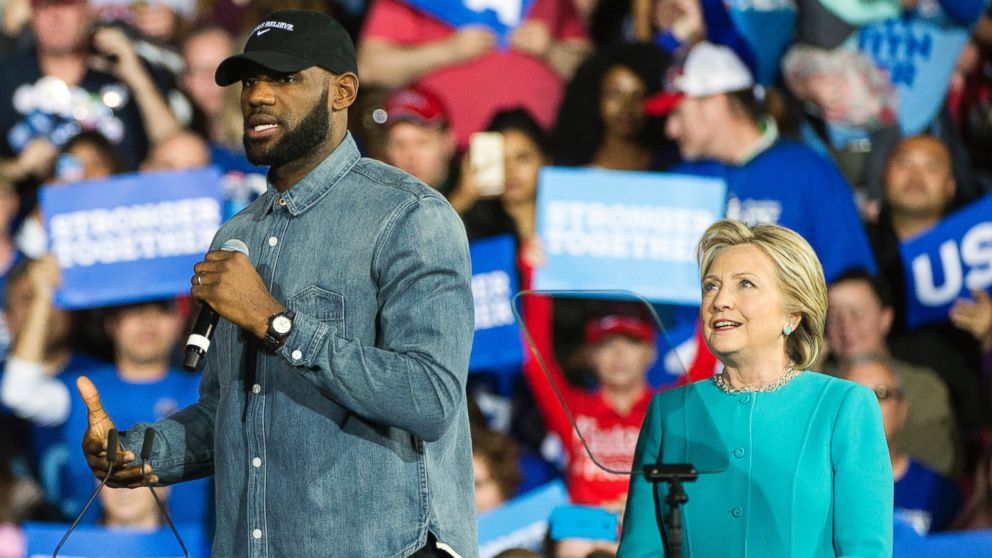 At the end of the interview, Lemon asked if James, "What would you say to the president if he were sitting right here?"
The future NBA Hall of Famer responded, "I would never sit across from him." He followed that up to say he would sit across from Barack Obama.
James has been outspoken in his dislike for Trump in the past. He unleashed a tweet following the racial violence in Charlottesville, Virginia, last August saying, "Hate has always existed in America. Yes we know that but Donald Trump just made it fashionable again! Statues has nothing to do with us now!"
He also called him a "so-called president" in the wake of the Charlottesville violence.
James also said he wouldn't attend a ceremony at the White House if his team had won the NBA Finals. (In the end, the Golden State Warriors won, and they won't be attending either.)
The basketball player appeared at a rally for Hillary Clinton during the 2016 presidential campaign in his home state of Ohio, a critical swing state during the election that Trump ended up carrying.
That campaign appearance probably turned the tide, as Trump didn't always feel so strongly against James. In 2013, he congratulated James on winning Athlete of the Year at the ESPYs and "a great guy."
James opted out of his contract with the Cleveland Cavaliers earlier this offseason and signed with the Los Angeles Lakers.
ABC News' Wil Cruz contributed to this report.