— -- It was a presidential directive in the 1950s that carried the offensive yet official name of "Operation Wetback."
Ordered by President Dwight Eisenhower, its controversial tactics prompted a congressional investigation and was eventually stopped because of the expense. But today the operation is the cornerstone of presidential front-runner Donald Trump's plan to round up and deport more than 11 million undocumented immigrants living in the United States.
Eisenhower's program managed to deport almost an estimated 1 million Mexican undocumented immigrants, mostly temporary or seasonal workers, on trains, buses, trucks and even cargo ships, according to the U.S. Immigration and Naturalization Service (INS). It's a program Trump says he will model if elected president, promising MSNBC this morning he will send undocumented Americans home to Mexico using "a deportation force and you're going to do it humanely."
"[Eisenhower] moved a million and a half illegal immigrants out of this country, moved them just beyond the border," Trump said during the Tuesday night GOP debate.
But a scholar who has studied Eisenhower's program says it was neither humane, nor effective. "It was a military-style operation," Mae Ngai, a professor of history at Columbia University in New York, told ABC News. "They swept through Texas and California and also northern states and cities. Rounded people up, put them on planes, trains and ships. It was very aggressive, but it was really only one half of a program."
The other half of the program, not mentioned by candidate Trump, she explains, was the mass, short-term legalization of unauthorized farm workers, known as the Bracero program, stemming from the need for labor in the United States during World War II and lasting until 1964. It was Mexico's way of contributing to the war effort without sending soldiers, Ngai added.
Most of the undocumented in the 1950s were temporary or seasonal workers.
"They [the United States] had a duel policy. One hand deported and the other hand legalized," she said. "They even had a big 'show,' allowing them [immigrants] to basically step over the border 18 inches into Mexico and then step back into the U.S. and called it legal re-entry and they did that for thousands of people."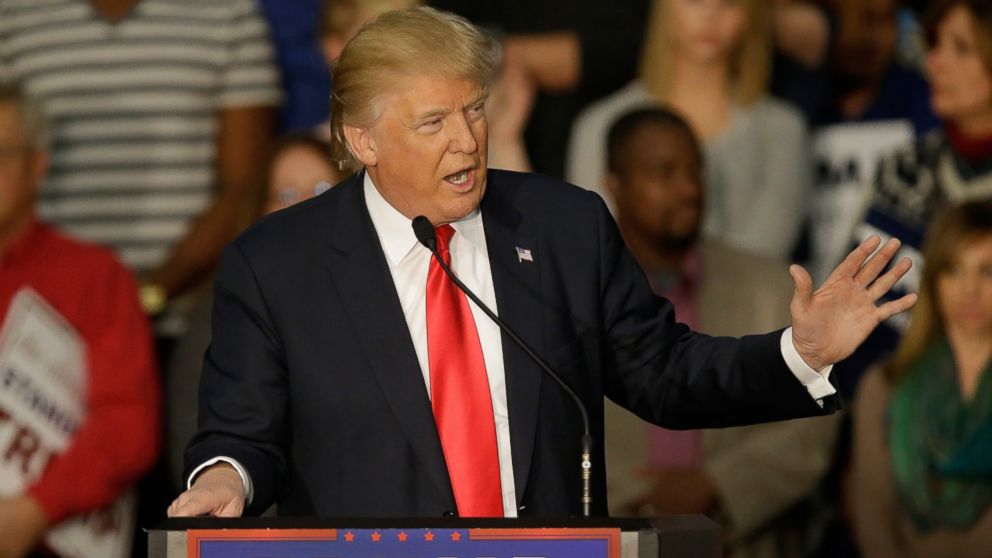 Despite the INS claim that more than a million Mexicans were deported, that number is contested by historians who say many were counted more than once because they quickly returned to the United States.
"They came back," Trump said at the debate Tuesday. "Moved them again, beyond the border. They came back. Didn't like it. Moved them way south. They never came back. Dwight Eisenhower. You don't get nicer, you don't get friendlier. They moved a million and a half people out. We have no choice. We have no choice."
But Ngai has a different take.
"It was like a military operation and inhumane. He's associating with Eisenhower, who was a nice guy, that this was a humane program and that's false and completely dishonest," Ngai said.
According to her 2004 book, "Impossible Subjects: Illegal Aliens and the Making of Modern America," more than 25 percent were removed via cargo ships, for which a congressional investigation "likened one vessel (where a riot took place on board) to an 'eighteenth century slave ship' and a 'penal hell ship."
"They were not really meant to transport people," Ngai told ABC News. "They were cargo ships and they didn't refurbish them."
Ngai also cites reports where workers were left on the streets of Mexico, often without food or water, and one time in 112-degree heat, leading to 88 people's death from sunstroke. "More would have died had Red Cross not intervened," her book says.
She added today: "Trump's idea that you can deport people in military fashion in humane way is false and it didn't stop the problem. They could not sustain that level of enforcement for two to three years so they just went back to their ordinary enforcement, which was ineffective."
On Fox News Wednesday night, Trump said "I do but I wouldn't use the term. I don't like the term. " when host Bill O'Reilly alluded to the program's name. He went on to defend the program itself.