— -- President Donald Trump's tax returns were a major issue in the presidential campaign, and they remain a mystery now that he's in the White House.
A two-page summary of his 2005 return was released Tuesday night, and while it sheds some light on his income, many questions linger about his business dealings, wealth and investments.
Here is a review of what is known about his tax returns.
What the latest document reveals
Independent journalist David Cay Johnston obtained what are purportedly the first two pages of Trump's 2005 federal tax return and made them public Tuesday night.
Johnston appeared on Rachel Maddow's MSNBC show to report on the document, which he says was delivered anonymously to his mailbox. He speculated that Trump or someone close to him was the source. He is the first president in decades not to release his tax returns.
The White House issued a statement confirming the figures in the document, which states that Trump paid $38 million in federal tax on income of more than $150 million in 2005 — an effective tax rate of 25 percent — shortly before Johnston appeared on MSNBC.
"Before being elected president, Mr. Trump was one of the most successful businessmen in the world, with a responsibility to his company, his family and his employees to pay no more tax than legally required," a statement from the White House said. "That being said, Mr. Trump paid $38 million even after taking into account large scale depreciation for construction, on an income of more than $150 million dollars, as well as paying tens of millions of dollars in other taxes, such as sales and excise taxes and employment taxes, and this illegally published return proves just that."
Johnston said on "Good Morning America" today that the document shows that Trump "was very successful and it also implies that he had an average income of $81.5 million in the previous 10 years."
Unanswered questions
The two-page summary of the 2005 return, along with the few other available Trump tax documents, do not answer questions about issues such as Trump's sources of income, his use of offshore bank accounts and the overall health of his various businesses.
"In terms of what could be in them — it's anybody's guess," political law expert Kenneth Gross told ABC News in May. "There could be no problems. There could be problems on the amount of tax he's paying, deductions he's taken, income he's taken, any host of issues in the calculation of tax."
There has been much speculation about Trump's wealth. He has said his net worth is $10 billion, though others have given lower estimates. Forbes put his net worth at $4.5 billion.
Even if a full set of Trump's latest tax returns is released, that doesn't mean the question of his true net worth will be answered, according to Rachel Stockman, an editor at LawNewz.
"He wouldn't be required to report [the actual value of his assets]. He would just have to report the money coming in and coming out of his businesses and whatever else he owns, including investments," she told ABC News in May.
What we know about Trump's tax returns
Court cases and other litigation procedures have led to the release of three years of Trump's tax returns — each showing that he paid no federal income tax.
Two of the returns, from 1978 and 1979, showed Trump's ties to business dealings for the New Jersey Casino Control Commission. He disclosed another return, from 1984, for two separate legal disputes in New York state courts in the early 1990s.
He incurred no tax liability in 1978 and 1979, according to New Jersey gambling regulators, who were investigating his tax returns and personal finances in connection with the Trump Plaza Corp.'s 1981 application for a casino license. He claimed negative income in both those years: losses of $406,379 in 1978 and $3,443,560 in 1979. In 1975, 1976 and 1977, he claimed $76,210, $24,594 and $118,530 in income, paying $18,714, $10,832 and $42,386 in federal tax, respectively, according to a report by the Casino Control Commission.
Trump's 1984 federal income tax return was used in two court cases that he brought in New York. In the first case, his legal team provided his 1984 return, which included a Schedule C, a form used by sole proprietors, The Daily Beast reported. That form listed no income and a deduction of $626,264 in expenses.
The New York Times reported in October 2016 that it received a leaked copy of Trump's 1995 federal income tax return. The document showed that he did not pay federal income tax that year and he claimed about $916 million in losses, which "would have been large enough to wipe out more than $50 million a year in taxable income over 18 years," the paper reported.
What Trump has said about his tax returns
Trump was the first presidential candidate in more than 40 years to refuse to release his tax returns, saying repeatedly that he could not because he was under audit by the IRS. An audit does not prevent individuals from releasing their returns.
In May 2016, the issue came up multiple times. He said on NBC's "Meet the Press" that he would release them before the election "if the auditors finish."
Three days later he tweeted, "In interview I told @AP that my taxes are under routine audit and I would release my tax returns when audit is complete, not after election!"
In that interview with The Associated Press, Trump said, "There's nothing to learn from them."
On May 13 he said on "Good Morning America," "I try very hard to pay as little tax as possible and have said that for the last two years. I fight very hard because this country wastes our money."
Asked on "GMA" to disclose his tax rate, he said, "It's none of your business."
During an ABC News interview in September with him and his then–running mate, Indiana Gov. Mike Pence, Trump said of his tax returns, "I think people don't care. I don't think anybody cares, except some members of the press."
Pence argued that the calls to release them were a "distraction."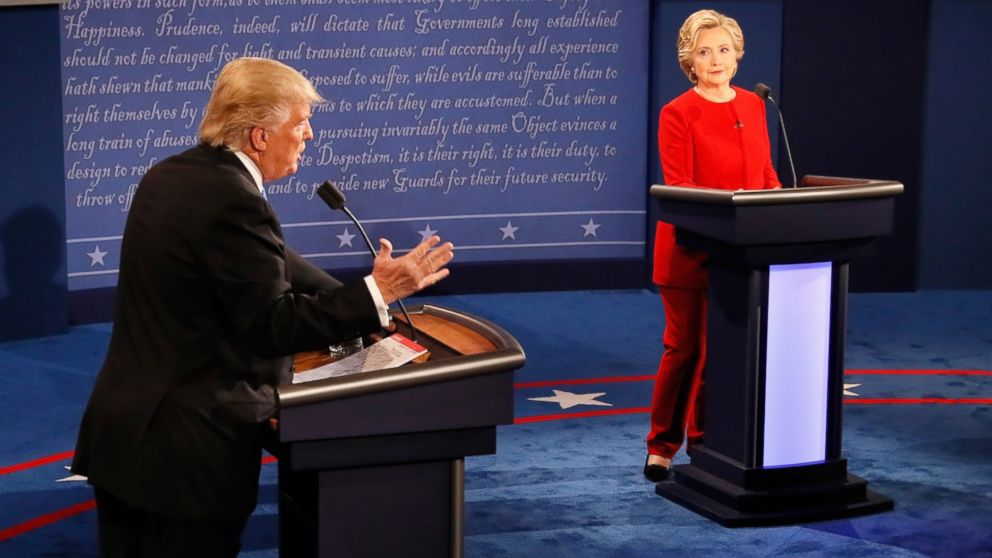 Trump said he provided the "most extensive financial review of anybody in the history of politics," referring to a financial disclosure form, and said that because he was under a "routine audit," he was not able to make his tax returns public.
During that interview, Trump and Pence said they would release their tax returns. Pence subsequently released 10 years of his family's returns.
At the first presidential debate on Sept. 26, Democratic candidate Hillary Clinton suggested a few possible reasons Trump was refusing to release his returns. After she charged that he didn't pay federal income taxes in some years, he boasted, "That makes me smart."
ABC News' John Santucci, Corinne Cathcart, Ryan Struyk and Justin Fishel contributed to this report.