— -- FBI Director James Comey today said he has "no information" supporting President Trump's explosive allegations that the Obama administration wiretapped the Trump presidential campaign last year.
During the five-hour hearing, Comey also confirmed an investigation of possible links between Trump associates and Russia, a story line that the president has decried alternately as a "ruse" and "fake news." Comey also indicated that Vladimir Putin hated Hillary Clinton "so much" that he had a "clear preference" for her opponent.
"With respect to the president's tweets about alleged wiretapping directed at him by the prior administration, I have no information that supports those tweets," Comey told the House Intelligence Committee today at his much-anticipated hearing — the U.S. law enforcement community's first public response to wiretapping allegations that the White House has promoted for more than two weeks.
"And we have looked carefully inside the FBI. The Department of Justice has asked me to share with you that the answer is the same for the Department of Justice and all its components. The department has no information that supports those tweets."
In a series of tweets earlier this month, Trump appeared to accuse President Obama directly of having the Republicans' "wires tapped" at Trump Tower, likening the situation to "Nixon/Watergate" and calling the former president a "bad (or sick) guy." Trump and his administration have offered no evidence for the claim -- disputed by a spokesman for President Obama and others -- but have said that wiretapping could mean a range of things.
When asked whether President Obama could have ordered a wiretap, Comey said, "No president could."
The chairman of the committee, Rep. Devin Nunes, R-Calif., also said that there is no evidence to support such an allegation but added that other Trump associates may have been followed.
"Let me be clear. I've been saying this for several weeks. We know there was not a physical wiretap of Trump Tower. However, it's still possible that other surveillance activities were used against President Trump and his associates," Nunes said in his opening statement.
Comey confirmed that the agency he oversees is investigating Russia's alleged meddling in the U.S. presidential election, in addition to possible links between Trump associates and Russia.
"I have been authorized by the Department of Justice to confirm that the FBI, as part of our counterintelligence mission, is investigating the Russian government's efforts to interfere in the 2016 presidential election, and that includes investigating the nature of any links between individuals associated with the Trump campaign and the Russian government and whether there was any coordination between the campaign and Russia's efforts," Comey said in a message that, according to sources, was approved by Acting Deputy Attorney General Dana Boente.
Another member of the committee, Rep. Eric Swalwell, D-Calif., said ahead of the hearing it's important that the public understands what the panel is really digging into.
"I would like the American people to walk away understanding that we were attacked. The perpetrator was Russia, and there are serious questions about ties" between Trump associates and Russian officials, Swalwell said.
But White House press secretary Sean Spicer today said "investigating and having proof are two different things."
"Following this testimony, it is clear that nothing has changed. Senior Obama intelligence officials have gone on record to say there is no evidence of a Trump-Russia collusion," Spicer said, "... we take them at their word."
Spicer also said the president is not going to withdraw or apologize for his wiretapping accusations.
Comey said the FBI has been investigating the Russia matter for "a fairly short period," but he wouldn't say how far along the investigation is.
But he did offer a possible motive for any Russian meddling in the election last year, saying the country's president, Vladimir Putin "hated Secretary [Hillary] Clinton so much that the flip side of that coin was he had a clear preference to the person running against the person he hated so much."
In January, the U.S. intelligence community issued a report saying that Putin "ordered" a campaign to meddle in the U.S. election using overt and covert actions. The report did not indicate if the efforts were successful.
That month, Trump conceded that Putin was behind the hacking of the DNC and said he "shouldn't have done it."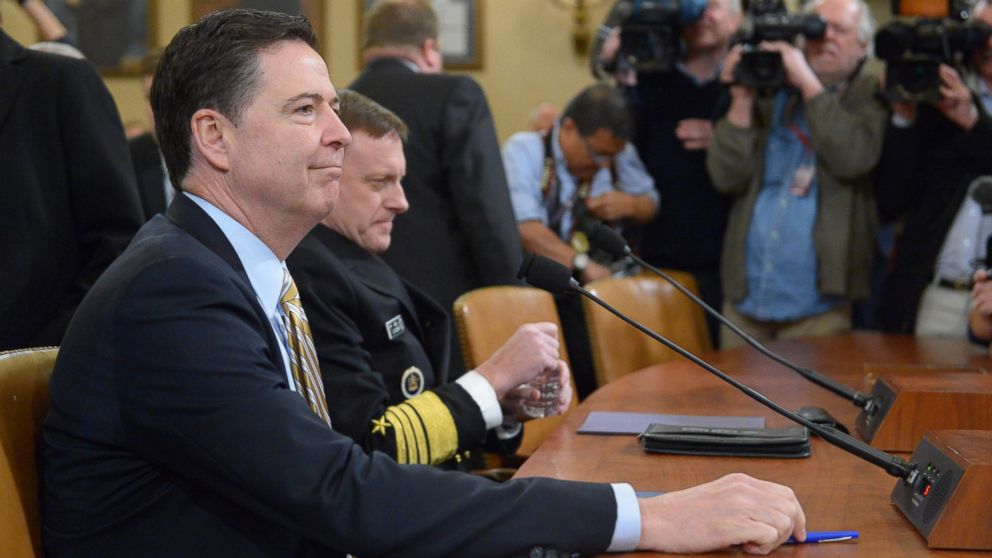 Referring to Russian hackers and future U.S. elections, Comey said, "They'll be back. They'll be back in 2020. They may be back in 2018."
"One of the lessons they may draw from this is that they were successful because they introduced chaos and division and discord and sowed doubt about the nature of this amazing country of ours and our democratic process," he said of the allegations. "It's possible they're misreading that as it worked, and so, 'We'll come back and hit them again in 2020.' I don't know, but we think we have to assume they're coming back."
He describing their alleged 2016 intervention as "noisy."
"They were unusually loud in their intervention," Comey said. "It's almost as if they didn't care that we knew what they were doing or that they wanted us to see what they were doing."
National Security Agency Director Mike Rogers, who also testified today, said he agreed that the claim that British intelligence eavesdropped on the Trump campaign for Obama is nonsense.
"I have seen nothing on the NSA side that we engaged in any such activity," Rogers said.
Asked whether he requested British intelligence to wiretap the Trump campaign, Rogers said, "No, sir, nor would I. That would be expressly against the construct of the [international intelligence] agreement that's been in place."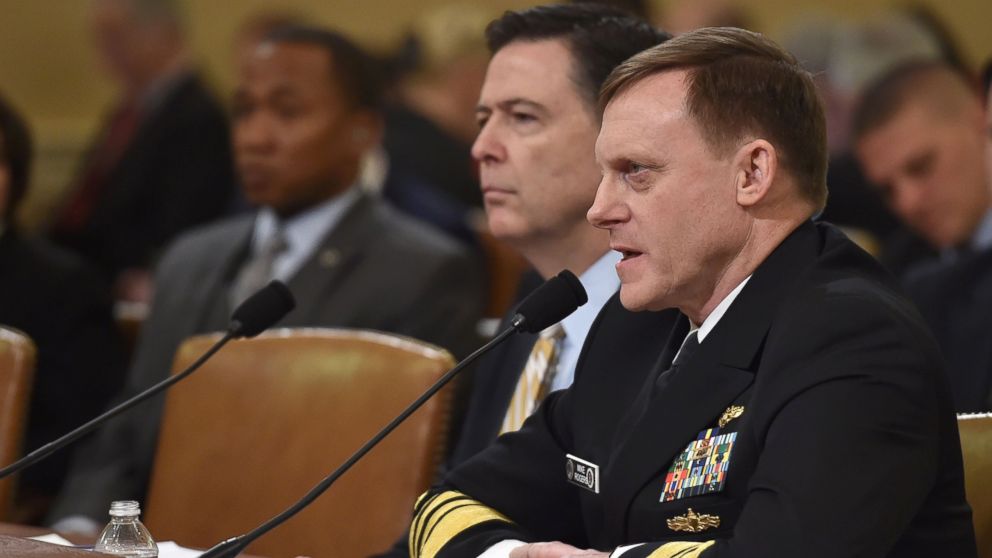 Rep. Jim Himes, of Connecticut, questioned Comey on a tweet from the official POTUS account as the hearing took place -- "The NSA and FBI tell Congress that Russia did not influence electoral process."
But Comey disputed that account. "We've offered no opinion, have no view, have no information on potential impact because it's never something we looked at," he said.
Himes had earlier in the hearing offered a pointed rebuke of Trump's attacks, listing a number of people and groups the president has criticized, including the intelligence community.
"There is intense public interest in the fact that our new president will attack anyone and everyone," Himes said.
"But there is one person and one country which is immune, which is inoculated from any form of presidential attack, no matter what the behavior, no matter if there's a violation of the INF [Intermediate-Range Nuclear Forces] Treaty, no matter if Vladimir Putin kills political opponents, the new president defends, obfuscates, does not attack," Himes said, adding that some of Trump's associates have an "odd connection to Russia."
ABC News' Jordyn Phelps and Alexander Mallin contributed to this report.