Federal prosecutors have 12 audio recordings made by former Trump attorney Michael Cohen
It remains unclear what the 12 audio recordings made by Michael Cohen contain.
Federal prosecutors investigating President Donald Trump's former personal attorney Michael Cohen are now in possession of 12 audio recordings seized during raids of Cohen's home, office and hotel room, according to new court filings.
A former judge is reviewing the materials seized from the raids for anything that is protected by attorney-client privilege.
Special Master Barbara Jones wrote in a new court filing released on Monday that the parties involved -- meaning Cohen, Trump and the Trump Organization -- had withdrawn their privilege designations on what were described in the court papers as 12 "audio items."
Eleven of the recordings handed over to prosecutors in New York's Southern District are conversations Cohen had with members of the media, two sources familiar with the recordings told ABC News.
Cohen is under criminal investigation by New York federal prosecutors in a case that is separate from the one that Special Counsel Robert Mueller is pursuing.
Investigators are looking into whether Cohen violated campaign-finance laws, engaged in illegal lobbying or committed bank fraud or wire fraud.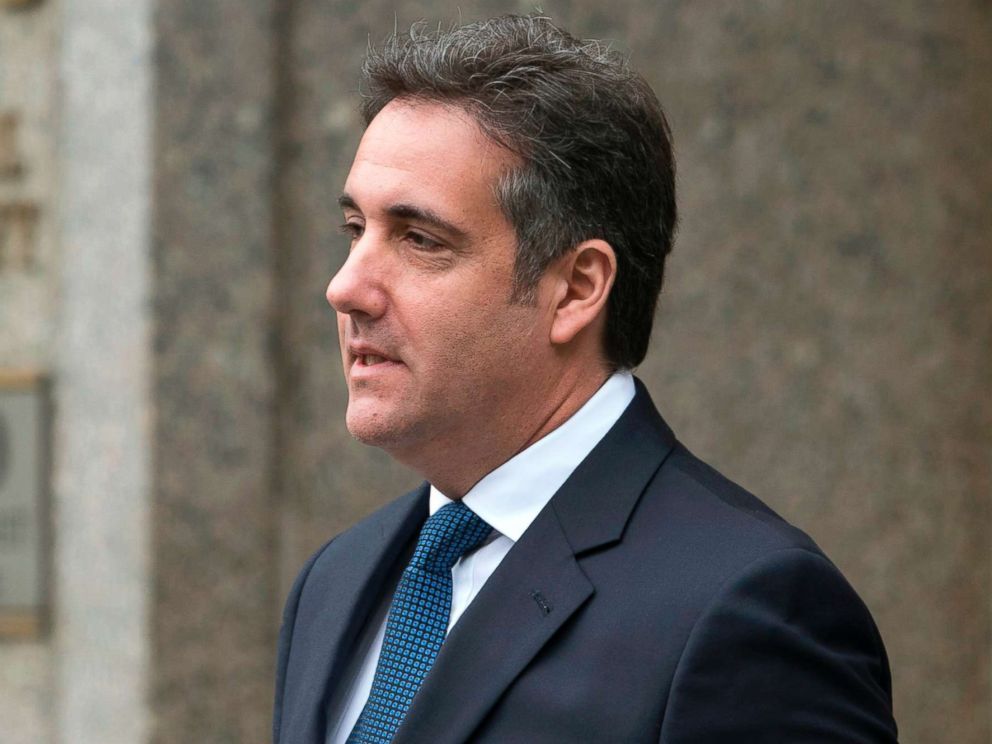 Cohen has long claimed his loyalty to Trump was unbreakable -- most famously saying "I'm the guy who would take a bullet for the president" -- but in an exclusive interview earlier this month with ABC News' George Stephanopoulos, Cohen signaled a willingness to cooperate with investigators.
"My wife, my daughter and my son have my first loyalty and always will," Cohen told Stephanopoulos. "I put family and country first."
It remains unclear who was recorded on the Cohen audio tapes, and when. Last Friday, The New York Times reported that Cohen secretly recorded a conversation with Trump about two months prior to the 2016 presidential election.
In that tape, sources told ABC News, Cohen and Trump discussed a payment to former Playboy model Karen McDougal, who claims she and Trump had a ten-month affair in 2006 -- shortly after his youngest son Barron was born. The content of that tape was first reported by the Washington Post.
McDougal sold her story as an exclusive to the National Enquirer in August, 2016 for $150,000, though the tabloid never published her story -- effectively buying her silence.
The recording includes a short conversation between Cohen and then-candidate Trump talking about a plan, allegedly devised by Cohen, to try to purchase the rights to McDougal's story from American Media Inc. - which owns the Enquirer - since the media company had already bought the rights to her story, according to sources familiar with the audio recording.
Cohen proposed paying about $150,000 to AMI, the sources said, and on the tape Trump can be heard telling Cohen to make sure the payment is properly documented in order to keep a record of it. That said, the sources say that payment never happened.
Trump attorney Rudy Guiliani confirmed to Reuters that the recording about McDougal was among the dozen audios, but said that none of the other 11 recordings include conversations Trump. Giuliani, a former federal prosecutor, said the other 11 recordings are of Cohen discussing Trump with other, unnamed individuals.
The president has denied any inappropriate relationship with McDougal, or any knowledge of payments to her.
Since the search warrants were executed in April, lawyers for Cohen, Trump and the Trump Organization have been engaged in a laborious process of reviewing more than 4 million items seized in the raids. Under a court supervised plan, the attorneys are reviewing the fruits of the searches for items that are potentially covered by attorney-client privilege.
During that review, the government has had to wait to conduct its own examination of the haul. Only in the last few weeks has the court started to turn over material to prosecutors. Last week, another 1.3 million items were released to the government.