Several female lawmakers spoke out on Thursday about what they see as the rushed confirmation process for Supreme Court Justice nominee Brett Kavanaugh in the wake of a sexual assault allegation.
Joined by supporters of Christine Blasey Ford, who has said the nominee assaulted her during a party decades ago when they were both in high school in suburban Maryland, Sen. Kirsten Gillibrand, D-N.Y. slammed Republicans for "bullying" the college professor.
"She's not asking for extraordinary measures, she's asking for basic fairness," she said.
The lawmakers touted a letter of support they said was signed by more than 1,000 Holton-Arms School alumnae, a nearby all-girls private institution in Bethesda, Maryland.
"We believe Dr. Blasey Ford and so grateful to her for coming forward and sharing her story," said Sarah Burgess, from the class of 2005, who stood flanked by fellow alumnae and lawmakers.
"As we say in the letter, her experience is consistent with experiences that we have heard and lived and many of us are survivors ourselves," she said. "We are sharing this letter so it can be officially added to the record and they can consider it as they make this very important decision. Dr. Blasey Ford has shown she beyond credible. Sexual assault needs to be taken seriously and there is no way that you can vote on this before we have a thorough and independent investigation. Once again, most of all, we are so grateful to Dr. Blasey Ford and we hope she knows that we stand with her. We are so thankful that she is helping us move towards a world where women can be free of sexual assault and violence. Thank you."
Graduates of Holton-Arms who have shown support include Hollywood actress Julia Louis-Dreyfus who graduated from the school in 1979.
Earlier Thursday, another Holton-Arms alumna Virginia Hume, the daughter of FOX News journalist Brit Hume, expressed support for Kavanaugh on social media. She was one of 65 women to sign a White House released letter previously in support of the Supreme Court nominee.
Twelve members of Ford's family have also penned an open letter of support for her, which Bridget Mendler posted on Twitter on Thursday with a plea for the public to "Please remember her humanity."
And a GoFundMe campaign aimed at covering Ford's security costs has raised more than $200,000 purportedly toward that goal. Ford's lawyers, in a letter to Senate Judiciary Committee chairman Sen. Chuck Grassley, wrote that she has faced threats and has been forced to leave her home.
"She has been the target of vicious harassment and even death threats. As a result of these kinds of threats, her family was forced to relocate out of their home. Her email has been hacked, and she has been impersonated online," her attorneys wrote.
The public show of support comes on the heels of ongoing and forth between Republicans and Democrats on the Senate Judiciary Committee over whether and when Ford should testify.
Ford and Democrats have said that her testimony should come after the White House directs the FBI to look further into her allegation.
Ford attorney Lisa Banks sent out a statement on Wednesday evening saying "the Committee's stated plan to move forward with a hearing that has only two witnesses is not a fair or good faith investigation; there are multiple witnesses whose names have appeared publicly and should be included in any proceeding. The rush to a hearing is unnecessary and contrary to the Committee discovering the truth."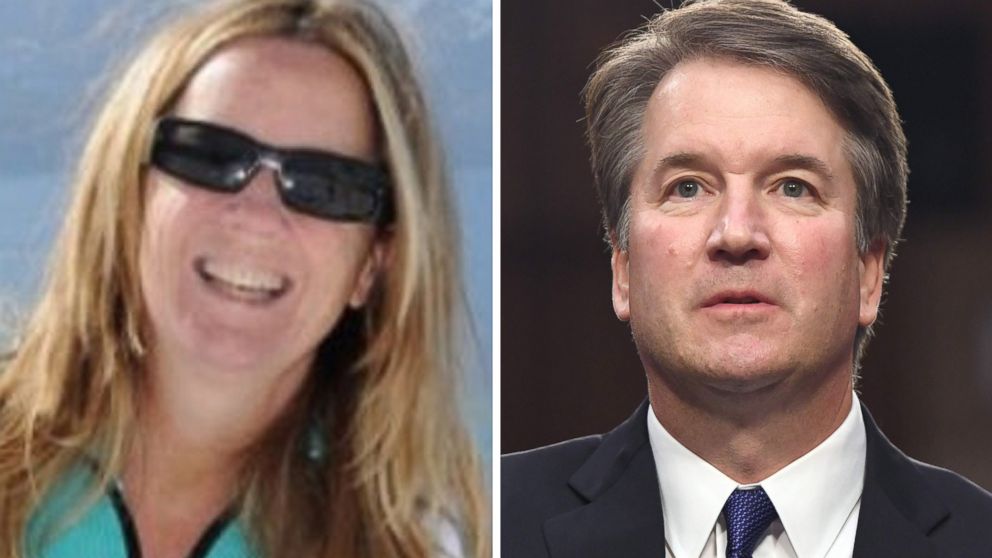 Republicans have said that the committee hearing will proceed on Monday as planned and that she should notify them by 10 a.m. on Friday if she plans to attend.
"She said she wanted to appear but if she changes her mind and refuses to appear, there's not much we can do," the number two Republican in the Senate, John Cornyn of Texas, said of the California professor who alleges Supreme Court nominee Brett Kavanaugh sexually assaulted her when they both were in high school.
"We can't force her to do that," Cornyn said Wednesday. "And so nothing really else would remain of the investigation and background of the judge and we would vote on the nomination."