The GOP chairman of the House Oversight Committee is demanding more answers from Environmental Protection Agency officials about administrator Scott Pruitt's security spending.
South Carolina Rep. Trey Gowdy asked the EPA to make top agency staff available for on-the-record interviews with the committee and provide more documents about Pruitt's round-the-clock security operation.
Gowdy's third letter to EPA, the second one this week, specifically asks for the agency provide documents about the decision to increase Pruitt's security detail to a 24-7 operation and records relating to the travel of the head of his security detail Pasquale "Nino" Perrotta. Gowdy also asked the EPA to provide documents on Pruitt's trips to Italy and Morocco, which have attracted attention because of the cost, including Pruitt's first-class flights.
The letter asks the EPA to schedule interviews with the committee for five officials at EPA, including Perrotta and Kevin Chmielewski, who has come forward as a whistleblower and shared new allegations about excess spending at the agency with lawmakers. Gowdy also asks for Pruitt's chief of staff, Ryan Jackson, to meet with the committee, as well as two aides who reportedly received significant raises under a little-known provision of the Safe Drinking Water Act.
The new letter comes after GOP staff for the Oversight Committee met with Chmielewski this week. The committee would not comment on what was discussed in the meeting.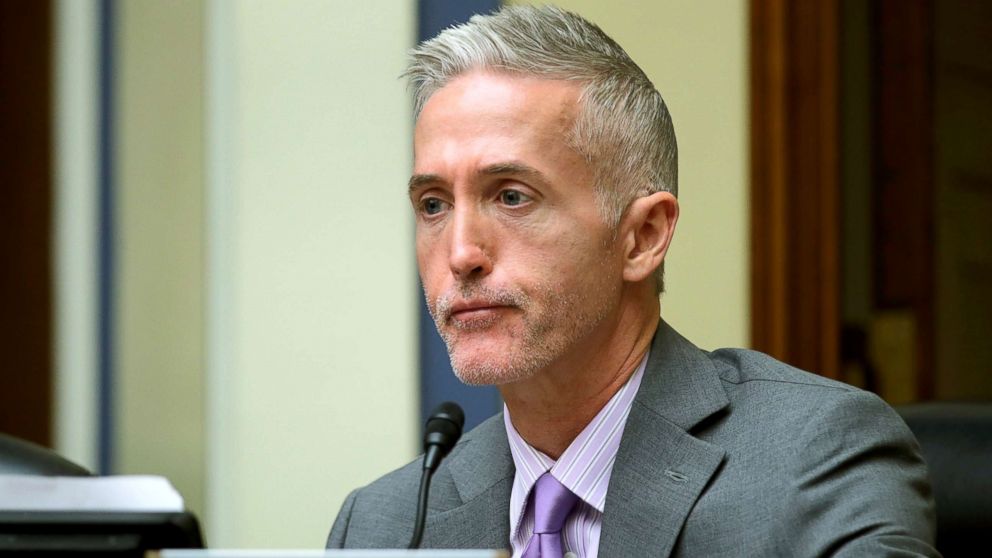 The New York Times published a story about Perrotta Thursday that reported he was the driving force behind justifying Pruitt expanded security detail and justifying his first-class flights for security reasons. The cost of Pruitt's security and flights are the subject of ongoing reviews from the EPA's internal watchdog.
Earlier this week top Democrats on the committee with oversight of EPA wrote in a letter they have reviewed internal EPA documents that question the need for Pruitt's first-class flights and security and said that his protective detail exaggerated threats against the administrator to justify the expense.
Gowdy specifically asks for documents and communications to identify the individual "who made the determination 24-hour protection was necessary."
Chmielewski also met with staff for Democrats on House and Senate committees with oversight of EPA this week. He told the Democrats that he and others were pushed out of the agency for refusing to approve excessive spending requested by Pruitt and some of his top aides. He believes he was ultimately fired for refusing to approve a first-class flight from Morocco for one of Pruitt's top policy aides, Samantha Dravis.
Dravis said that she will resign to pursue opportunities in the private sector.
Before working at EPA Chmielewski worked on Trump's campaign and inaugural committee, as well as campaigns for Mitt Romney and Rick Perry, according to a copy of his resume obtained by the Center for Public Integrity. In the meeting with lawmakers this week he said that he is still loyal to Trump but that he decided to speak out because regardless of political party "right is right, and wrong is wrong," according to a new letter to Pruitt sent Thursday.
Staff from the offices of two senators and three members of Congress met with Chmielewski this week and wrote to Pruitt on Thursday asking for documents that relate to spending decisions at the agency. In the letter to Pruitt, they detail some of the allegations from Chmielewski that Pruitt requested more spending than was necessary on travel and security and ask the agency to provide any documents that exist on those decisions.
The lawmakers, including Rep. Elijah Cummings of Maryland, the top Democrat on the House Oversight Committee, also wrote to President Donald Trump urging him to continue the White House inquiry into questions about Pruitt, saying that from Trump's public statements he might not have all the facts.
"It will become clear that the right course of action, in this case, is to hold Administrator Pruitt accountable for his serious ethical lapses and to restore honest, competent leadership to EPA," they wrote in the letter to the president.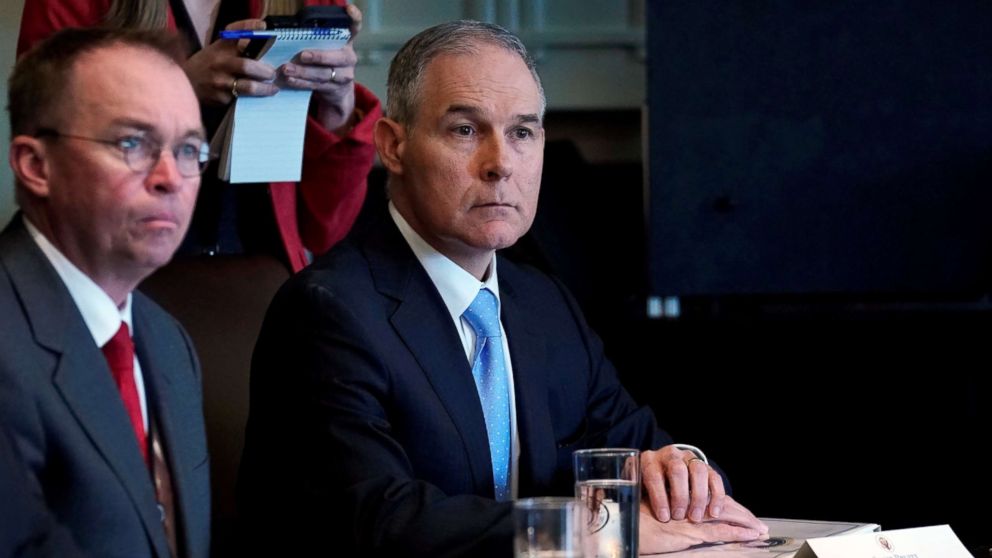 The EPA did not immediately respond to specific information in the letter but the agency has said that some of the spending, like first-class flights, was requested by Pruitt's security detail in response to increased threats against him. Pruitt recently told CBS News that he would direct his staff to find an option that would allow him to fly in coach.
An EPA spokesman said in a statement that the EPA will respond to Congress "through the proper channels."
Pruitt and the EPA have also said that all of Pruitt's trips to Oklahoma were on agency business. But the EPA's internal watchdog is currently looking into Pruitt's travel for all of 2017. That review was requested after The New York Times reported documents showing that Pruitt frequently traveled back to Oklahoma in his first few months as administrator. That report is expected to be published this summer.
The top official from the Office of Government Ethics wrote a letter to EPA ethics officials this week where he said that Pruitt's frequent trips back to Oklahoma raise questions about whether he was using his official position for personal or political gain, citing a New York Times story that reported Pruitt was interested in running for office in his home state.
The Thursday letters are signed by Sens. Sheldon Whitehouse, D-R.I., and Tom Carper, D-Del., and Reps. Don Beyer, D-Va., Gerry Connolly, D-Va., Cummings, who is the ranking member of the House Oversight Committee.
The Republican chairman of that committee, Rep. Trey Gowdy, has also been looking into questions about Pruitt's spending and asked the EPA to produce more documents in a letter on Wednesday.
Almost 100 Democrats and three Republicans have publicly called for Pruitt to resign or be fired over questions about his housing arrangement and spending. Two of the members that signed on to this letter, Connolly and Beyer, have also said Pruitt should step down.
Whitehouse and Carper have sent multiple letters to EPA since reports that Pruitt paid $50 a night to stay in a condo in a Capitol Hill townhouse connected to a lobbyist whose firm Williams and Jensen represented clients interested in EPA policies, according to its website. Earlier this week the senators wrote that they reviewed internal EPA documents that questioned the agency's justification for increased spending on Pruitt's security detail and first-class flights.
A spokesman for J. Stephen Hart, the chairman at Williams and Jensen whose wife co-owns the condo, said that he did not lobby the EPA in 2017.
The EPA also reimbursed the condo owners after Pruitt's security detail broke down the door of the house when they could not get in touch with the administrator. A member of Congress who lives in the same building has asked Pruitt to say if he reimbursed the agency for the cost of the door.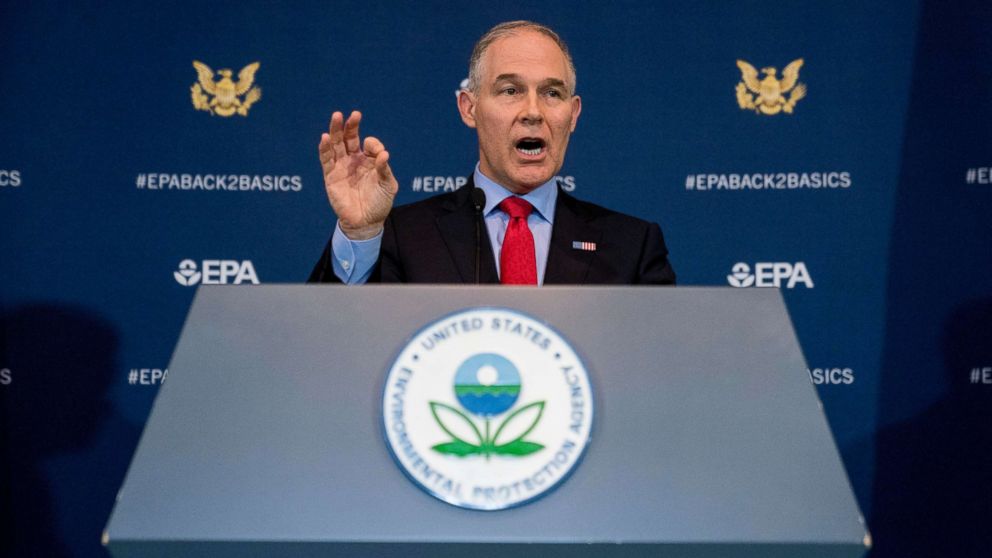 The EPA has said that the living arrangement did not constitute an illegal gift because Pruitt paid market value for the room on the nights that he stayed there. But members of Congress and even the government's top ethics official have said they have more questions about the arrangement.
The EPA inspector general is currently reviewing requests to look into the rental arrangement.
Chmielewski told the group that Pruitt directed his staff to find reasons for him to travel back to his home state of Oklahoma and that international trips were decided based on Pruitt's "desire to visit particular cities" rather than official business, the lawmakers' letter said. He said that Pruitt told his staff to "find something to do" in those places to justify the trip and that the administrator preferred to fly Delta to accrue frequent flier miles instead of other carriers where the government has negotiated a cheaper rate, the letter added.
In one example, the letter says that Chmielewski said Pruitt frequently stayed at hotels that exceeded the government recommended rate and that when planning international trips Pruitt refused to stay at hotels recommended by the U.S. Embassy because the hotel had law enforcement and security.
The EPA did not respond to a request for comment on these specific allegations.
Chmielewski said instead of following the embassy's recommendation, Pruitt frequently requested more expensive hotels and brought his own security team at taxpayer expense and that even when spending on hotels for these trips exceeded the government recommended rate by as much as 300 percent, according to the letter, and that in some of those cases members of the security detail would have to pay out of pocket and would not be reimbursed.