Santos again rejects calls to resign, says all '142,000 voters' would need to ask him to
Santos said it's up to the voters to decide in two years whether to oust him.
After flatly rejecting calls to step down, embattled Republican Rep. George Santos told reporters on Thursday, "If 142 people ask for me to resign, I'll resign."
He later told ABC News that he meant "142,000 voters who voted for me" would have to ask for him to resign, although according to the New York Board of Elections he received a total of 145,824 votes.
Santos claimed "the elevator cut" him off causing the misstatement, but video shows he was able to finish his sentence before the elevator doors closed.
Santos followed up by saying he basically meant he would not resign.
The freshman congressman addressed the matter further during an appearance on Steve Bannon's "War Room" podcast hosted by fellow GOP Rep. Matt Gaetz. It was the first time Santos, who has avoided questions from reporters all week, sat down for a media interview as calls for him to resign intensify.
"It's their prerogative," Santos told Gaetz. "I came here to serve the people not politicians and party leaders, and I'm going to do just that."
"I wish well all of their opinions, but I was elected by 142,000 people. Until those same 142,000 people tell me they don't want me -- we'll find out in two years," he added.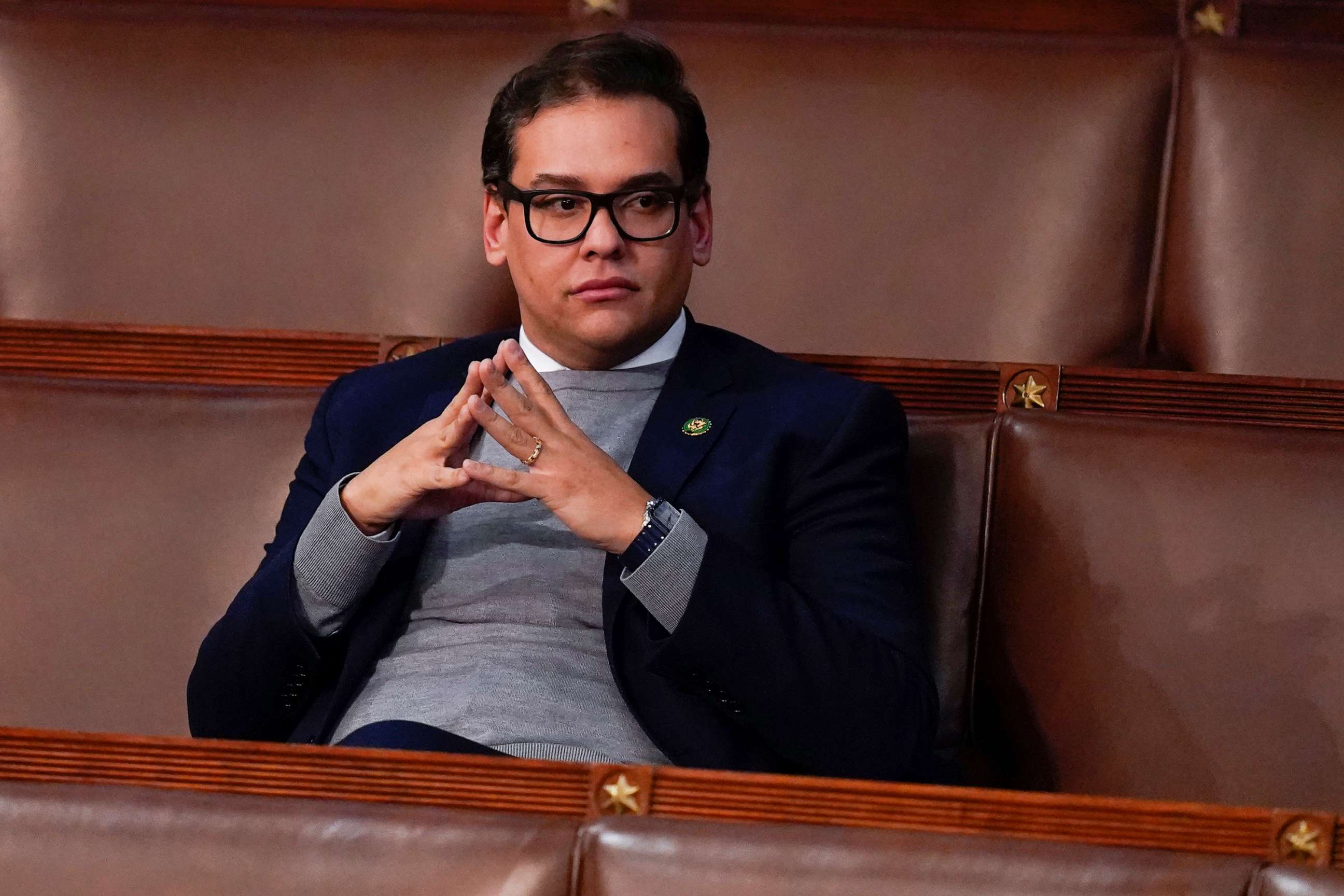 A coalition of New York Republicans held a press conference on Wednesday criticizing his campaign as deceitful and calling him a "disgrace" to the House of Representatives. But on Capitol Hill, Santos told ABC News Congressional Correspondent Rachel Scott he had no plans to leave his role.
Seven House Republican members are calling on Santos to resign.
"I do not believe Santos can effectively serve and should resign," Rep. Max Miller, a freshman from Ohio, who is a former Trump White House staffer, said in a statement Thursday night.
House Democratic Caucus leader Hakeem Jeffries, in his first weekly press conference Thursday, said Santos is "unfit to serve" and the responsibility falls on House Republicans to take action against Santos.
"Clean up your House and you can start with George Santos," Jeffries said.
But McCarthy on Wednesday declined to join calls for Santos to resign, and said he'll be placed on some committees -- though he won't be given any top assignments.
"Is there a charge against him? You know, in America today, you're innocent until proven guilty," McCarthy said when asked if he would take any action against Santos.
McCarthy on Thursday reiterated that Santos is now part of the Republican conference and if it's determined he's done anything wrong, he will be "held accountable."
"Well, what I find is the voters have elected George Santos," McCarthy said. "If there is a concern, it will go through ethics. If there is something that is found, he will be dealt with in that manner, but they have a voice in this process."
Several investigations have been launched into his conduct and an official complaint from two New York Democrats to the House Ethics Committee. Santos has maintained he's done nothing unethical.
Santos was elected in November to serve New York's 3rd Congressional District, defeating Democrat Robert Zimmermann by roughly 20,000 votes.
But in the weeks before he was due to be sworn in, it was discovered that parts of his background were fabricated during the campaign.
ABC News found he lied about attending the prestigious Horace Mann school in New York City and Baruch College. He also claimed he worked at Goldman Sachs and Citigroup, but the two companies said they have no record he was ever an employee. Santos has admitted to falsifying parts of his resume.
Speaking on "War Room" on Thursday, Gaetz suggested on multiple times that other lawmakers elected to Congress have embellished their resumes.
Gaetz also pressed Santos on the origin of the $700,000 that Santos gave his campaign, who declined to say exactly where it came from.
"I'll tell you where it didn't come from -- it didn't come from China, Ukraine or Burisma," Santos said.
When asked about the work he did that was the origin of the resources he spent on his campaign, Santos responded: "It's the equity of my hardworking self."
"I've worked my entire life. I've lived an honest life," he said.
The GOP members calling on Santos to resign are New York Reps. Anthony D'Esposito, Nick Langworthy, Brandon Williams, Nick LaLota, Mike Lawler along with Rep. Nancy Mace of South Carolina and Miller of Ohio