After facing questions about disbanding the White House coronavirus task force even though the pandemic hasn't abated, President Donald Trump tweeted Wednesday that the task force would "continue on indefinitely" to focus on vaccines and therapeutics but that "we may add or subtract people."
As more states begin to ease restrictions even as the country's death toll continues to climb, the president also is conceding it's likely more lives will be lost in the push to reopen the U.S. economy, while many Americans struggle to choose between life and livelihood.
The U.S. death toll surpassed 70,000 Tuesday, and Trump admitted that it's "possible" more Americans will die as governors lift orders that were invoked to slow the spread of the virus, during an interview with ABC News "World News Tonight" Anchor David Muir.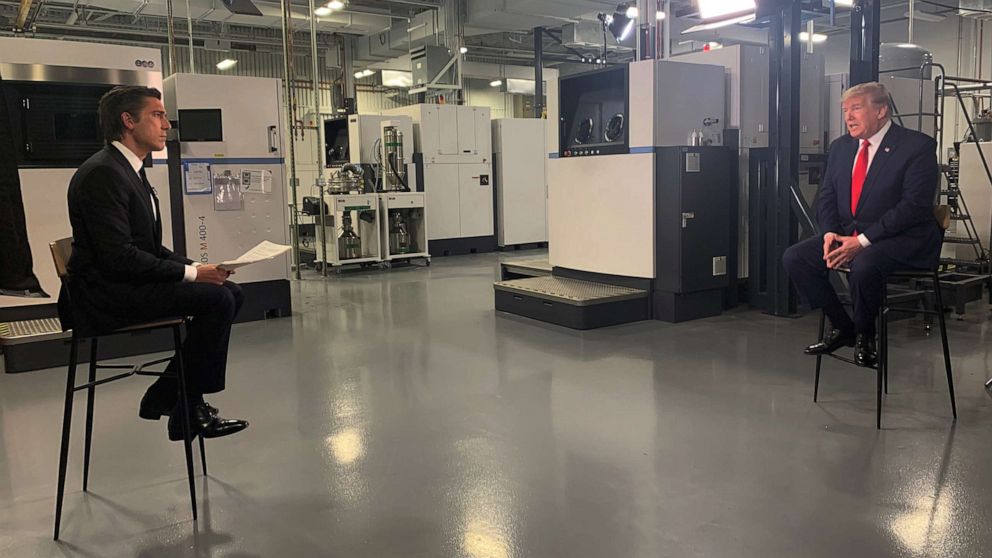 "It's possible there will be some because you won't be locked into an apartment or a house or whatever it is," Trump said, before criticizing "out of whack" models. "But at the same time, we're going to practice social distancing, we're going to be washing hands, we're going to be doing a lot of the things that we've learned to do over the last period of time."
Tune into ABC at 1 p.m. ET and ABC News Live at 4 p.m. ET every weekday for special coverage of the novel coronavirus with the full ABC News team, including the latest news, context and analysis.
Here are Wednesday's most significant developments in Washington:
Trump backs off plans to wind down task force, says more names will be announced on Monday
Trump signs a proclamation in honor of National Nurses Day
Trump meets with the GOP Gov. Kim Reynolds of Iowa in Oval Office
WH press secretary Kayleigh McEnany completes her second press briefing
Pelosi calls Trump vain for not wearing a mask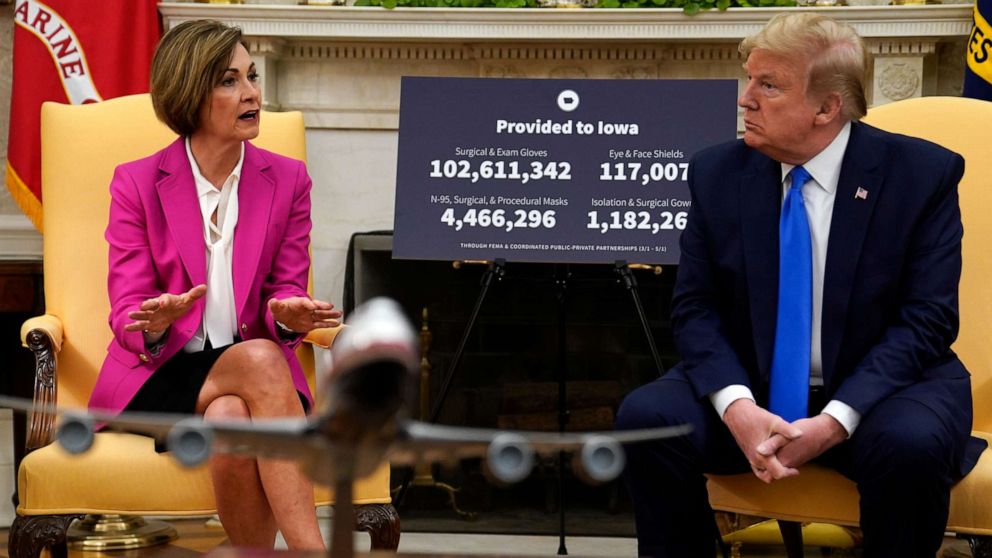 White House press secretary says that notion everyone needs to be tests is 'nonsensical'
Kayleigh McEnany opened her second press briefing in a way her boss, President Trump, would likely approve: By touting the 7.5 million coronavirus tests she says the U.S. has completed to date -- calling it "an extraordinary number" -- and deeming the notion that every American should be tested for COVID-19 "nonsensical."
"If we tested every single American in his country at this moment, we'd have to retest them an hour later and then an hour later after that, because at any moment, you could theoretically contract this virus. So the notion that everyone needs to be tested is just simply nonsensical," McEnany said.
When ABC News Chief White House Correspondent Jonathan Karl asked McEnany about mask guidance, after the president was not seen wearing one while touring a mask production facility Tuesday, she noted that facial coverings are still a recommendation, not a requirement, in public.
"As we've put out, it's recommended, but that's the choice of the individual as to whether they wear a mask or not. The president yesterday, the CEO of Honeywell said that there was no need, and so he followed that advice and that guidance," she said, although the president said earlier he did wear one "backstage."
When Karl followed up to ask McEnany to explain why there might be a huge difference in polling between Democrats and Republicans over whether or not they think it's necessary to wear a mask in public, she signaled she didn't see a correlation by Party.
"I have no sense as to why that would be. That's the choice of the American public, that's the choice of the individual as to whether to wear a mask or not," McEnany added.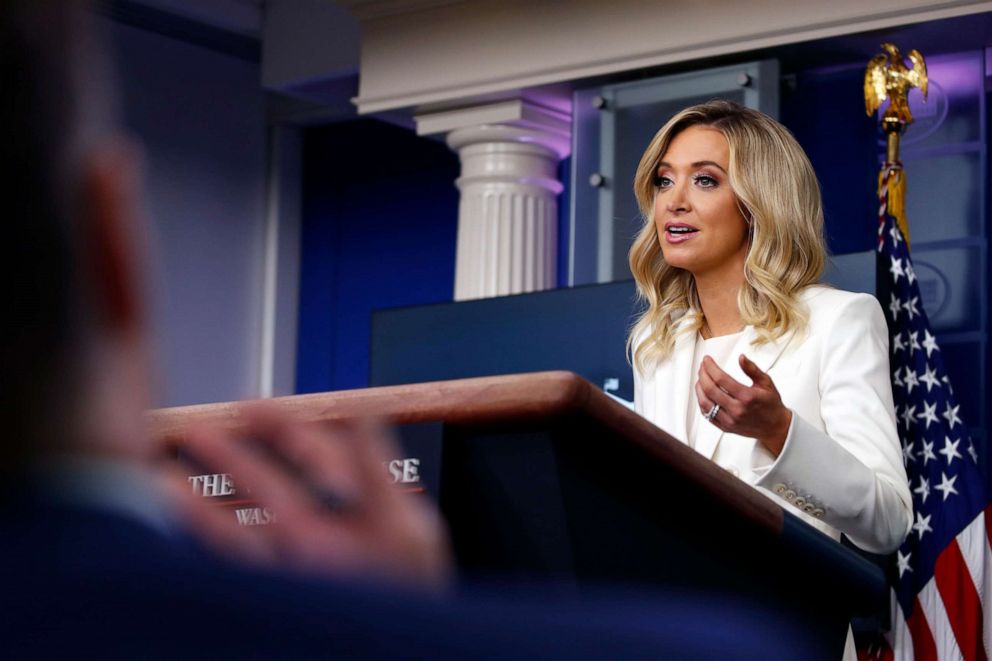 Pelosi calls Trump vain for not wearing a mask at tour of mask production facility, says she feels 'sad' for Fauci
House Speaker Nancy Pelosi called out President Trump for not wearing a mask on his tour Tuesday of a mask production facility, saying that "he should have worn a face mask" but for him, it's an issue of vanity.
"It's a vanity thing I guess with him. You'd think as the president of the United States, you would have the confidence to honor the guidance you are giving others in the country," Pelosi said during an interview on MSNBC this afternoon.
"'Why should I have a mask? I'm the president of the United States,'" Pelosi continued, mocking Trump. "But forget it. Let's not make that important. Let's make important what we can do next by working together to honor our first responders, our heroes."
After Trump called the Democratic-led House "a bunch of Trump haters" on Tuesday, Pelosi said Wednesday she hopes the House does not have to use its subpoena power on Dr. Anthony Fauci after the White House barred him from testifying before a House committee, even though he will testify before a Republican-led Senate committee next week.
"I would hope that Dr. Fauci would say things in public, and that we wouldn't need him to be subpoenaed," Pelosi said. "I feel sad for him and anybody who has to stand in the task force and practically validate what's coming out of the president's mouth except for an occasional clarification."
"It's clear the administration is afraid of the truth. The president of the United States to say that the Congress, the House, is 'a bunch of haters' is so beneath the dignity of the office that he holds and so distant from the seriousness he should bring to a matter of life and death of so many people in our country," she added.
The California Democrat also slammed President Trump for rushing to reopen the country despite the many risks involved and criticized him for appearing to cheer on protests.
"Everyone is eager to get out," Pelosi said, "when the science tells us that we can do something differently or to be socially distant, wearing your mask, doing things in a way that is appropriate. Not cheering people on, going with guns and swastikas to the Michigan legislature and saying these are really good people."
"Death is not an economic motivator," Pelosi added.
ABC News' Mariam Khan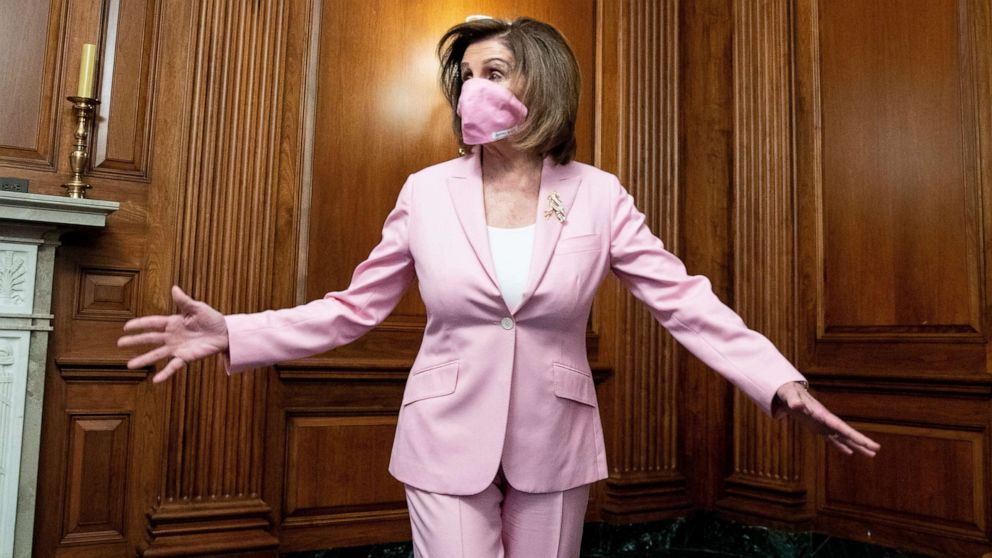 Former CDC chair says US coronavirus death toll will hit 100,000 by end of May
The expert witnesses who testified before lawmakers on Wednesday in Dr. Anthony Fauci's place warned that the coronavirus could surge as states begin to reopen without adequate testing and contact tracing.
"We are in a critical moment in this fight," Dr. Caitlin Rivers, a Johns Hopkins epidemiologist, told House lawmakers. "We risk complacency in recognizing that without continued vigilance in slowing transmission, we will again create the conditions that led to us being the worst-affected country in the world."
Former Centers for Disease Control and Prevention director Dr. Tom Frieden predicted that the U.S. death toll will hit 100,000 by the end of the month and warned that the disease will continue to spread and could circulate for the next several years.
"The very best way to get our economy back is to control the virus -- and economic stability is incredibly important to the public's health," he said. "It is inevitable that there will be future outbreaks. What's not inevitable is that we continue to be so underprepared."
ABC News' Benjamin Siegel
Trump says he had 'no idea' that 'respected' task force was so popular
In an Oval Office event Wednesday afternoon, President Trump explained why he reversed himself in saying the task force will continue for now but "at a certain point, we won't need the task force."
"I had no idea how popular the task force is until actually yesterday when I started talking about winding it down I got calls from very respected people saying, 'I think it'd be better to keep it going. It's done such a good job. It's a respected task force,'" Trump said. "I knew it myself, but I didn't know whether or not it was appreciated by the public but it is appreciated by the public."
Instead of doing away with the group, the president now says he will "be adding two or three additional members" to the task force on Monday who he suggested will bring expertise on "opening our country."
He also that "there may be one or two that will be less involved," without offering further details
"I look forward to when we can close the task force because the job will be essentially over," Trump added.
Asked if the nation has to accept that there will be more deaths than there might otherwise be in the push to reopen, Trump acknowledged -- as he did to ABC News' "World News Tonight" Anchor David Muir Tuesday – that that might be the case but said "I don't think people will stand for" continued closures.
"We can't have our whole country out," Trump said. "It's not sustainable."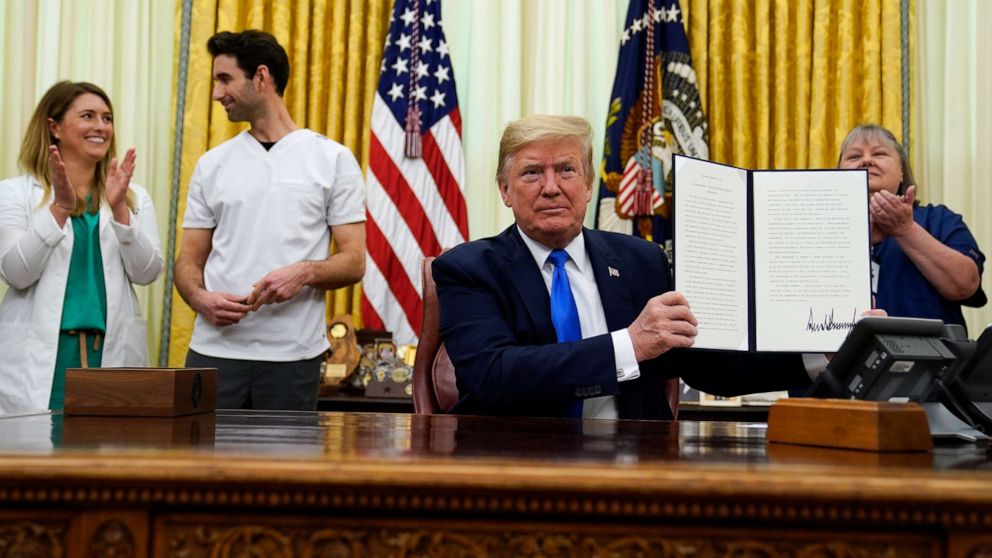 Joined by a group of nurses of the Oval Office event, President Trump signed a proclamation at the event to make May 6 National Nurses Day, calling it "a big deal," as the coronavirus continues to spread across the country.
Asked whether they've come across personal protective equipment shortages in their work, one nurse said there have been "pockets" of shortages -- an admission which President Trump did not seem pleased to hear.
"Certainly there are pockets of areas where PPE is not ideal but this is an unprecedented time," said Sophia Thomas, president of the American Association of Nurse Practitioners, who works in New Orleans. "I've been reusing my N95 mask for a few weeks now. I just broke out a new one to come here in case I needed to wear it."
"Sporadic for you but not for a lot of other people, because I've heard the opposite," President Trump countered.
Another nurse who works in New Jersey then added that she has not personally seen a shortage of PPE and the president thanked her for saying so.
"So you don't see that?" Trump said. "They're fake news. I appreciate you saying it."
Coronavirus response coordinator Dr. Deborah Birx and Health and Human Services Secretary Alex Azar also took a moment to thank the nation's health care workers, both sharing that their mothers are also registered nurses.
Trump also said that he had, in fact, put on a mask the day before during a visit to a Honeywell plant in Phoenix, Arizona, but told reporters, "I can't help it if you didn't see me."
"I did have one, no. I put a mask on," Trump insisted. "I had a mask on for a period of time."
When reporters pressed him on why no one saw him with a mask on, Trump said he had it on "backstage" but not for "too long" because he said he was told he didn't need one.
"You know, we were far away from people, from the people making the masks," he continued. "But I did put a mask on and it was a Honeywell mask, actually. And I also had a 3M mask and I had about four other masks -- but I did have it on."
ABC News' Jordyn Phelps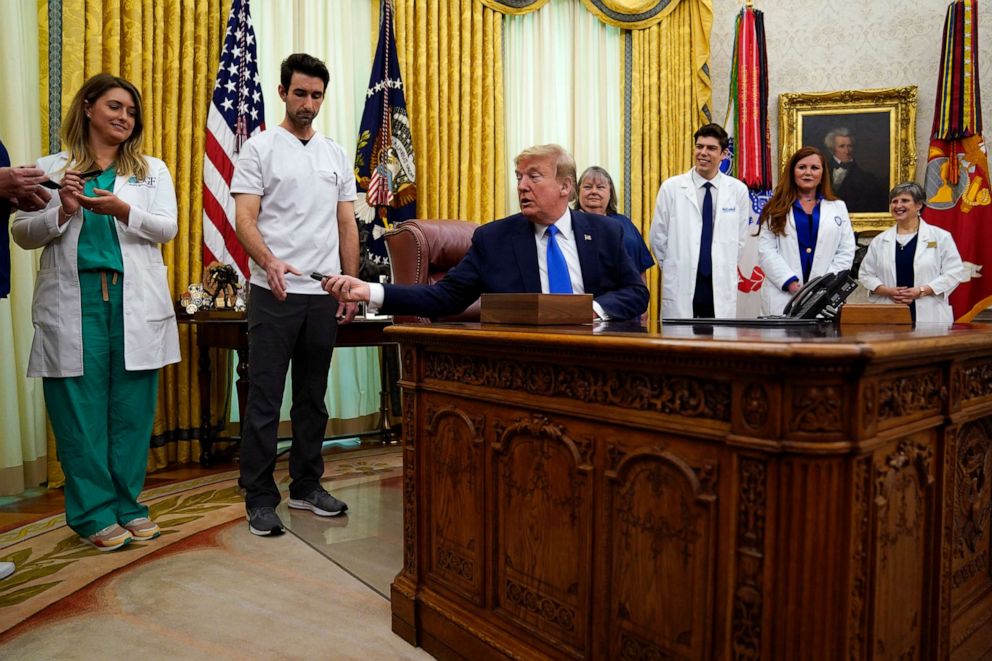 Trump now says 'task force will continue on indefinitely'
President Trump has done something of an about-face on the future of the White House task force coordinating the government response to the coronavirus crisis, tweeting Wednesday morning that the task force will, in fact, "continue on indefinitely" but that "we may add or subtract people."
The president also said it will be "very focused on Vaccines & Therapeutics" as he pushes for a quick economic revival.
The task force does have a meeting scheduled for today at 4 p.m. which Vice President Mike Pence is scheduled to lead. Notably, it's scheduled for the same time as the new White House press secretary's briefing.
The president had said Tuesday the task force would take "a little bit of a different form."
"We'll have a different group, probably, set up for that," Trump said in Phoenix, adding that they'll continue to be involved in White House decision-making along with "other doctors and so will other experts in the field."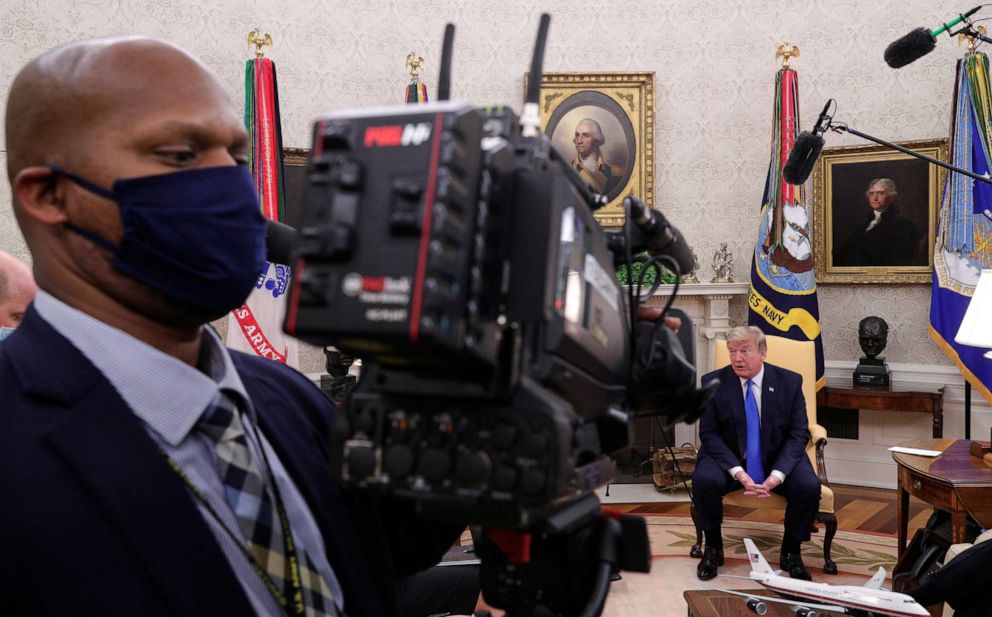 Pence also told reporters that conversations were underway about winding down the task force by around Memorial Day.
Although Trump claims the task force will continue to exist, it remains to be seen whether it'll meet as frequently and whether it'll truly hold the elevated status it has over the last few months.
ABC News' Ben Gittleson
What to know about the coronavirus: