No, Donald Trump is not on the ballot on Nov. 6, but that fact hasn't stopped him from playing a central role in a midterm election that will decide control of both houses of Congress and possibly determine the success of much of his legislative agenda.
Now, with less than a week until voters decide the fate of 35 U.S. Senate seats, 435 U.S. House seats and 36 gubernatorial seats, Trump is embracing a final chance to take center stage.
The flurry of campaign activity for the commander in chief that has been steadily increasing as Election Day approaches will kick into hyperdrive on Wednesday in Fort Myers, Florida, as he begins a period of attending 11 rallies in just six days, hoping to drive home a closing argument rooted in both positive economic numbers and the same immigration scare tactics that defined so much of his 2016 campaign.
In the campaign's closing weeks, the president has tried to paint the Democratic Party not as a political opponent, but as an unruly mob hellbent on throwing the country into chaos and squalor.
"The Democratic party has become an angry, ruthless, unhinged mob determined to get power by any means necessary," Trump said at a rally in Elko, Nevada, on Oct. 20.
"Republicans produce jobs, Democrats produce mobs," Trump said at a recent rally in Houston for GOP Sen. Ted Cruz.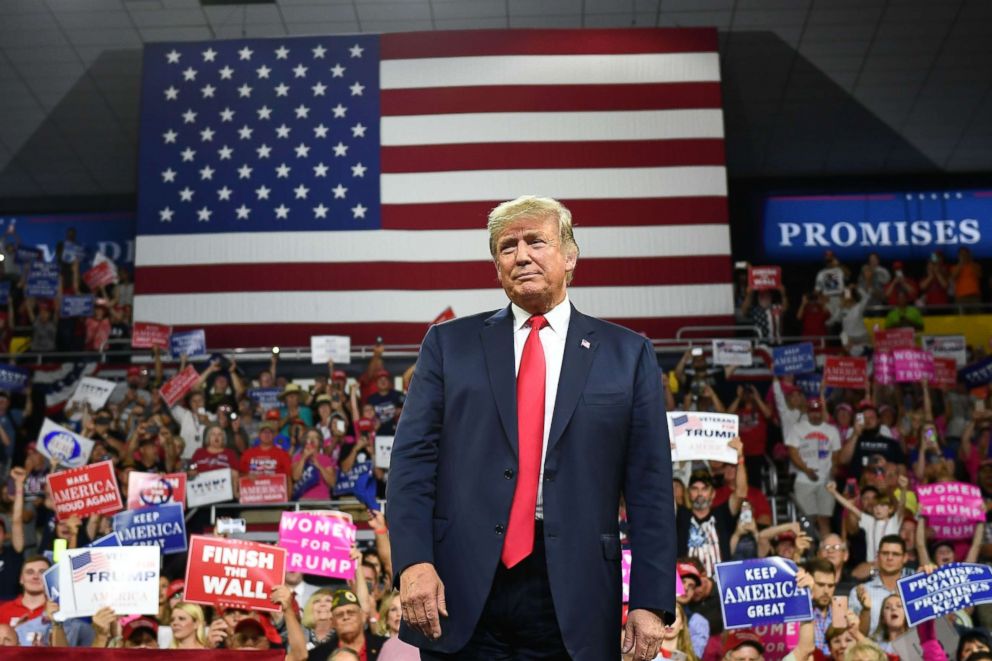 The president has spent less time discussing the recent mass shooting in Pittsburgh and an attempt by a crazed Trump supporter to bomb various prominent Democratic figures and news media organizations, which sparked a national conversation about the impact his words are having on American political society.
All told, Trump will have held a grand total of 44 "Make America Great Again" rallies in 23 states between March and November, according to an analysis by ABC News of his schedule -- a torrid pace for a president whose party is holding a slim 51-49 majority in the Senate and that likely will lose control of the U.S. House.
Trump has also unleashed a steady and consistent stream of endorsements via his Twitter feed, calling out 11 House Republicans on Monday in the same fashion he has all cycle, referring to the candidates as "Strong on crime," or big supporters of "the military and our great Vets."
Trump's unfiltered rhetoric on social media and the campaign trail, his penchant for controversial decisions on immigration and foreign policy and the constant churn of Robert Mueller's investigation into Russian interference in the 2016 election has caused constant headaches for Republican candidates, and fodder for their Democratic challengers.
That combination resulted in an uptick in Democratic primary turnout and potential electoral gains big enough to fuel the party's hopes of potentially retaking the U.S. House in November.
"The biggest single effect Trump has had on the 2018 elections is to energize Democrats as well as other anti-Trump voters," Larry Sabato, the director of the University of Virginia Center for Politics, told ABC News. "Usually, the Democratic coalition, especially minorities and young people, fails to show up in midterm elections at the same rate as whites and older voters, the core of the GOP base. Yet if current trends hold, Democrats are poised to outvote Republicans in November because they are determined to register their disapproval of Trump and the GOP."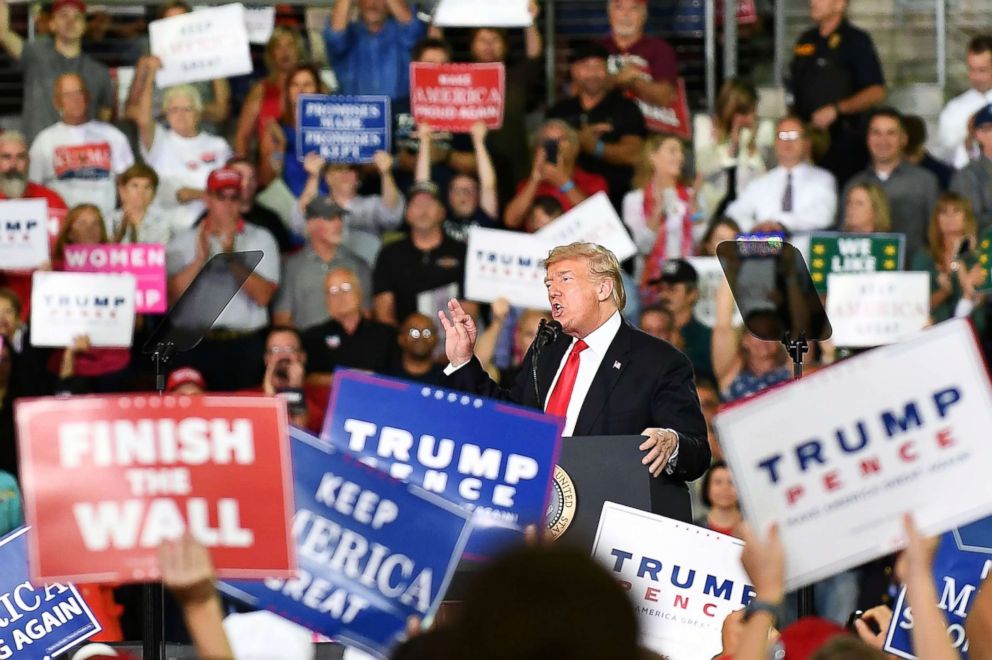 Whether it's the caravan of Central American migrants heading for the U.S.-Mexico border, the painfully divisive confirmation hearings of now-Justice Brett Kavanaugh or the murder of a prominent Saudi journalists, Trump lacks the inhibition that his predecessors have shown in offering his own straightforward view of world events.
It's a characteristic that has time and time again destabilized an already hectic election season, political experts say.
The 'Campaigner in Chief'
In 2018 alone, Trump has, in various capacities as president, visited all 18 states with races included in ABC News' 18 for 18 contests, and has made multiple visits to states with particularly competitive Senate races like Montana, West Virginia, Nevada and Florida.
Trump has also used Twitter to weigh in on 14 of the 18 races ABC News has identified as indicative of the key storylines defining the midterms.
In recent weeks Trump also has made visits to states and particular districts that he won in 2016 but where Republican support has seemingly wavered.
This past weekend, the president traveled to Murphysboro, Illinois, in the state's 12th Congressional District, which is represented by GOP Rep. Mike Bost. Also in attendance at the rally was GOP Rep. Rodney Davis, whose congressional district, the 13th, lies just north of Bost's.
Our partners at FiveThirtyEight rate both races as "Lean Republican," and the Democratic challengers to Bost and Davis have out-fundraised the GOP incumbents this cycle, according to FEC records.
For Trump, the message for why Illinois voters should back someone like Bost is not hard to understand.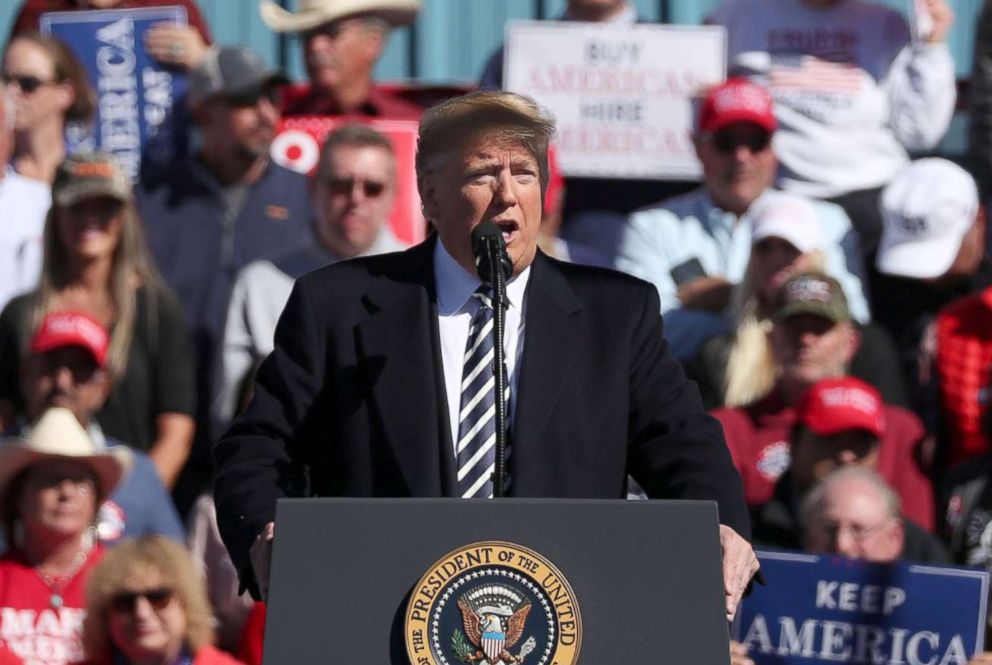 "A vote for Mike is really a continuation to make America great again. Very simple," Trump told the crowd. It's a message and a slogan the President is undoubtedly happy to repeat on the campaign trail.
Vice President Mike Pence, whom one outside political adviser described as the "tip of the spear" of the White House's midterm strategy, has also been a regular on the campaign trail this cycle.
In the past week, Pence has traveled to Arizona, Nevada and Michigan to boost Senate and House candidates. Pence heads to Ohio on Wednesday to campaign with congressional candidate Troy Balderson and gubernatorial candidate Mike DeWine in Mansfield.
A caravan, a Supreme Court Justice, and a Twitter feed
"Republicans want strong borders, no crime and no caravans, right?" Trump asked the crowd at his Illinois rally over the weekend. "We don't want caravans. We're not having caravans."
"Many Gang Members and some very bad people are mixed into the Caravan heading to our Southern Border," Trump tweeted this week ahead of his decision to send more than 5,000 troops to the southern border, "Please go back, you will not be admitted into the United States unless you go through the legal process. This is an invasion of our Country and our Military is waiting for you!"
The president's desire to dominate the national debate, which attempts to do frequently through his Twitter feed, on key issues has, again and again, thrust him into the middle of historically heated policy battles in the lead up to the midterms.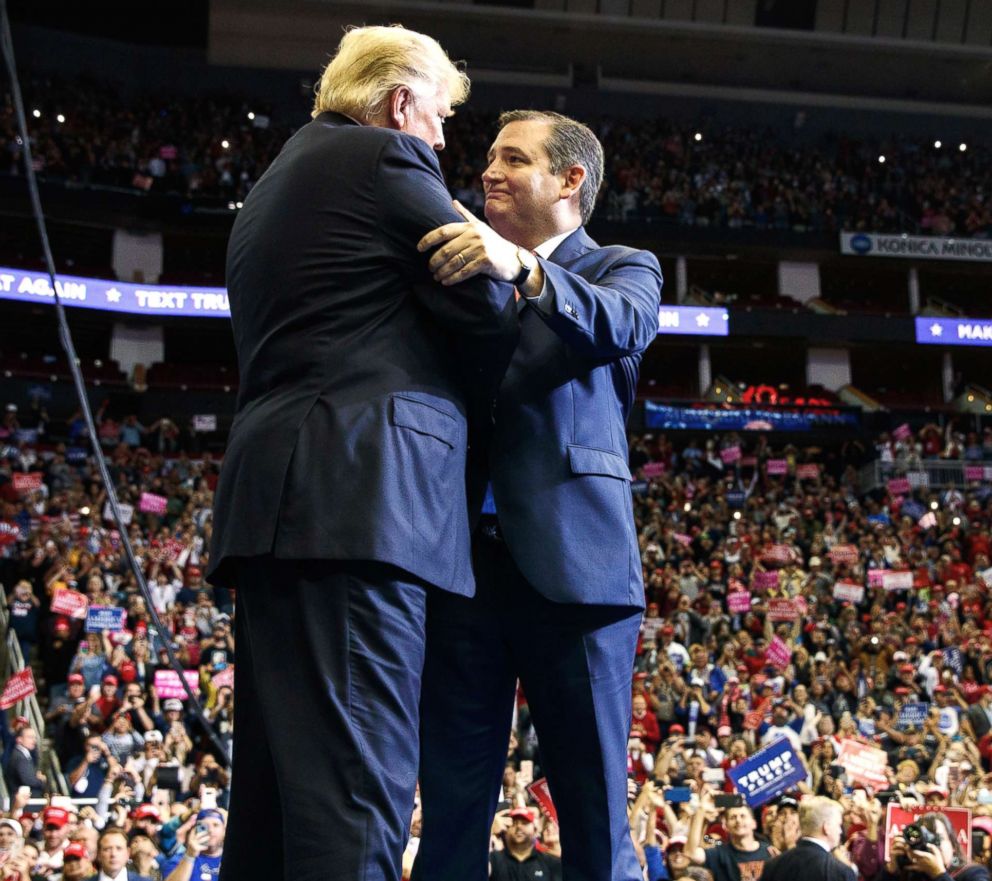 Immigration is no doubt at the top of that list, and the president's plan, announced in an interview with Axios earlier this week, to sign an executive order that would remove the right to citizenship for babies of non-citizens and unauthorized immigrants born on U.S. soil, could throw yet another wrench into a third-rail political issue.
But the role of disrupter is one the president relishes and has played numerous times on the campaign trail.
Trump and the Republican Party also have wielded the anger in the aftermath of the contentious and bitterly partisan Kavanaugh hearings as a political weapon in recent weeks, trying to put it at the forefront of GOP voters' minds ahead of Tuesday's vote.
"This will be the election of the caravans, the Kavanaughs, law and order, tax cuts and you know what else? It's going to be the election of common sense, because most of it's common sense," Trump declared at his Illinois rally.
In substance and style, Trump pushes both parties to embrace their own extremes
Trump's unabashed and unapologetic campaign style remains unique in American political history, but that hasn'tt stopped candidates across the country from attempting to emulate him.
Candidates in crucial Senate races in Arizona and Indiana have all tied themselves to Trump and enthusiastically embraced his policies.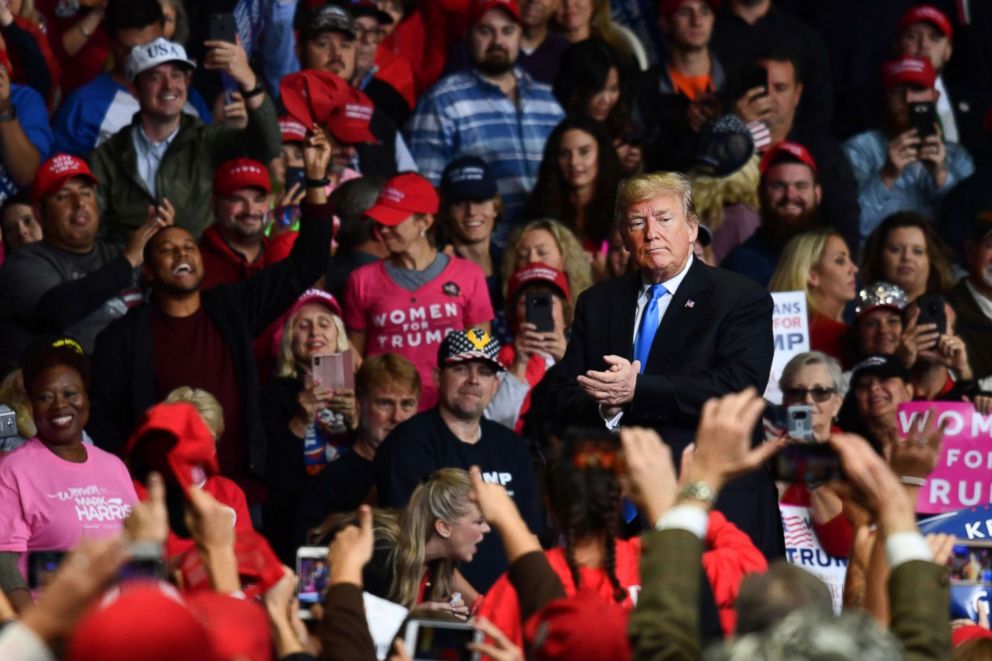 Mike Braun, who branded himself a self-made businessman and political outsider who echoed Trump's "Drain the Swamp" mantra, successfully outdueled two sitting congressmen on the way to winning the GOP Senate nomination in Indiana.
The anti-Trump fervor has led many Democrats, including one of their most prominent recruits this cycle, to push for Trump's impeachment.
Texas Rep. Beto O'Rourke, hoping to make the Democratic dream of turning Texas blue a reality in 2018, said he would vote to impeach Trump in the wake of the president's meeting with Russian President Vladimir Putin. O'Rourke defended his comments in a CNN town hall earlier this month and pointed to the president's handling of Robert Mueller's investigation into Russia meddling in 2016 as grounds for impeachment.
"When, by broad daylight on Twitter, [Trump] asked his attorney general, Jeff Sessions, to end the Russia investigation, I would say that's obstruction in action," O'Rourke said.
Looking ahead to 2020
While the 2018 midterms are rightly top of mind for most Americans, there are clear signals the president is already gearing up for what's sure to be an incredibly competitive and contentious re-election fight.
He's already directly called out a number of Democrats reportedly considering 2020 presidential bids, including Massachusetts Sen. Elizabeth Warren and billionaire Democratic activist Tom Steyer, goading his potential rivals with snarky tweets, referring to Warren as a "phony" and Steyer as a "stumbling lunatic."
Trump's tweets and statements about his potential 2020 rivals demonstrate clearly that the day after Election Day next week, the 729 days that separate America from the next presidential contest cannot keep the campaign from beginning in earnest.