This midterm election could reshape Washington.
Democrats are eager to secure a foothold in the nation's Republican-controlled Capitol and are hoping anti-Donald Trump fervor delivers a big blue wave.
The GOP, on the other hand, lucky to have a favorable map with many red-state Senate Democrats up for re-election, would love to expand its majorities, especially in that chamber.
Every House seat and a third of all senators are up for election. There are scores of new faces in the Democratic Party and a record number of open seats too, as many Republican lawmakers have called it quits.
There's a lot to track, but these 18 races paint a picture of the nation and the storylines and trends emerging from coast to coast.
SENATE RACES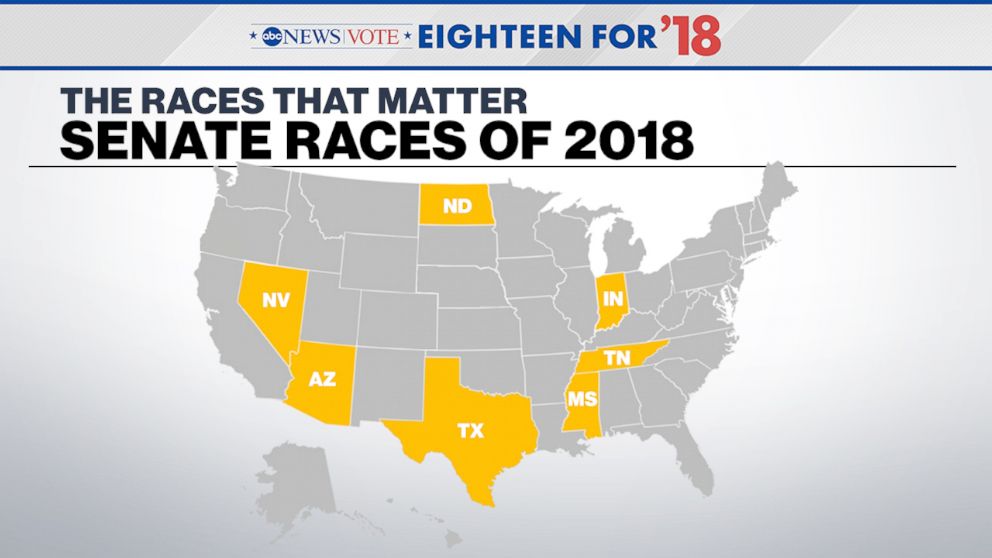 ARIZONA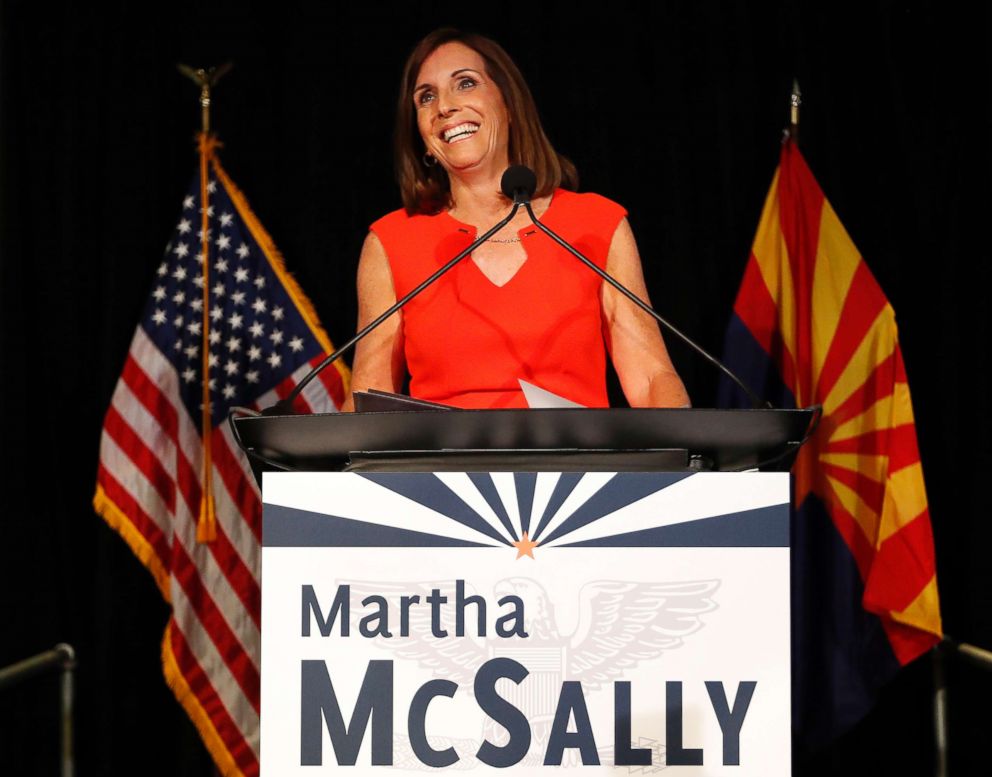 All eyes have been on the changing political landscape in Arizona with the death of Sen. John McCain and the proposed appointment of former Sen. Jon Kyl to fill the spot, but that isn't the seat that has been drawing out a competitive race this election season.
Sen. Jeff Flake's decision not to seek re-election opened up the seat -- and Republican field -- allowing the warring factions of the party to vie for the spot.
The Republican primary was not only a competition of differing ideas on the border wall and immigration, but also showed the competition between the candidates as they tout their respective ties to Trump. Rep. Martha McSally emerged victorious, trouncing her competitors Kelli Ward and former Sheriff Joe Arpaio.
They all boasted of their various ties to Trump in an effort to woo supporters -- with Ward pointing back to a tweet Trump posted about her before the others were in the race, and Arpaio referencing his campaigning for and pardon from the president in the past -- but it was McSally who eventually earned Trump's endorsement after she was declared the winner in the primary on Aug. 28.
Now either McSally or Democratic nominee Rep. Kyrsten Sinema are set to make history in the state when they win the general election, with one of them becoming the first female Senator to represent the Copper state. - MEGHAN KENEALLY
Republican candidate
Rep. Martha McSally: Current congresswoman from Arizona's 2nd district; former Air Force fighter pilot | Age: 52 (Mar. 22, 1966)
Democratic candidate
Rep. Kyrsten Sinema: Current congresswoman from Arizona's 9th district | Age: 42 (July 12, 1976)
INDIANA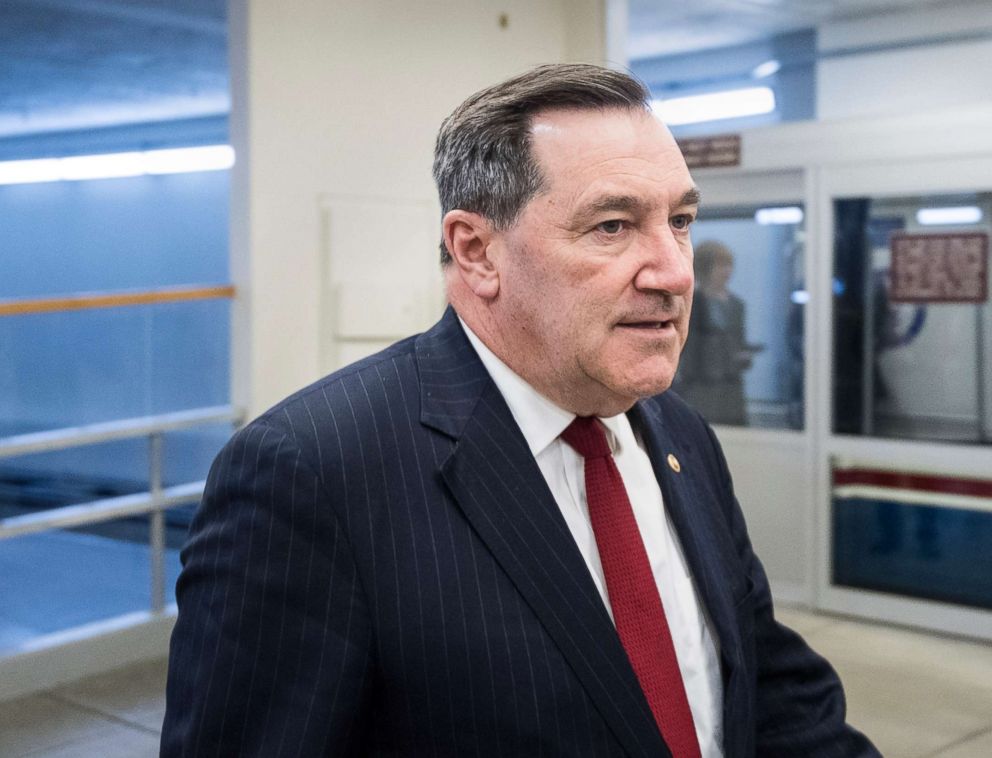 This year's Indiana Senate race is sure to feature showdowns in the primary and general election cycles, putting Vice President Mike Pence's home state in the spotlight for battles within his own party, as well as across the aisle.
The matchup is set in a state Trump won by nearly 20 points in 2016 -- meaning incumbent Sen. Joe Donnelly is looking at a tough race against a slew of Republicans eager to take his seat.
In May, Indiana businessman Mike Braun won the GOP primary election, edging out House Reps. Todd Rokita and Luke Messer. The primary was filled with personal jabs and created an intra-party divide between sitting lawmakers and a political outsider. That difference in approach to politics spoke to a larger theme facing the Republican party heading into November's election.
As for the incumbent, Donnelly will have to fight a bitter battle to defend his seat at home and on a national level. While Donnelly aligns with Republicans on an issue like abortion, he has a target on his back for voting against tax reform that was painted on by the president himself during a tax event last fall in Indianapolis.
"If Senator Donnelly doesn't approve it, because you know, he's on the other side, we will come here. We will campaign against him like you wouldn't believe," Trump said at the time. - ALISA WIERSEMA
Republican candidate
Mike Braun: Business owner | Age: N/A
Democratic candidate
Sen. Joe Donnelly: Incumbent U.S. senator | Age: 62 (Sept. 29, 1955)
MISSISSIPPI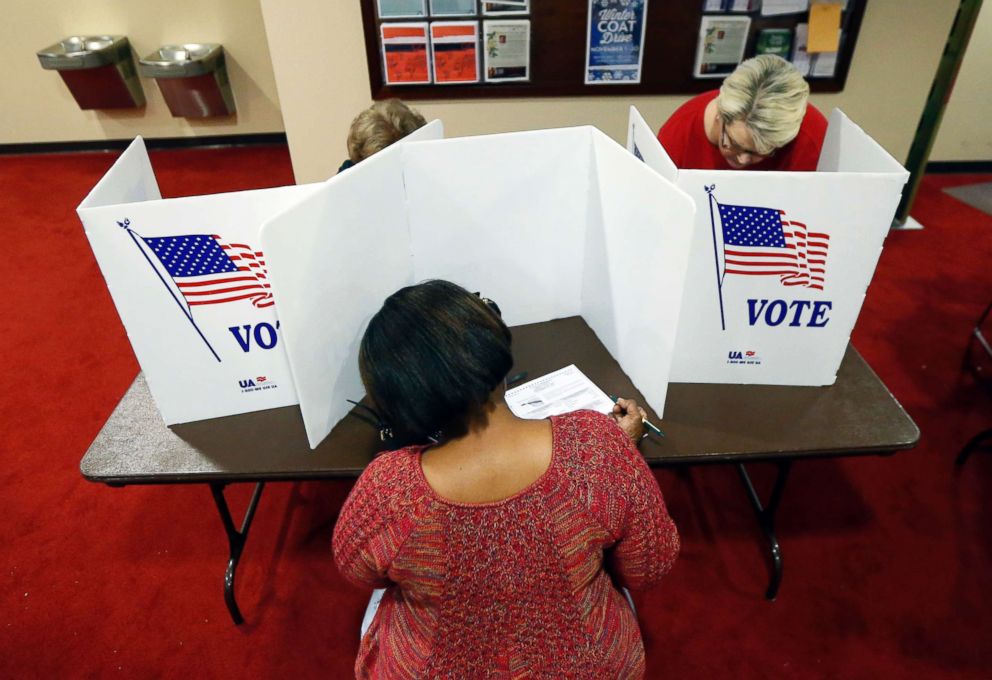 In Mississippi, Republicans are scrambling to maintain both of their U.S. Senate seats after Sen. Thad Cochran announced his retirement beginning April 1. Now, they look toward a November special election, strategizing on which of two nontraditional candidates they will rally behind to send to Washington.
Complicating the plan is the Magnolia State's "jungle primary" format where candidates battle in an open election regardless of party affiliation. If one person is unable to win 50 percent of the vote, Mississippians will return to the polls once again three weeks later, deciding between the top two contenders.
Republican Chris McDaniel, a lawyer and former conservative talk-show host with a large social media presence, is working to fire up his conservative support base, after gaining wide recognition in a narrowly lost primary fight against Cochran in 2014.
The Tea Party candidate who originally declared his run against incumbent Sen. Roger Wicker is instead focusing on the special election. McDaniel's path to Capitol Hill, however, is now seemingly more difficult after an early endorsement by political outsider Bannon. Despite Trump giving his early support for Wicker, McDaniel continues to align himself with the commander-in-chief's political values.
Possibly standing in McDaniel's way is Gov. Phil Bryant's interim Senate pick: Cindy Hyde-Smith.
The beef-cattle farmer who served as Mississippi's Commissioner of Agriculture and Commerce since 2011, launched her fall campaign the same day as Bryant's announcement. Hyde-Smith could make history if she were to become the first woman to represent Mississippi in U.S. history.
But one potential wrinkle for the longtime lawmaker is her political past.
The former state senator is also a former Democrat, switching to the Republican Party in 2010. And her past affiliation is already fuel to the fire for McDaniel, who immediately noted Hyde-Smith's Democratic past after the governor announced his pick.
But, the Republicans will also have to wait and see who the Democrats bring to the table in the special election as they hope to have a similar outcome as their neighbors in Alabama this fall.
Former Washington insider Mike Espy is the leading Democrat in the running for Cochran's vacant seat. The attorney was elected as Mississippi's first African-American Representative in U.S. Congress since the Reconstruction era. Espy additionally worked as the U.S. Agricultural Secretary during the Bill Clinton administration. - NIA PHILLIPS
Republican candidates
Sen. Cindy Hyde-Smith: Current U.S. senator, former Mississippi Agricultural Secretary, former Mississippi state senator, beef-cattle farmer | Age 58 (May 10, 1959)
Chris McDaniel: Mississippi state senator, lawyer, 2014 U.S. Senate GOP Candidate | Age 46 (Feb. 28, 1971)
Democratic candidate
Mike Espy : Former U.S. representative, former U.S. Agricultural Secretary, lawyer | Age 64 (Nov. 30, 1953)
NEVADA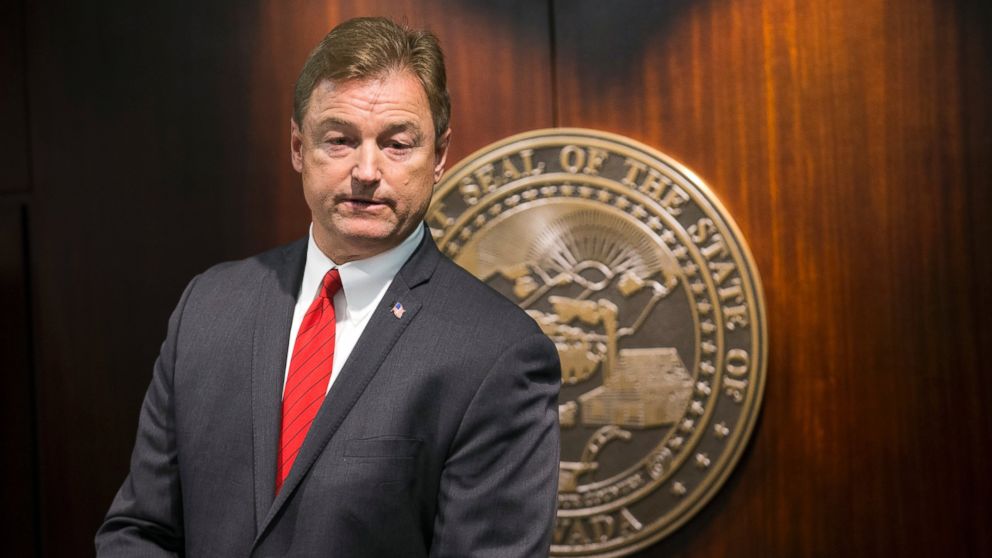 Nevada is one of the few states where Democrats have a chance to pick up a Senate seat in 2018. In fact, it's the only state with a Republican senator up for re-election in a state won by Hillary Clinton. Nevada is a quintessential swing state; it has sided with the winner of the presidency for all but two elections in the last 100 years, voting for Gerald Ford in 1976 when Jimmy Carter was elected, and going for Hillary Clinton in 2016 when Trump was elected.
Incumbent Republican Dean Heller was appointed to the Senate by Gov. Brian Sandoval in 2011 and ran to keep the job one year later. Heller squeaked out a win, beating challenger Shelley Berkley by less than 12,000 votes statewide. Will a Republican who won by such a small margin be able to hold on if a blue wave sweeps across the United States this November?
Expect health care to play a major role in the Nevada election. Heller opposed a repeal of the Affordable Care Act without a replacement but decided to support repeal after Trump suggested he was open to supporting another Republican in the Nevada Senate race. Immigration will play a major role in the race with Nevada's large immigrant population, as well as gun rights following the Oct. 1 shooting in Las Vegas. - MATTHEW FUHRMAN
Republican candidate
Sen. Dean Heller: Incumbent U.S. senator, appointed to the Senate by Sandoval in 2011, elected in 2012 | Age: 58
Democratic candidate
Rep. Jacky Rosen: Currently represents Nevada's 3rd District in the House of Representatives | Age: 60
NORTH DAKOTA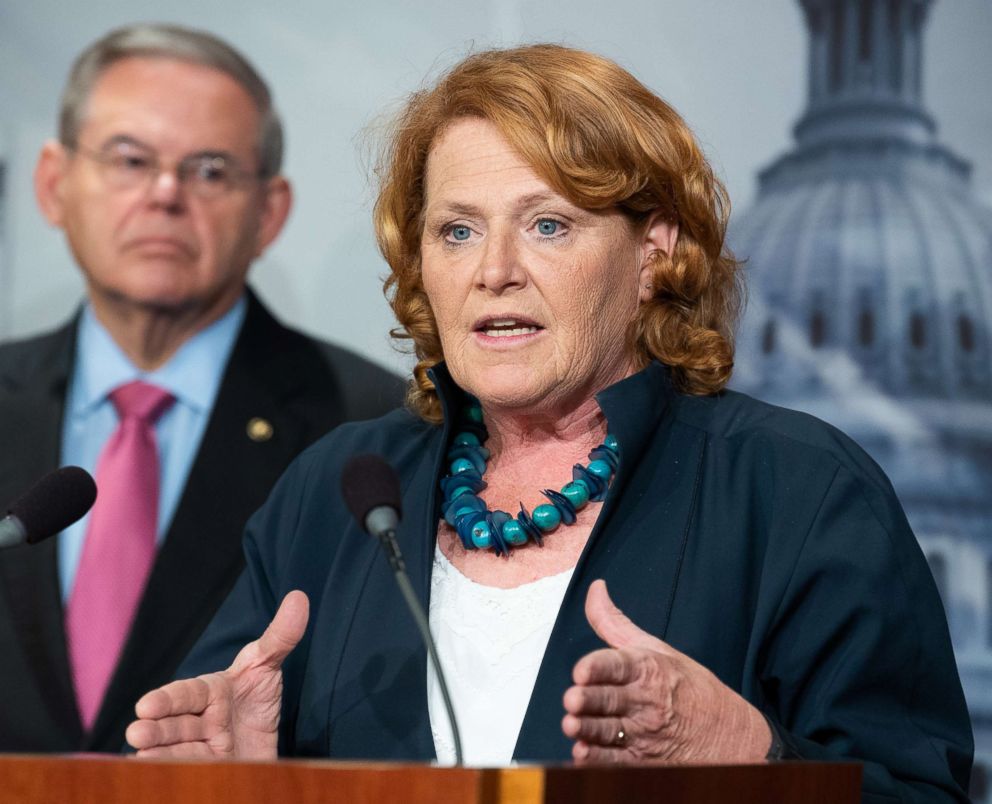 The Senate race in North Dakota between incumbent Democrat Heidi Heitkamp and at-large Republican Rep. Kevin Cramer is a toss-up.
Heitkamp is among the most vulnerable senators up for re-election in November. Trump won North Dakota in the 2016 presidential election by roughly 36 percentage points over Democratic nominee Hillary Clinton.
This puts Heitkamp in a uniquely challenging place. She'll have to peel off Republicans and Independent voters and keep her liberal, Democratic base happy at the same time.
She's also running in a state where Trump remains fairly popular, and thus it works to her benefit to stay on friendly terms with the president.
She has voted in favor of almost all of Trump's cabinet nominees. Last month she snagged a prime spot at the White House for a bill-signing event. And last year, she hitched a ride with the president on Air Force One to an event in North Dakota.
At one point, Trump told the crowd Heitkamp was a "good woman."
But Heitkamp has her work cut out for her. She's running against a highly popular candidate who has just as much name recognition as she does. - MARIAM KHAN
Republican candidate
Rep. Kevin Cramer: Representative from North Dakota's At-Large Congressional District (2013 to present) | Age: 57 (Jan. 21, 1961)
Democratic candidate
Sen. Heidi Heitkamp: Currently representing North Dakota in the U.S. Senate | Age: 62 (Oct. 30, 1955)
TENNESSEE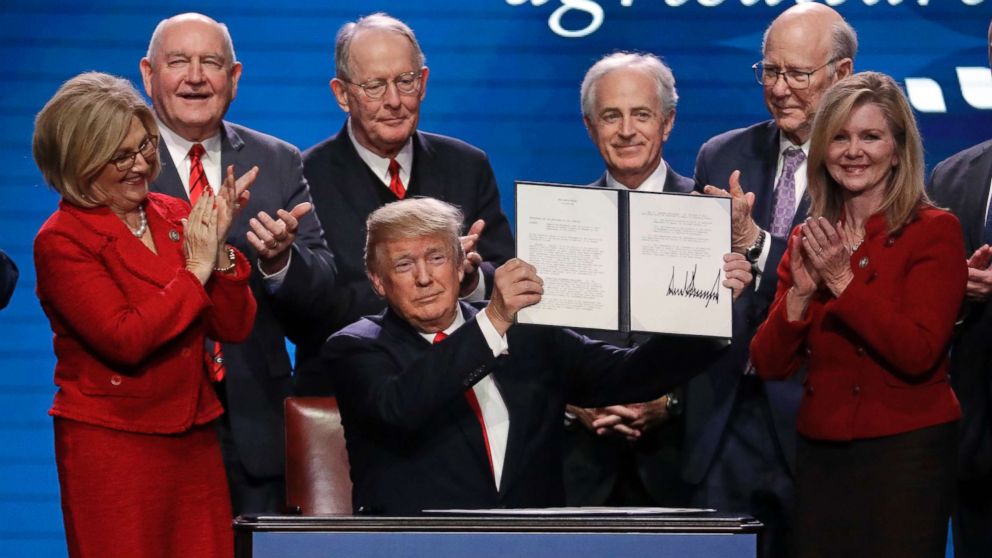 When Sen. Bob Corker, R-Tenn., announced he would not seek re-election seven candidates -- six Republicans and one Democrat -- jumped in the race to replace him.
Corker's retirement announcement has left the GOP defending a deep-red seat, which hasn't been held by a Democrat since 1995. After a crowded field of Republicans vied for their party's nomination, Rep. Marsha Blackburn emerged as the winner.
Democrats got their top recruit in by coaxing former Gov. Phil Bredesen off the sidelines.
The race to replace Corker is important for Republicans; they need to keep it red as protection against losing a majority in the Senate. Meanwhile, Democrats are looking to become the majority party in the Senate and are looking to ride a wave of momentum after deep-red state Alabama elected a Democrat to the Senate in a strongly contested special election in December 2017. - CHRISTOPHER DONATO
Republican candidates
Rep. Marsha Blackburn: Currently representing Tennessee's 7th Congressional District | Age: 65 (June 6, 1952)
Democratic Candidates
Phil Bredesen: Former mayor of Nashville (1991 to 1999), former governor of Tennessee (2003 to 2011), swept every county in the state in his 2006 re-election bid | Age: 74 (Nov. 21, 1943)
TEXAS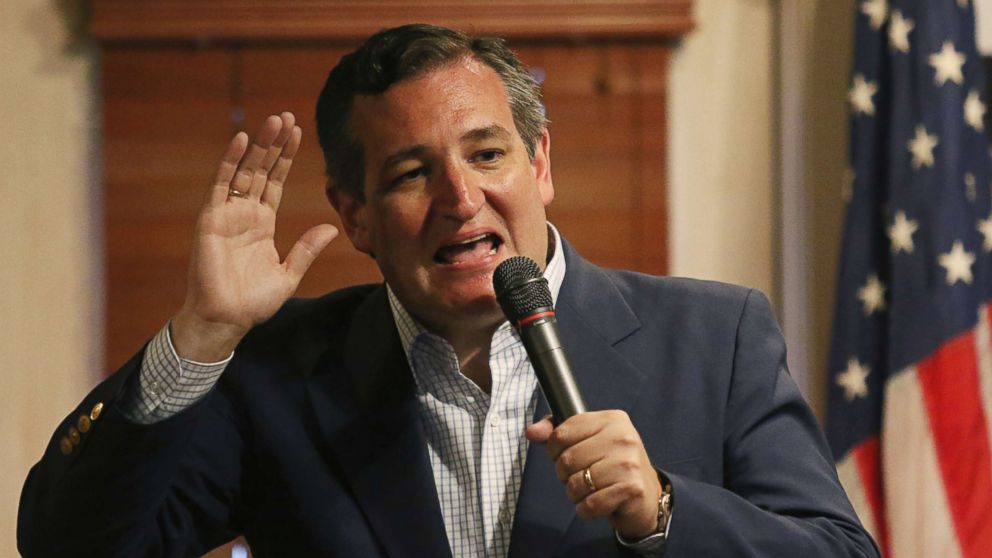 The closely-watched Senate race between Sen. Ted Cruz and three-term Democratic Rep. Beto O'Rourke is one of the highest-stakes contests for both sides previewing local and national story lines dominating the midterms.
For Democrats, turning Texas blue appears to be within reach after a political drought lasting over two decades. For Republicans, defending the seat in the Trump era is becoming far more difficult as shifting demographics, a crisis at the southern border, and it's most populous city still recovering from a devastating hurricane seep into the campaign battlefield. President Trump's campaign visit in October will also provide one of the midterms' most politically intriguing (and awkward given the two men's political history) moments.
After his failed 2016 presidential bid, Cruz is contending with his own ambition -- his status as one of the most visible and polarizing figures in American politics remains firmly intact. It's also a key part of O'Rourke's aggressive campaign that has cautiously embraced the progressive platform adopted by a growing group of Democratic candidates nationwide. The El Paso Democrat, who has posted impressive fundraising numbers, is garnering national attention for his hyper-local campaign that is traveling to every county in the state more than once – targeting not just Democratic strongholds, but the reddest parts of a deep red state that has not elected a Democrat to statewide office since 1994.
Cruz is trying frantically to paint O'Rourke as a member of the liberal, Nancy Pelosi-aligned faction of the Democratic Party. The incumbent is testing the limits of the progressive energy sweeping other parts of the country, and banking on a majority of Texas' conservative-leaning electorate rejecting the young challenger.
Both parties turned out in record numbers during the state's March primaries and a recent poll from Quinnipiac University had O'Rourke within six points of Cruz, with the two men tied with Independents. The two men have yet to step onto the debate stage together, but expect the campaign to only become more contentious in the closing months. - JOHN VERHOVEK
Republican candidates
Sen. Ted Cruz: Currently representing Texas in the U.S. Senate; former Texas solicitor general | Age: 47 (Dec. 22, 1970)
Democratic Candidates
Rep. Beto O'Rourke: Currently representing Texas' 16th congressional district in the U.S. House | Age: 45 (Sept. 26, 1972)
HOUSE RACES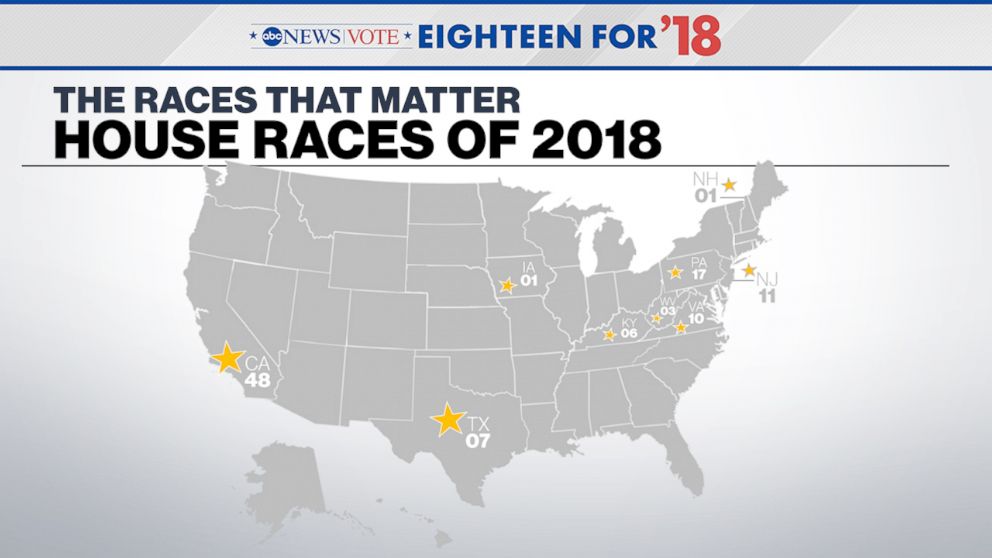 CALIFORNIA-48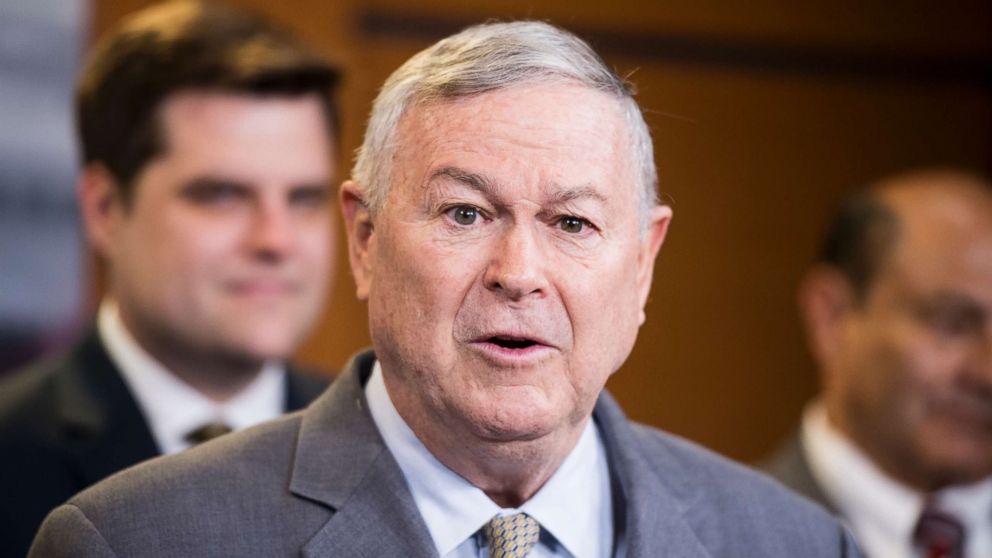 California's Orange County is at the epicenter of Democrats' fight to take control of the House in November, and the 48th Congressional District is the heart of this traditionally Republican bastion in blue California.
The district, represented by Republican Dana Rohrabacher, is one of the 23 Republican-held districts that voted for Hillary Clinton in 2016, and Democrats see it as a top pickup opportunity in the general election as talks of a "blue wave" continue to mount in Southern California.
Seeking to upend Rohrabacher's race for a 16th term in office – he's been in Congress for three decades – is Democrat Harley Rouda, who narrowly won a spot on the ballot after edging out an army of candidates looking for a chance.
Rohrabacher, a staunch supporter of President Trump, faced his toughest primary yet this year and remains a controversial figure even within his own party, his name most recently surfacing in connection to Maria Butina, the Russian operative indicted by Special Counsel Robert Mueller's office earlier this summer.
Rohrabacher has also been linked to the investigation into Russian meddling in the 2016 election
Rouda, a businessman and former Republican, is banking on the changing demographics in the district and the growing discontent with the president to make it to Capitol Hill.
Polls show him neck and neck with Rohrabacher, who won the top-two primary in June with more than 30 percent of the vote.
The powerful Democratic Congressional Campaign Committee has been investing heavily in taking several California seats, including this one – and Rouda counts with the endorsement of President Obama, who is fundraising for him and other Southern California progressives this cycle. - ESTHER CASTILLEJO
Republican candidate
Rep. Dana Rohrabacher: Incumbent U.S. representative | Age: 71 (June 21, 1947)
Democratic candidate
Harley Rouda: Businessman | Age: N/A
IOWA-01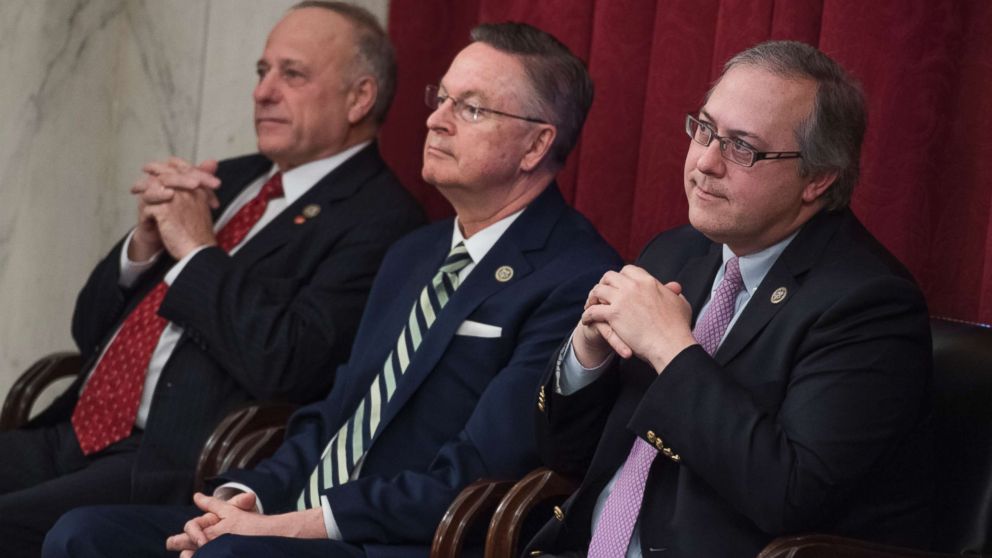 Iowa and politics go hand-in-hand, so it's not a surprise that the race between Republican Rep. Rod Blum and Democratic State Rep. Abby Finkenauer for Iowa's 1st Congressional District -- which voted for Barack Obama twice, but Trump in 2016 -- is gaining national attention.
Blum, a former software company entrepreneur, is a two-term congressman and a member of the House Freedom Caucus. A supporter of the president, he ran unopposed in the Republican primary.
Finkenauer, a two-term state representative, beat out three other Democratic challengers by a wide margin in the primary. She's also picked up a number of big endorsements from NARAL Pro-Choice America and EMILY's List, and could be another example of the "pink wave" sweeping the midterms.
A battle of the vice presidents is setting up as well with Pence visiting the district earlier this month to campaign for Blum and former Vice President Joe Biden having endorsed Finkenauer, who served as the volunteer coordinator in Iowa for his 2008 presidential campaign.
Blum has challenged Finkenauer to a series of 12 debates. In a statement to ABC News, Finkenauer said she "looks forward to debating the important issues at stake in this election" and "intend[s] to spend the coming weeks establishing a debate schedule that ... gives voters the opportunity to hear from both candidates." - MOLLY NAGLE
Republican candidate
Rep. Rod Blum: Two-term congressman, member of the House Freedom Caucus. Serves on the House Committee on Oversight and Government Reform, House Small Business Committee, and as chairman of the subcommittee on Agriculture, Energy and Trade. | Age: 63 (April 26, 1955)
Democratic candidate
State Rep. Abby Finkenauer: Two-term state representative, served as the State of Iowa's Volunteers Coordinator for Biden's presidential campaign in 2008 | Age: 29 (December 27, 1988)
KENTUCKY-06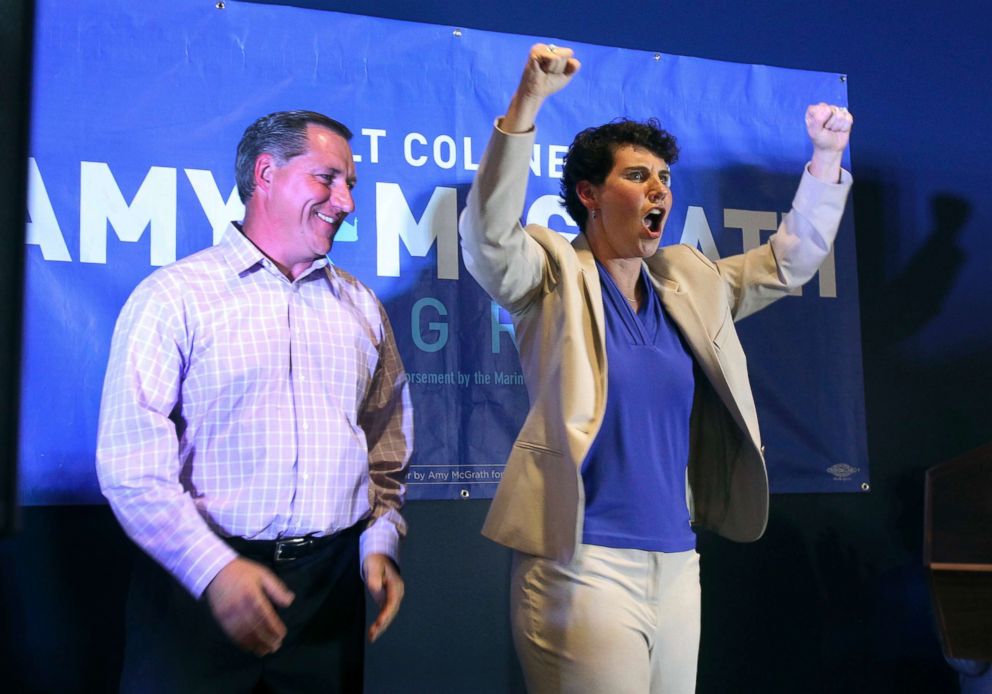 This fall, Republican incumbent Rep. Andy Barr will face Democrat Amy McGrath, a former U.S. Air Force fighter pilot, creating perhaps his most challenging defense of his seat since he took office in 2013 as Democrats search for a path to the House majority.
McGrath, who has never held political office, is the first female Marine to fly in an F/A-18 in combat, conducting 89 bombing runs over al Qaeda and the Taliban. She graduated from the U.S. Naval Academy and served 20 years in the Marine Corps, rising to the rank of lieutenant colonel.
McGrath rallied from a 47-point deficit to win her primary over Lexington Mayor Jim Gray and state Sen. Reggie Thomas. She gained national prominence after a biographical ad she ran last summer went viral.
Barr is a former congressional staffer and a lawyer by trade. He is currently serving in his third term in the House. - JOHN PARKINSON
Republican candidate
Rep. Andy Barr: Incumbent U.S. representative | Age: 45
Democratic candidate
Amy McGrath: Former Marine fighter pilot | Age: 42
NEW HAMPSHIRE-01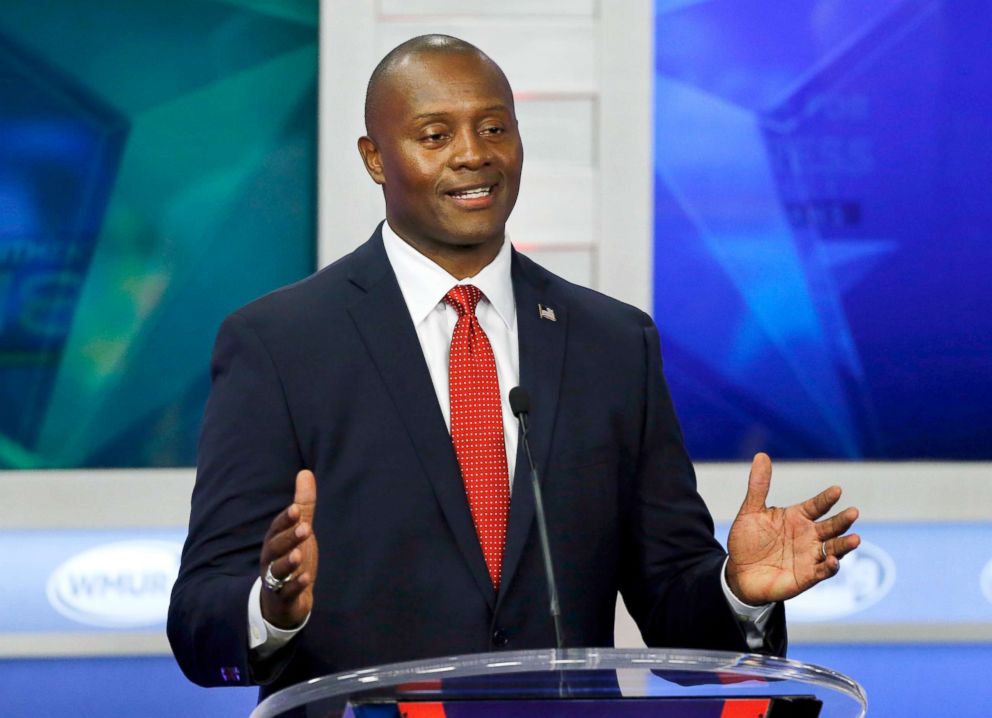 The outcome in New Hampshire's 1st Congressional District –- a classic swing seat that flips with virtually every political wave –- will determine where the small, yet powerful district stands looking into 2020.
If a Democrat maintains the seat, the party can maintain a momentum going into the next presidential election, but the National Republican Congressional Committee is targeting the district in this election in which Democratic Rep. Carol Shea-Porter is not seeking re-election.
The 1st Congressional District covers the Greater Manchester, Seacoast and Lakes Region of New Hampshire, a predominantly white, middle-aged and middle-class population. Seven Democrats, three Republicans and one Libertarian are all vying to fill the seat.
A key issue for the candidates will be how they can address the opioid crisis that has become a national public health crisis. New Hampshire has begun to combat the problem with new laws, regulations and kits to avoid the rapidly increasing overdose deaths.
Both general election candidates have a chance to diversify Congress should they win. Eddie Edwards would become just the third black Republican member of the House alongside Reps. Mia Love and Will Hurd -- should those incumbents be victorious as well. Chris Pappas is one of 19 House candidates this cycle who identify as members of the LGBTQ community. - DOMINICK PROTO
Republican candidates
Eddie Edwards: Retired chief of police for South Hampton, Navy veteran, served as chief of New Hampshire State Division of Liquor Enforcement | Age: 49
Democratic candidates
Chris Pappas: Member of the New Hampshire Executive Council | Age: 38
NEW JERSEY-11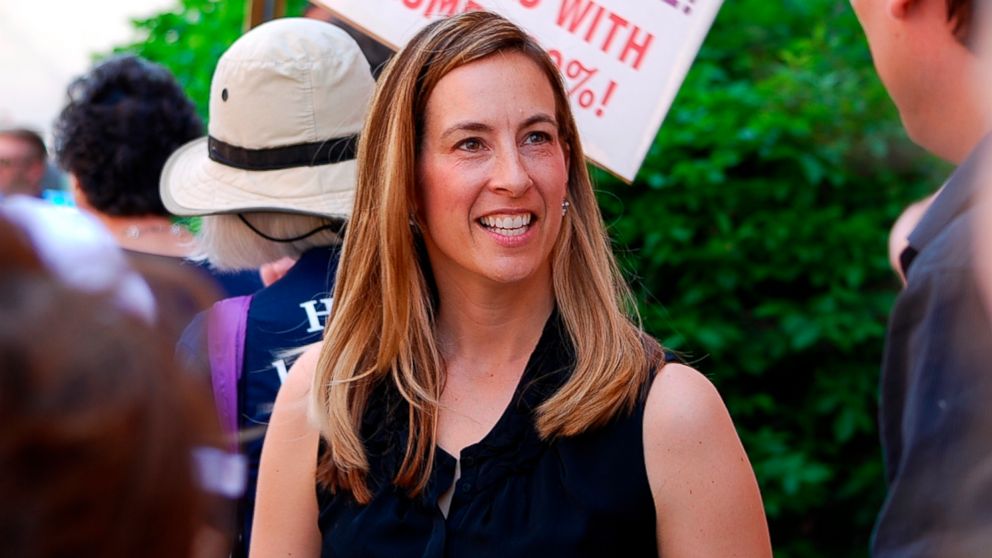 A New Jersey district that went for Trump in the 2016 election and was represented by the same Republican for more than two decades now offers a glimmer of hope for Democrats seeking to control the House in 2018.
That's because New Jersey's 11th Congressional District only went to Trump by about 1 percentage point in 2016, and its longstanding Republican congressman, Rep. Rodney Frelinghuysen, is no longer seeking re-election. Come November, it'll be an open seat race.
Enter Democrat Mikie Sherrill, a Navy veteran and former federal prosecutor running to upend GOP control of the district, and Republican Jay Webber, a state assemblyman and attorney running to maintain it.
Webber calls his Democratic opponent a "Nancy Pelosi pawn," wedding her to the House minority leader, while Sherrill describes Webber as an establishment politician who backs the president.
Sherrill, a mother of four and former helicopter pilot for the U.S. Navy, has never run for elected office before. She joins the race as part of the many so-called "waves" crashing on the 2018 midterms -- the record-breaking "pink wave" of female candidates -- and has netted endorsements from EMILY's List and Biden.
Webber, a father of seven, Harvard Law School graduate and conservative voice in the New Jersey statehouse, totes border security and lower taxes as his campaign platform. He was recently endorsed by hardline Republican Rep. Tom Cotton of Arkansas and in a recent campaign ad pledged a return to "Morning again in America," a Reagan-era campaign slogan. - CHEYENNE HASLETT
Republican candidate
Jay Webber: New Jersey state assemblyman and attorney | Age: 46
Democratic candidate
Mikie Sherrill: Former federal prosecutor and helicopter pilot for the U.S. Navy | Age: 46
PENNSYLVANIA-17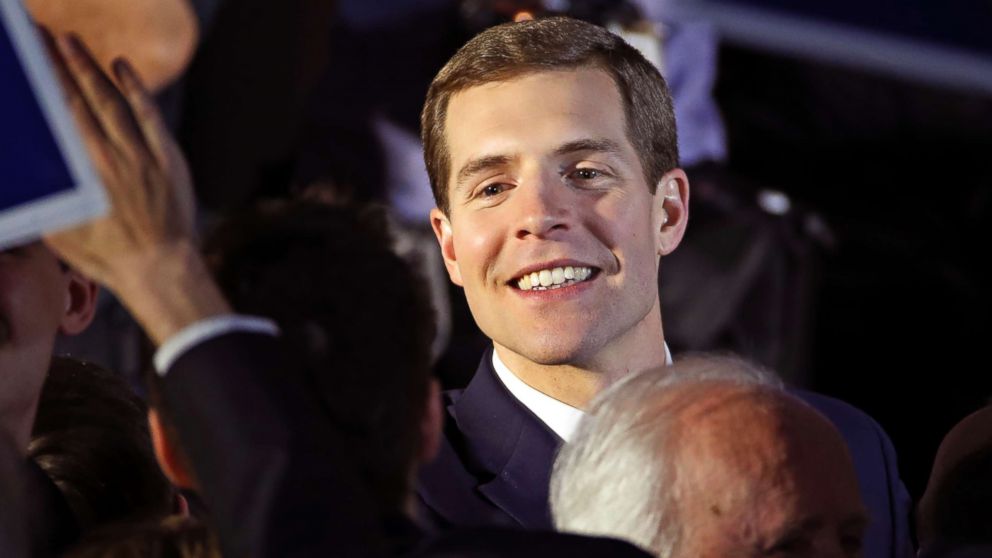 Conor Lamb made national headlines when he kickstarted Democrats' blue wave ambitions with an upset win in the Pennsylvania 18th congressional district special election in March. But come November, he's poised to face even stiffer competition.
Lamb's home in the town of Mt. Lebanon, Pennsylvania moved to the 17th Congressional District under the state's new congressional map, the district within which current Republican Rep. Keith Rothfus lives.
Though Rothfus hasn't faced a significant challenge since his first election victory in 2012, the 17th district is home to a very different group of voters than the congressman's current 12th district. In addition to Lamb's hometown, many of the liberal suburbs south of Pittsburgh that boosted the special election upset will join the 17th Congressional District, promising a much closer race than Rothfus might have anticipated just a few months ago.
The match-up between Lamb in Rothfus is the only House election pitting two sitting congressman against one another and Democrats are optimistic that the 17th will be one of a number of Pennsylvania flips following redistricting. - ADAM KELSEY
Republican candidate
Rep. Keith Rothfus: Three-term congressman currently representing Pennsylvania's 12th congressional district | Age: 56 (April 25, 1962)
Democratic candidate
Rep. Conor Lamb: First-term congressman currently representing Pennsylvania's 18th congressional district | Age: 34 (June 27, 1984)
TEXAS-07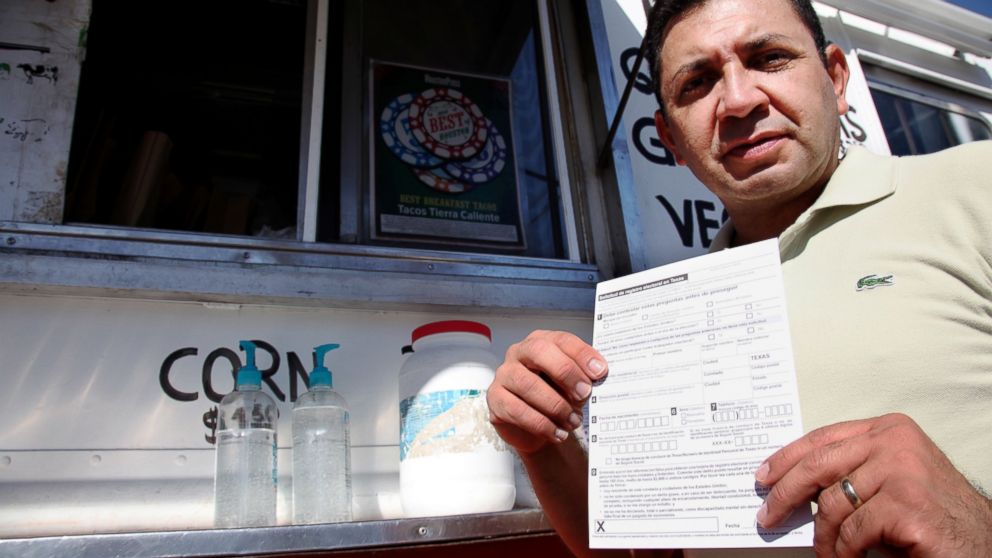 Progressive energy is flowing deeply into the Houston suburbs, an area at the crossroads of immigration, changing demographics and hurricane reconstruction -- and rising as a top target for Democrats in 2018.
Although a Republican has held the seat for 50 years, Hillary Clinton carried the district in the 2016 election -– a major shift after voting for Mitt Romney in 2012. The 7th Congressional District in Texas is predominately white, but about 31 percent identify as Hispanic.
Rep. John Culberson, who has represented the district since 2001, has spoken in support of Trump's controversial travel ban calling it a "necessary pause in the refugee program" until adequate background checks are created. He also supports a bipartisan solution to the debate over the DACA program that is "compassionate" to those brought into the country illegally as children.
Immigration is a pressing issue in this district, but there is one name that is still on the forefront of voters' minds: Harvey. Many families are still rebuilding after the hurricane devastated the area and elected officials are hoping Congress can pass more funding to help Texans rebuild.
Culberson's challenger is lawyer Lizzie Pannill Fletcher, endorsed by EMILY's List. - RACHEL SCOTT
Republican candidate
Rep. John Culberson: Incumbent U.S. representative since 2001 | Age: 61 (Aug. 24, 1956)
Democratic candidate
Lizzie Pannill Fletcher: Attorney | Age: 43 (Feb. 13, 1975)
VIRGINIA-10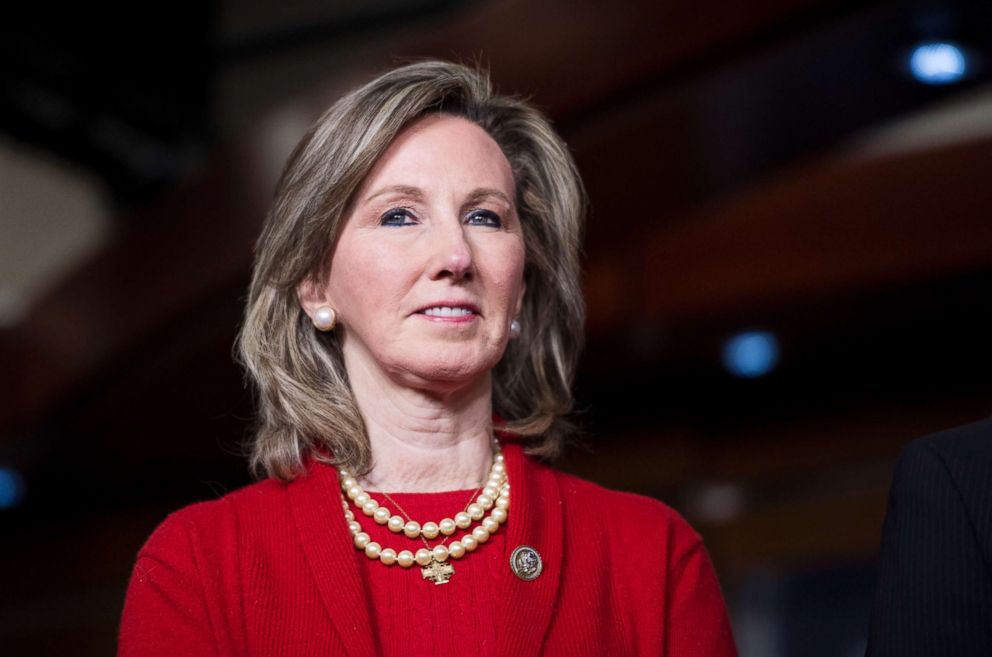 Stretching from the Washington, D.C., suburbs to West Virginia, Virginia's 10th Congressional District is the only battleground House race in the capital area. Democratic state Sen. Jennifer Wexton won a crowded June primary to take on Rep. Barbara Comstock, R-Va., a political survivor who hung on to her seat in 2016 despite Hillary Clinton's win in her district.
Wexton has been criticized by her opponents for supporting a 2016 gun law compromise, but has defended her record in Richmond and promised to work across the aisle in Congress on issues like infrastructure and combating the opioid crisis.
Comstock, who according to FiveThirtyEight has voted with President Trump 97 percent of the time, has deep ties to Washington's GOP establishment after a career in the Bush administration and on Capitol Hill - where she worked on the House Oversight Committee's Clinton investigations with David Bossie, who served as Trump's deputy campaign manager in 2016. (Bossie has endorsed her campaign.)
FiveThirtyEight's 2018 House forecast gives Wexton a seven in nine chance of victory in November, but expect Comstock to put up a strong, well-funded fight all the way through to November. - BEN SIEGEL
Democratic candidate
Jennifer Wexton: Virginia state Senator | Age: 50 (May. 27, 1968)
Republican candidate
Rep. Barbara Comstock: Incumbent U.S. representative, former Virginia House of Delegates member | Age: 59 (Jun. 30, 1959)
WEST VIRGINIA-03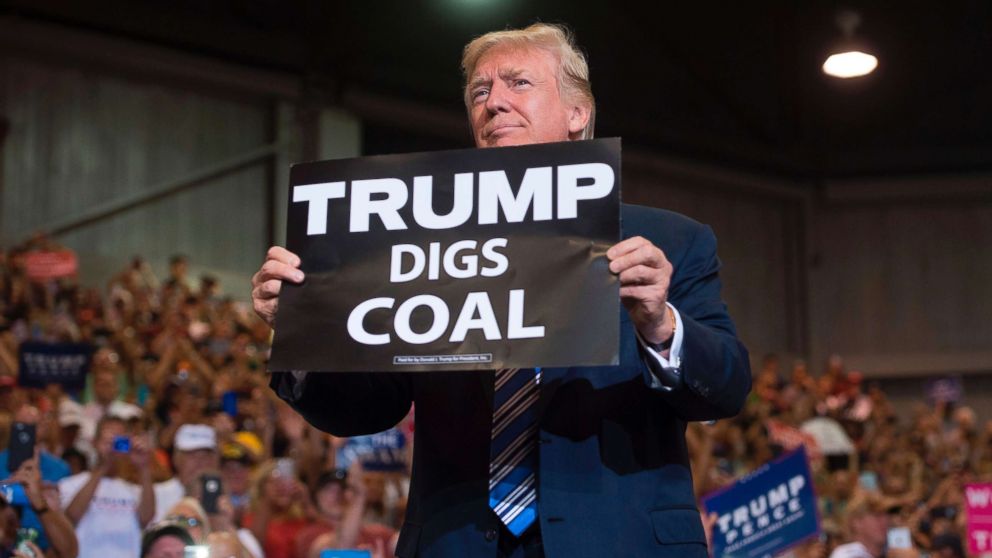 Trump won West Virginia's ruby-red 3rd District by a whopping 50 points in the 2016 election -- but a tattooed, retired veteran who campaigns in his Army fatigues has the chance to turn the district blue.
Richard Ojeda, a state senator who gained national attention and became a local hero during the state's teacher strikes, is running as a populist Democrat who can appeal to working-class voters in the heart of Trump country.
Taking on Ojeda is Republican delegate Carol Miller.
"I'm Pro-Life, Pro-Jobs, Pro-Coal, Pro-Second Amendment, and Pro-Trump, and I'm running to cut the bull out of politics!" Miller states on her website.
Ojeda admits he voted for Trump and likes the president's mission to bring back coal jobs to West Virginia, but he also supports left-leaning policies like legalizing marijuana and a public option for health care.
The race between Ojeda and Miller recently became tight, and Democrats think they have a real shot at picking up a House seat in West Virginia. Still, even though Ojeda out-raised Miller in the second quarter, according to the Federal Election Commission, the GOP plans to spend big money to make sure the West Virginia 3rd District seat remains red. - MERIDITH MCGRAW
Republican candidate
Carol Miller: Member of the West Virginia House of Delegates | Age: 67 (Nov. 4, 1950)
Democratic candidate
Richard Ojeda: West Virginia state senator | Age: 47 (Oct. 25, 1970)
GUBERNATORIAL RACES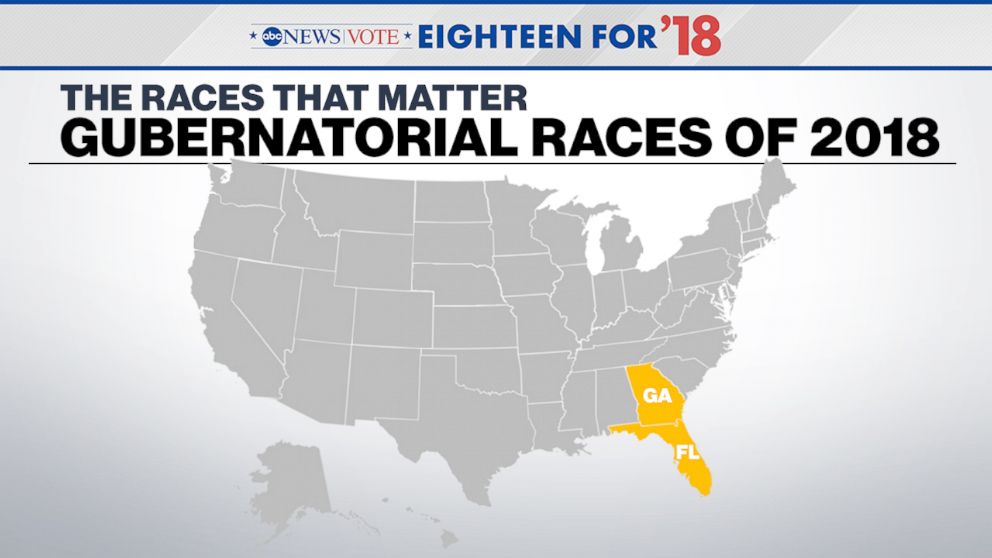 FLORIDA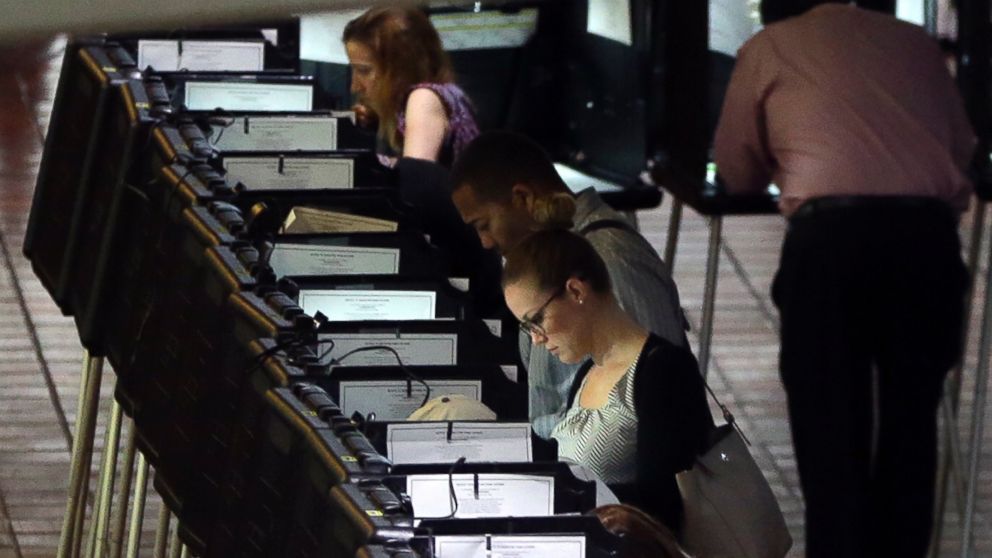 No state is likely as historically consequential in presidential elections as Florida -- e.g., 2000 Bush vs. Gore -- and we've seen just how important national leaders find this race after the Sunshine State's late August primary in which endorsements and federal politics played a huge factor.
Jacksonville Republican Rep. Ron DeSantis easily rode to victory against the establishment favorite, Florida Agriculture Commissioner Adam Putnam, after the president tweeted his support for DeSantis in June. Following the tweet, Trump also campaigned for DeSantis and his Senate race counterpart, Gov. Rick Scott, in Tampa in late July.
Tallahassee Mayor Andrew Gillum's win in the Democratic race, on the other hand, was a surprise. For months, Gillum was trailing Florida political dynasty candidate, former Rep. Gwen Graham -- whose father was a beloved senator and also governor of the state -- as well as a number of wealthy and self-funding challengers. Late in the race, Gillum received the endorsement of progressive icon Sen. Bernie Sanders, the Vermont Independent, and a generous cash infusion from George Soros and Tom Steyer. Gillum is now the first African-American nominee for governor in Florida and hopes to become the first Democratic governor elected in Florida since 1994.
Florida Democrats are hoping to use the election as a referendum on Trump and highlight issues that have affected their state, like environmental disasters, gun policy and economic development. Republicans talk of maintaining the economic growth fostered under Republican Gov. Scott. However, race has become a focal point in the election with DeSantis saying shortly after his primary win the last thing Floridians should do is "monkey this up" by electing his African-American progressive opponent.
If primary turnout is of any indication, the general election will be big. Primary night voters broke records with 3.1 million total voters going to the polls, 48.1 percent of them Democrats and 51.9 percent Republicans. The previous primary record was set in 2002 when 2.6 million Floridians voted. - LISSETTE RODRIGUEZ
Republican candidates
Ron DeSantis: Current U.S. representative for Florida's 6th congressional district | Age: 39 (Sept. 14, 1978)
Democratic candidates
Andrew Gillum: Mayor of Tallahassee | Age: 39 (July 26, 1979)
GEORGIA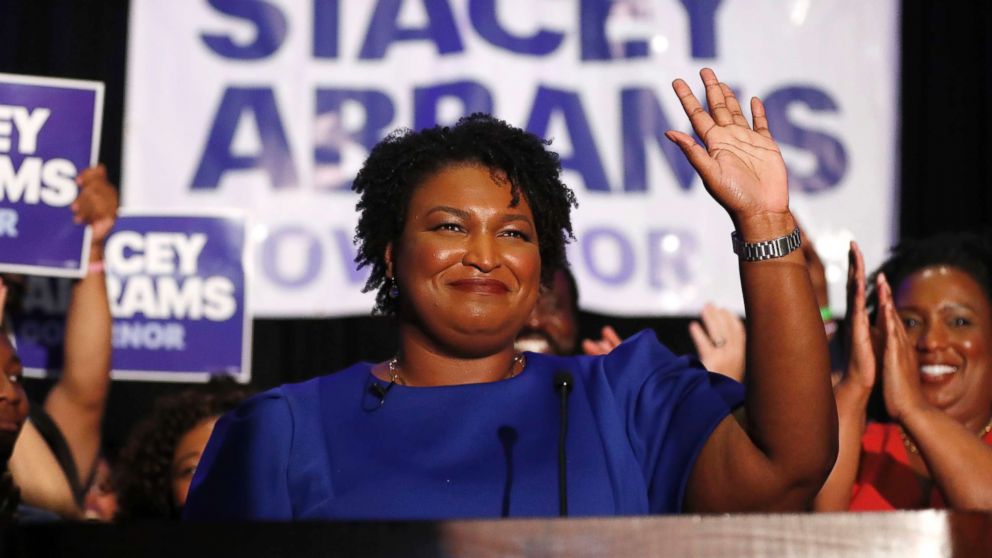 After leapfrogging his opponent and capturing the party's nomination in the Republican runoff, Georgia's Secretary of State Brian Kemp will face Democrat Stacey Abrams in a November gubernatorial general election that will test Georgia's political identity.
Kemp, who is a white, small business owner, frames himself as the "politically incorrect" candidate who often caps off his eyebrow-raising comments with "Yep, I just said that." The weight of the White House was behind Kemp, who more than made up the 13 points he trailed Lt. Gov. Casey Cagle in the first round of voting.
Abrams, an Ivy League-educated progressive black woman, attacked her primary opponents, who adjusted their message to appeal to the state's conservative traditions.
If elected, she would be the first black female governor in the country; a remarkable feat in a state that typically runs deeply red. She's drawn the outspoken support of Democratic heavyweights such as Sens. Cory Booker, Kamala Harris and Bernie Sanders.
Democrats hope that Georgia, where the president defeated Hillary Clinton by 5 percentage points in 2016, can be propelled into a swing state by 2020. Republicans hope Abrams, who clings to down-the-line liberal policies, will prove unable to attract a growing swath of moderates. - JEFFREY COOK
Republican candidate
Brian Kemp: Georgia secretary of state | Age: 55 (Nov. 2, 1963)
Democratic candidate
Stacey Abrams: Former minority leader of the Georgia House of Representatives | Age: 44 (Dec. 9, 1973)
18 For 18' is ABC News' powerhouse political coverage of the 2018 midterm elections. To stay up to date, visit ABCNews.com and the ABC News app, and follow our midterm elections alerts.