House Democratic leadership has been working behind the scenes on a long shot plan that could allow their party to go around Speaker Kevin McCarthy and force a vote to raise the debt limit, even if an agreement isn't reached with the Republican majority.
The strategy centers on what's called a discharge petition -- a rare and complicated procedural tool that allows members of the House to move a bill out of a committee and bring it to the floor without the support of the majority party leadership.
The petition requires 218 signatures to force a vote. That would mean Democrats would need to get the support of at least five Republicans.
Even after those signatures are secured, the process to get to a final vote is cumbersome. It involves waiting out the clock and a variety of tricky procedural moves. For example: Once lawmakers have enough signatures, they still must wait seven legislative days.
They also have to wait for a "discharge day," which only comes around on the second and fourth Monday of each month.
Even so, Democrats are laying the groundwork for such a petition.
In a letter to House Democrats on Tuesday, House Minority Leader Hakeem Jeffries wrote that California Rep. Mark DeSaulnier introduced legislation back in January that "could be used as a vehicle to avert the Republican-manufactured default crisis."
And though the House is in recess this week, Democrats just filed a special rule to take the next step in the process for using a discharge petition.
"The filing of a debt ceiling measure to be brought up on the discharge calendar preserves an important option," Jeffries wrote. "It is now time for MAGA Republicans to act in a bipartisan manner to pay America's bills without extreme conditions. We will be in direct contact next week upon our return to Washington in connection with the discharge effort."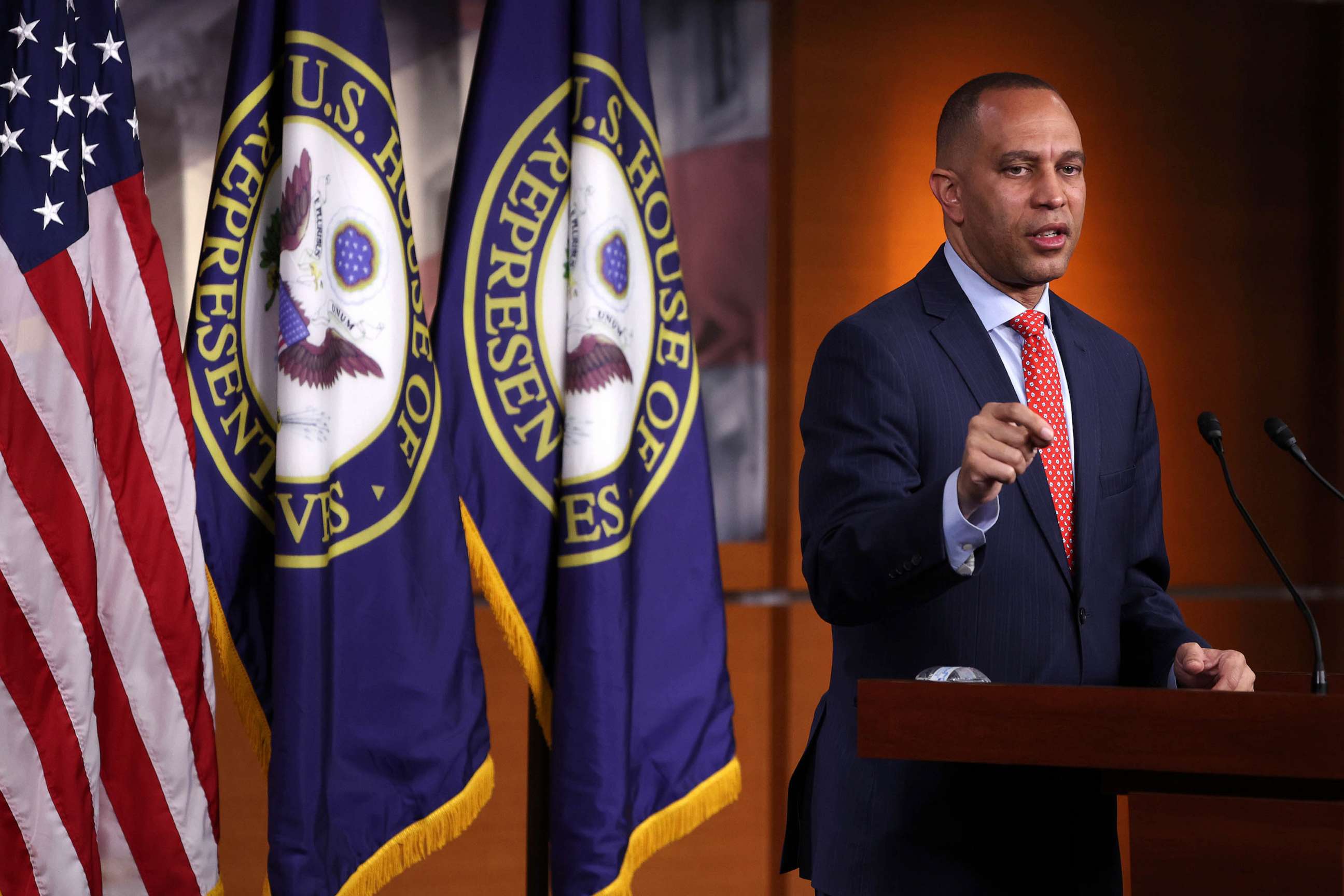 The party, Jeffries wrote, is "working to make sure we have all options at our disposal to avoid a default."
That plan will unfold in the background of closely watched maneuvering between the White House and House Republicans, who each contend the other side bears responsibility for addressing the $31.4 trillion debt ceiling.
Speaker McCarthy is set to meet with Biden at the White House next week along with other congressional leaders, as Biden insists the debt ceiling be raised without conditions separate from negotiations over spending and the government budget.
The U.S. hit its current debt limit in January, and Treasury Secretary Janet Yellen said in a letter to Congress on Monday that the government could begin defaulting on some of its bills as early as June 1 unless the limit is raised.
Over the years, lawmakers of both parties have regularly had to raise or temporarily suspend the debt ceiling, which allows the government to borrow money as needed to pay for existing programs and appropriations -- not new spending.
Yellen has said that in the event of a default, Social Security and military family payments could be affected. Financial experts have also warned of broader economic damage.
In Israel on Monday, where he is leading a congressional delegation, McCarthy said he was ready to negotiate but that "we will not pass a debt ceiling that just raises it without doing something on our debt."
"Defaulting on our debt is not an option, but neither is a future of higher taxes, higher interest rates, more dependency on China and an economy that doesn't work for working Americans," McCarthy said in a speech last month.
At a briefing on Monday, White House press secretary Karine Jean-Pierre said the administration views the debt and the budget separately and that Congress had a "constitutional duty" to address the debt ceiling.