The House voted Tuesday afternoon to establish a new special panel to probe what Republicans call the "weaponization of the federal government."
The subcommittee of the Judiciary Committee would have extraordinary power to investigate any part of the federal government for perceived wrongdoing against conservatives -- the Justice Department and FBI, in particular. Rep. Jim Jordan, R-Ohio, is expected to take over the Judiciary subcommittee as Republicans say they are making final assignments.
At a news conference Tuesday following a closed-door meeting of House Republicans, Majority Leader Steve Scalise outlined the establishment of the "weaponization of the federal government" panel as among the GOP's first priorities.
"We're going to set up that Church committee to look at some of these federal agencies that are weaponizing government to go after families across this country based on their political views. That's not what the government should be doing," said Scalise, comparing the body to the so-called Church committee of the 1970s, in which Democratic Sen. Frank Church led an investigation of intelligence abuse by the executive branch.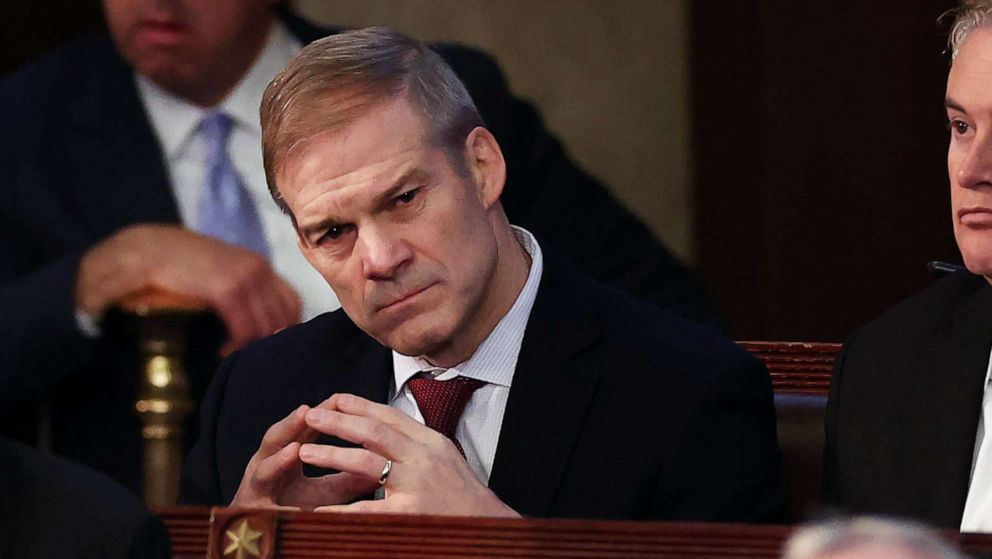 Scalise said the House will also vote on separate legislation Tuesday to create a new select committee on U.S. competition with China, which won bipartisan support.
But overall, GOP leaders took the chance to tout differences between predecessors and the now-Republican-controlled House.
"Not only did we get rid of proxy voting, we got rid of virtual hearings in committee," Scalise said. "We're going to be back in person again, and we're going to be having field hearings," he added, promising hearings on the immigration crisis to take place "at the border."
With new rules changes, here's some of what House Republicans outlined for their first full week:
What did McCarthy agree to with hard-liners?
Faced with questions about a three-page addendum to the House Rules package passed Monday night, detailing other concessions McCarthy made to critics to win the speakership, Scalise and others downplayed the document they said McCarthy detailed at a closed-door GOP conference meeting earlier Tuesday but did not release publicly.
"There's no addendum. I wouldn't call it an addendum. I think our speaker put it up on the screen today..." said GOP Whip Tom Emmer. "He made it very clear that there were no gavels given out. There were no deals like that that were made."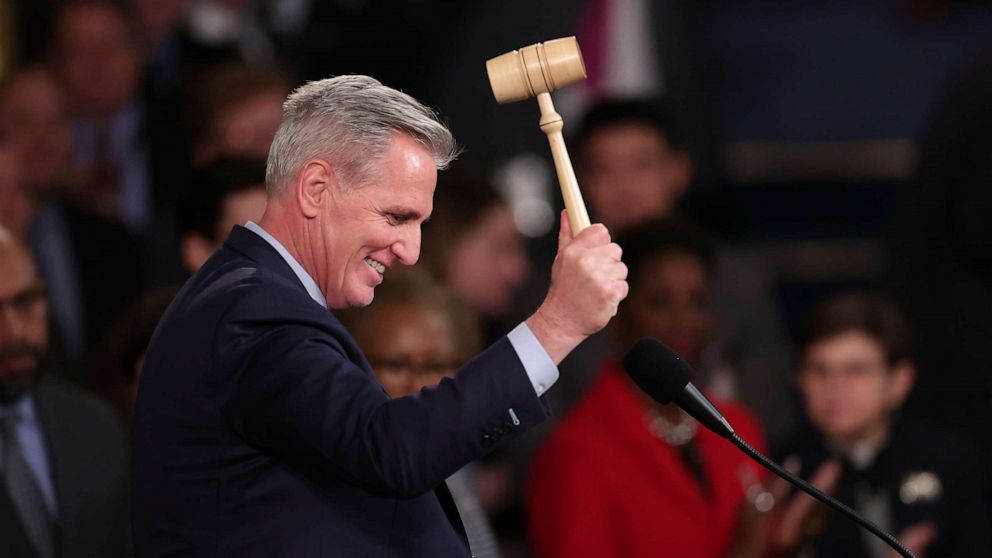 ABC News reported last Thursday of an offer McCarthy made to GOP hard-liners opposing his bid for House speaker, including making it easier to bring a vote of no confidence to the floor, among other concessions.
'Weaponization of the federal government' subcommittee
Despite concerns from Democrats, Scalise said the new select subcommittee on the weaponization of the federal government will serve "to protect every American's constitutional rights."
In a straight party-line vote, the House voted 221-211 to establish the panel.
The panel will have the authority to investigate how the federal government and private companies collect and analyze information on Americans, along with "ongoing criminal investigations" and civil liberties issues, according to the text of the resolution. The mandate could set up new fights with the Justice Department and national security agencies over sensitive records and probes -- including those involving former President Donald Trump.
The panel would also get access to highly classified information typically only shared with the House Intelligence Committee.
Democrats charge Republicans could use such broad new powers to disrupt ongoing probes into the Jan. 6 attack and Trump's handling of classified documents.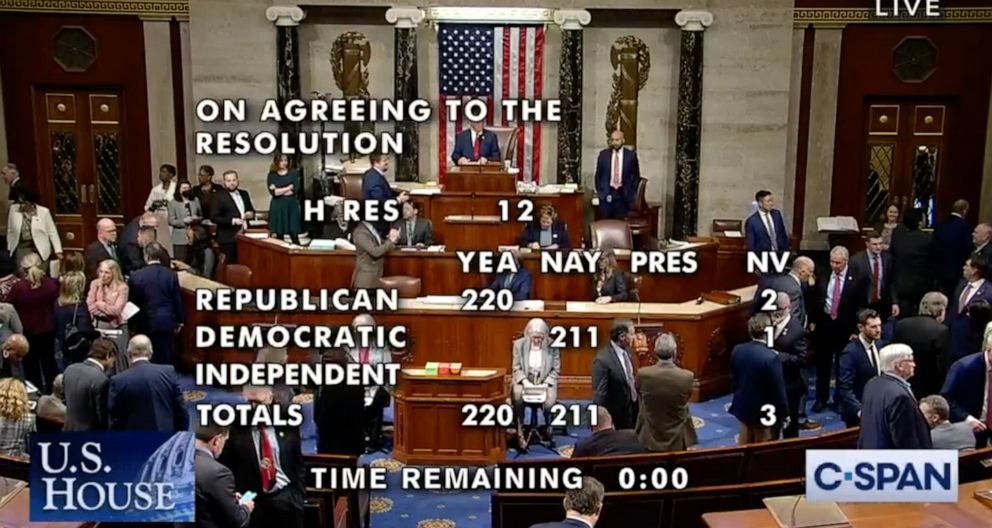 "Jim Jordan and Kevin McCarthy claim to be investigating the weaponization of the federal government when, in fact, this new select committee is the weapon itself," New York Rep. Jerry Nadler, the top Democrat on the Judiciary Committee, said in a statement. "It is specifically designed to inject extremist politics into our justice system and shield the MAGA movement from the legal consequences of their actions."
But unlike how Republicans reacted to the Jan. 6 select committee, Democrats don't plan to boycott the panel and its hearings, a senior Democratic aide told ABC News. The committee would be made up of 15 members appointed by McCarthy, as speaker: Nine Republicans and six Democrats.
Competition with China subcommittee
The House also voted Tuesday afternoon 365-65 to create a select committee on the "Strategic Competition Between the United States and the Chinese Communist Party," which will aim to end critical economic dependencies on China.
The select committee, which will hold hearings, investigate, and submit policy recommendations, will be run by Rep. Mike Gallagher, R-Wis. The speaker will appoint up to 16 members to serve on the committee. Seven will be Democrats selected in consultation with Minority Rep. Hakeem Jeffries.
In a speech on the floor earlier in the day, Speaker McCarthy said, "I want this committee to last beyond who's in the majority and never ever be decided that this is a partisan committee."
"I've heard my colleagues on both sides say that the threat posed by Communist China is serious. I fully agree. This is an issue that transcends political parties. And creating the Select Committee on China is our best avenue for addressing it," McCarthy said.
Notably, House Democrats did not whip members to vote against the new China select committee.
Rescinding IRS funding
Republicans are parading the party-line vote held Monday to rescind IRS funding under the Inflation Reduction Act as an example of the GOP keeping its promises post-midterms, despite the bill being unlikely to pass the Senate.
"Our first bill will repeal funding for 87,000 new IRS agents, because the government should be here to help you, not go after you," McCarthy said upon taking the gavel early Saturday morning.
Scalise claimed Tuesday the Congressional Budget Office said that the additional IRS agents "would be set up to go after hard-working families across this country" and "people making less than $200,000 a year," referring to an estimate from last August to swipe at President Joe Biden's campaign promise.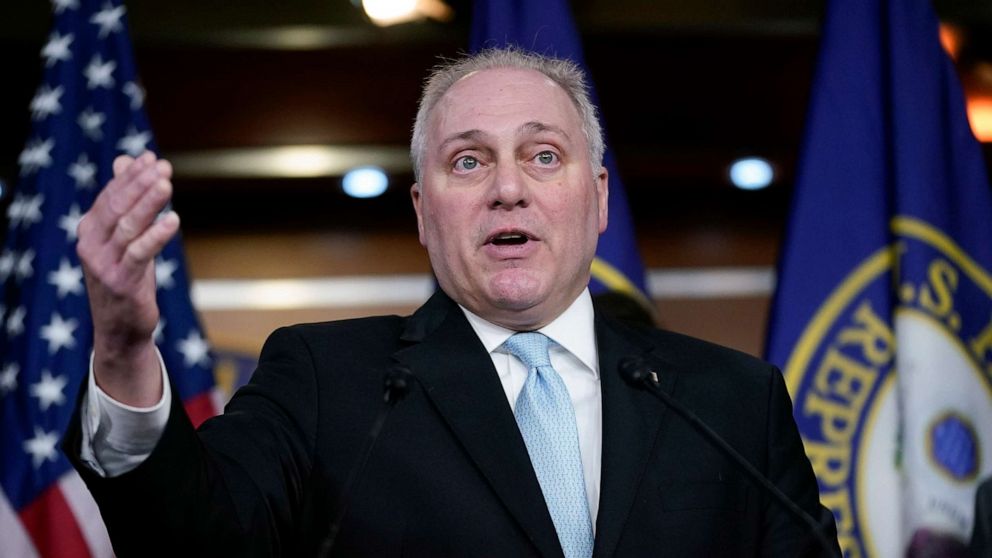 Republicans also claimed through the midterms that some of the IRS agents would be armed, but both claims are misleading.
The IRS has said it plans over the next decade to use the roughly $80 billion from the Inflation Reduction Act to update its systems after years of under-funding by Congress, and hire and train new agents, only a small fraction of whom -- in the Criminal Investigation division -- would be armed. Not all of those would be new agents.
A new CBO score also found that the Republican bill passed Monday would add $114 billion to the deficit.
Abortion bills
In addition to the two votes on Tuesday to create new subcommittees, House Republicans teased more votes for later this week taking on abortion rights.
"We're going to pass the Born-Alive Act," Scalise said, noting every Republican was a co-sponsor of the bill last Congress but lamenting that then-House Speaker Nancy Pelosi wouldn't bring it to the floor. "In our first full week, we're going to actually bring that bill up for a vote."
The Born-Alive Abortion Survivors Protection Act legislation, proposed by Rep. Ann Wagner, R-Mo., would force health care providers to care for a child who survives an abortion, which is exceedingly rare.
ABC News' Trish Turner, Benjamin Siegel and Lauren Peller contributed to this report.