House's next UFO hearing features former official claiming knowledge of US finding alien crafts
The Pentagon says they have no "verifiable information to substantiate" that.
Editor's note: This preview was published Wednesday morning. For a recap of the hearing held later that day, click here.
House lawmakers will examine unidentified aerial phenomena, or UAPs -- better known as UFOs -- in a rare bipartisan hearing on Wednesday.
"We're not going to bring you in a saucer or a little green man. That's not what it's going to be about," Tennessee Rep. Tim Burchett, one of the two Republicans running the House Oversight Committee's inquiry into UAPs, said earlier this month. "But the reality is the American public deserves to know."
"We're interested in the why: Why are they doing this? Why won't they tell the American people? Yes, it's a national security issue. Of course it is. Can't we tell the Americans it isn't China, it isn't Russia? And if it is -- then if it is, then it is even more questionable that other governments have this technology," Rep. Jared Moskowitz of Florida, the top Democrat on the subcommittee, said at a press conference last week, previewing the hearing.
Lawmakers have promised to look deeper at UAPs following unproven allegations from a former intelligence official that the U.S. military has recovered crashed alien spacecraft.
The former intelligence community official, David Grusch, will testify at Wednesday's hearing and claims the federal government has found alien vessels. Other witnesses will include David Fravor, a former commanding officer in the U.S. Navy, and Ryan Graves, executive director of Americans for Safe Aerospace.
Grusch will testify that, as part of his duties, he became aware of an alleged covert government program to recover and re-engineer crashed alien spacecraft.
"I was informed, in the course of my official duties, of a multi-decade UAP crash retrieval and reverse-engineering program to which I was denied access," Grusch will say in his opening statement.
But Grusch will also acknowledge he does not have firsthand knowledge of this alleged program.
A spokesperson for the Pentagon said last month that the Department of Defense's UAP task force, reorganized since 2022 as the All-domain Anomaly Resolution Office (AARO), "has not discovered any verifiable information to substantiate" the claims about crashed alien craft.
"My testimony is based on information I have been given by individuals with a longstanding track record of legitimacy and service to this country -- many of whom also shared compelling evidence in the form of photography, official documentation and classified oral testimony," Grusch will tell lawmakers.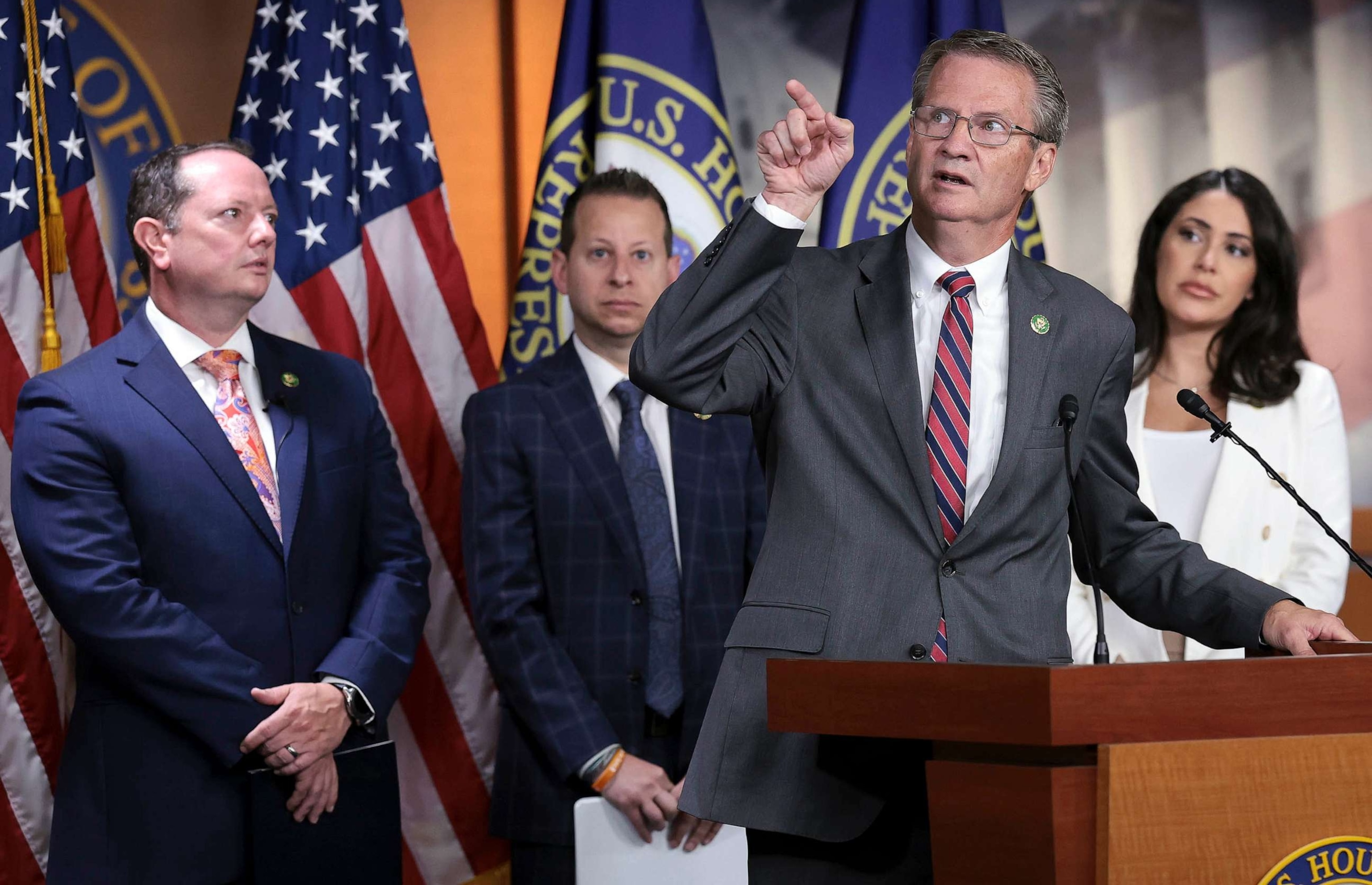 "This isn't some good old boy who had too much to smoke or drink in the woods and thinks he spotted something. These are trained pilots," Burchett recently said on Fox News when asked about the witnesses.
Fravor plans to describe an encounter with UAPs and how, he will say, it was not investigated properly.
"What concerns me is that there is no 'oversight' from our elected officials on anything associated with our government possessing or working on craft that we believe are not from this world. This issue is not about full public disclosure that could undermine national security, but it is about ensuring that our system of checks and balances works across all work done in our government using taxpayer funds," Fravor will tell the committee, according to his opening statement.
Graves will address his own concerns about UAPs -- which he says he has witnessed as a Navy pilot -- as a "national security and an aviation safety problem," according to his opening statement.
"The bottom line is, why are we allowing objects in our sky, particularly objects displaying advanced technology, to go unidentified? I believe we should pursue these questions about the nature of UAP with a scientific method and an open mind," Graves plans to say.
Lawmakers are promising that the hearing will only be the start of what is expected to be a long back-and-forth with the Pentagon in seeking new details on UAPs.
The subcommittee's members have already clashed with the Department of Defense. Reps. Burchett and Anna Paulina Luna, R-Fla., traveled to Eglin Air Force Base in Florida and had an argument with military officials over potential UAP evidence.
The Pentagon denied the lawmakers' request to see any video and to speak with the pilots who may have shot it because of the lawmakers' security clearances, a source told ABC News.
"We were stonewalled," Luna contended at a news conference last week, with Burchett adding: "We were told there were pictures available which we still haven't seen."
In a statement to ABC News, Air Force spokesperson Ann Stefanek said the lawmakers, during their visit, had requested a "briefing focused on" UAPs but Burchett and Luna could not receive some classified information.
"Not being members of a congressional defense committee, [they] did not possess the access required. ... We are committed to timely, transparent, and candid dialogue with members of Congress and their staffs," Stefanek said, in part.
The top Pentagon investigator looking into UAPs, Dr. Sean Kirkpatrick, told ABC News in a recent interview that "nothing has been denied us" and played down the possibility of a covert program.
Kirkpatrick said the majority of the hundreds of reported UAPs, dating back decades, have been found to be "readily explainable" and attributed to birds, for example, or drones.
However, Kirkpatrick said, "A number of these [whistleblowers] believe and have stated -- and we believe them now -- that they have seen something. And we are investigating."
ABC News' Devin Dwyer, Luis Martinez and Matt Seyler contributed to this report.