Shortly after his brain cancer diagnosis, Senator John McCain hiked through Arizona's Oak Creek Canyon with his daughter Meghan and two of his closest friends -– Senator Lindsey Graham and former Senator Joe Lieberman.
"The three amigos together again!" McCain tweeted at the time.
One year later, the bipartisan trio known as the "Three Amigos" is now missing its driving force.
McCain, 81, died Saturday evening.
"McCain was the central figure, really, of the three of us," Lieberman told ABC News in a recent interview.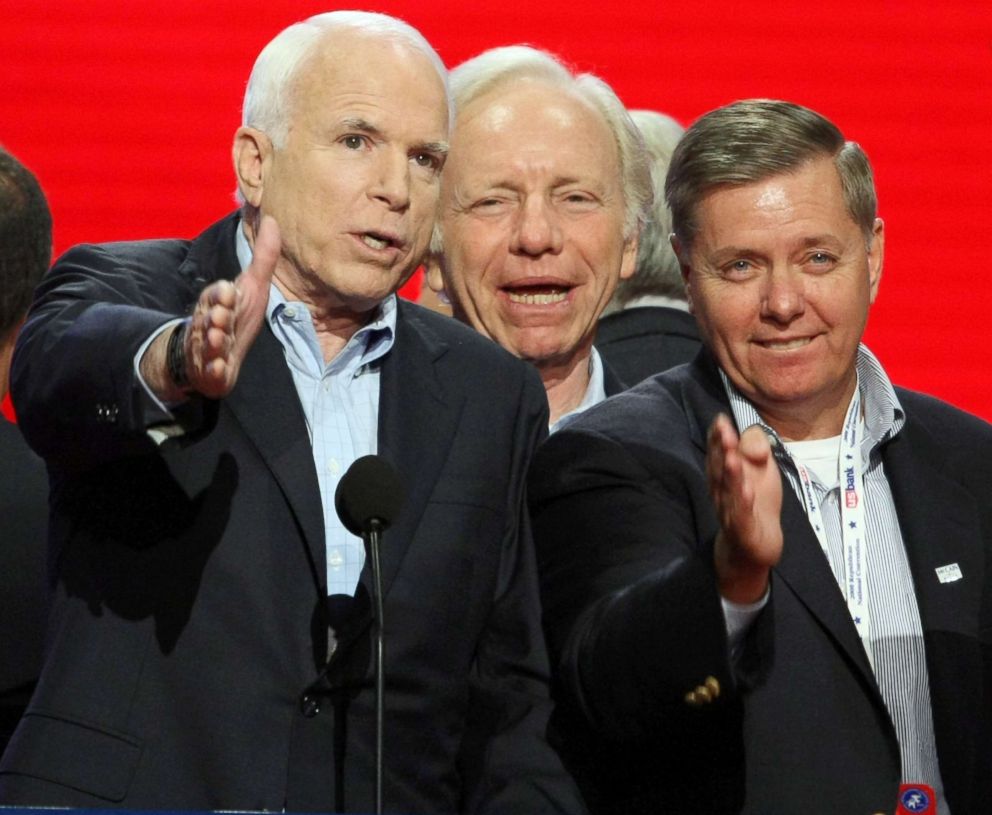 Over his time in the Senate, McCain formed a close working relationship with Lieberman, an independent from Connecticut, and Graham, the longtime Republican from South Carolina.
They staked their claim as prominent hawkish voices on foreign policy, an issue that took them on travels around the globe and led to the cultivation of a long-lasting friendship that lasted beyond the halls of the Senate.
"We've traveled the world together. I've seen these guys in action. I've learned a lot from both of them and we had so much fun," Graham told ABC News."It was so classically American," Lieberman, who retired from the Senate in 2013, said. "If you looked at our biographies, the three of us couldn't be more different. Really I mean, religiously, geographically, our own experience. Yet there we were in the U.S. Senate together, and we became just the fastest of friends."
McCain and Lieberman, then a Democrat, met in the Senate in the late 1980's, telling each other during an encounter on the Senate floor that they hoped to work together in the future.
In the 1990's, the two senators found themselves sharing the same views on the Bosnian war and traveling to the annual Munich Security Conference.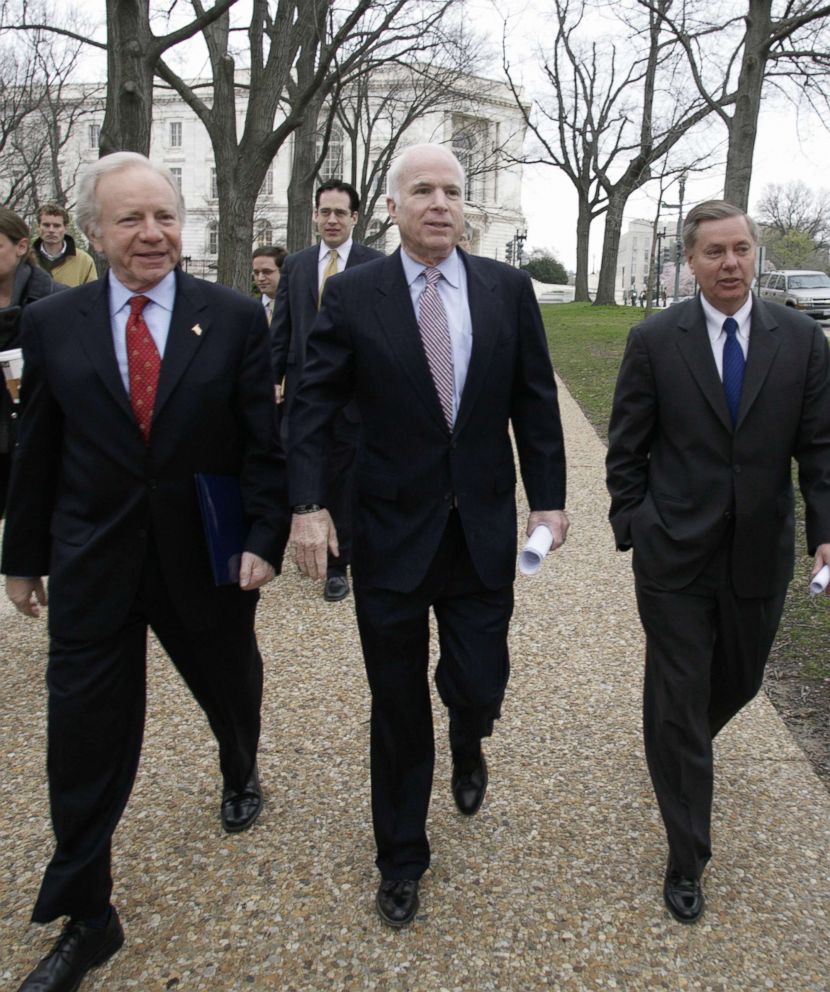 When Graham became a senator in 2003, he joined the duo.
"The time really to get to know your colleagues is when you were fortunate enough to travel with them somewhere because you were on the plane together, you were talking, you were reading," Lieberman, whom McCain even considered naming as his running mate during his 2008 presidential campaign, said. "That's when I first found out of McCain's love of Hemingway."
After the 9/11 attacks, the trio made routine visits to Afghanistan and Iraq. It was on one of those trips when General David H. Petraeus gave the nickname to the triumvirate, which became vocal proponents of President George W. Bush's "surge" strategy in Iraq.
"They were the three amigos. They were three inseparable friends," Petraeus told ABC News. "At some point, I just started saying we had the three amigos coming in again."
Senator John McCain through the years
Serving as a Navy pilot in the Vietnam War, John McCain III, was held as a prisoner of war for years after his warplane was shot down. Upon being released, he returned home and continued to serve his country through politics; first in the House of Representatives and then in the Senate. McCain also ran for president in 2000 and 2008, unsuccessfully, but still remains active in the Senate for the state of Arizona. <br><br>John S. McCain III, center, as a young boy with his grandfather Vice Admiral John S. McCain Sr., left, and father Commander John S. McCain Jr. in family photo, 1940's.
Terry Ashe/The LIFE Images Collection/Getty Images
As he reflected on their friendship, Lieberman recounted a trip he took with McCain to a Syrian refugee camp in Turkey.
"As we got closer we realized they were ... actually cheering and chanting our name, and the one that they chanted most was McCain, of course, because he had really made so clear, and they had known it, that his sympathies were with both the opposition but also with the refugees," Lieberman said.
"This Three Amigo business was more than three different kinds of guys who became friends and sort of had a great time traveling around the world," he added. "I think we really tried to stand for something."