Monday, Aug. 15
— -- A ROUND OF GOLF BEFORE FUNDRAISING
President Obama ventured to the Vineyard Golf Club Monday morning for another round, again including former NBA player Alonzo Mourning.
In the evening, Obama is taking a break from his vacation to participate in a DNC fundraiser at a private residence on the island.
Sunday, Aug. 14
A LATE-NIGHT OUTING WITH FRIENDS
The first family took a rare late-night trip Sunday out to the Southern-style seafood restaurant Lola's in Oak Bluffs.
After calling Louisiana Gov. John Bel Edwards to inform him the flooded state's emergency declaration had been approved, Obama and the rest of the first family hopped in the motorcade at 10:40 p.m. and didn't depart the restaurant until past midnight.
SOME PLAYFUL TRASH TALK ON THE GOLF COURSE
President Obama went out for his sixth round of golf on a hot Sunday afternoon, where he briefly intersected with ABC News cameras staked out near the Farmneck Golf Club's third fairway.
Obama was the only one of his foursome to hit the fairway, and playfully ribbed his partners as they started to look for their balls in the rough.
"The most important thing is that neither of them are mine!" Obama said.
Some spectators then shouted out "We love you, Mr. President!"
Obama then replied, "I love you guys back, have a great summer," before continuing on his way.
Saturday, Aug. 13
A SATURDAY BEACH OUTING FOLLOWED BY A FAMILY DINNER OUT
The First Family spent the brunt of their Saturday afternoon together on Kohlberg beach in Edgartown on Martha's Vineyard.
In the evening, President Obama briefly attended a private reception at the residence of Glenn Hutchins, an investor and businessman Obama golfed with earlier in the week.
Afterwards, the First Family went out to dinner together at Red Cat Kitchen on the island.
Friday, Aug. 12
THE PRESIDENT RELEASES HIS SUMMER READING LIST, AND GOES FOR ANOTHER ROUND OF GOLF
Before taking off for his fifth round of golf in the past six days, President Obama continued tradition by releasing his summer reading list.
You can see the full list here.
Obama then made a trip to Farm Neck Golf Club with Chris Paul of the Los Angeles Clippers, with whom he also golfed on Sunday.
The first lady also tweeted a shout-out this afternoon to Olympian Simone Biles, who on Thursday won the gold medal in the women's gymnastics all-around.
Thursday, Aug. 11
OBAMA REVEALS SUMMER PLAYLIST, CONTINUES GOLF STREAK WITH NBA STARS
The president kicked off his Thursday morning by dropping his new summer playlist on Spotify. He then took a short private walk on a beach near his residence with his daughter Malia.
Obama then arrived at the Mink Meadows Golf Club on Martha's Vineyard for yet another round with his Wednesday partners, NBA greats Ray Allen and Alonzo Mourning.
In the evening, the president and first lady went to dinner with friends at Detente restaurant, arriving back at their residence at around 11 p.m.
Wednesday, Aug. 10
3-POINT ACE RAY ALLEN SLICES GOLF BALL INTO WOODS DURING GAME WITH OBAMA
He may have been a three-point ace, but Ray Allen wasn't having a good day at the Vineyard Golf Club Wednesday.
More than two hours into their game, Allen hooked a ball into the brush, dinging a Secret Service golf cart (and almost hitting the agent standing next to it).
OBAMA IGNORES DRIZZLE FOR HIS THIRD ROUND OF GOLF WITH NBA STARS
Despite a dreary day and slight drizzle on the island, President Obama made his way to Vineyard Golf Club on Wednesday for the third round of golf of his vacation.
Yet again, Obama invited along NBA legends. Alonzo Mourning and Ray Allen joined the foursome along with investor Glenn Hutchins at the Vineyard Golf Club.
Upon their arrival at the course, a White House official told ABC News Obama will be attending and taking questions at a DNC fundraiser on Martha's Vineyard at a private residence next Monday.
Tuesday, Aug. 9
MEET THE MAN WHO WELCOMES OBAMA TO MARTHA'S VINEYARD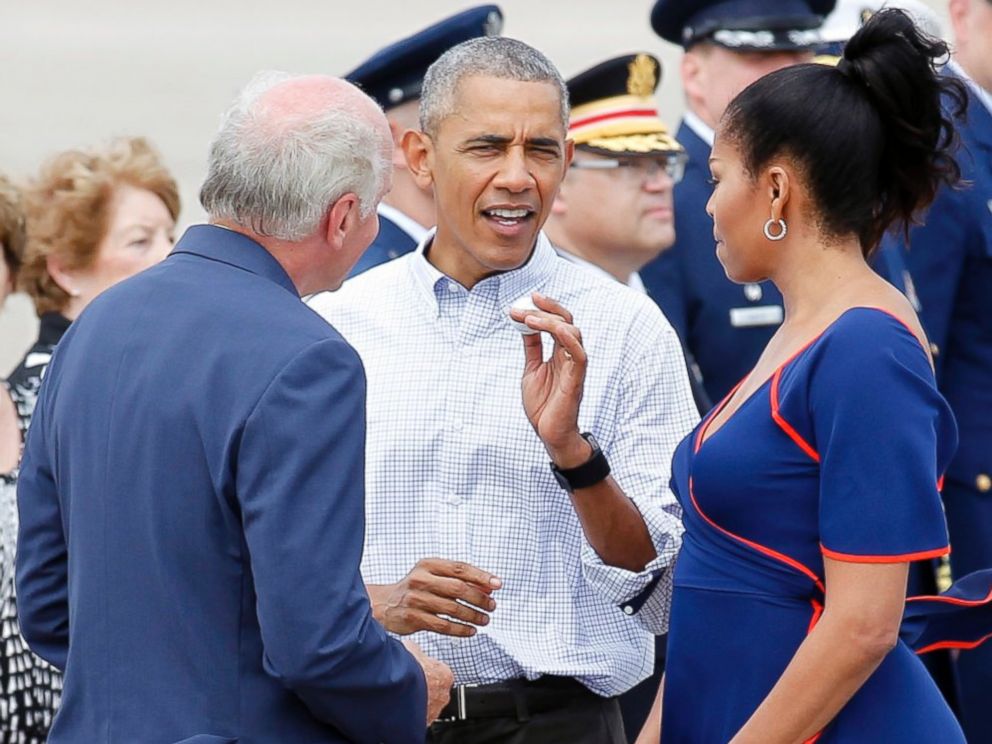 While the Obamas mix up their routine each year on Martha's Vineyard, every vacation begins the same way: with a greeting from Rep. Bill Keating, D-Mass., when they arrive in the Bay State.
Nearly every summer since 2009 -- the Obamas did not vacation on the island during the 2012 election -- Keating has welcomed the first family on Cape Cod, where the Obamas ditch Air Force One for a quick helicopter ride to the Vineyard.
Early on, his constituents caught on to the act, and bombarded his office with requests for him to air local grievances with the president. But Keating says he's never talked business with Obama on the airstrip.
This year, he gave the golfer-in-chief his own Titleist Pro V golf ball, which is made in his Massachusetts district.
"Now when you really have to make a big shot, use this ball," Keating said he told Obama in an interview with ABC News. "He told me he would."
Keating says he's quick to bring up the island when he crosses paths with Obama in Washington during the dog days of the legislative year.
"I remember when we had briefings [during the economic crisis] and it would be very serious, and if I got a moment to shake hands with him, I would say, 'Don't you wish you were in the Vineyard now?' And he'd laugh."
While Obama may be saying goodbye to the White House, he won't be leaving Martha's Vineyard for good after this summer.
"I have assurances from both [Obamas] that after the term ends, it won't end their love affair with the island," Keating said.
As for the next president, Keating has already cornered one of the candidates.
During a recent visit to Capitol Hill, he posed a question to Hillary Clinton in jest: would she spend her summers in his district in exchange for his support?
"She said 'Absolutely,'" Keating recalled.
Keating doesn't have to twist arms with either family. The Clintons repeatedly summered on the island in the 1990s when Bill Clinton was president, and the Obamas took to the island before the 2008 election.
A DAY AT THE BEACH
President Obama and the first lady made a trip away from their residence to a beach on the south end of Martha's Vineyard.
They were joined by family and friends, according to the White House. No word on whether that included their dogs, Bo and Sunny.
In the evening, Obama and First Lady Michelle Obama dined at State Road restaurant, where they have been known to frequent on past vacations.
Monday, Aug. 8
ANOTHER ROUND OF GOLF, THIS TIME WITH THE 2015 NBA MVP
On his third day of vacation, President Obama again headed to the Farm Neck Golf Club for a round of golf, but this time his special guest was none other than 2015's unanimous NBA MVP Steph Curry.
Curry's father, Dell Curry, a former NBA player himself, also joined the foursome. ABC was able to catch the group on camera as they joked around.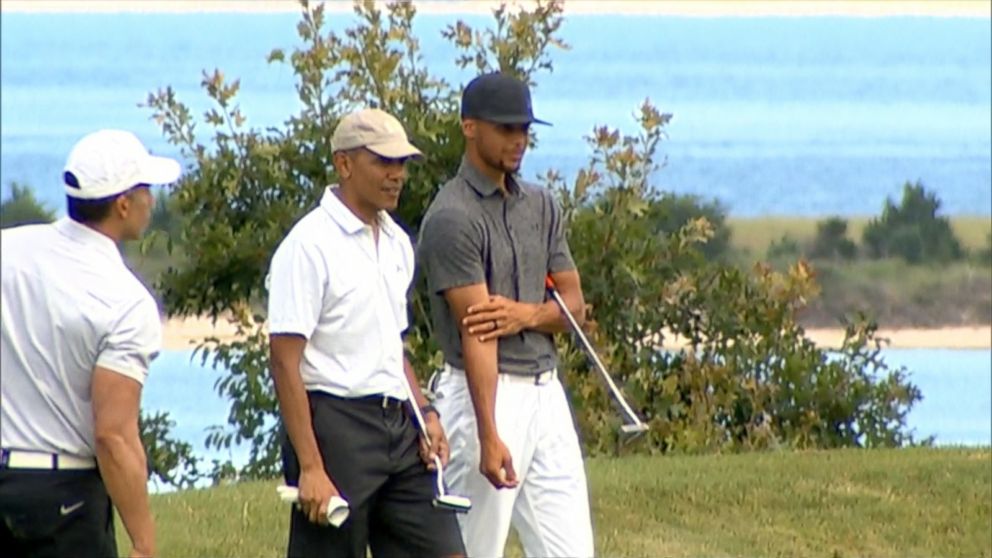 It's not the first time Obama has invited Curry to play a round with him. In August of 2015, Curry reflected on what it's like to play with the commander in chief in an interview with Jimmy Kimmel, joking that Obama would trash talk him over looking nervous about the couple dozen Secret Service agents who follow along with the group.
Meanwhile, the White House shared the following picture of the family dog Sunny, appearing to enjoy the sun and being with the family away from the White House grounds.
Sunday, Aug. 7
ON DAY ONE, GOLFING WITH AN NBA STAR
President Obama began his first full day of vacation by hitting the links for his 300th round of golf as president, according to CBS reporter Mark Knoller.
A special guest among his usual list of golf partners was NBA star Chris Paul of the Los Angeles Clippers. Spotted briefly on one of the Farm Neck Golf Club's greens, Obama could be seen giving Paul a 'gimme' on a barely missed putt.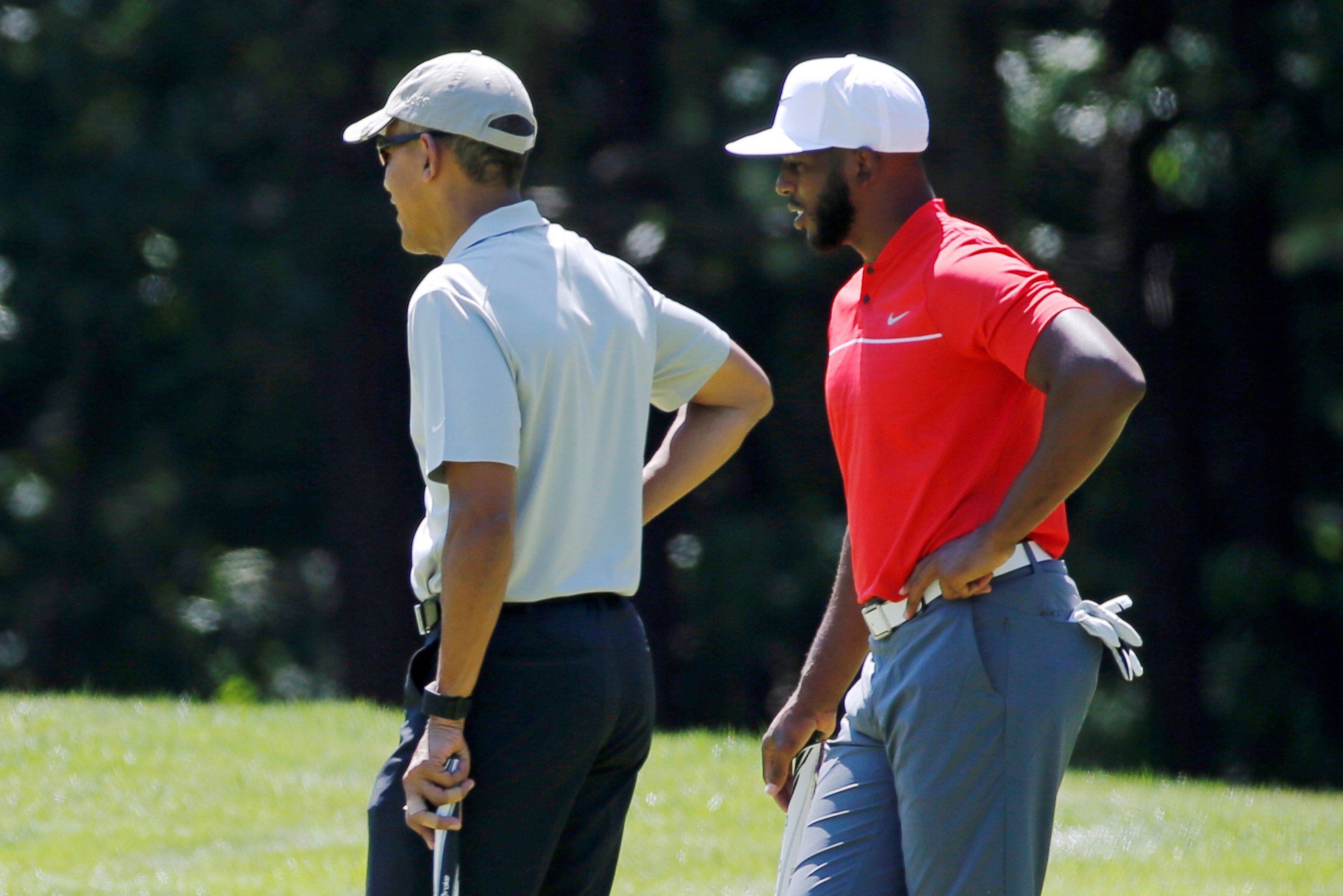 In the evening, the president and first lady privately dined with friends at Down Island in Oak Bluffs.
The farm-to-table restaurant, which opened in May, saw its business double the day after the Obamas' visit, according to general manager Reavely Bell.
"Just a lot of people calling in wanting to eat the same thing [as the first family]," Bell said.
Despite the interest in the restaurant's $59 set dinner, Bell said the restaurant still plans to rotate its menu Wednesday.
Island businesses visited by the Obamas' during their vacation see a "dramatic uptick" in activity in the days after members of the first family swing by, according to Nancy Gardella, the executive director of the Martha's Vineyard Chamber of Commerce.
Saturday, Aug. 6
THE FIRST FAMILY ARRIVES AT MARTHA'S VINEYARD
The first family arrived in Martha's Vineyard Saturday, Aug. 6, the day after holding a celebrity-packed party at the White House celebrating President Obama's 55th birthday.
The Obamas will spend 16 days on the island, their seventh trip there since Obama took office. During their stays, the president largely stays out of view of the public, with the exception of when cameras are able to catch brief glimpses of him on the golf course.
Arriving at the Cape Cod airport on Air Force One before their short helicopter ride onto Martha's Vineyard, Obama was greeted by Rep. Bill Keating, D-Mass., who gifted the president a Titleist Pro-V1 golf ball, which are made in the congressman's district.
Upon their arrival, the first family retreated to their overnight residence in Chilmark on the western side of the island.
ABC's Hank Disselkamp contributed to this report.