The Interior Department allowed Secretary Ryan Zinke to violate travel policies so his wife could travel with him, according to a report from the department's internal watchdog.
"We determined that, despite a DOI policy prohibiting non-Government employees from riding in Government vehicles, the DOI Office of the Solicitor's Division of General Law approved Lolita Zinke and other individuals to ride in Government vehicles with Secretary Zinke," according to the report, obtained by ABC News and first reported by the Washington Post.
The Interior solicitor general's office approved the trips where Zinke's wife, Lolita Zinke, traveled with him in government vehicles, boats, and even on Air Force One. The employee that approved Zinke's wife sharing his car said she only approved trips when the department would not incur any extra cost and because Zinke's security detail required that he use a government vehicle instead of a personal car.
Zinke also racked up a more than $25,000 bill for his security detail on a personal vacation to Turkey and Greece last year, the report stated.
Zinke reimbursed the department for expenses from trips to New York related to his wife's travel, including a $15,000 flight on Air Force One, and trips to Alaska and Atlanta.
The department said the report proves Zinke follows all the relevant rules.
"The Inspector General report proves what we have known all along: the secretary follows all relevant laws and regulations and that all of his travel was reviewed and approved by career ethics officials and solicitors prior to travel," spokeswoman Heather Swift said in a statement.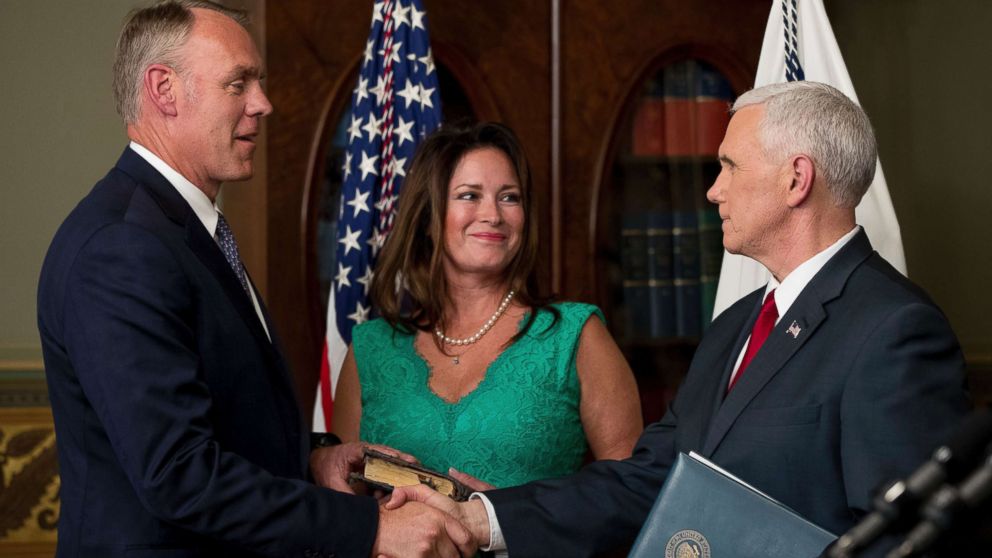 "Additionally, The secretary received the same exact legal advice from the solicitors as previous secretaries and he acted consistently. The report even said so," Swift said.
Deputy Secretary David Bernhardt also wrote to the inspector general that despite a policy against family members riding in official vehicles, spouses have ridden with secretaries in the past and that, since the vehicle policy is not required by law, the secretary can change it to match common practice.
Zinke and his wife also took a U.S. Park Police security detail on vacation to Turkey and Greece, costing the department over $25,000. The report said there were concerns about security risks on the trip but the U.S. consulate could not provide resources because they were not on official business.
On the security detail, Zinke told the IG that the decision was made by security officials (US Park Police) at Interior: "They're paid to do the threat assessment. I tend not to tell them what to do." He said he had not known at the time of the trip that the detail was unarmed but added that, in his experience, "oftentimes you don't need a gun."
Zinke also asked employees to look into whether Lola Zinke could be made a volunteer at the department and that some employees thought this would allow her to travel without reimbursing the department. The report found that while it would have been legal and ethical for her to become a volunteer, the department decided against it because it could create an optics problem.
The inspector general's office also looked into allegations that they found were not true, including that Lola Zinke received a government cell phone and that a department employee resigned because Zinke asked her to walk his dog, Ragnar, who he often brings to the office. Zinke never asked for his wife to be given a phone, according to the report, and the former department employee said she volunteered to walk the dog and resigned because she did not receive a job she wanted.
The report found that on one occasion Zinke asked his security detail to drive a non-government employee to the airport after they had dinner, but was told not to make the request again and it has not happened since.
A spokeswoman for the House Natural Resources Committee said they are reviewing the report and will continue to monitor the situation.
But Democrats accused the majority of ignoring what they called Zinke's abuse of power.
"Republicans have known about Secretary Zinke's scandals for eighteen months and done nothing. Putting Democrats in charge of Congress is the only way to stop these abuses," ranking member Raul Grijalva, D-N.M., said in a statement.